I absolutely love being a food blogger. Creating recipes, sharing recipes, and learning about foot styling and food photography. One of the best parts sharing recipes that I think are a perfect match for my subscribers and followers. These Mexican Meatballs are easy, quick, and packed with the spiced savory flavors of tacos. The best part? Each meatball is rolled in toasted Panko breadcrumbs then baked. The toasted Panko breadcrumbs give these meatballs a crunch and texture, just like eating a crunchy taco. In addition, the chopped black beans add texture to the meat preventing it from being boring or one texture.
I know it can be a real challenge getting a home cooked dinner on the table on a busy weeknight. We live such busy lives. We're working longer hours with higher demands. We're picking up kids from daycare, or shuttling them to practice. And we're trying to keep the house clean, and making sure everyone has clean clothes for the next day. And maybe, if there's time, we try to have a social life. With life like this, no one has the time to make extravagant meals. You could order takeout, but that gets expensive. That's why I've made it the purpose of this blog to create easy, approachable dinners that can be made for a weeknight dinner.
These Mexican meatballs take just a little over 30 minutes to make. There's no complicated cooking methods or techniques, and the end result is a fun and creative meatball that adults and kids will love. The toasted Panko is the game changer for these meatballs. Toasting the Panko before the meatballs bake means it gets extra crispy, so a super crunch with each bite.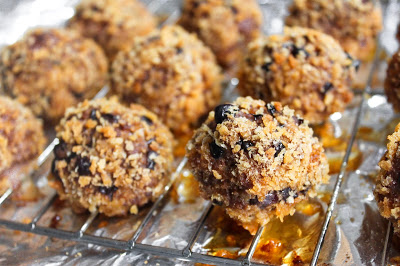 Best way to cook Mexican Meatballs
Even though meatballs are and easy dinner recipe, if you bake them directly on the baking sheet they can get a bit soggy. As the meatballs bake, the fat and oil will pool underneath. You want to elevate the meatball from the bake sheet so that the oils will sit on the baking sheet away from the meatball. This will help prevent the bottoms from becoming soggy and help keep the Panko on the bottom remain crispy.
How to Serve
I think it's best to serve these taco meatballs with white rice. Simple, and will let all of the warm and spiced flavors of the taco seasoning shine through. You can top these with sour cream, or another type of spice sauce you like for tacos. Admittedly, there is a Peruvian restaurant near us that has the most amazing spicy green sauce. Whenever we order from there, I always order extra sauces to keep on hand for the week for any recipes that need a spicy sauce. I think a spicy sauce is a great alternative to sour cream for these meatballs.
If you like easy dinner recipes you might also want to see these recipes:
Print
Mexican Meatballs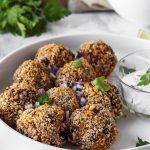 Mexican Meatballs are an easy dinner recipe for a busy weeknight. Ground beef seasoning with taco spices, chopped black beans then rolled in toasted Panko and baked until crispy. Serve with sour cream or a spicy taco sauce and rice.
Author:
Prep Time:

5 minutes

Cook Time:

30 minutes

Total Time:

35 minutes

Yield:

10

–

12

meatballs

1

x
Category:

Mexican

Method:

Baking

Cuisine:

Mexican
Scale
Ingredients
1 pound ground beef (as close as you can get to 1lb, I find the packages are always a little higher or lower then exactly one pound) 1 cup Panko crumbs
Cooking Spray
1/2 cup black beans, drained then roughly chopped
1 egg
1 teaspoon cumin
1 packet taco seasoning
Instructions
1. Heat oven to 400. Line a baking sheet with foil and spread out the Panko crumbs in an even layer and spray with some cooking spray. Bake for 3 minutes, remove from oven and stir the crumbs then place back in the oven for another 45 seconds. (Watch them because they can go from nice and toasty to not so nice and burned very quickly.)
2. In a large bowl, mix the ground beef, roughly chopped black beans, cumin, taco seasoning, the egg, and 1/4 cup of the toasted Panko. Mix until combined, then form into meatballs. Roll each meatball in the remaining toasted Panko.
3. Bake the meatballs slightly elevated on cooling racks as seen in the photo above, this helps keep some of the fatty oils away from the meatballs. Bake at 400 for 25 minutes. Serve with rice and fresh lime juice. You can also top these with anything you'd put on a taco…onions, salsa, avocado…have fun with it!
Keywords: mexican meatballs