Creamy Mexican Corn Chowder is the feel good chowder of Fall. This hearty chowder is packed with charred corn, red peppers, spicy pepper jack cheese, and Cotija cheese for the perfect finish.
It's filling enough to be a stand alone dinner, but the light and fresh ingredients all make this a great meal to bring to work for lunch.
Reheat this at the office and I guarantee your coworkers will be asking for the recipe!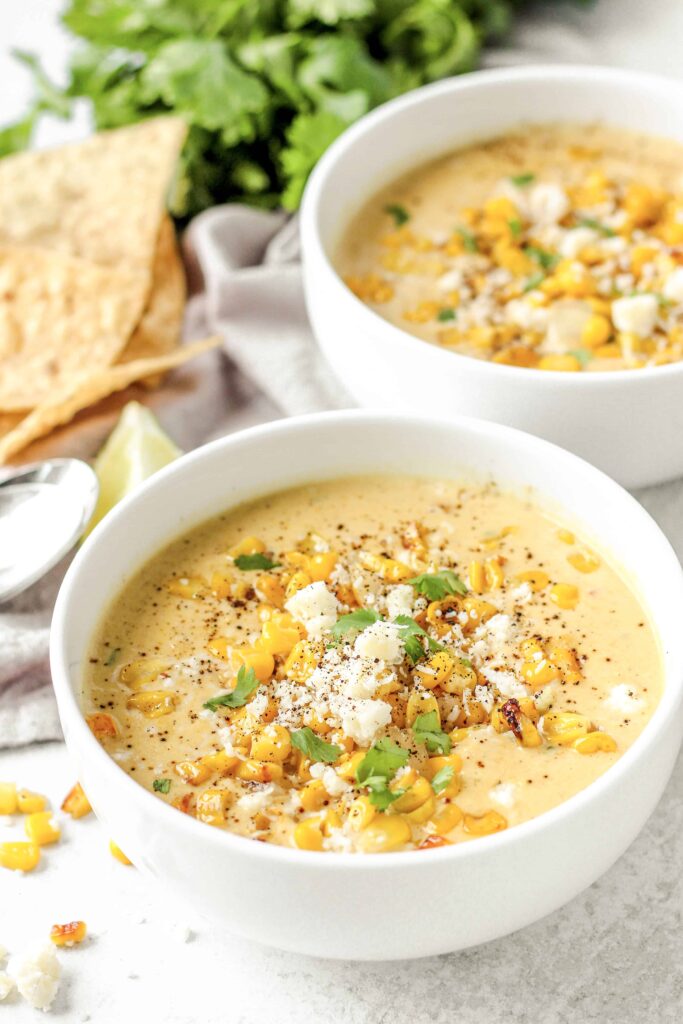 Now, I will say my admission is I'm not a fan of soups.
I've just neve been a fan of brothy soups, even the comfort food favorite chicken noodle soup. I have a good reason…I think.
To me, soups just remind me of being sick as a kid. Sitting at home and my mom opening up that can of chicken and stars soup. I could't stand that stuff!
So now, when I think soup I think sick. But thankfully, chowders are a different story. Chowders are a very different story. A chowder to me is comfort. It's hearty, and warm, and basically a meal in a bowl. Like this Creamy Mexican Corn Chowder.
This chowder truly is a meal in a bowl. It has corn, onions, cheeses, cream, red peppers, cilantro and lime juice. A lovely blend of creamy and spice from the pepper jack cheese and a little chili powder, then finished off with the salty Cotija cheese and fresh lime juice.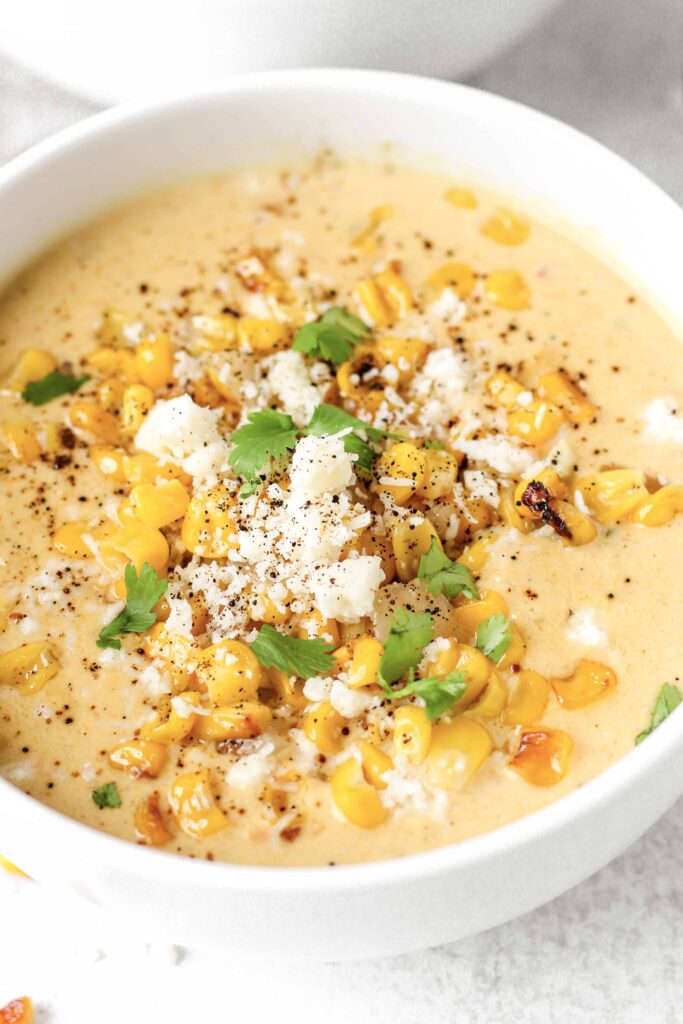 Ingredients
So here's what you need! Oh, and I totally forgot to include the chicken broth int he photo below. Whoops! You definitely need chicken broth.
2 10oz bags of frozen corn, cooked
White onion
Garlic
Red pepper
Black pepper, salt, chili powder, garlic powder
Pepper jack cheese
Cotija cheese
Half & half
Limes
Cilantro
When you first cook the corn, you do want some of the kernels to get browned. This is going to give it SO much flavor.
When you add the chicken broth you'll notice that the broth is now quite brown from the bits from the bottom of the pot. Don't worry! When you add the cheeses and cream at the end it will help lighten the color of the chowder.
I will say, this isn't a bright vibrant yellow chowder. The finished dish has a color more like a spicy mustard. A darker yellow.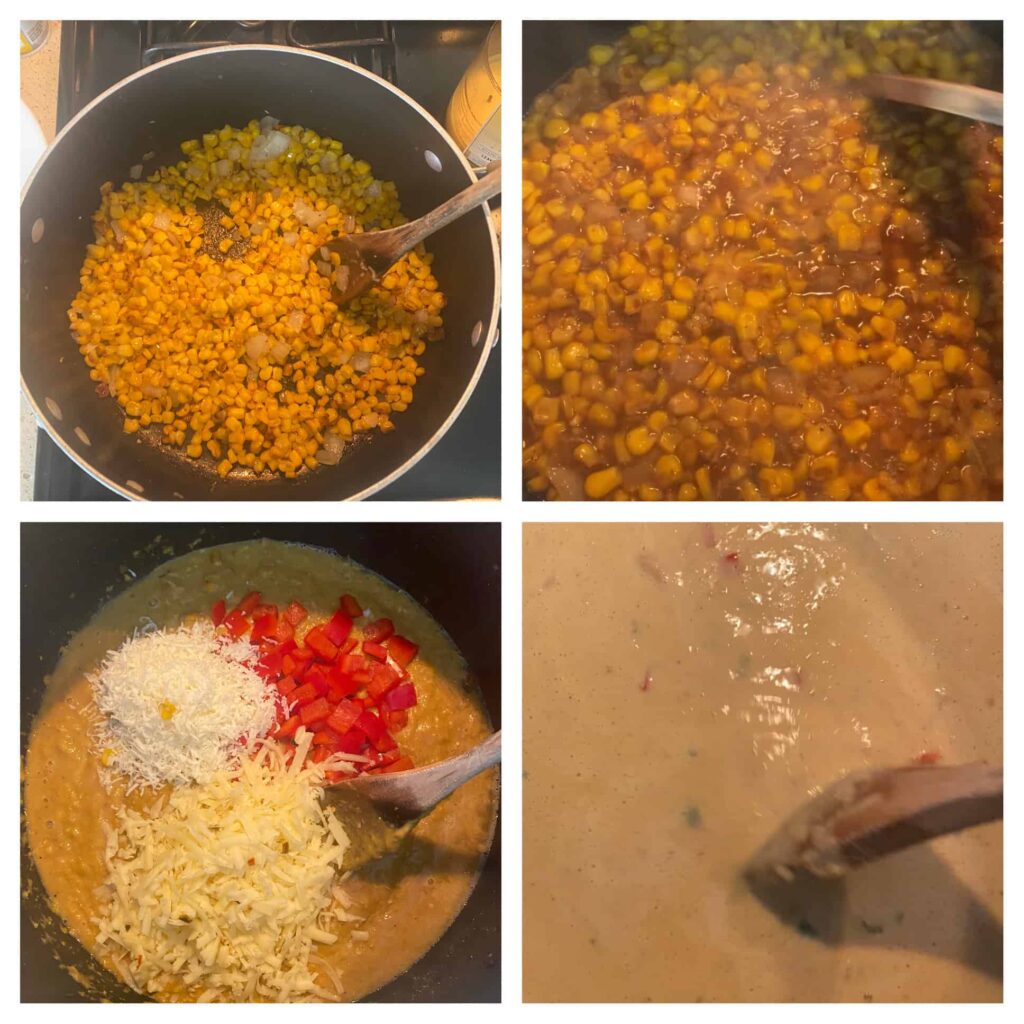 Cooking tips and Answered Questions
What is Mexican Corn? Well, if we're making a Mexican Corn chowder you might be wondering what exactly is Mexican Corn! Mexican corn, or Elote, is a savory grilled corn on the cob snack. Covered in spices, lime juice, and Mexican cheeses. It's amazing basically.

What is Cotija cheese? Cotija is a Mexican salty and crumbly cheese. Although it's salty, it's flavor is mild. It's a great cheese to top on heavy or creamy dishes since the salty will cut through a heavy dish while not adding competing flavors.

Can I substitute another cheese for Cotija? So, my recommendation would be to really try and find the Cotija. To me, it's unique flavor is really needed to make this a Mexican corn chowder. If you can't find it, Feta cheese can be used instead. But I say that with the disclaimer that Feta has similar saltiness to Cotija, but Feta has a much more robust and strong flavor.

Is this vegetarian? No, it has chicken broth. Substitute vegetable broth if you want to make this a vegetarian chowder.

Is this spicy? No! There's a little kick of heat from the Pepper Jack cheese and chili powder, but this isn't a spicy dish. If you want to give this a real kick of heat just increase the chili powder to your liking.

What should I serve on the side? This is so hearty it's a meal in itself! I just serve mine with some tortilla chips, I love the added crunch.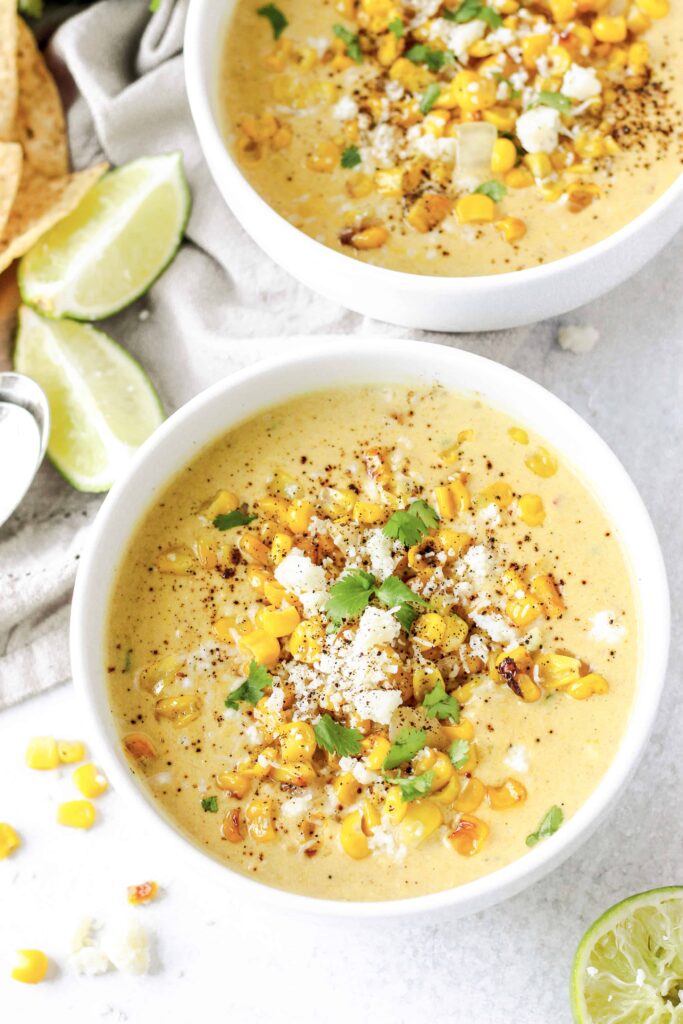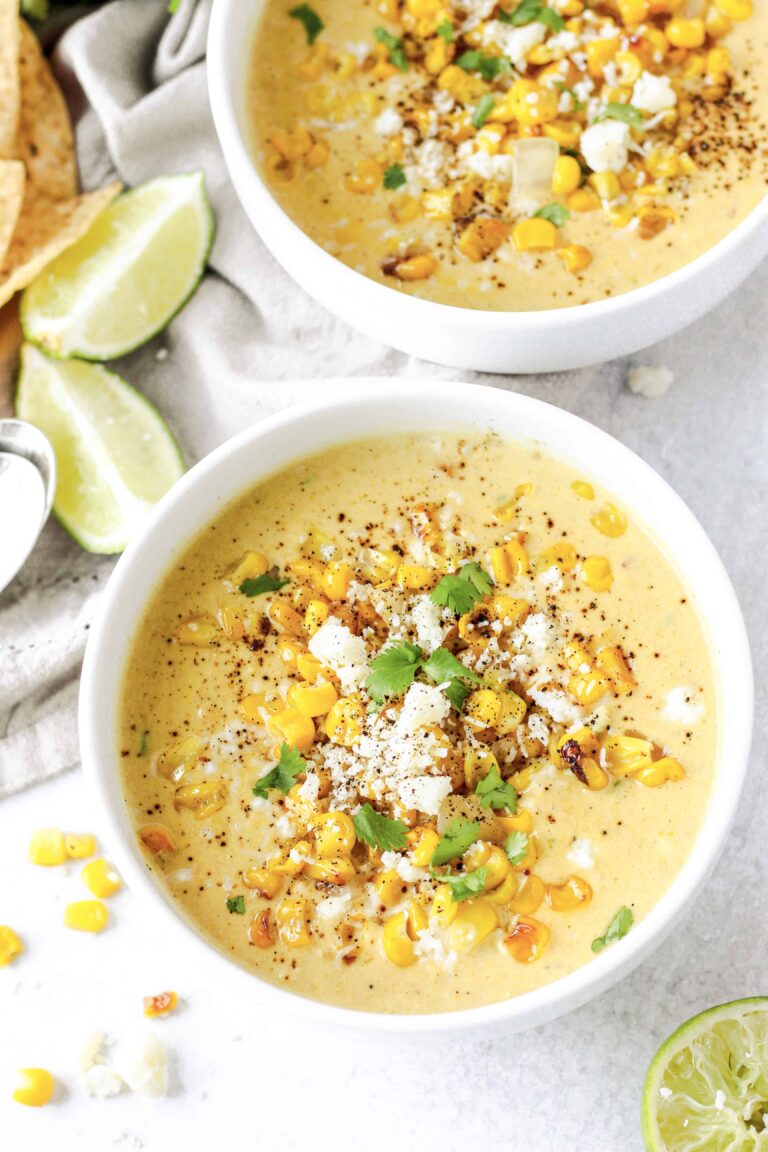 If you like recipes inspired by Mexican flavors, check out some of these!

Enchilada Tacos
Mexican Stuffed Sweet Potatoes
Fajita Pasta Bake
Hot Taco Dip
Print
Creamy Mexican Corn Chowder
Creamy Mexican Corn Chowder is a hearty chowder packed with comforting Mexican corn flavors. Charred corn, Cotija cheese, and red peppers combine to make a delicious meal in a bowl perfect for the cold weather.
Author:
Prep Time:

10

Cook Time:

45

Total Time:

55 minutes

Yield:

5-6 servings

Category:

Main Dish

Method:

Saute

Cuisine:

Mexican American
2 10oz bags of frozen corn, cooked
14.5 oz can of chicken broth
1/2 of a white onion, diced
2 cloves garlic, grated
1 red pepper, seeded and diced
1/2 teaspoon black pepper
1/2 teaspoon salt
1 cup shredded pepper jack cheese
1/2 cup crumbled Cotija cheese
2 cups half & half
1/2 teaspoon garlic powder
1/4 teaspoon chili powder
1 tablespoon fresh squeezed lime juice
1-2 tablespoons chopped cilantro
Instructions
In a large pot, heat 4 tablespoons of vegetable oil over medium heat, then add the cooked frozen corn from the bags, the diced onion, and season with salt and pepper. Cook 10 minutes, stirring occasionally. You want the corn to get browned and charred a bit and have browned bits on the bottom of the pot. Scoop out 1 cup of the corn mixture, you'll save this for the end to garnish the bowls before serving.
Next, add the 2 cloves of grated garlic and the 14.5oz can of chicken broth. Stir, making sure to scrape any of the browned bits from the bottom of the pot. This is tons of flavor for the chowder! Simmer bubbly for another 6 minutes.
Now you'll need to blend this mixture into the chowder. Pour into a food processor, a blender, or I use my NutriBullet and blend until smooth. Depending on the size of the device you may need to do this in batches. Once everything has blended, return to the pot.
Over low heat, add the Cotija cheese, red peppers, pepper jack cheese, 1/2 cup of the reserved corn, the half & half, chopped cilantro, lime juice, chili powder, and garlic powder. Taste, if you want more spice than the pepper jack cheese gives you can add more chili powder to give it more heat. Simmer 10 minutes to let the flavors combine.
To serve, laddle into bowls then top with additional crumbled Cotija cheese, more chopped cilantro, the reserved corn, additional chili power for heat if needed, and squeeze a lime wedge over top.
Notes
Cotija cheese is a salty somewhat hard Mexican cheese. You can buy it already graded or as a wedge you can grate yourself. If you can't find it you can substitute Feta cheese.
Keywords: creamy Mexican corn chowder