Pesto lovers rejoice! This Chicken Pesto Pasta Bake is comforting baked pasta dish loaded with all that robust pesto flavor you love, then made extra cheesy and baked until golden browned. From prep to finish you can have this on the table in about 35 minutes!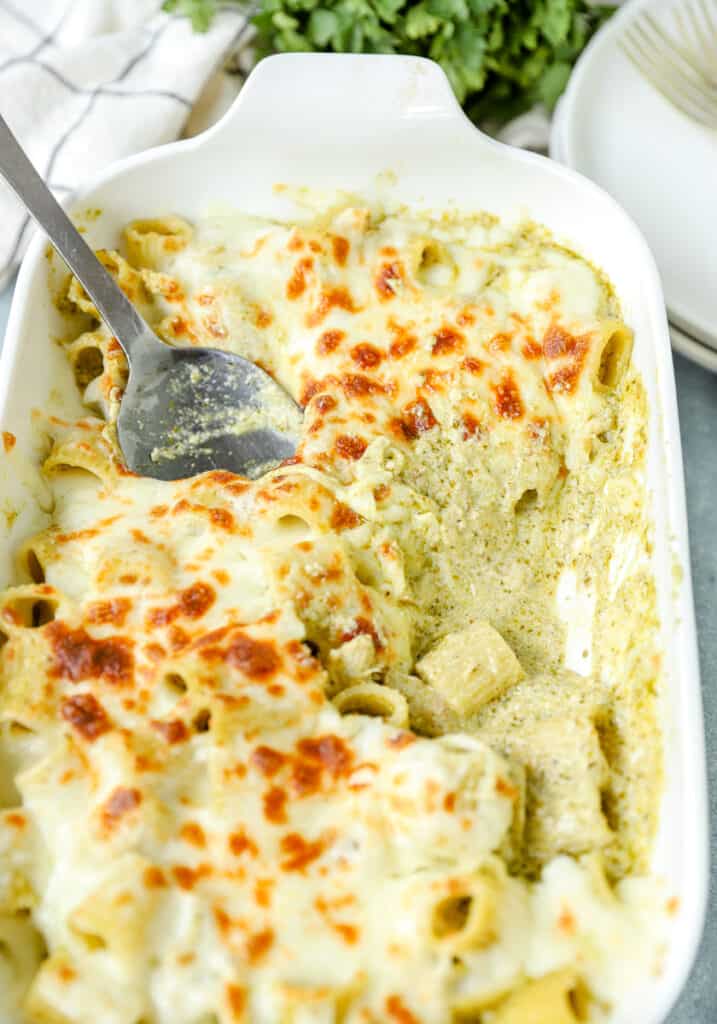 This is a dinner "win" for me not only because it's packed with flavor, but because there's minimal cleanup too! You'll cook the chicken and sauce in the same pan, then stir the noodles and chicken. Pour everything into the casserole dish, then broil. Not quite a "one pot meal" since we have the casserole dish to deal with, but it's close!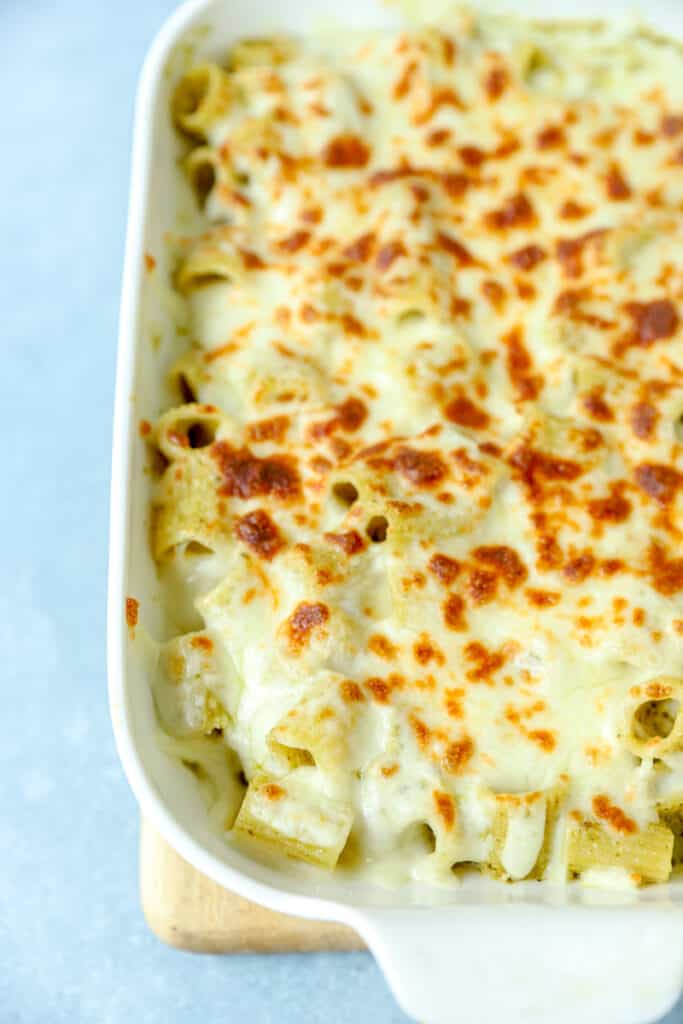 HOW TO BUTTERFLY CHICKEN
So let's talk about butterflying chicken.
I butterfly chicken breasts all the time, especially for recipes like this where you need thinner slices that will cook quickly and shred easily. This technique is essentially taking the chicken breast and slicing it sideways through the middle so that you can open the two sides like a book. Once the you "open" the chicken breast you can use your meat tenderizer to pound it to the thickness you want.
I actually have this Step by Step guide on How to Butterfly Chicken!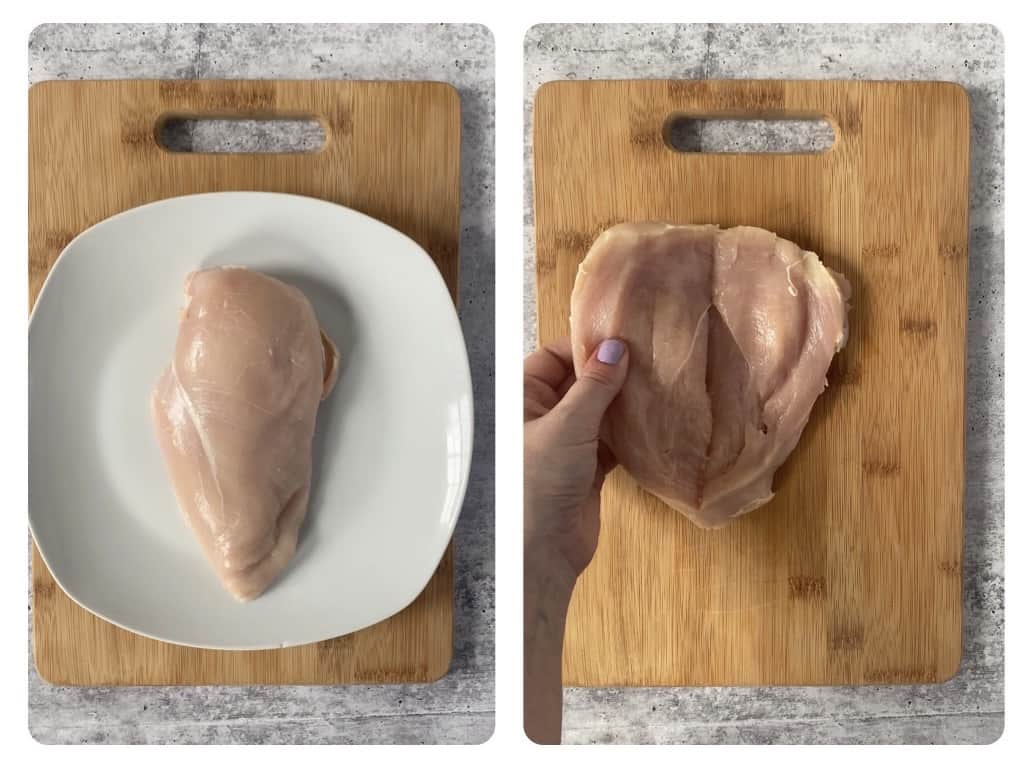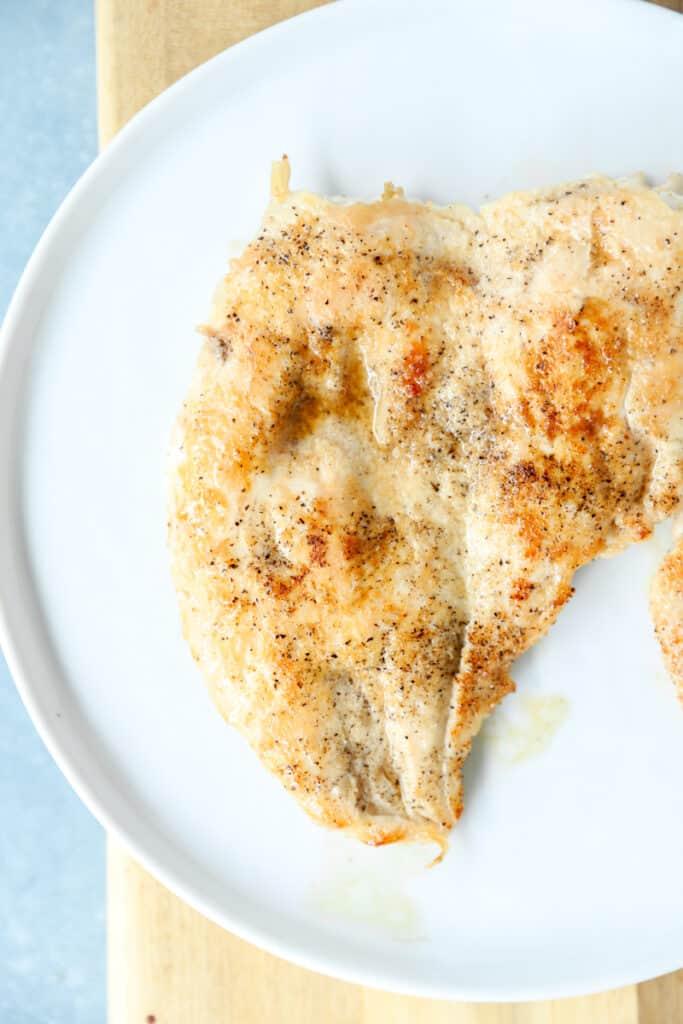 COOKING TIPS
Let's keep this easy…use jarred pesto sauce! I just try to remove as much excess oil that might be pooling at the top of the jar to not make the sauce too oily.
As always, I recommend getting a digital meat thermometer if you don't have one. This is the thermometer I use and it's crucial to make sure you don't over or under cook the chicken.
When making the cream sauce, keep a close eye on the heat, we don't want to boil the cream, which could sauce some of the milk particles to separate and get that curdled look.
Let the cooked chicken rest for a few minutes before shredding/slicing it.
For the casserole dish, I recommend baking this in a dish a size smaller than a 9×13. I can find some great options at Home Goods!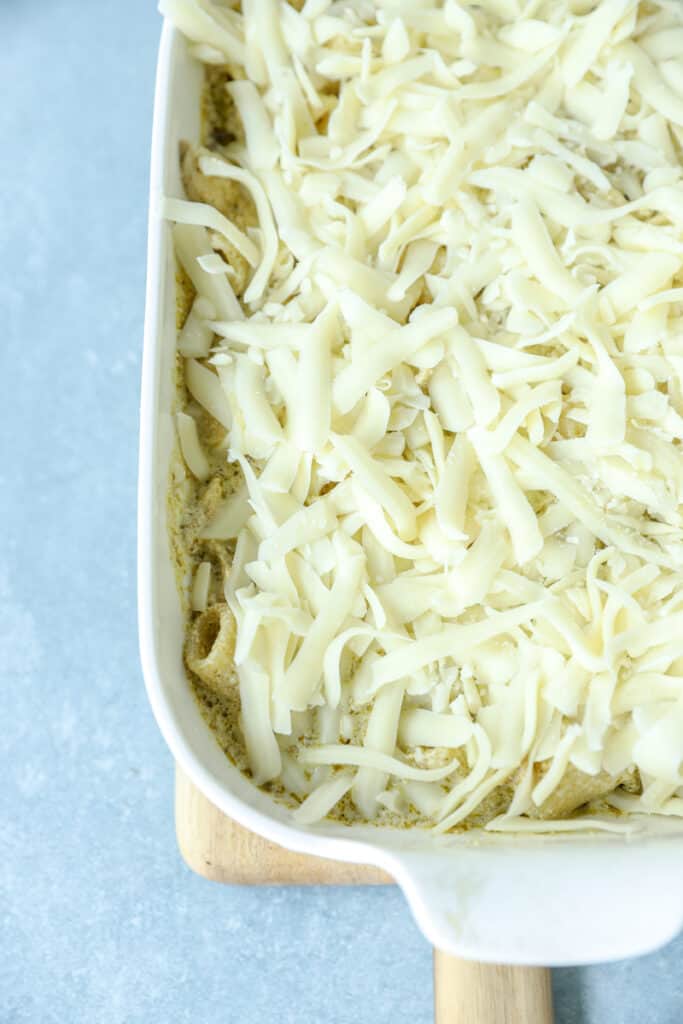 STORING AND REHEATING
You'll more than likely have some leftovers here, so let's talk about what to do with them.
To store, put the leftovers in an airtight container. Store them in the fridge for up to 3-4 days for best quality and freshness.
To reheat, I'll be honest I reach for that microwave most of the time…especially when it's in the middle of a workday and I need lunch FAST. You could also rewarm the leftovers in the oven, or in a pan with a little extra cream to bring that sauce back to life.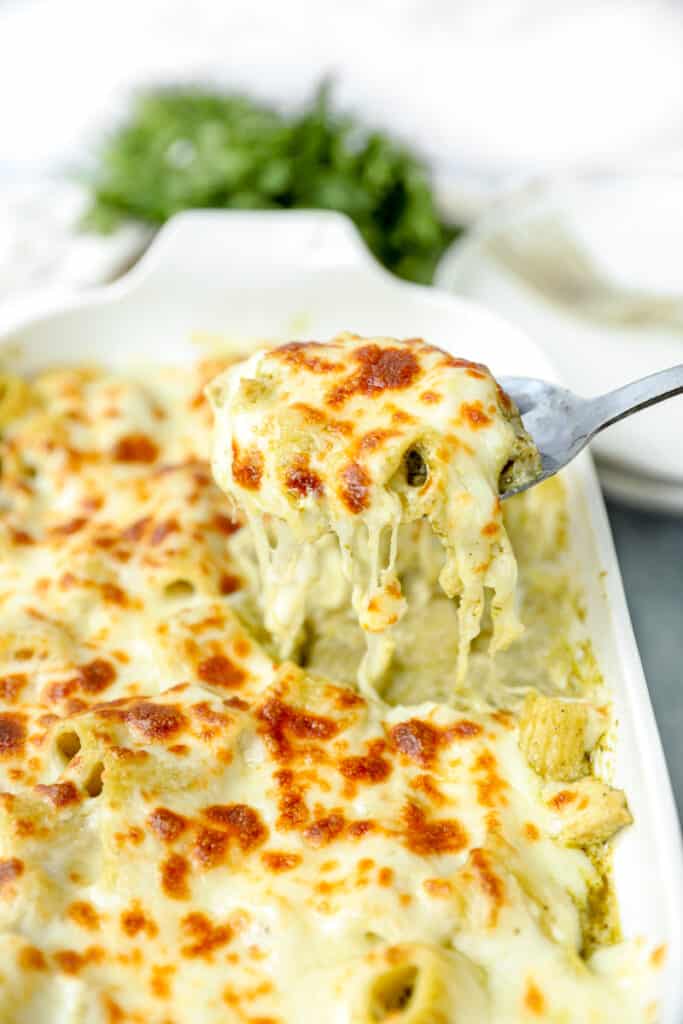 Can't get enough pesto? Check out some of my other pesto recipes here on the blog!
Easy Pesto Pasta
Pesto Ravioli
Pesto Pizza
Pesto Mayo
Pesto Chicken Parm
How about some more pasta bakes?
Beer Cheese Mac n' Cheese
Chicken Fajita Pasta
Baked Penne Vodka

Savor every bite!
Print
Chicken Pesto Pasta Bake
Chicken Pesto Pasta Bake combines all the comforting flavors of a baked pasta dish with flavorful pesto, pan seared chicken, and browned Mozzarella cheese. A delicious weeknight family dinner!
Author:
Prep Time:

15 minutes

Cook Time:

20 minutes

Total Time:

30 minutes

Yield:

6-8 servings

Category:

Main Dish

Method:

Bake

Cuisine:

Italian
2 and 1/2 cups dry rigatoni pasta
1 and 1/2 cups light cream
1/2 cup fresh grated Parmesan cheese
1 medium sized chicken breast, butterflied and tenderized thin
1/2 cup jarred pesto, drained of excess oil
1 and 1/2 tablespoons olive or avocado oil
1/8 teaspoon salt
8oz bag of shredded Mozzarella cheese
Salt, pepper, garlic powder to season the chicken
Instructions
1.  Bring a salted pot of water to boil. Cook the rigatoni according to box directions.
2. While the pasta is cooking, butterfly your chicken breast and tenderize it thin.  Season both sides generously with garlic powder and salt, then a bit of pepper.
3. In a medium pan, heat the olive or avocado oil over medium heat. Cook the chicken breast for 4-5 minutes per side depending on their thickness. Internal temperature should be 165 degrees. Once the chicken is cooked, remove from the pan and place on a plate and allow to cool for about 2 minutes, then shred and slice into small pieces.
4. Carefully wipe the pan clean of any excess oil, then pour in the cream and heat over medium to medium low heat. Add in the pesto, Parmesan, and the salt and simmer for about 5-7 minutes until thickened. Add in the cooked pasta and shredded chicken and stir so everything is coated in the pesto sauce.
5. Add the chicken pesto pasta to a medium sized casserole dish and smooth into an even layer. Cover with as much Mozzarella cheese as you want. Place the casserole dish under the broiler and broil for about 5 minutes until the Mozzarella is bubbly browned. 
Serve and savor!
Keywords: chicken pesto pasta bake