We all need some easy dinner recipes that don't take too long to get on the table. That's exactly what you'll get here with this chicken pesto pasta bake! A fun twist to your typical baked ziti, this pasta bake is loaded with flavor from the robust pesto sauce and the crunchy basil Panko topping.
Recipe at a Glance
Prep time: 15 minutes
Cook time: 20 minutes
Notes: While you're waiting for the pasta water to come to a boil prep and cook the chicken! You'll be able to get this on the dinner table in about 30 minutes.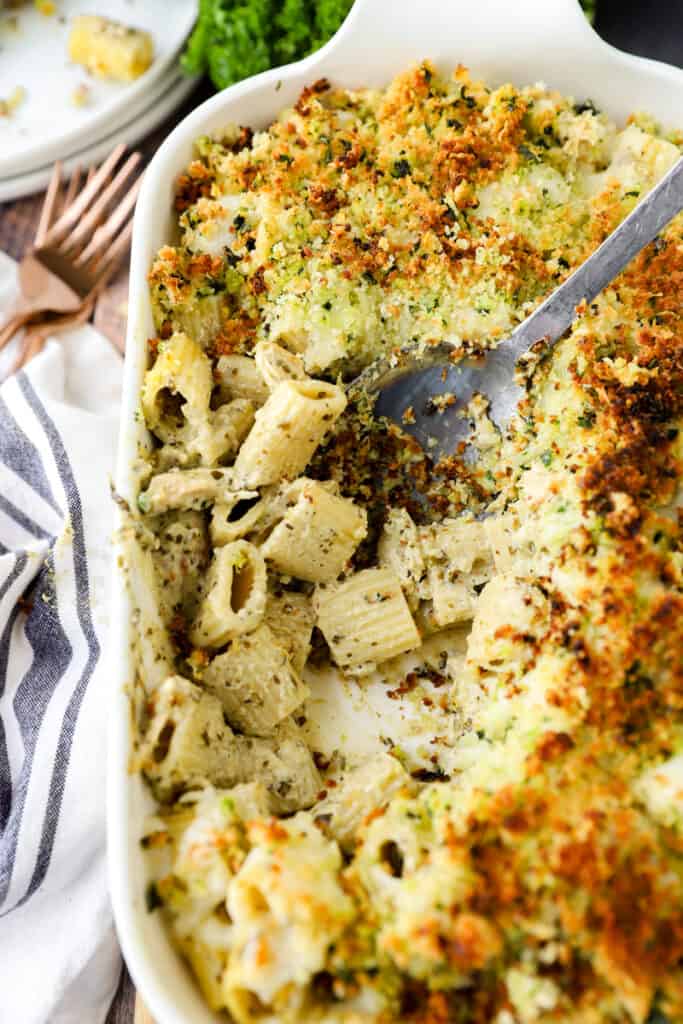 This win dinner for me not only because it's packed with flavor, but because there's minimal cleanup too! You'll cook the chicken and sauce in the same pan, then stir the noodles and chicken together in the sauce pan! So as far as pots and pans to cleanup you'll just have one saucy pan to and the pasta pot!
For leftovers I just cover the casserole dish with foil and pop it in the fridge. No need for extra leftover containers to cleanup!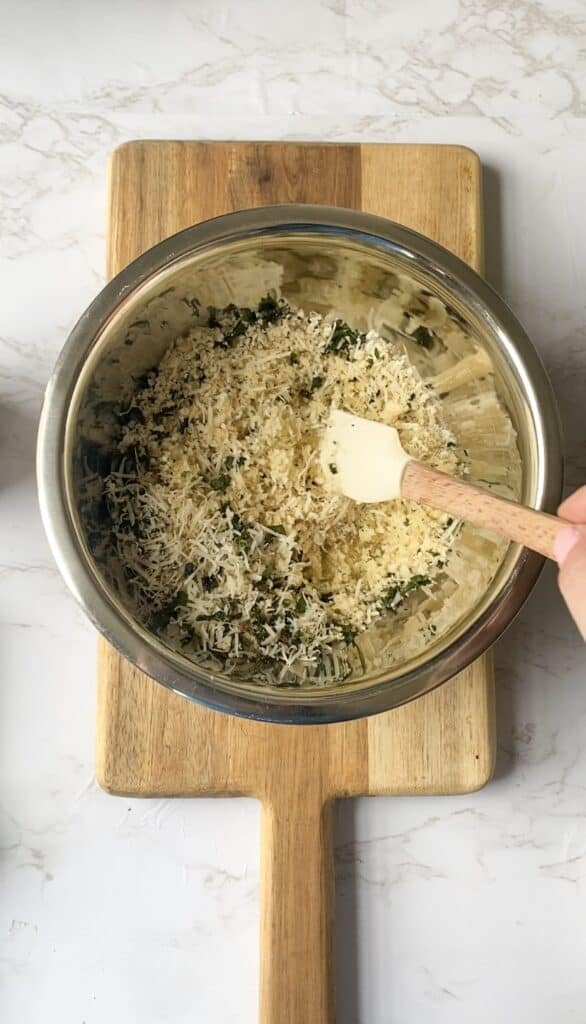 The game changer that makes this not just any old pasta bake is this basil Panko topping. Trust me do NOT skip this step!
While you could finely chop the basil yourself, I absolutely LOVE using this pre-chopped basil. You can keep it in the fridge for several weeks to use in more recipes, like my Meatballs Subs or Lemon Basil Tortellini!
How to butterfly chicken
So let's talk about butterflying chicken.
I butterfly chicken all the time, especially for recipes like this where you need thinner slices that will cook quickly and shred easily. This technique is essentially taking the chicken breast and slicing it sideways through the middle so that you can open the two sides like a book.
You can then either leave it whole like this as one thin piece of chicken, or cut down the center to create two thin chicken pieces. Here's a little helpful video on how to butterfly a chicken breast!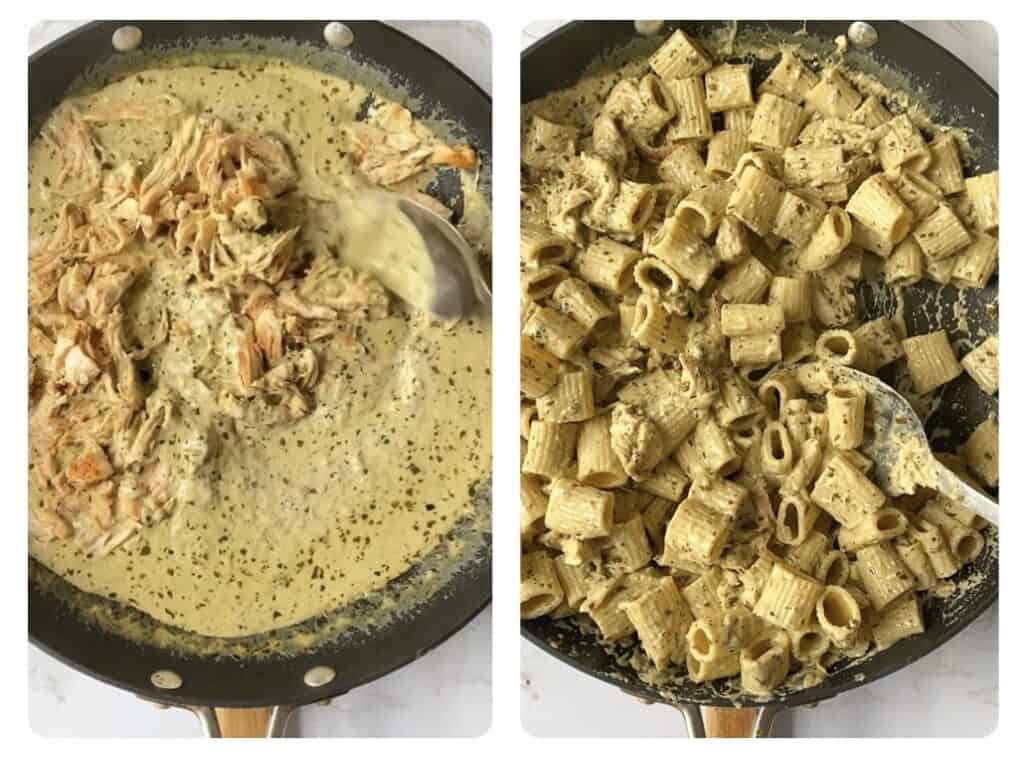 What to serve with the pesto pasta bake
This dish is on the heavier side with the cheese and the light cream in the sauce. I recommend keeping a side dish super light, and a side salad is the best way to do that! Here are some deliciously inspired salads from a few of my fellow food bloggers to check out.
Green Superfoods Salad – From A Red Spatula
Radish Cucumber Salad– From Herbs and Flour
Spinach Salad with Pears– From Saporito Kitchen
Or keep it extra simple and grab some bagged Caesar salad or garden salad from the grocery store!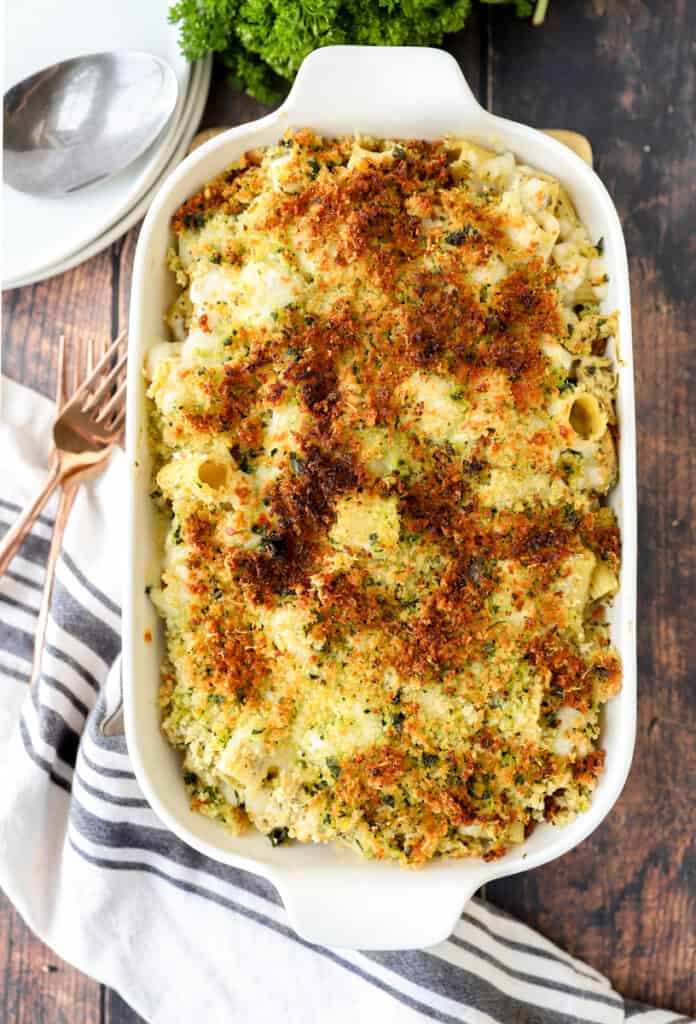 Can't get enough pesto? Check out some of my other pesto recipes here on the blog!
Easy Pesto Pasta
Pesto Ravioli
Pesto Pizza
Pesto Mayo
How about some more pasta bakes?
Beer Cheese Mac n' Cheese
Chicken Fajita Pasta
Baked Penne Vodka

Enjoy!
Print
Chicken Pesto Pasta Bake
Chicken Pesto Pasta Bake combines all the comforting flavors of a baked pasta dish with flavorful pesto, pan seared chicken, and a basil Panko topping. A delicious weeknight family dinner!
Author:
Prep Time:

15 minutes

Cook Time:

20 minutes

Total Time:

30 minutes

Yield:

6-8 servings

Category:

Main Dish

Method:

Bake

Cuisine:

Italian
3 cups dry mezzi rigatoni pasta
1 and 1/2 cups light cream
1 medium sized chicken breast, butterflied sliced thin
1/2 cup jarred pesto, drained of excess oil
1 tablespoon olive oil
1/4 teaspoon salt
8oz bag of shredded Mozzarella cheese
Salt, pepper, garlic powder to season the chicken
For the Panko Topping
3/4 cup Panko
3 tablespoon butter, melted
1 tablespoon finely chopped basil
1/4 cup fresh grated Parmesan cheese
1/4 teaspoon garlic powder
Instructions
1.  Bring a salted pot of water to boil. Cook the mezze rigatoni according to box directions.
2. While the pasta is cooking, butterfly your chicken breast into thin slices. Depending on the size of the chicken you could get three thin slices (I usually get 2 slices). Season both sides with garlic powder, salt and pepper.
3. In a medium pan, heat the olive oil over medium heat. Cook the chicken breasts for 4-5 minutes per side depending on their thickness. Internal temperature should be 165 degrees. Once the chicken is cooked, remove from the pan and place on a plate and allow to cool for about 2 minutes, then shred into small pieces.
4. Carefully wipe the pan clean, then pour in the cream and heat over medium heat. Add in the pesto and the 1/4 teaspoon of salt and simmer for about 5-7 minutes until thickened. Add in the cooked pasta and shredded chicken and stir so everything is coated in the pesto sauce.
5. While the sauce is cooking, make the Panko topping. In a small bowl mix the Panko, melted butter, basil, garlic powder, and Parmesan. 
5. Add the chicken pesto pasta to a large casserole dish and smooth into an even layer. Cover with as much Mozzarella cheese as you want, then add the Panko topping again making sure this is a flat even layer so it browns evenly. Place the casserole dish under the broiler and broil for about 3 minutes until the Panko is deeply browned. (It's important the Panko is an even layer so that some parts don't burn. If you notice some of the topping is cooking faster than others, carefully remove from the broiler and use a spoon to mix the topping).
Serve and enjoy!
Keywords: chicken pesto pasta bake