If you want a quick, easy, and affordable dinner idea for a busy weeknight this easy pesto pizza is for you!
Homemade pizzas are one of my favorite fast and easy weeknight dinner ideas. The flavor combination of the garlicky pesto with the cool and creamy ricotta will leave you wanting this every week! And since it's so easy, you totally can.
You'll need about 10 minutes of prep time for this pizza, and a total of 20 minutes cook time. That means dinner from prep to finish in 30 minutes!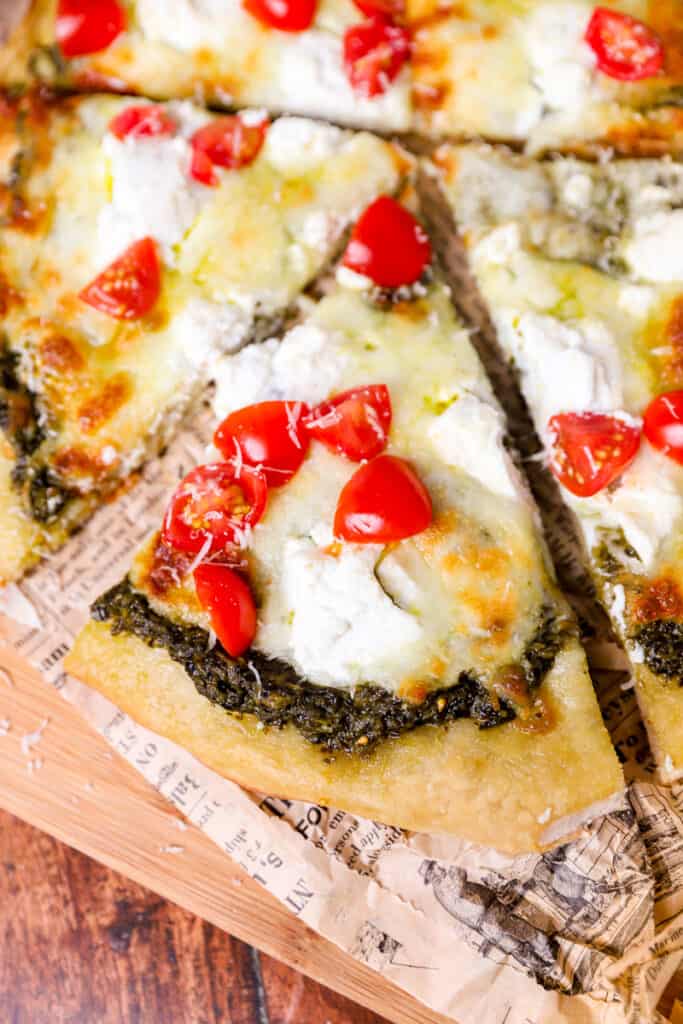 Ingredients list
The ingredient list isn't extensive, and everything you can find easily at your grocery store! While you could be a total rockstar and whip up your own pesto for this, jarred pesto is completely fine and I use it in recipes all the time. It saves so much time and energy and you're still getting the robust fresh flavor of pesto.
And, there's very little slicing and dicing required!
You'll only be dicing some cherry tomatoes, that's it! Everything else is just a basic layering and combining to get this luxurious and colorful pesto pizza.
So here's what you need:
A ball of pizza dough
Some flour for prepping your countertop to roll out the dough
A jar of basil pesto
Shredded Mozzarella cheese
Ricotta cheese
Grated Parmesan cheese
Extra virgin olive oil
Garlic powder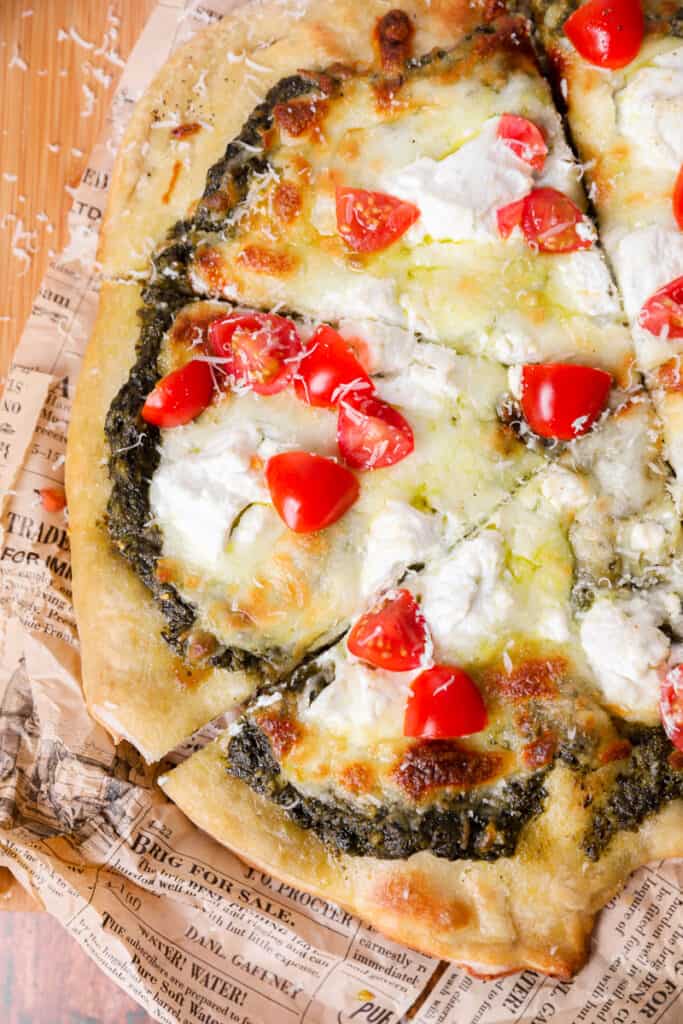 I always keep a jar or two of pesto in my pantry! It's such an easy and minimal effort way to infuse a ton of flavor into a dish. Pesto goes great with chicken, pastas, fish, and of course…pizza!
Want more recipes that use pesto? Checkout my Creamy Pesto Pasta, Pesto Ravioli with Burrata, Chicken Pesto Pasta Bake, and this delicious spread Pesto Mayo.
I know I've said this before…but I love homemade pizzas. I have a few more pizza recipes on the blog you might like! Roasted Red Pepper Pizza uses a sauce of smooth blended roasted red peppers, Buffalo Chicken Pizza is spicy, Vodka Sauce Pizza has perfectly crunchy prosciutto on top, and Goat Cheese Onion Pizza tastes like gourmet pizza right from your oven!
Want more easy dinner ideas? Check out my recipe category for 30 Minute Meals!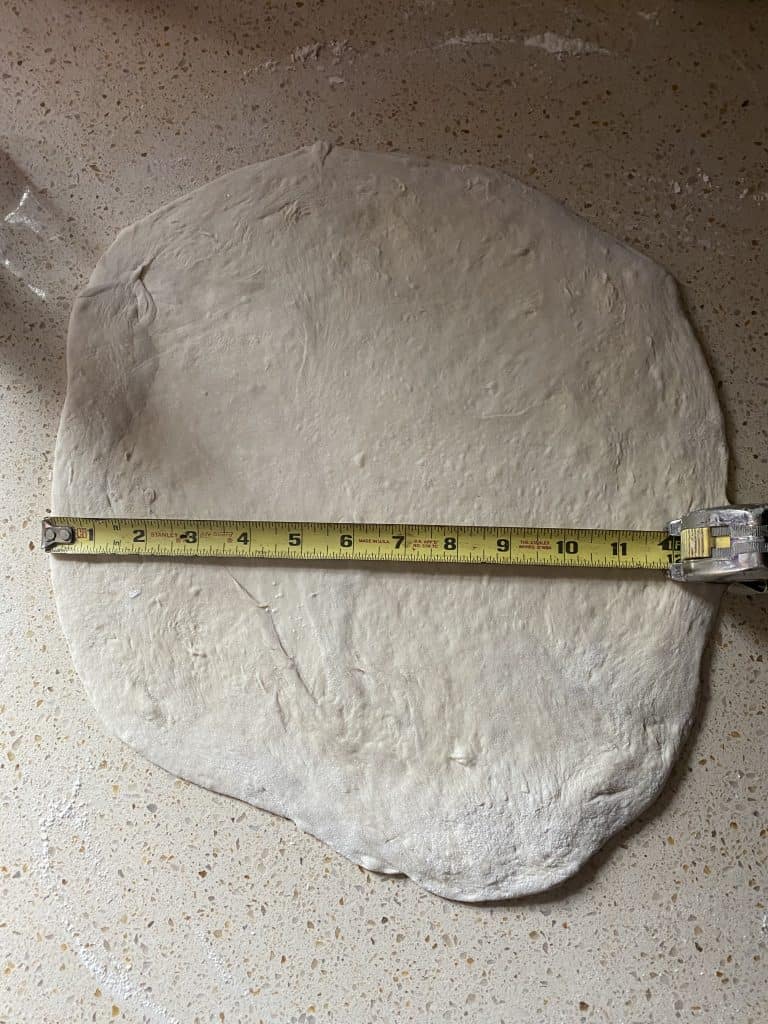 Working with fresh pizza dough
Back to making some pesto pizza. Here are some tips and tricks I've learned along my pizza making experiences!
The dough needs to be room temperature
If this is your first time working with fresh dough (not the Pillsbury kind from the canister), first you need to let the dough rest out of the fridge for about 30 minutes. Cold gluten is tight and won't be very cooperative in making a pizza pie shape. If you try to stretch the cold dough right from the fridge will kind of spring back into shape as you're trying to press it out.
Take the pizza dough out of the plastic packaging and place in a bowl that has been coated lightly with a little oil or a little flour. Let it sit for 30 minutes, then you're ready to go!
Shaping the dough
Start by prepping your work surface where you'll be shaping the dough. Some people like to lightly oil their work surface, but I prefer a light dusting of flour. Place your dough in the center and use both hands to start pushing the dough into a circular shape.
After you've pressed out an initial shape I like to move to the gravity method! This will really make you feel like you're in a pizzaeria. First, pick up the dough and drape it over your fists and allow the weight of the dough to continue to stretch itself out. Working quickly and moving your fists to allow the dough to move in a circular direction until you've worked through the whole pizza.
Check out this video on Youtube of this method! Skip to about the 3:30 mark to see what I'm talking about!
While you don't have to be this exact, I like to measure my dough to make sure I'm at 12″. This will help make sure you don't have a crust that's too thin or too thick. So, if you have a ruler or tape measure handy give it a quick measure to confirm you've stretched out your dough to 12″.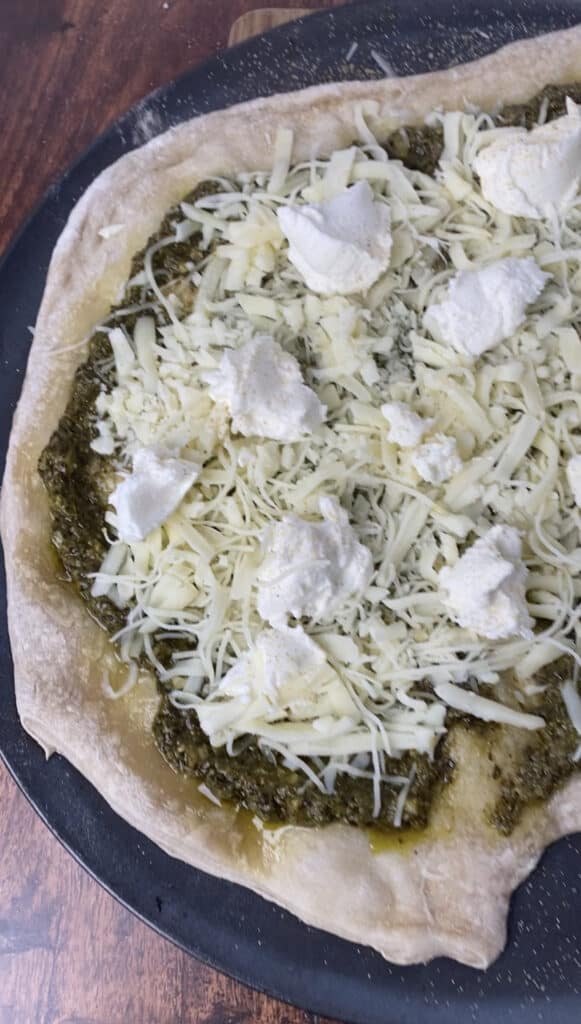 Once you've got the dough all worked out, in important step is pre-baking the dough before you add all the pizza toppings.
Since we're working with conventional ovens and not the super hot pizza ovens, it's important to make sure all of the dough is cooked and nothing is left too raw or undercooked.
Pre-bake the dough by baking it for 8 minutes at 425 degrees. Once this step is completed you're ready to add the pesto and cheeses then pop it back in the oven for another 10-12 minutes to finish it up!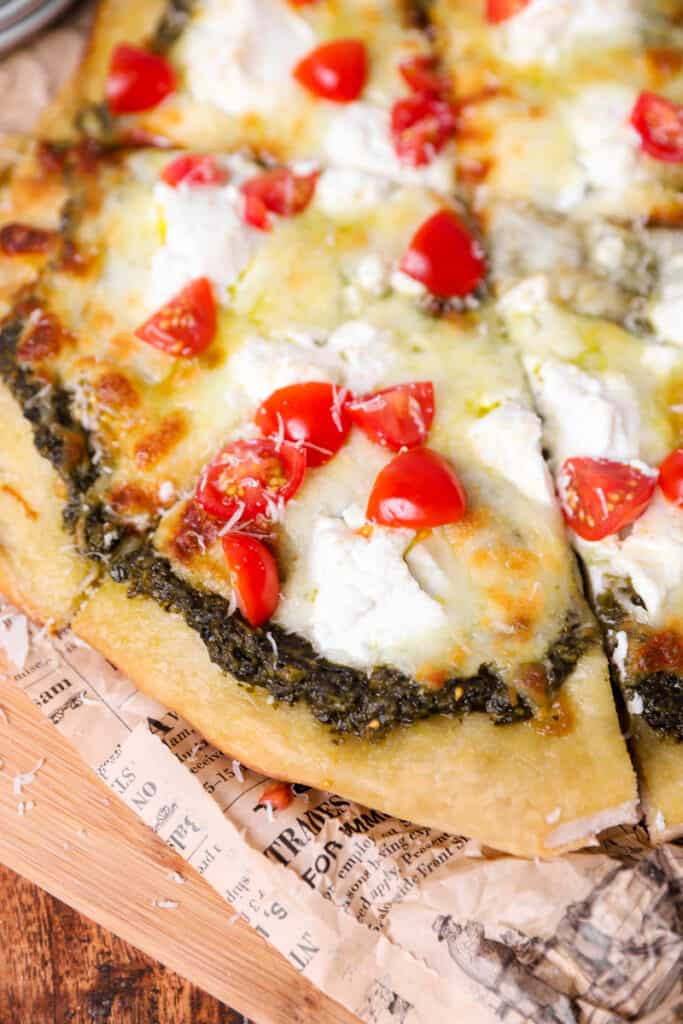 If you make this recipe and loved it I'd be so appreciative for a 5 star review!
Print
Easy Pesto Pizza
This easy pesto pizza is a perfect dinner on a busy day. Ready for the dinner table in less than 30 minutes, it's loaded with cheeses, pesto, and fresh cool tomatoes.
Author:
Prep Time:

10 minutes

Cook Time:

20 minutes

Total Time:

30 minutes

Yield:

6 slices

Category:

Main Dish

Method:

Bake

Cuisine:

American Italian
1 ball of pizza dough
1 and 1/2 cups shredded Mozzarella cheese
1/2 cup whole milk ricotta cheese
1/2 cup of pesto (use your favorite jarred or homemade if you have it) 
1 tablespoon grated Parmesan cheese
1/2 cup diced cherry tomatoes
Extra virgin olive oil and garlic powder for the crust
Instructions
1. Preheat your oven to 425 degrees. Lightly spray your pizza pan with cooking spray. Lightly flour your countertop and press your pizza dough into a 12″ circle. Prick the dough a few times with a fork, then pre-bake 8 minutes. It may puff up as it bakes, just use a fork to prick any big air bubbles and flatten the crust.
2. After the dough has pre-baked, cover the dough with the pesto, leaving enough room on the edge for the crust. Cover the pesto with the Mozzarella cheese, then dollop the ricotta over top. Lastly, sprinkle the grated Parmesan evenly over the whole pizza. Finish by brushing the crust edge with extra virgin olive oil and sprinkle of garlic powder. Bake for 10-12 minutes.
3. To serve, slice the pizza into 6 slices and top with the diced cherry tomatoes.
Notes
This recipe uses a ball of fresh pizza dough. You could also use the packaged dough in a tube and make a rectangle pizza, but you might need to adjust the amount of cheese for this shape.
Use your favorite brand of jarred pesto, or if you have some homemade pesto you can use that too!