I'm such a fan of homemade pizzas for dinner. If  you want a quick, easy, affordable dinner idea for a busy weeknight, pizza is definitely the way to go. There are so many varieties and most of them don't require extensive prep work, like this easy pesto pizza. I make this at least twice a month, it's that good!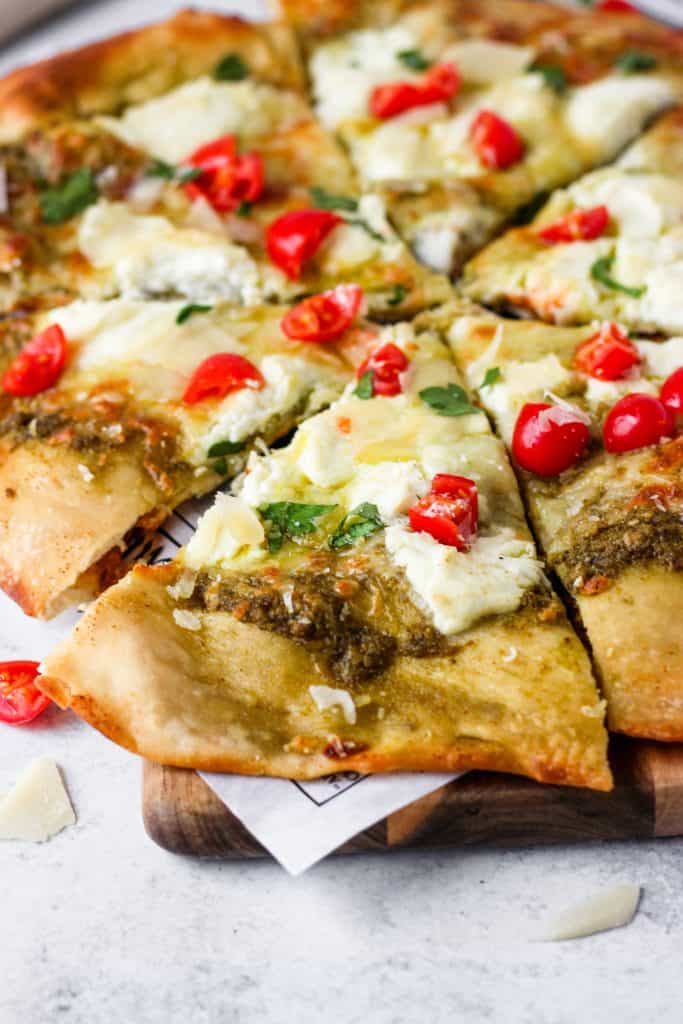 What you need for a pesto pizza
The ingredient list isn't extensive, and everything you can find easily at your grocery store! While you could be a total rockstar and whip up your own pesto for this, jarred pesto is completely fine and I use it in recipes all the time. It saves so much time and energy and you're still getting the robust fresh flavor of pesto.
And, there's very little slicing and dicing required! You'll only be dicing some cherry tomatoes, that's it! Everything else is just a basic layering and combining to get this luxurious and colorful pesto pizza.
So here's what you need:
A ball of pizza dough
Some flour for prepping your countertop to roll out the dough
A jar of basil pesto
Shredded Mozzarella cheese
Ricotta cheese
Grated Parmesan cheese
Extra virgin olive oil
Garlic powder
I usually have everything on hand except the ricotta and the dough. I love keeping a few jars of pesto in my pantry since it's a great way to add tons of flavor to a dish with minimal effort. Like my Creamy Pesto Pasta!
The flavor combination of the garlicky pesto with the cool and creamy ricotta will leave you wanting this every week! And since it's so easy, you totally can.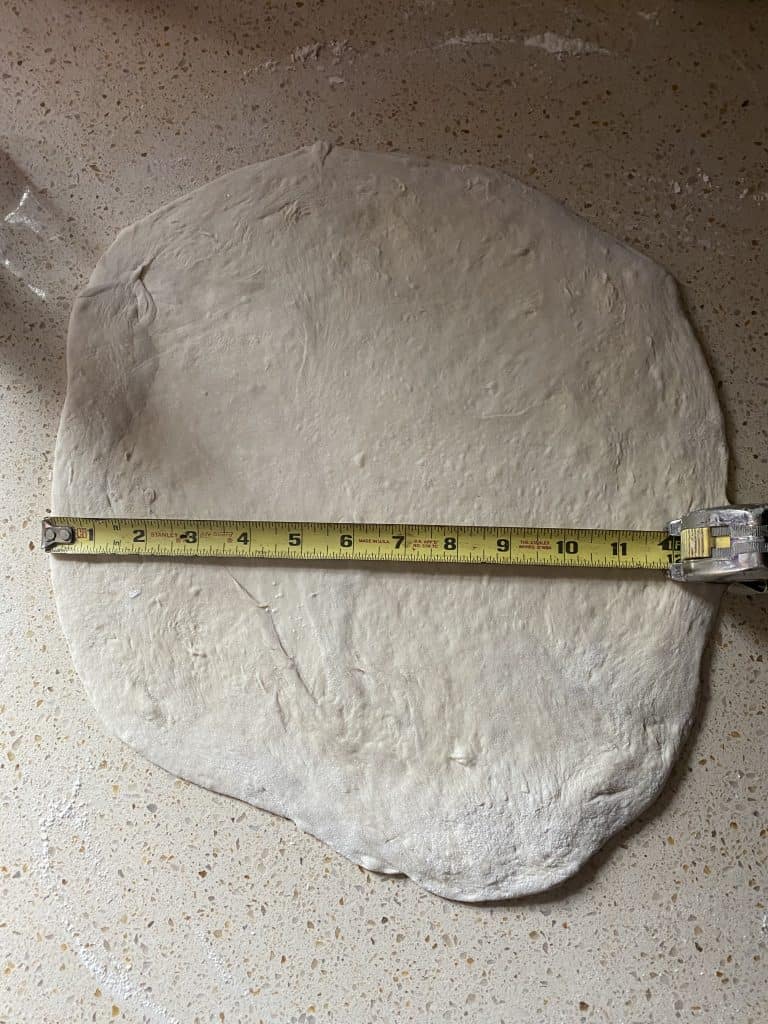 While you don't have to be this exact, I like to measure my rolled dough to make sure I'm at 12″. This will help make sure you didn't roll it too thin, or not wide enough which would mean a pizza crust that's too thick!
So, if you have a ruler or tape measure handy give it a quick measure to confirm you've rolled out your dough to 12″.
If this is your first time working with fresh dough, it can be a little challenging to work with at first. You'll notice that as you roll it, it will start to retract back, unlike cookie dough which stays in place as you roll it. So the way I work with pizza dough is I start to roll it out into the circle shape, then pick it up and drape it over my fists and use my fists to stretch the dough into the final circle shape. Check out this video on Youtube of the method. Skip to about the 3:30 mark to see what I'm talking about!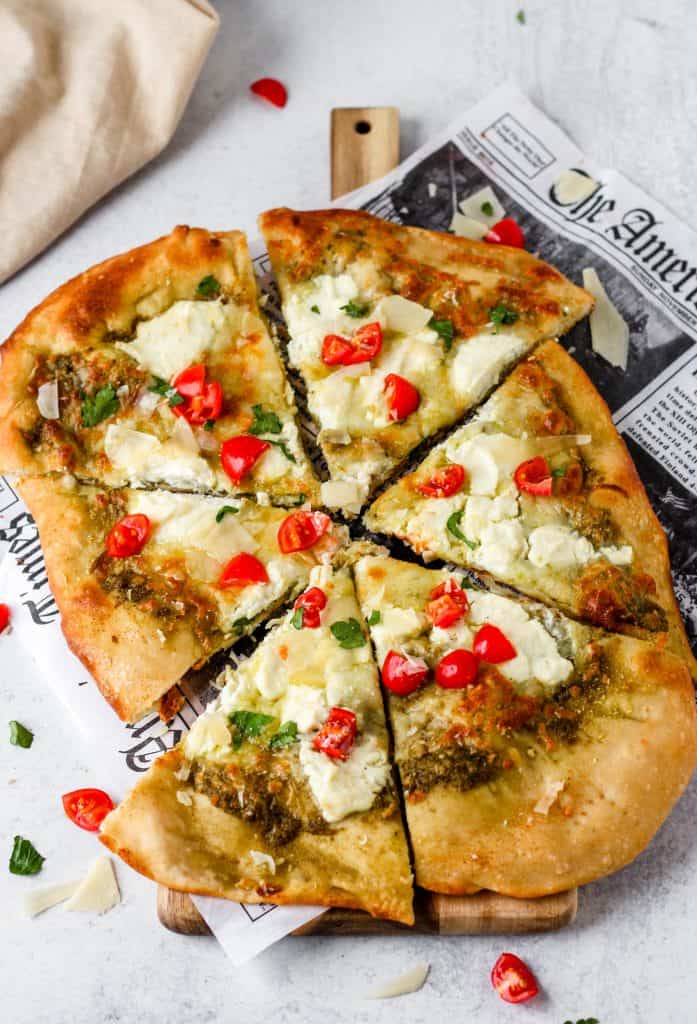 Another note, I use bagged shredded Mozzarella cheese on my pizzas. I've bought the block of cheese and shredded it myself before and honestly, I found that it was giving a slightly chewier texture when baked on pizzas and I wasn't loving it. So go ahead, grab the jarred pesto and bagged cheese and call it a day. Haven't you worked hard enough today?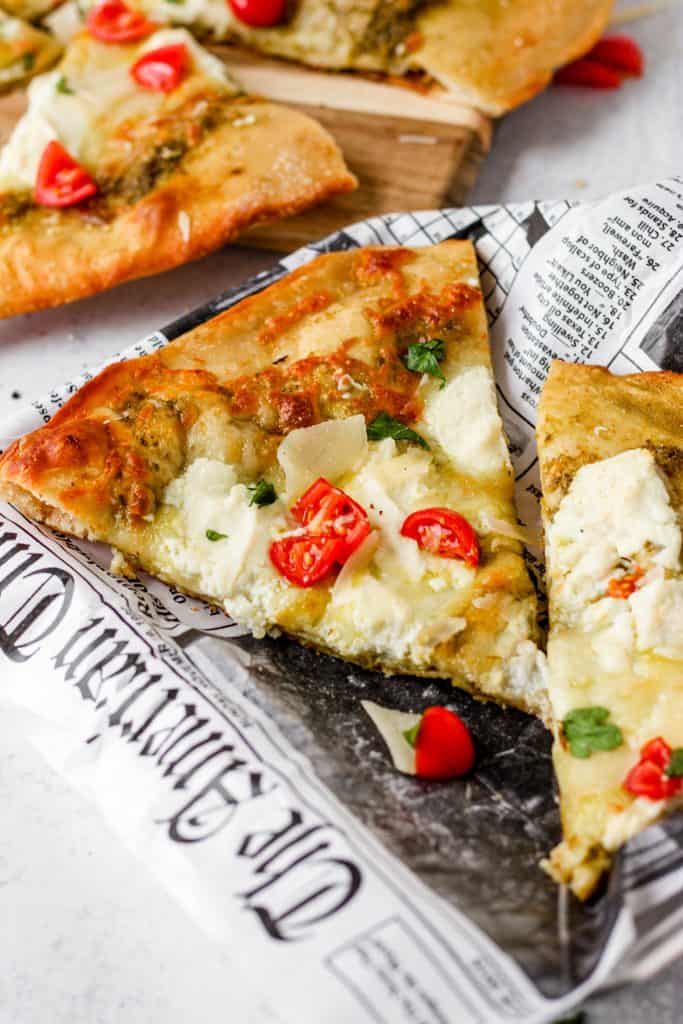 Want more easy dinner ideas? Check out my recipe category for 30 Minute Meals!
I also have this Roasted Red Pepper Pizza which is one of my other favorite homemade pizzas to make!
For more food photos, recipe ideas, and cooking tips follow me on Instagram at ASeasonedGreeting!
Print
Easy Pesto Pizza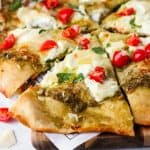 This easy pesto pizza is a perfect dinner on a busy day. Ready for the dinner table in less than 30 minutes, it's loaded with cheeses, pesto, and fresh cool tomatoes.
Author:
Prep Time:

5 minutes

Cook Time:

20 minutes

Total Time:

25 minutes

Yield:

6

slices

1

x
Category:

Main Dish

Method:

Bake

Cuisine:

American Italian
1 ball of pizza dough
1 and 1/2 cups shredded Mozzarella cheese
1/2 cup whole milk ricotta cheese
1/2 of a 6.70z jar of pesto (jarred pesto varies in sizes. For this recipe I used a 1/2 of a 6.70z jar. You might need to adjust more or less depending on the jar size you have)
1 tablespoon grated Parmesan cheese
1/2 cup diced cherry tomatoes
Extra virgin olive oil and garlic powder for the crust
Instructions
1. Preheat your oven to 425 degrees. Lightly spray your pizza pan with cooking spray. Lightly flour your countertop and roll your pizza dough into a 12″ circle. Prick the dough a few times with a fork, then pre-bake 8 minutes. It may puff up as it bakes, just use a fork to prick any big air bubbles and flatten the crust.
2. After the dough has pre-baked, cover the dough with the pesto, leaving enough room on the edge for the crust. Cover the pesto with the Mozzarella cheese, then dollop the ricotta over top. Lastly, sprinkle the grated Parmesan evenly over the whole pizza. Finish by brushing the crust edge with extra virgin olive oil and sprinkle of garlic powder. Bake for 10-12 minutes.
3. To serve, slice the pizza into 6 slices and top with the diced cherry tomatoes.
Notes
This recipe uses a ball of fresh pizza dough. You could also use the packaged dough in a tube and make a rectangle pizza, but you might need to adjust the amount of cheese for this shape.