Ready to give your next pizza night a serious upgrade? Let me introduce you too this Goat Cheese and Onion Pizza topped with a raspberry balsamic drizzle. This is the pizza you need when you want something a little fancier, but don't want to order out!
You get the perfect flavor combinations here. Smooth and creamy goat cheese, lightly caramelized onions, sweet and tangy raspberry balsamic, then a fresh crunch of arugula. A beautiful pizza dinner that isn't complicated to make!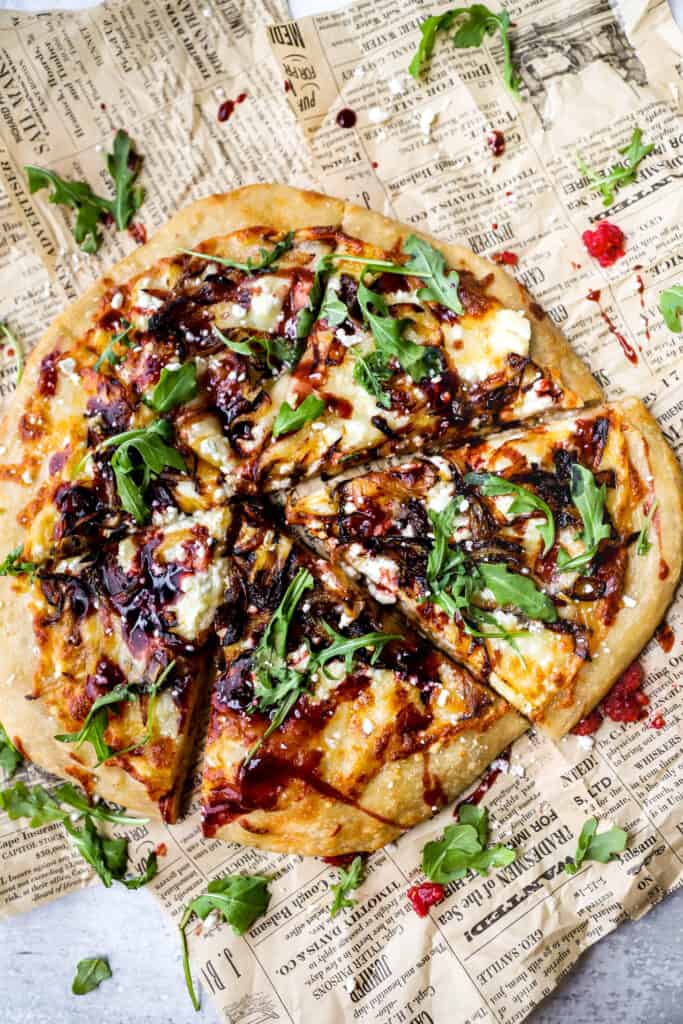 This isn't just any old pizza night.
This is restaurant quality gourmet pizza night. Lightly caramelized onions, goat cheese, Mozzarella, cheese, arugula, and an easy homemade raspberry balsamic glaze makes this a little masterpiece! Have this for a weeknight dinner or this would be great for girl's night with a bottle of crisp white wine!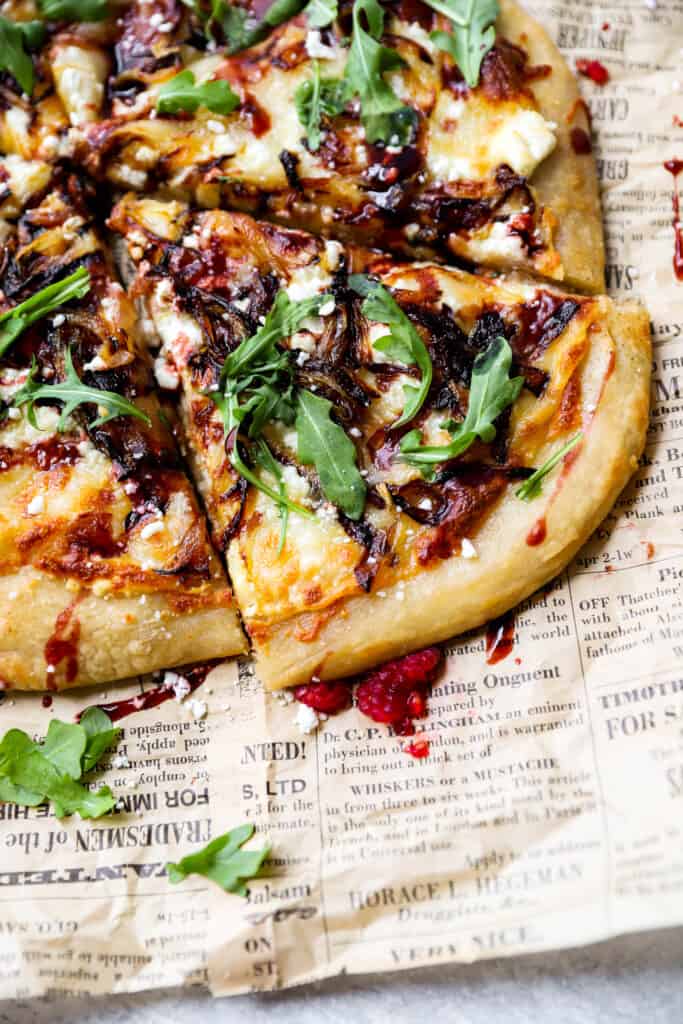 How to make goat cheese and onion pizza
Here's the ingredients you need!
Fresh pizza dough. You can find fresh pizza dough in the grocery store. In the store I go to it's in the same area as the packaged pizza doughs and cinnamon buns, on a lower shelf. You can also buy fresh dough from your local pizzeria! I used a 15oz pizza dough ball for this recipe.

White onion, olive oil, salt, garlic powder. You'll use the oil for the onions, but also for brushing the crust of the pizza before baking it! I love to sprinkle the crust with salt and garlic powder before baking it.
Mozzarella cheese and goat cheese. You can use crumbled goat cheese, or buy a log of goat cheese and crumble it yourself. I've made this both ways, and find the pre-crumbled saves a little time and mess. If you have a log of goat cheese it helps to pop it in the freezer for a few minutes to make it easier to work with and less mushy.
Balsamic vinegar, raspberries, corn starch and water, sugar. This is all to make the delicious raspberry balsamic drizzle. You'll make a slurry, which is corn starch mixed with water, to help the sauce thicken a bit into a glaze so it isn't watery.

Arugula. Not much to say here lol, just buy some fresh arugula. The pop of green makes this pizza a real beauty!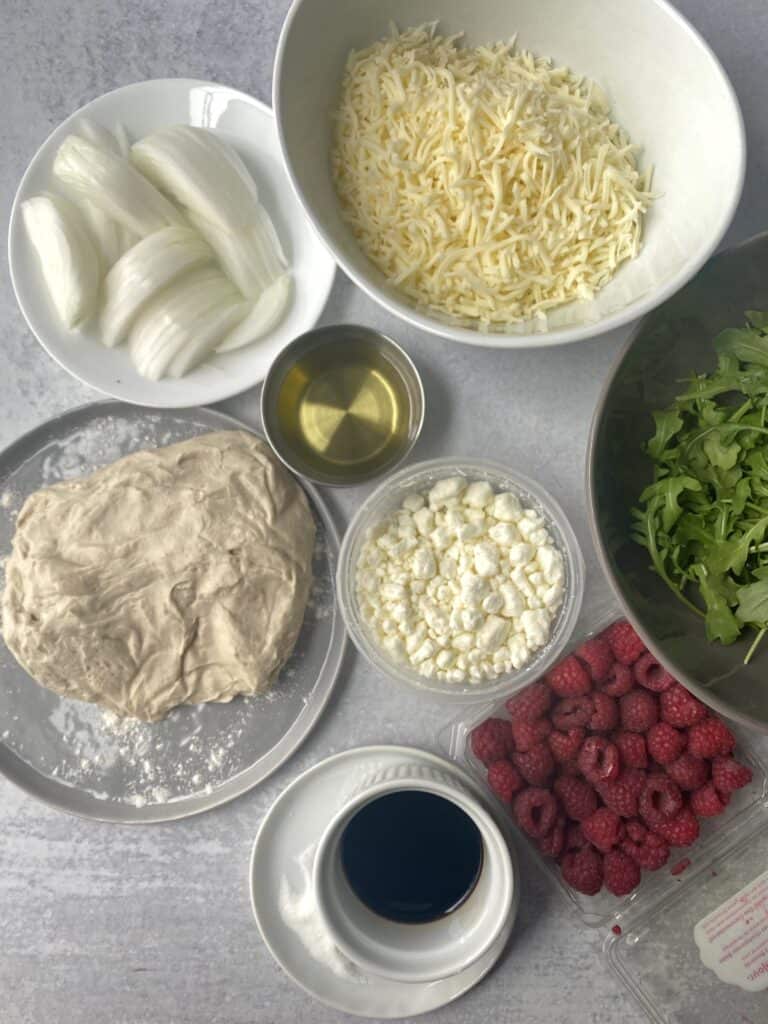 Here's what you'll need for kitchen tools!
Pizza pan, pizza cutter. If you don't have a round pizza pan you can use a rectangle baking sheet. I've done this before and it comes out just as good!
Pot, pan, strainer. You'll use the strainer to strain the raspberry balsamic to remove the seeds and raspberry pieces.
Basting brush. I use this to brush the crust with olive oil. If you don't have a basting brush, you can also scrunch up some paper towel and dip that in the oil to dab the crust.
That's really it! Nothing too complex or special! Do you have everything you need to make this goat cheese and onion pizza?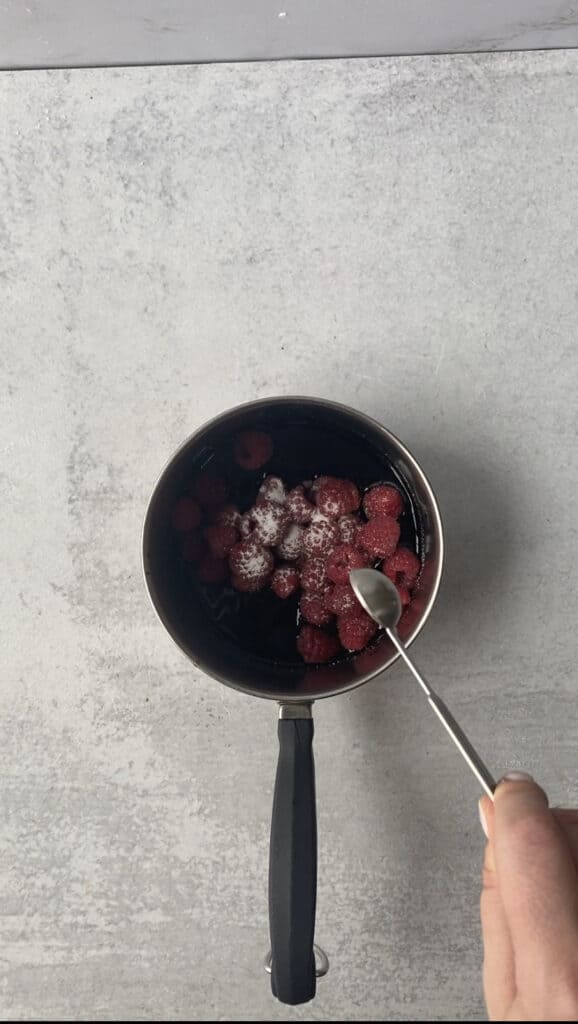 How to stretch pizza dough
Maybe this is your first time using fresh pizza dough. I wanted to share some tips on how to work with dough, and how to stretch it out to fit it on your pizza pan!
I'll be honest with you, I found pizza dough tricky to work with at first. I could never get it pressed out, it would shrink back up. Then I'd grab my rolling pin and aggressively roll the dough until I managed to get a form that slightly resembled a pizza. So after research, learning, and testing, I've got a few tips to share with you so you're pizza dough experiences are much better than mine.
The dough should be room temperature. This is the biggest step I was missing! I'd take the dough out of the fridge and immediately start working with it. Big mistake! When the gluten in the dough is cold it will snap back when you try to press it out. So let the dough sit on the counter and come to room temperature, I promise this is a game changer in working with pizza dough!
One of my tricks to making a perfect pizza is to treat the exposed crust with olive oil, salt, and garlic powder before baking it.
That way you don't have a bland pizza crust, you'll have a crust that's the perfect end bite to a loaded pizza like this one!
Prep your surface. Whatever surface you're working on to press out the dough, make sure it's been prepped. I like to flour my counter, but you can also use oil according to The Kitchn's post on pizza dough tips.
Take to the air. Ok I'm not going to tell you to start throwing pizza dough around, but it does help to get the dough off the counter. After I roll it out a few times and start to get the circle shape, I pick up the dough and put it over top of my fists and then use my fists to work the dough in a circle to stretch it out. Check out this pizza tutorial video on Youtube of what this method looks like. Skip to about the 3:30 mark! This really helps stretch the dough the final last bit.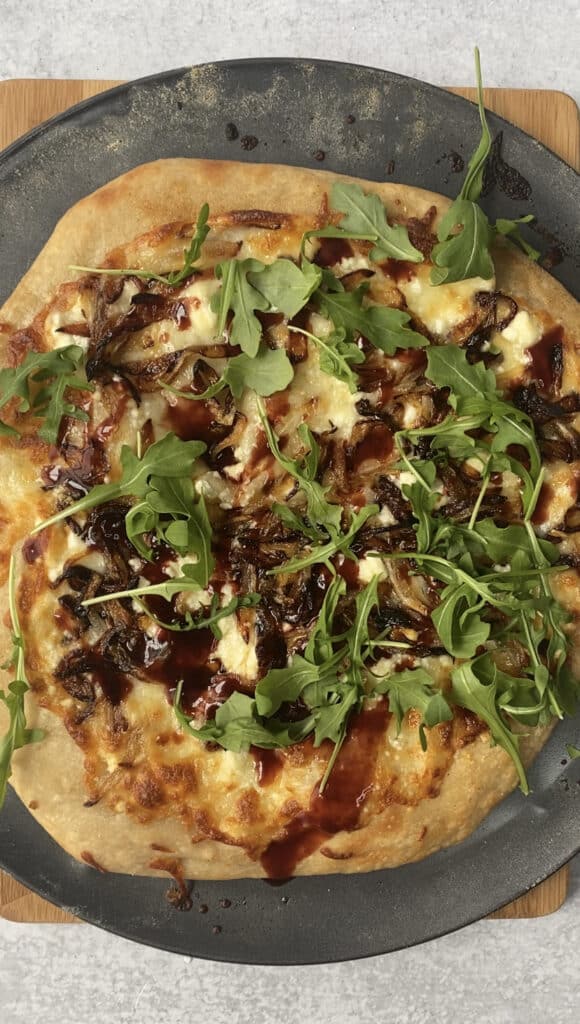 Need more easy and inspired dinner recipes? I've got you covered! Check out some of these recipes you can add to your weekly dinner menu.
Roasted Red Pepper Sauce Pizza. Make a smooth roasted red pepper sauce for this quick but unique pizza dinner!
Love pesto? Put it on a pizza with this Easy Pesto Pizza.
How about some meatballs? A lemony meatballs with these Chicken Piccata Meatballs, or all the flavors of chicken parm in a Chicken Parm Meatball, or lighten things up with a feta and lemon Greek Chicken Meatball.
Add a bit of spice with a Cajun Seasoned Mac and Cheese or easy Enchilada Tacos.
Last but not least, my favorite one pan dinners is this Sazon Chicken. Bone-in check thighs with so much flavor from sazon and a homemade marinade.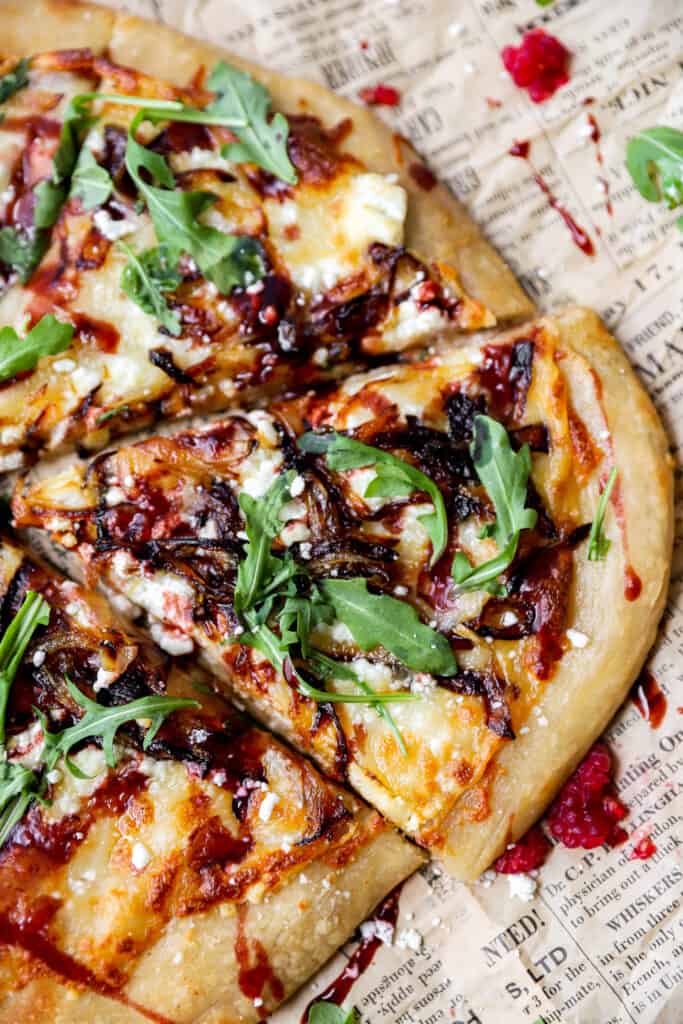 Print
Goat Cheese and Onion Pizza
Make your next pizza night extra special with this Goat Cheese and Onion Pizza! A gourmet style pizza top with a raspberry balsamic vinegar and fresh arugula. 
Author:
Prep Time:

15 minutes

Cook Time:

20 minutes

Total Time:

35 minutes

Yield:

6 slices of pizza

Category:

Main Dish

Method:

Baking

Cuisine:

American
1 fresh pizza dough, the dough I used was a 15oz ball
1 large white onion, sliced thin
1 tablespoon olive oil, plus a little more to brush the crust
8oz package of shredded Mozzarella cheese
1/2 cup crumbled goat cheese
1/4 cup balsamic vinegar
3/4 cup fresh raspberries
1 teaspoon sugar
Salt to taste
2 teaspoons corn starch mixed with 2 teaspoons water
Arugula
Instructions
1. Heat oven to 425. Place pizza dough on a floured surface and gently press out to the shape of the circle, the size of your pizza pan. See post above for tips on how to work with pizza dough. Bake for 8 minutes.
2. In a small pan or pot, add the balsamic vinegar, the raspberries, sugar, the corn starch mixed with water, and a dash of salt. Mash the raspberries in the pot or pan to help them breakdown. Heat to a boil then reduce to low to simmer, about 8 minutes until slightly thickened. Remove from heat and strain into a bowl to remove the seeds, so you're left with a smooth seedless raspberry balsamic glaze.
3. In a large pan over medium-high heat, heat the olive oil and add the sliced onions. Cook until dark browned and lightly crispy. If onions are sticking to the pan, add a drizzle of oil and adjust the heat to medium if needed. Cook about 10-15 minutes, don't over stir. You want the onions to sit on the heat to get browned before stirring them around too much.
4. Top the pre-baked pizza crust with the shredded Mozzarella cheese, making sure to leave an edge for the crust. Next add the goat cheese, then lastly spread the cooked onions over top. Brush the crust edge with olive oil, and sprinkle with a little salt and I like a little garlic powder too. Bake for 10-12 minutes until the cheese is dark browned and bubbly.
5. Garnish the baked pizza by drizzling the raspberry balsamic and arugula.
Notes
If the raspberry balsamic is staying to thin and watery, add an additional mixture of 1 teaspoon corn starch and 1 teaspoon water to help thicken it up.
Keywords: goat cheese and onion pizza
Adapted from a recipe at Eat Good 4 Life