Never have bland chicken again. Sazon chicken is an easy chicken thighs recipe that's packed with abundant flavor from limes, sour orange, and a homemade spice blend. This chicken is bursting with flavor, and it's so tender it shreds apart just with your fork! Serve with a side of rice or mashed potatoes, and plenty of extra lime wedges for a burst of fresh lime juice overtop. Seriously, I make this about once a week!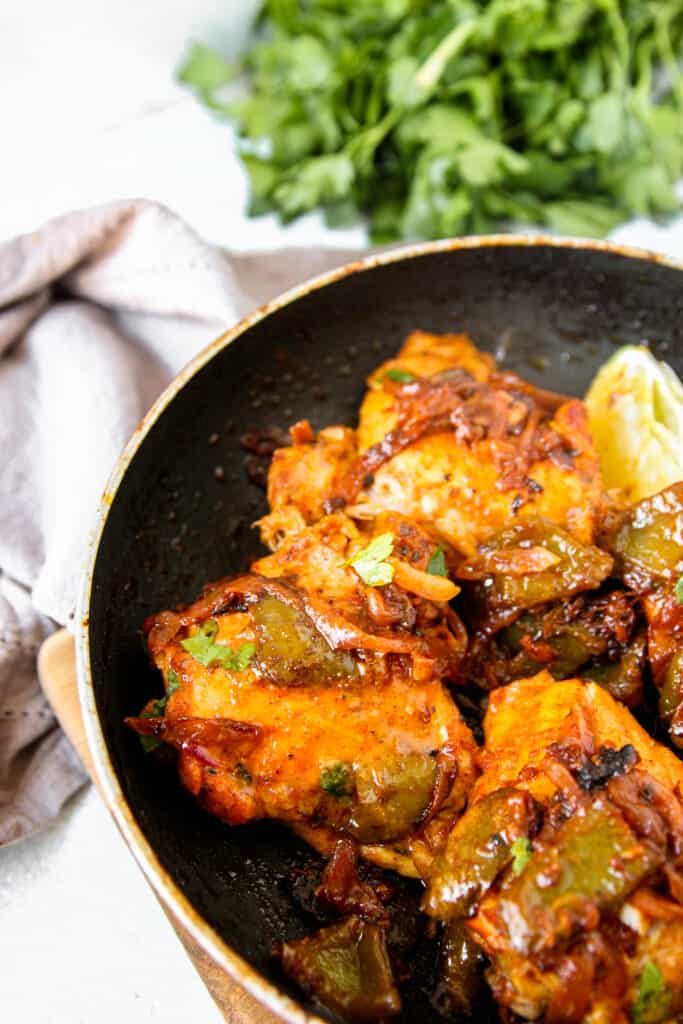 Sazon translates to "seasoning" in Spanish, and these chicken thighs are definitely seasoned. The secret is in the homemade spice blend, a copycat of those orange Goya packets you've probably seen! The best part about making the spice blend yourself is controlling the salt level!
I've used the packets before and my biggest complaint was the saltiness! With homemade sazon, you're in control! You can visit my post here for the spice mix, or I've copied it for you down here:
Homemade Sazon
Let's make a super versatile sazon! Here's what you need:
1 tablespoon ground annatto
1 tablespoon garlic powder
1 tablespoon cumin
1 tablespoon coriander
1/2 tablespoon salt
1 and 1/2 teaspoons oregano
1 teaspoon black pepper
Just mix everything together! For this recipe I use 3 teaspoons of the spice blend for 4 chicken thighs. But you can also use this to season ground beef, even potatoes!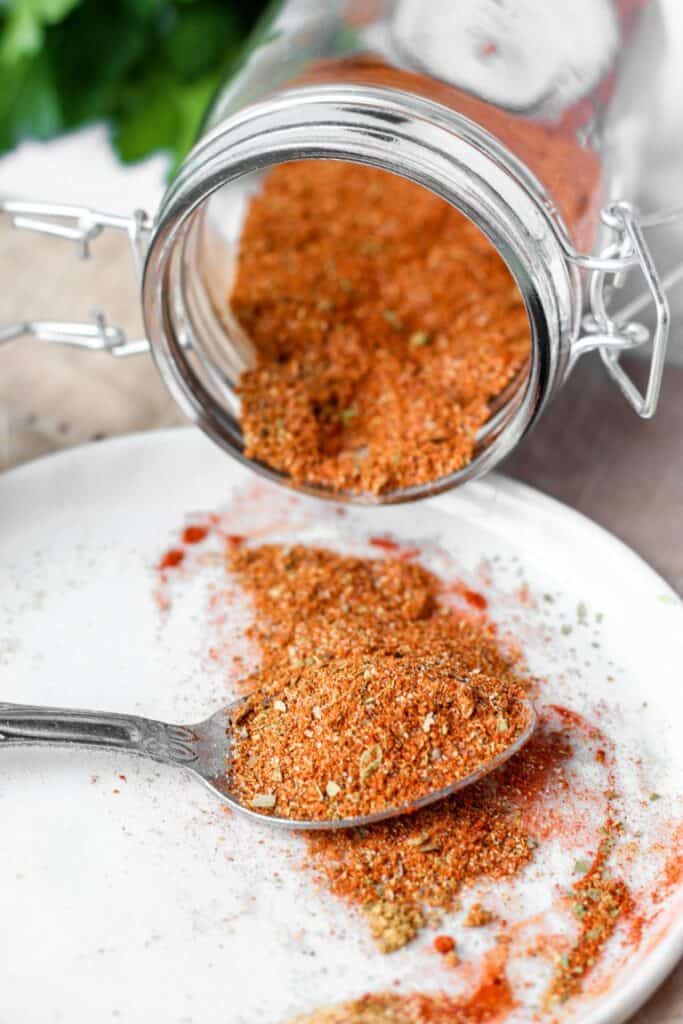 Ingredients
So now that we've made the spice mixture, it's time to make the sazon chicken! Here's what you need:
Bone-in chicken thighs
Olive oil
Garlic
Limes
Oregano
Cumin
Salt & pepper
Sour orange mix (or fresh sour oranges if you can't find them!)
Chicken bouillon powder
Red onions
Green pepper
The great thing about this recipe is I usually have all these on hand! Red onions, limes and green peppers are staples in my kitchen, and I usually have some frozen chicken thighs I can thaw out! So this is a great recipe idea for when you want something delicious and satisfying but don't want anything super complicated!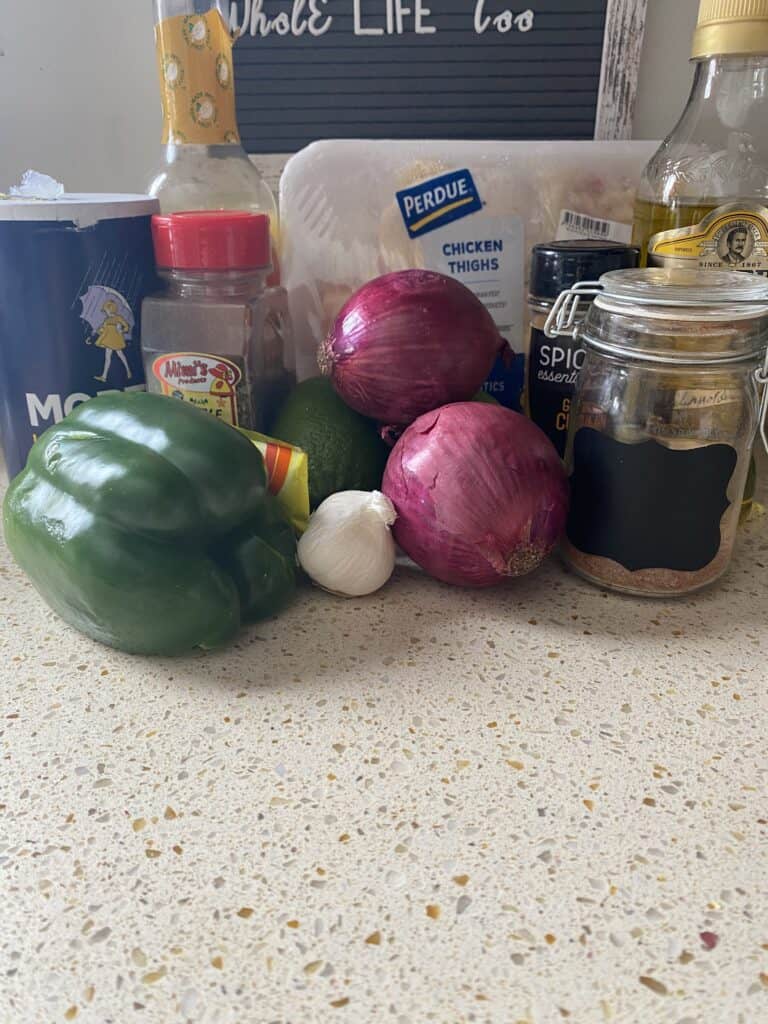 What makes this so easy is everything cooks up in one pan! This really is a "set it and forget it" type dish.
Just season the chicken with the spice blend and the marinades, then add to a pan filled with 1 cup of boiling water.
Cook covered on low for 30 minutes, flip and cook another 15 minutes.
Flip again, uncover, bring to a boil and add your onions and peppers.
Cook until all the liquid has boiled off and the peppers and onions are soft and caramelized.
Ok so that's condensing the recipe a bit, but you get the idea. Once it's in the pan cooking your really just flipping it, adding the peppers and onions, then reducing everything down!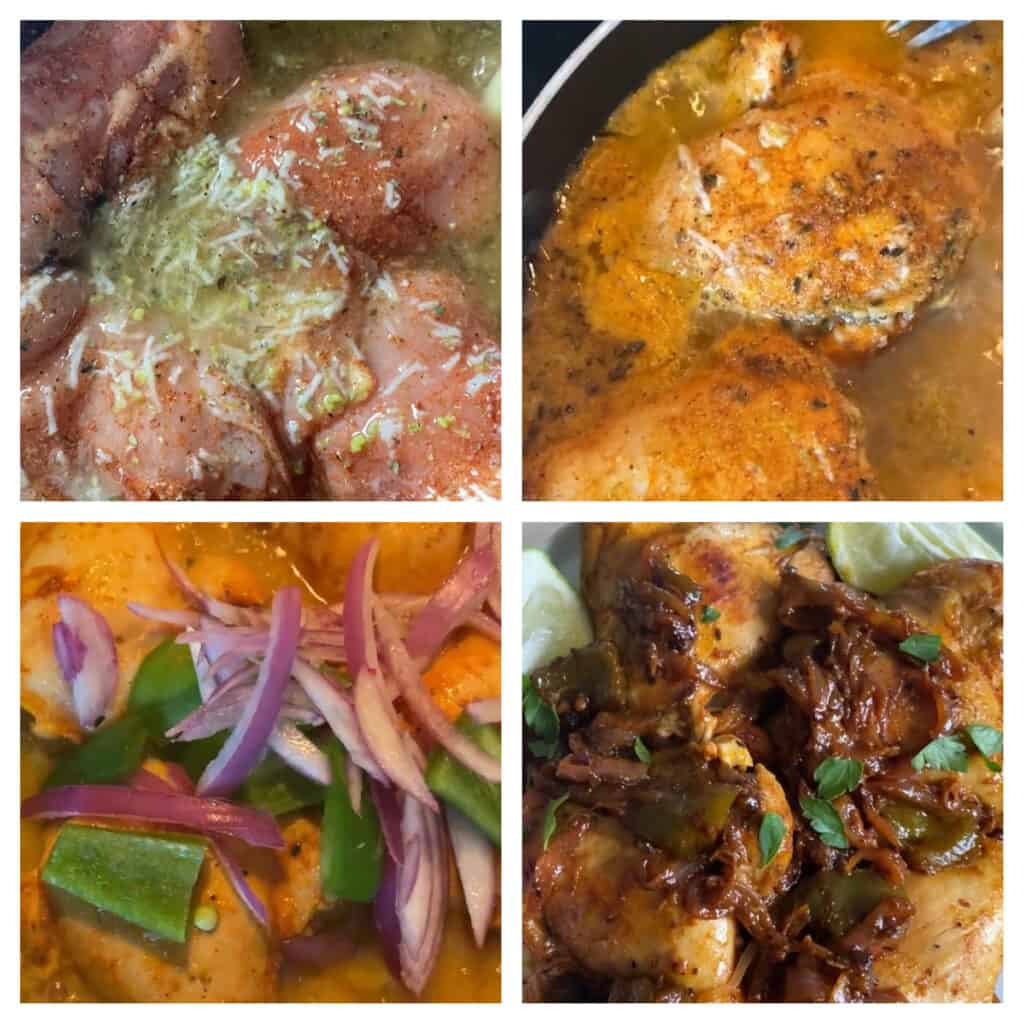 Cooking Tips
Use bone-in chicken thighs for this! The chicken won't be as tender and moist if you use boneless.
You can cook the chicken right away after adding the seasonings and marinade, or you can leave it in the fridge for a few hours!
When you're finishing up the peppers and onions in the pan, if there's extra oil just carefully tilt the pan and use a pan to remove any unwanted excess oil.
As the peppers and onions are cooking, occasionally add a tablespoon of water to deglaze the pan. This will help them not stick to the button, as well as continually pick up all the flavor from the pan and add it back to the peppers and onions!
These chicken thighs are delicious with a side of rice or mashed potatoes!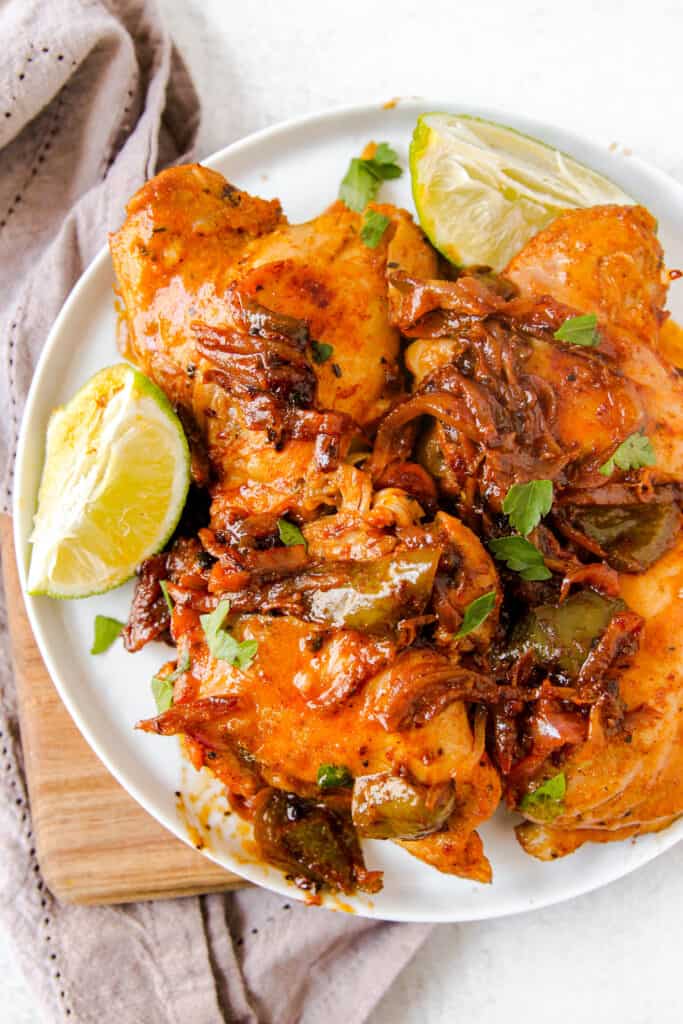 Easy dinners are one of my favorite things to cook! I'm always needing easy but inspired meals during the week. Check out some of my other popular recipes you might love too!
Chicken Parm Meatballs give you all the flavors of chicken parm in an easy meatball!
Chicken Piccata Meatballs are a lemony chicken meatball topped with fried capers.
Never buy jarred Alfredo again with this Easy Alfredo Sauce recipe!
Pizza night? This Roasted Red Pepper Sauce Pizza is one of our favorites!
Change up taco night! Instead try these Taco Meatballs or these Enchilada Tacos! Both easy, and ready in about 30 minutes!
Print
Sazon Chicken
Sazon chicken is a flavorfully seasoned bone-in chicken thigh recipe! Seasoned with an easy homemade spice blend and marinated in juices make this bursting with citrus and spiced flavor. Everything cooks up in one pan!
Author:
Prep Time:

15 minutes

Cook Time:

65 minutes

Total Time:

1 hour 20 minutes

Yield:

4 servings

Category:

Main Dish

Method:

Saute

Cuisine:

American
4 bone-in chicken thighs
2 red onions
1 green pepper, you'll use about 3/4 of it
1/2 cup sour orange marinade (or fresh sour orange juice)
4 garlic cloves, grated
3 teaspoons homemade sazon
1/4 cup olive oil
1/4 cup lime juice
1/2 of one lime zested (just zest half of one lime)
1/2 teaspoon oregano
1/2 teaspoon cumin
1/4 teaspoon salt
1/4 teaspoon black pepper
1/2 teaspoon garlic powder
1/8 teaspoon chicken bouillon powder
1 cup water
Instructions
1. To make the marinade, in a bowl combine the olive oil, grated garlic cloves, lime juice and lime zest, oregano, cumin, and salt & pepper. Stir well to combine.
2. Remove the skin from the bone-in chicken thighs and place chicken in a large bowl. Season with 3 teaspoons of the homemade sazon and the 1/2 teaspoon of garlic powder, making sure to season both sides of the chicken. Pour in the homemade marinade and the sour orange marinade. 
2. In a medium pan heat 1 cup of water to boiling. Add in the seasoned chicken thighs and pour in all the marinade from the bowl as well, sprinkle the tops of the chicken with the 1/8 teaspoon of chicken bouillon. Reduce heat to low and cover.  Simmer covered for 30 minutes.
3. While the chicken simmers, slice the red onions into thin slices, chop about 3/4 of the green pepper into pieces about an inch big, and cut the lime into wedges.
4. After the chicken has simmered for 30 minutes, flip each thigh so it is now face-down and increase heat to medium. Cover and continue to cook for 15 minutes.
5. After 15 minutes, remove the cover and increase heat to high to create a boil and flip chicken so it is now face up again. Add in the red onions and the peppers. At this point, you are cooking off all the liquid in the pan. Cook for 10 minutes then remove the chicken, chicken should have in internal temp of 165. Cook the  peppers and onions for another 10 minutes at medium high heat to caramelize them. You may need to carefully spoon out any excess oil. As the peppers and onions stick to the pan, occasionally add 1-2 tablespoons of water to deglaze the pan and allow the onions to caramelize even more. If anything is burning, reduce heat to medium.
Serve the chicken topped with the peppers and onions and extra lime wedges!