Need help planning your meals for the week? I've got these two printables for you to help you plan dinners, organize recipes, and get more homemade dinners on the table each week!
Start with this On the Menu printable! Fill in each day with the recipe you'd like to make. These Chicken Parm Meatballs or Penne Vodka would be great east weeknight dinner ideas, and these Copycat Panera Orange Scones would be a hit for weekend brunch!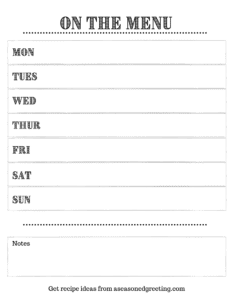 Now it's time to get your ingredients organized and create your shopping list. Check your fridge and pantry, then fill this out with anything additional you'll need for the week.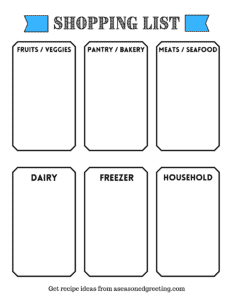 If these help you stay organize and make planning a bit easier let me know!
Looking for more recipe ideas for the week? Here are some of my favorites from the blog!
Here you can find all of my Main Dish recipes, I've also got a section just for 30 Minute Meals or also just Breakfasts if you're wanting to add something new to the weekend breakfasts. If you want something new to try at brunch, check out Mangu…a traditional Dominican dish of mashed plantains!