One of my favorite takeout dinners has always been a good vodka sauce pasta with a side of meatballs. For me, it's been one of the ultimate comforts foods. When I lived in Jersey City, there was a restaurant around the corned that had THE BEST vodka sauce. Now that I'm not living there anymore, I needed to recreate for myself a vodka sauce with meatballs. And this rigatoni vodka is just the thing!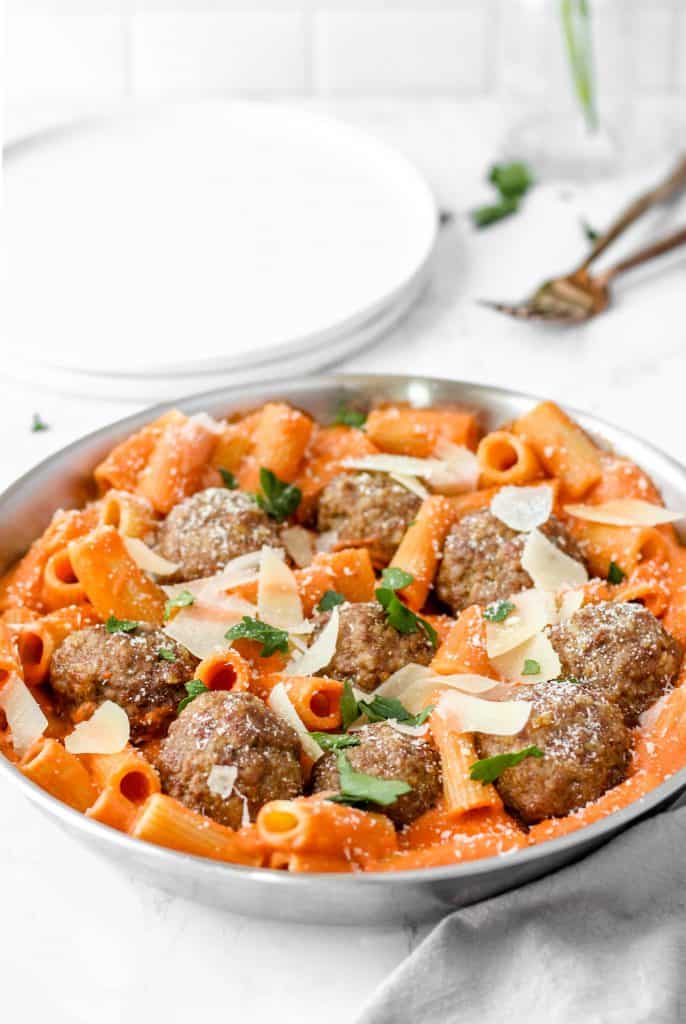 What does vodka do in a vodka sauce?
If you've never had a vodka sauce before, or maybe even if you had, you might be wondering what the vodka actually does to the sauce. No, we're not making boozy pasta here, and there's no added alcohol flavor like you get when you add wine to a sauce.
What the vodka does is work as a companion to the tomato paste. By adding the vodka is helps enhance the tomato flavor and make that more robust and prominent. That's what's making this extra special, and not just a typical tomato cream sauce.
You don't need a lot of vodka to do the trick, just a 1/4 cup which is the size of one of those mini shooter. So you don't need to buy a huge bottle, just a little mini bottle is all you need!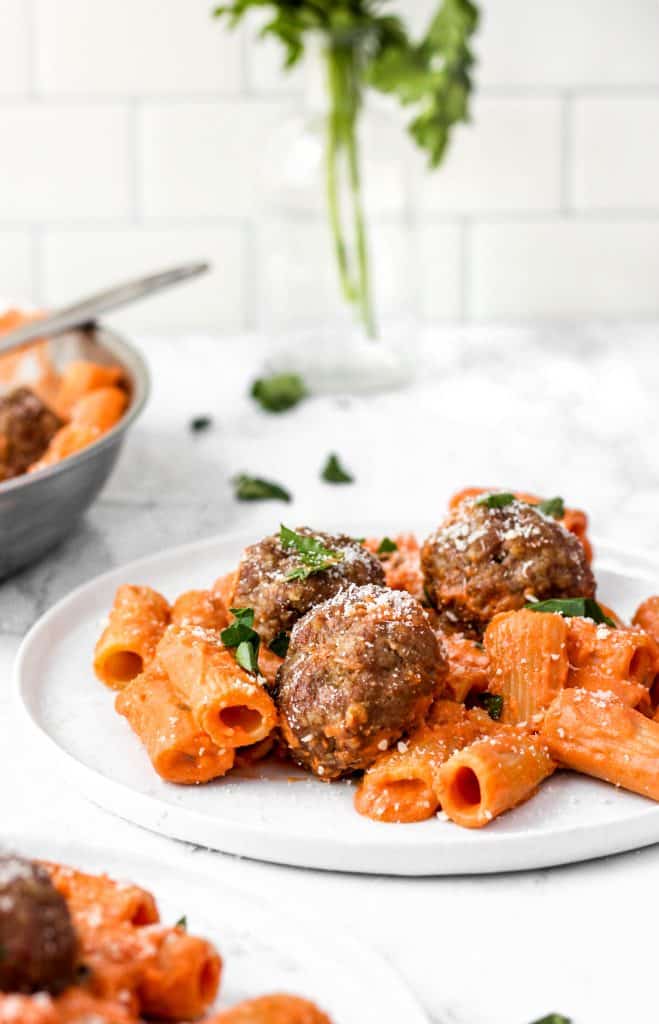 All about the meatballs
The meatballs for this dish are from my recipe for my Easy Baked Meatballs, but I've included all the recipe info in the recipe card below.
I love these because they're an all beef meatball! Many meatball recipes can use a combination of beef and pork, or even beef, pork and veal. I've always been team all-beef meatball. And this is especially good if you don't eat pork. I personally don't eat veal.
A few tips for making perfect meatballs.
Don't over mix the meat mixture, just mix everything together and then form the individual meatballs. Don't knead or overwork the meat.
I bake mine slightly elevated on a cooling rack or baking rack on top of the baking sheet. This allows the fat and oils that will bake away from the meat and settle underneath it. If you don't elevate them the meatball will sit in these fats and they can become too oily or soggy.
Adding the 1/4 cup of water is the secret weapon in making moist meatballs! Never have a dry crumbly meatball again!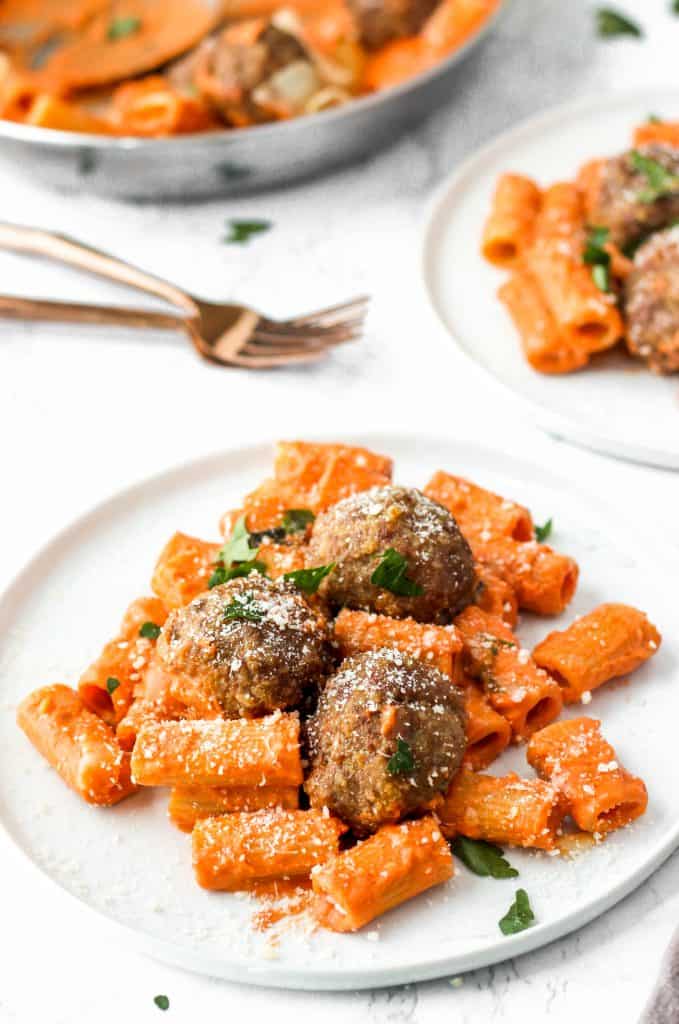 More Cooking Tips
Reserve 2 ladles of the boiling pasta water. Pasta water is the best way to thin out a sauce that's gotten too thick. Don't add more cream, that will make the sauce too heavy.
If you ever accidentally make a sauce too watery, you can add a slurry to re-thicken it. A slurry is made by mixing cornstarch and water. Start with a teaspoon of cornstarch and dissolve that in a teaspoon of water. Add to the sauce and bring to a boil. If it needs to be thickened more just repeat until you get the right consistency!
You could also use penne noodles or another small tube like noodle, but I really love the rigatoni!
I have never substituted the vodka before, but I read that if you don't want to use vodka you can substitute it for 1/4 water and a squeeze of fresh lemon. Again, I've never done this but it's an option for those that want to omit alcohol.
If you like this Vodka Sauce with Meatballs I have many other pasta recipes! First, you can browse my whole category for Pasta. Or check these out:
Creamy Sun-dried Tomato Pasta
Sherry Cream Sauce Ravioli
Alfredo Tomato Linguini
Print
Vodka Sauce with Meatballs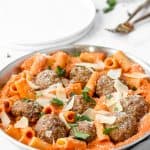 This vodka sauce is perfect for rigatoni noodles and homemade meatballs. Creamy vodka sauce coats every noodle and pairs nicely with the easy baked meatballs. Top with fresh Parmesan cheese and fresh basil.
Author:
Prep Time:

10 minutes

Cook Time:

25

Total Time:

35 minutes

Category:

Main Dish

Method:

Saute

Cuisine:

Italian
Ingredients
For the Meatballs
1lb ground beef
1 and 1/2 teaspoons garlic powder
3/4 teaspoon onion powder
1/2 teaspoon salt
1/4 tsp pepper
1/4 cup water
1 egg
1/4 cup plain bread crumbs
For the Vodka Sauce
3 cups rigatoni pasta
2 garlic cloves, grated
1 and 1/2 tablespoons salted butter
2 tablespoons all purpose flour
2 cups half & half
6oz can tomato paste
1/4 cup vodka (this is just the size of a mini bottle)
1 tablespoon fresh chopped basil, plus more for garnishing your plate
2 tablespoons grated Parmesan cheese
3/4 teaspoon salt
1/2 teaspoon garlic powder
1/4 teaspoon black pepper
1-2 ladles of reserved boiling pasta water
Instructions
1. Preheat the oven to 400 degrees. Prepare your baking sheet by lining it with tin foil, then placing a cooling rack or baking rack on top and spraying it with cooking spray so the meatballs don't stick to it.
2. To make the meatball mixture, in a large bowl add the ground beef, garlic powder, onion powder, salt, pepper, egg, bread crumbs, and water. Mix everything together, but do not over mix or else you could end up with tough meatballs. Once everything has combined, form medium sized meatballs and place them on the baking rack on the baking sheet. Bake for 20-22 minutes until no longer pink inside and cooked through.
3. While the meatballs are baking, bring a large pot of salted water to boil. Cook the 3 cups of rigatoni pasta according to box directions. As the pasta is cooking, reserve 2 ladles of water.
4. While the pasta is cooking, begin making the sauce. In a medium pan over medium heat melt the butter then add the grated garlic and cook 1 minute. Add the flour and whisk until combined, cook about 30 seconds. Add the half & half, tomato paste, vodka, and basil. Bring to light boil, then reduce heat and add the Parmesan cheese, salt, pepper, and garlic powder. Simmer for 8-10 minutes. If the sauce begins to thicken too much, add the reserved pasta water a little at a time.
5. To serve, add the rigatoni pasta a little at a time to the sauce until you have the consistency you like. Serve into bowls, top with meatballs, extra chopped basil and extra Parmesan cheese.
Notes
I always say to add the cooked pasta a little at a time to the finished sauce. If you've made too much pasta and you add it all at once it would mean you don't have enough sauce to cover all of the noodles. So add in stages and stir to make sure all the noodles get enough sauce.
Keywords: vodka sauce with meatballs