You know here at A Seasoned Greeting I love a good pasta sauce recipe. Coming in as one of my all time favorite sauces is the vodka sauce. Penne vodka is everything I love about a comforting creamy pasta sauce. It's rich, it's layered with flavors of garlic and basil, and it's quick and easy. This dish is also called penne alla vodka, but often I refer to it simply as just Penne Vodka.
Once you see how easy it is to make homemade penne vodka you'll never want to buy the jarred vodka sauce again! I promise, it's really very easy. In less than 30 minutes you can have a restaurant quality pasta dinner on the table.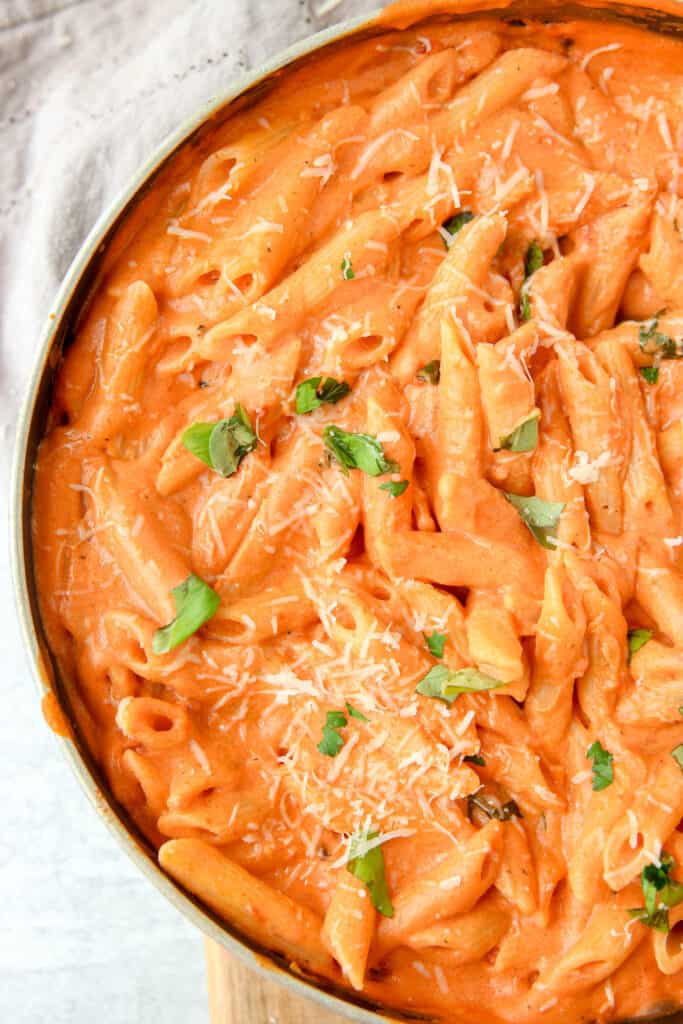 What does vodka do in a vodka sauce?
If you've never had a vodka sauce before, or maybe even if you had, you might be wondering what the vodka actually does to the sauce. No, we're not making boozy pasta here, and there's no added alcohol flavor like you get when you add wine to a sauce.
What the vodka actually does is work as a companion to the tomato paste.
By adding the vodka is helps enhance the tomato flavor and make it more robust and prominent. That's what's making this extra special, and not just a typical tomato cream sauce!
You don't need a lot of vodka to do the trick, just a 1/4 cup which is the size of one of those mini shooter. So you don't need to buy a huge bottle, just a little mini bottle is all you need!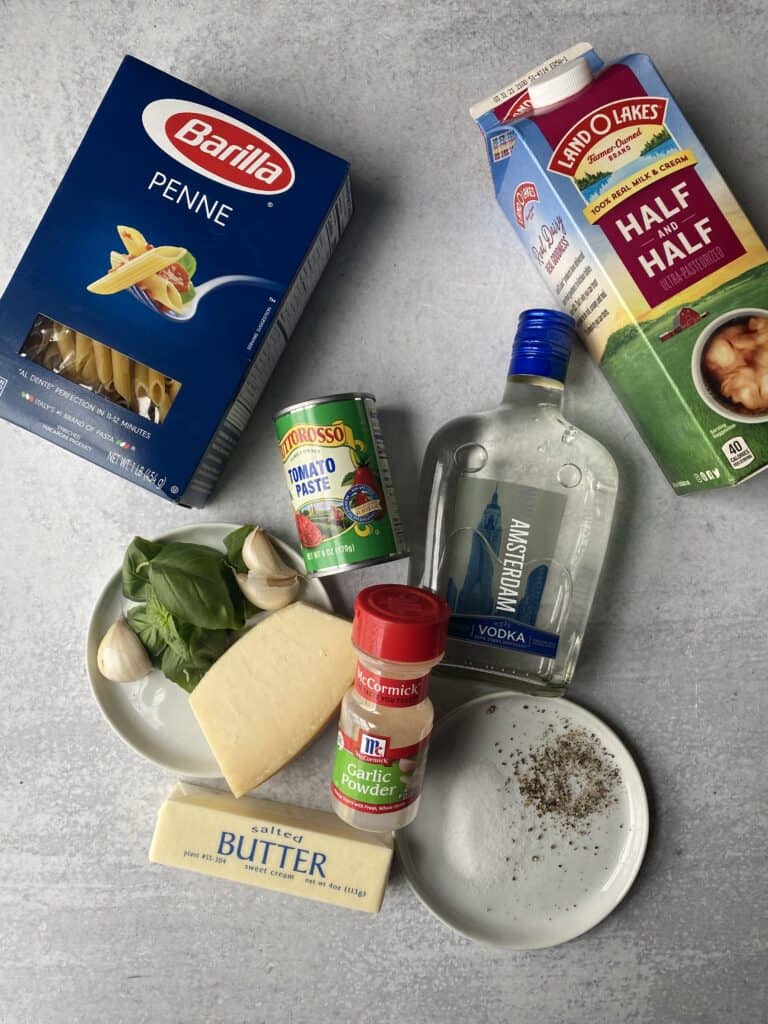 What you need to make a vodka sauce
Let's make some sauce, shall we? Here's what you need to have on hand to make this recipe!
Penne pasta. Whatever brand you like the best go for that! I've never tried this with gluten free pasta, but if you like gluten free noodles go ahead and use that.

Half & half. Ok so I use half & half A LOT in my cream sauces. You could swap and use light cream instead, but I do this because I always (and I mean ALWAYS) have half & half in my fridge. I'm a 3 cups of coffee per day kind of girl, so that means I've always got this stuff in good supply. So really for me it comes down to convenience. You'll get the same creamy texture of the sauce and don't need to specifically buy light cream.
Tomato paste. Use whatever brand you like, but I typically have some Tuttorosso in my pantry.
Vodka. You don't need to go top shelf, but you do need quality vodka. And you don't need a lot! You only need 1/4 cup which equates to one shot. So if you're not a vodka drinker you can buy one of those little mini bottles and it will be enough. Some of my favorite brands are New Amsterdam, Absolut, and Tito's.
Parmesan cheese. I recommend buying the block of cheese and grating it yourself. It's softer and I find it melts into the sauce easier than the pre-shredded kind in the containers.
Herbs, spices, and butter. Rounded out the ingredients is some butter, garlic cloves, fresh basil, salt, pepper, and garlic powder.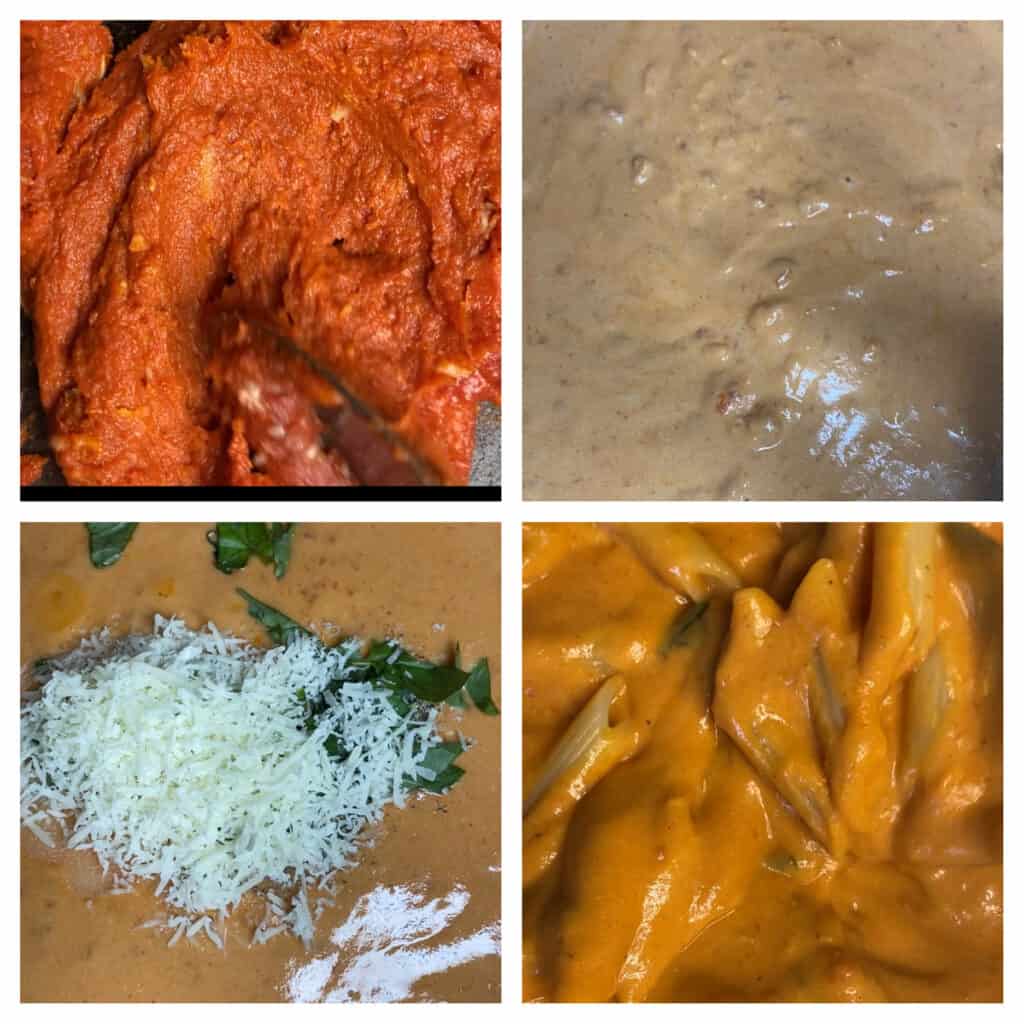 Cooking Tips
First, I'm not calling this a "classic" recipe or an "authentic" vodka sauce recipe. This is my version of how I like penne vodka.
As the penne noodles are boiling, carefully remove a ladle full of the boiling pasta water. Pasta water is the best way to thin out a sauce that's gotten too thick. So if the vodka sauce ever gets too thick as it's simmering you'll add pasta water and not more cream.
If you ever accidentally make a sauce too watery, you can add a slurry to re-thicken it. A slurry is made by mixing cornstarch and water. Start with a teaspoon of cornstarch and dissolve that in a teaspoon of water. Add to the sauce and bring to a boil. If it needs to be thickened more just repeat until you get the right consistency!
While this is a sauce typical for penne noodles, you can also use any small tube like noodle like a rigatoni!
I have never substituted the vodka before, but I read that if you don't want to use vodka you can substitute it for 1/4 water and a squeeze of fresh lemon. Again, I've never done this but it's an option for those that want to omit alcohol.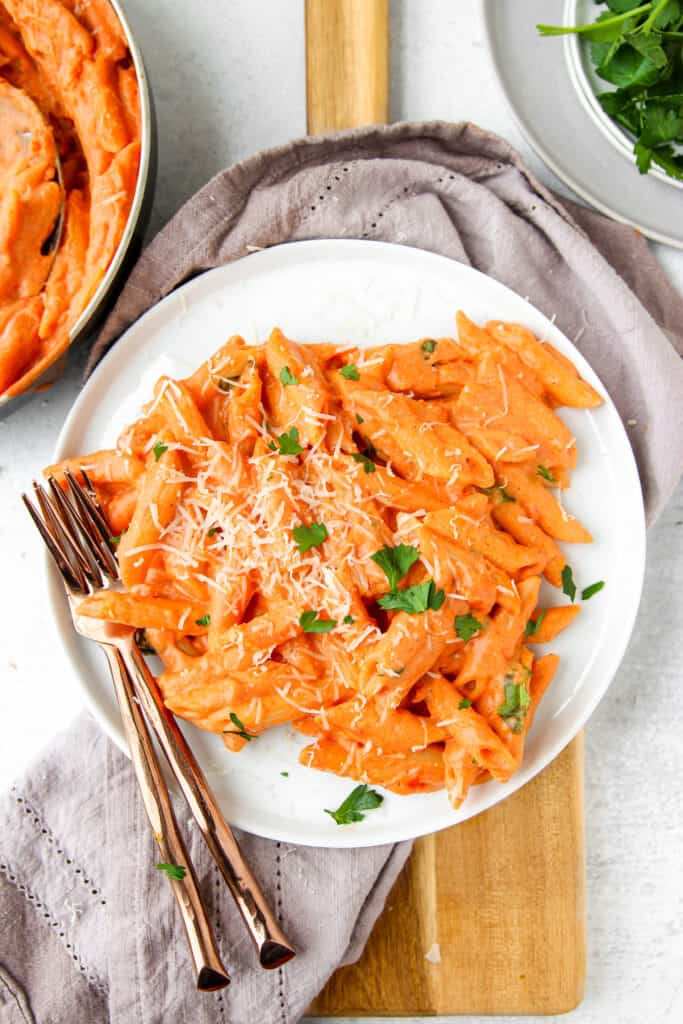 What to serve with penne vodka
So now that we're making a heaping bowl of creamy pasta, you might be wondering what to eat with this. Here are some ideas to accompany your delicious pasta dinner!
Green veggies. Zucchini, green beans, even peas would go well this this! I've got a recipe for a Lemon and Toasted Almond Green Beans that we love. And if you're wondering about the peas, check out my Creamy Marsala Pasta which uses peas…and it's one of my most popular recipes!
Side salads. I absolutely love a good Caesar salad with a pasta dinner. Or, a simple garden salad with a light vinaigrette dressing.
Meatballs. If you've got some extra time, you can serve these with meatballs, like my Easy Baked Meatballs or even with some ground sausage!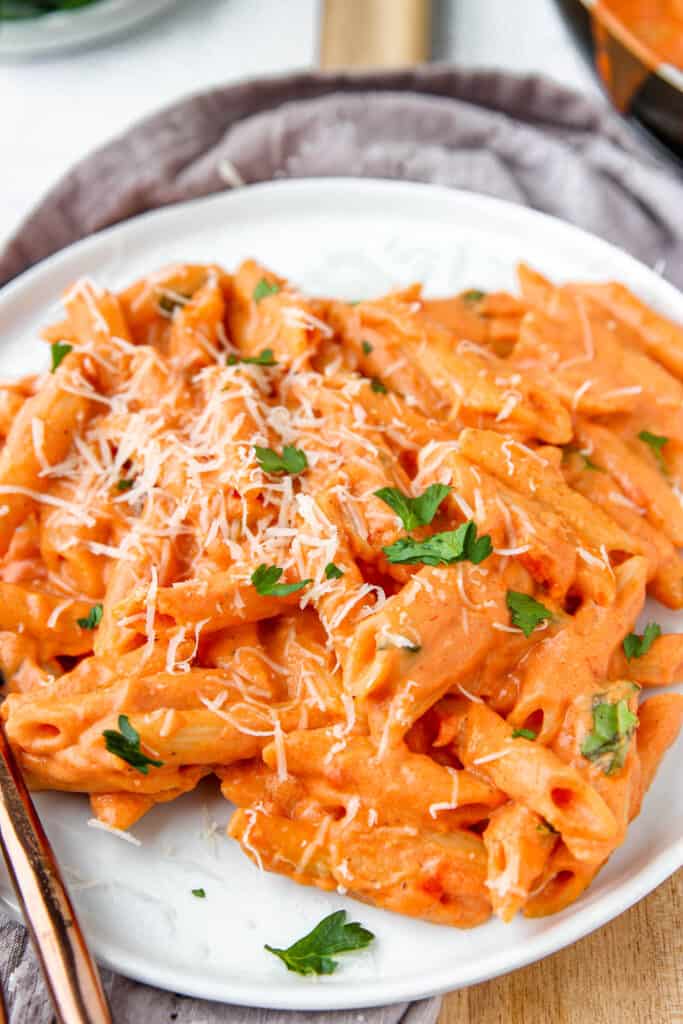 Want more easy pasta dinners? You're in the right place! Check out some of my most popular pasta dinner recipes!
First, you can browse my whole category for Pasta. Or check these out:
Creamy Sun-dried Tomato Pasta This sauce is bursting with sun-dried tomato flavor. One of our all time favorites when you want easy but inspired pasta for dinner!
Sherry Cream Sauce Ravioli I love the flavor that sherry gives to a cream sauce. It helps cut the heaviness and add a level of flavor that makes you want seconds. This recipe also has spinach and mushrooms for a filling dinner.
Alfredo Tomato Linguini Can't choose between red sauce and cream sauce? Boom…Alfredo Tomato Sauce. Two worlds combine into a beautiful creamy dish.
Easy Alfredo Sauce Ok once you see how easy it is to make an Alfredo sauce you'll never buy jarred again. And I know I said that too with this penne vodka, but I mean it here as well!! This sauce takes less than 20 minutes and the fresh flavor will make the whole family happy.
Creamy Roasted Red Pepper Pasta This one really has a light and fresh flavor for a cream sauce. Blend a jar of roasted red peppers until smooth, then add to your cream sauce base. Vibrantly red and delicious!
Fontina Vegetable Pasta Make dinner with all the veggies already in the sauce! A smooth fontina cheese sauce with colorful veggies.
Pesto and Crispy Pancetta Ravioli Do I have your attention? A creamy pesto topped with pan fried pancetta and cool Burrata. Another huge hit here on the blog!
If you make any of these let me know! Or, I'm always looking to hear from YOU. What recipes do you want to see next?
Print
Penne Vodka
Penne vodka is an easy creamy pasta sauce recipe that's ready to eat in less than 30 minutes! A rich tomato flavor enhanced with a little vodka, it will be one of your favorite easy pasta dinners.
Author:
Prep Time:

10 minutes

Cook Time:

25

Total Time:

35 minutes

Yield:

4 servings

Category:

Main Dish

Method:

Saute

Cuisine:

Italian
3 cups penne pasta
3 garlic cloves, grated
2 tablespoons salted butter
2 tablespoons all purpose flour
2 cups half & half
6oz can tomato paste
1/4 cup vodka (this is just the size of a mini bottle)
1 tablespoon fresh chopped basil, plus more for garnishing your plate
2 tablespoons grated Parmesan cheese
3/4 teaspoon salt
1/2 teaspoon garlic powder
1/4 teaspoon black pepper
1 ladle of reserved boiling pasta water (in case the sauce ever gets too thick)
Instructions
1. Bring a large pot of salted water to boil. Cook the 3 cups of penne pasta according to box directions. As the pasta is cooking, carefully reserve 1 ladle of water.
2. While the pasta is cooking, begin making the vodka sauce. In a medium pan over medium heat melt the butter then add the grated garlic and cook 1 minute. Add the flour and whisk until combined, cook about 30 seconds. Add the tomato paste and stir to incorporate with the flour…cook another  minutes. Add the half & half and gently whisk to blend the tomato paste into the cream. Then, add the vodka and basil. Bring to light boil, then reduce heat and add the Parmesan cheese, salt, pepper, and garlic powder. Simmer for 8-10 minutes. If the sauce begins to thicken too much, add the reserved pasta water a little at a time.
3. To serve, add the penne pasta a little at a time to the sauce until you have the consistency you like. Serve into bowls, top with extra chopped basil and extra Parmesan cheese.
Notes
I always say to add the cooked pasta a little at a time to the finished sauce. If you've made too much pasta and you add it all at once it would mean you don't have enough sauce to cover all of the noodles. So add in stages and stir to make sure all the noodles get enough sauce. I've found 3 cups of penne pasta is just enough noodles!