If you're looking for a sauce recipe that's perfect for ravioli you've landed in the right place. Creamy pesto ravioli with pancetta is an easy dinner recipe perfect for a busy weeknight!
It's packed with the robust flavor of the pesto, the salty pancetta, and the creamy burrata with the perfect finishing touch. The pancetta gets crispy to add a nice crunch and texture to the ravioli!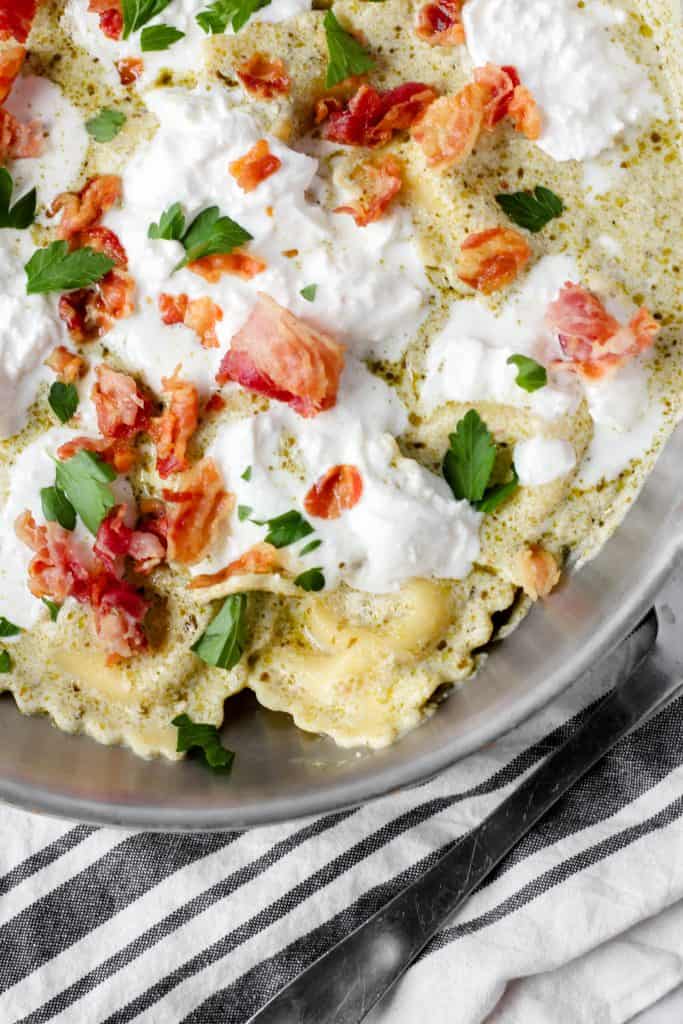 What is Pancetta?
Pancetta is an Italian pork belly meat. It's similar to bacon, but in my opinion the flavor of pancetta is less intense than bacon. I also wouldn't consider them completely interchangeable. While the flavors are similar, I wouldn't say that a slice of pancetta is the same as a slice of bacon with eggs in the morning.
You can buy pancetta sliced thin or diced in little cubes. Either would be fine for this recipe. I couldn't find the little cubes so I went with the thin slices and just cut it into small pieces.
Want to read more about the differences between bacon, pancetta, and prosciutto? Check out this article on TheKitchn!
Here's the pancetta I used for this recipe: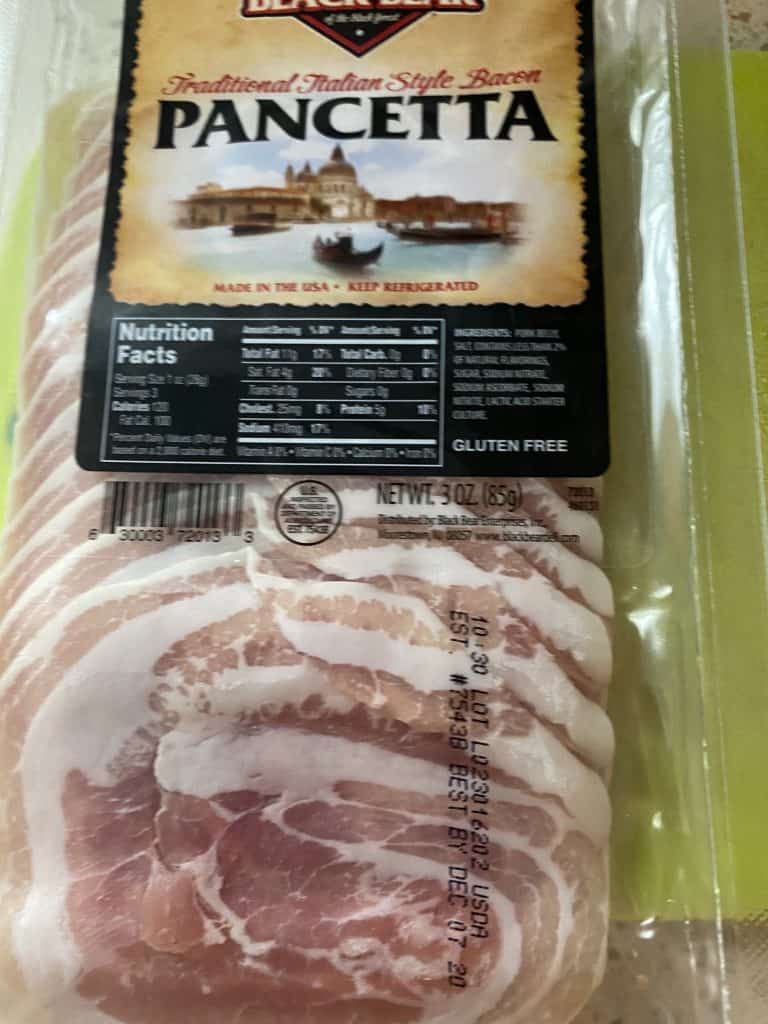 Cooking Tips
If you can't find pancetta, you can substitute with bacon. The flavor won't be exactly like pancetta, but you'll still get that salty crunch.
Cubed pancetta or sliced is ok. Just cut the slices into bite-sized pieces.
If you can't find burrata cheese you can subtitute with fresh Mozzarella or even ricotta cheese. I definitely recommend using one of them and not omitting the cheese entirely if you can't fund burrata. The cool creaminess if a really important component here since the pancetta is salty and the pesto is strong and garlicky.
You can absolutely make your own pesto if you want! For this recipe since I wanted to keep it easy and a little quicker I used jarred. But, if you've got some extra time go ahead and make your own pesto! This recipe will use 1/3 cup of pesto.
When you're cooking the pasta, reserve some of the pasta water in case you need it to thin out your sauce. The best way to thin a sauce that's gotten too thick is to use some of the water that the pasta is cooking in!
You can use your favorite package ravioli, for this I use

Rana

.
I like this best with ravioli, but you could also try this with tortellini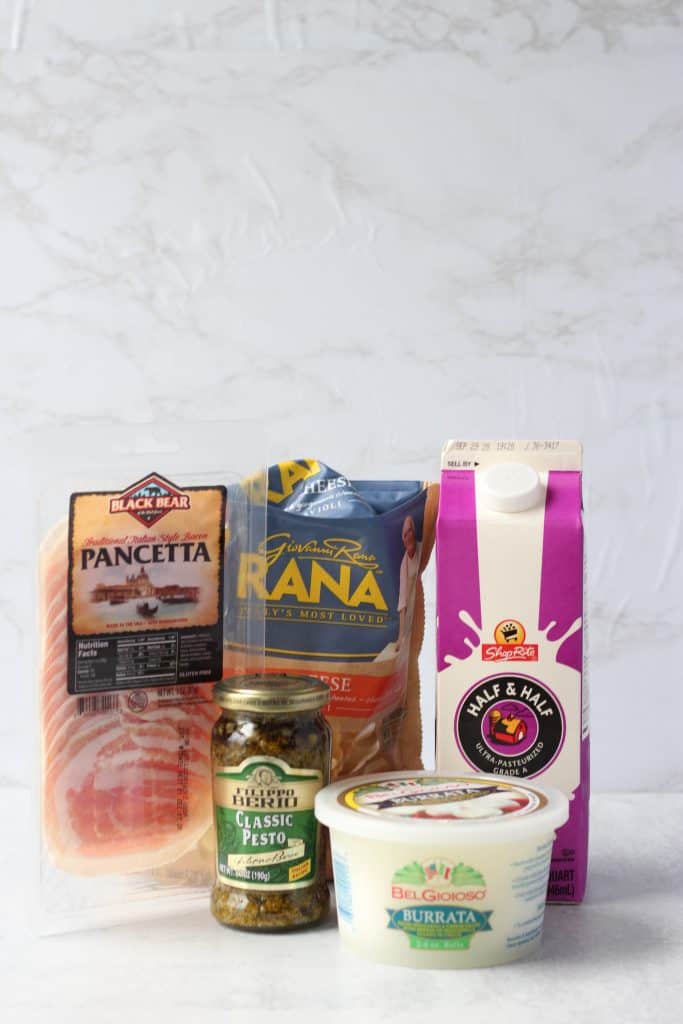 So you'll see in the photo of the ingredients above, I almost always use alf & half in my cream sauces. You can totally use light cream, but I've always used half & half for two reasons:
I always have it in my fridge abundance because I drink a lot of coffee.
It's an easy way to shave a few calories off the recipe and make it a tad lighter.
I'm not in any way trying to say half & half is a healthier option to light cream. But I do like that it's just a tad lighter.
Let me tell you how incredible the flavor combo is of the crispy fried pancetta and the cool Burrata. OMG. I legit was just eating pieces of pancetta with the burrata while I was making the sauce. Definitely want to think of more recipes or even an appetizer. So good!
Just look how beautiful this dish looks all put together! This would be an impressive pan to set down in the middle of the table at a dinner party or even just a regular family dinner night. The greens, reds, and whites all blend to make an inviting dish you just want to dig into.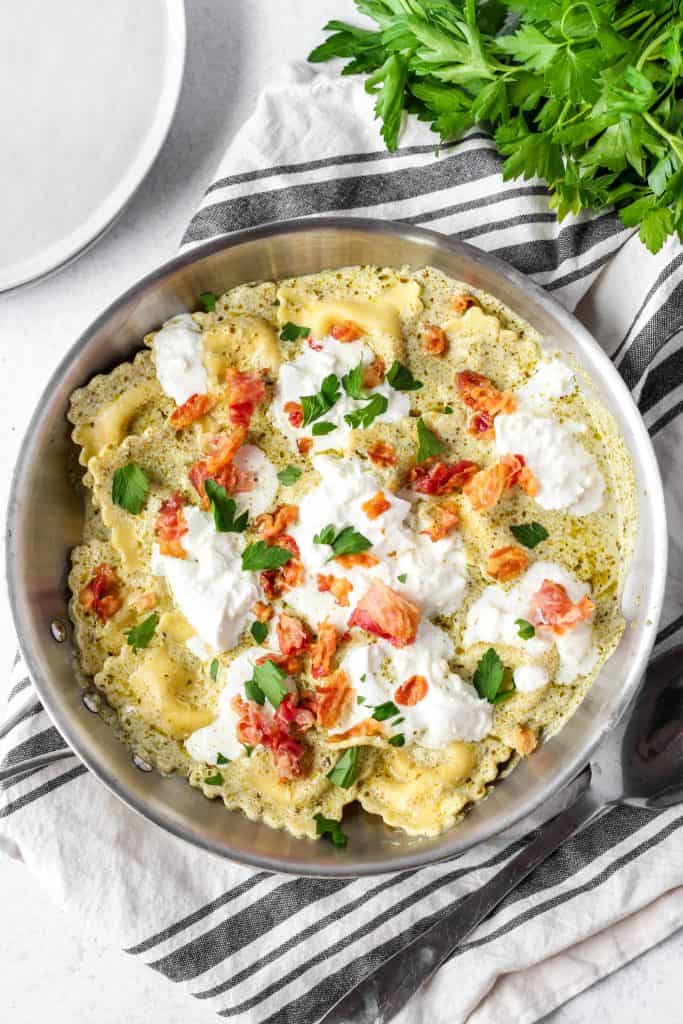 Looking for more easy pasta dinner recipes? I've got a lot, it's my specialty! Check out:
Creamy Sun-dried Tomato Pasta
Alfredo Tomato Pasta
Vodka Sauce with Meatballs
Sherry Cream Sauce Ravioli

Or, if you're a pesto lover like me you might like these pesto recipes:
Creamy Pesto Pasta
Pesto Pizza
Pesto Mayo
Chicken Pesto Pasta Bake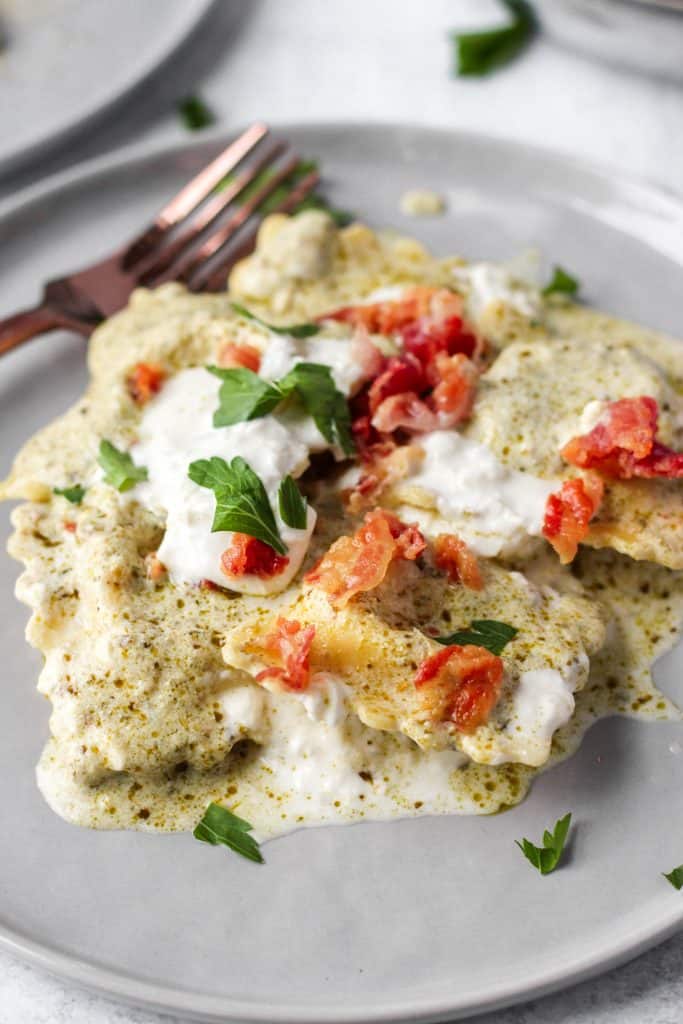 Print
Creamy Pesto Ravioli with Pancetta
Creamy Pesto Ravioli with Pancetta is an easy ravioli dinner with the perfect blend of creamy, salty, and crunchy. Pan fried pancetta adds texture and crunch while the cool Burrata balances all the robust flavors.
Author:
Prep Time:

10 minutes

Cook Time:

20 minutes

Total Time:

30 minutes

Yield:

4 servings

Category:

Main Dish

Method:

Saute

Cuisine:

American
10oz package of ravioli
3oz package of sliced or diced pancetta
1 container of 2 or 4 Burrata
1/3 cup jarred pesto sauce
1 cup light cream or half & half
Instructions
1. Bring a large pot of salted water to boil. While the water is coming to a boil, cook the pancetta. If you have sliced pancetta cut it into a bite sized pieces. Heat a medium pan over medium heat and add your pancetta. Cook 5-6 minutes until browned and crispy. Spoon onto a paper towel lined plate to absorb the excess oil.
2. Cook the ravioli according to package directions, then strain and set aside as you prepare the pesto sauce.
3. In the large pot where you cooked your pasta, pour in the cream or half & half and pesto. Bring to a boil, then reduce heat to simmer for 5 minutes, then add the ravioli and stir so the ravioli are coated in the sauce.
4. To serve, spoon the ravioli onto a plate, top with the pancetta, then spoon the creamy part of the Burrata over top.
Notes
If you can't find Burrata you can substitute fresh Mozzarella or ricotta.
Keywords: Creamy pesto ravioli