Need a fast and easy dinner idea for those busy weeknights? Creamy pesto pasta is here to save dinner time. Whether you have a long commute, short commute, kids, no kids, gym sessions or no gym sessions…at the end of the day we're all tired and recipes like these can be the difference between ordering takeout and eating something homemade and satisfying.
Recipe at a Glance
Prep time: 10 minutes
Cook time: 20 minutes
Notes: If you want to make this an even quicker recipe, you can cook the sauce in a separate pan as the pasta is cooking, so that way when the pasta is done just add it to the sauce and eat!
Ingredients for Creamy Pesto Pasta
I love this pasta recipe because you only need simple 5 ingredients! What you need is:
Jarred pesto
Light cream or half & half
Penne pasta
Grated Parmesan cheese
Grape tomatoes
That's it! And let me tell you, this dish is packed with the robust flavor of the pesto. This is anything but bland and boring!
And, as if this wasn't already a winning dinner, it's kid approved! My toddler loves this. I just cut up the penne noodles so they're smaller bites for her and she cleans her plate. A dinner that's adult and kid approved? That's a winner for me!
Cooking Tips
When you're cooking the pasta, reserve some of the pasta water in case you need it to thin out your sauce. The best way to thin a sauce that's gotten too thick is to use some of the water that the pasta is cooking in!
Sauce too thin? Add a teaspoon or two of cornstarch, bring sauce to a boil then reduce to a simmer. That will thicken up a watery sauce!
You can add diced fresh Mozzarella too. Although, I feel like the sauce has enough flavor on it's own and doesn't really need more cheese. But, if you're wanting more cheese, choose a fresh Mozzarella since the flavor is mild and won't compete with the pesto.
The leftovers taste just as good the next day! Save any leftovers and you've got the next day's lunch or dinner taken care of.
Print
Creamy Pesto Pasta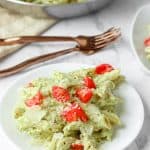 A 30 minute dinner recipe, creamy pesto pasta is easy and quick! Topped with diced grape tomatoes, this will be a recipe you'll make again and again.
Author:
Prep Time:

10 minutes

Cook Time:

20 minutes

Total Time:

30 minutes

Category:

Pasta

Method:

Saute

Cuisine:

Italian
3 cups dried penne pasta
1 cup diced cherry tomatoes
1/2 cup jarred pesto sauce
1/2 cup grated Parmesan cheese
1 and 1/2 cup light cream or half & half



Instructions
1. Cook pasta according to desired texture, I cooked mine for 12 minutes. Pour into your strainer, give a few drizzles extra virgin olive oil and stir in the strainer so that the noodles don't stick.

2. In the large pot where you cooked your pasta, pour in the cream or half & half, pesto, and Parmesan cheese. Bring to a boil, then reduce heat to simmer for 5-7 minutes.

3. When the sauce is finished, pour in the pasta and stir to coat. I like to pour in the pasta a little at a time and stir instead of adding all the pasta at once. Garnish with the diced cherry tomatoes and more Parmesan cheese. Serve immediately.
Keywords: creamy pesto pasta