Ready for an easy, flavor-packed dinner? Fajita Pasta Bake is loaded with all the flavors you love in a fajita, packed into an easy casserole bake!
Here's what's inside this cheesy bake:
Black beans
Corn
Orange peppers
Chicken
Red onions
Filling, hearty, and will make the whole family happy!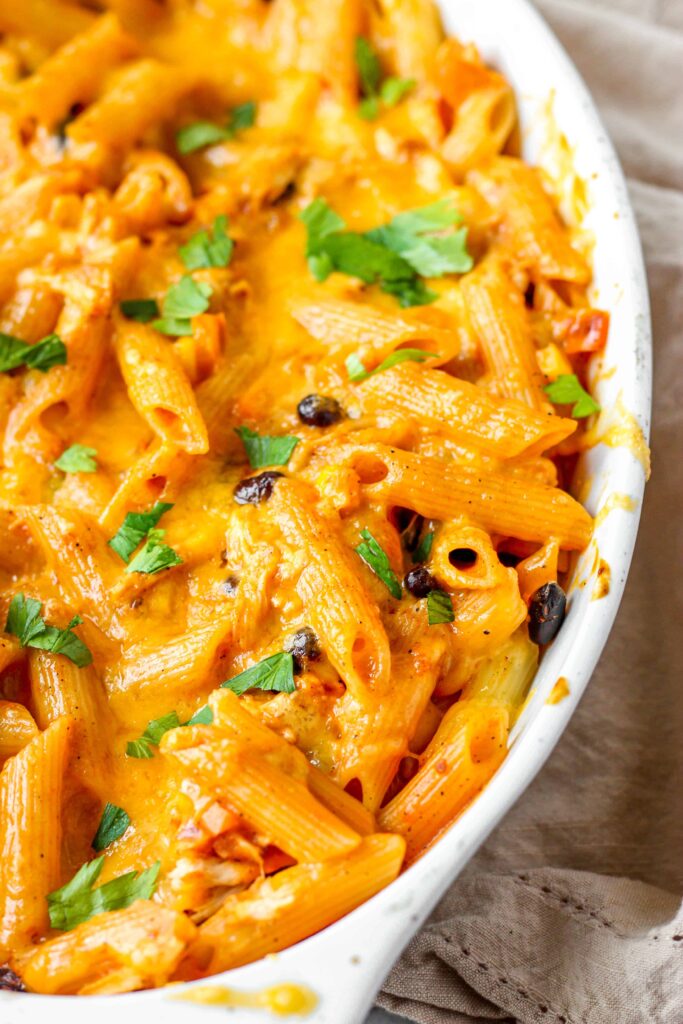 What is fajita seasoning?
If you've never cooked with fajita seasoning you might be wondering what it is, and how it's different from a taco seasoning.
They actually are quite similar. They nearly have the same spices:
Cumin
Paprika
Garlic powder
Onion powder
Chili powder
Salt
Black pepper
But taco seasoning contains oregano and sometimes coriander. I also find taco seasoning to be a bit bolder and stronger, while fajita seasoning is warmer and less robust.
Can you substitute taco seasoning for the fajita seasoning?
I think in certain recipes that can be used interchangeably because they are so similar, I think in this recipe you need to go with fajita seasoning. In my opinion, if you use taco seasoning it's going to overtake the flavor of the sauce. The fajita spices are flavorful, but they aren't overpowering so you can create a balanced cream sauce.
You can make your own, but for this recipe I actually use 2 and 1/2 tablespoons from the packet of dry mix.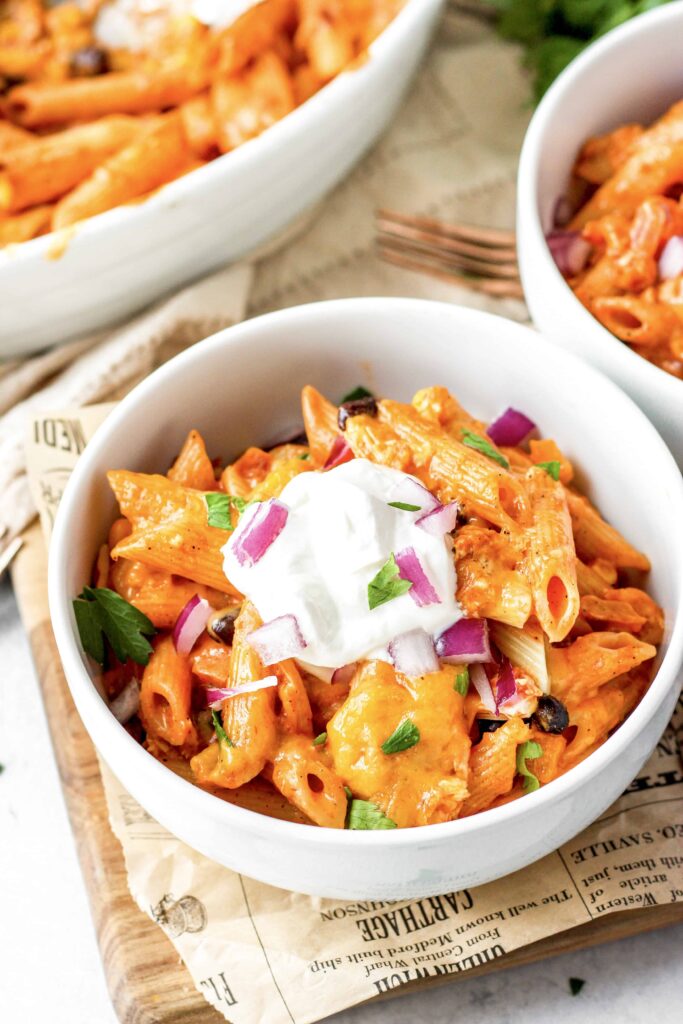 These types of pasta bake dinners really come in handy for saving dinner on a busy day.
I love just creating the sauce, dumping in the ingredients, mixing in the cooked pasta and then baking or broiling.
From start to finish this recipe should take you about 35 minutes. That includes prep time of boiling the pasta water and dicing the onions and peppers!
The leftovers are just as good as the main dish! Heat it up, throw on some extra sour cream and some extra diced red onions and you've got yourself a hearty lunch or dinner the next day.
And, even though this is a casserole and easy, it's not lacking flavor! The fajita spices add tons of warm flavor, and the peppers and onions are the perfect pair to the cheese and sour cream topping.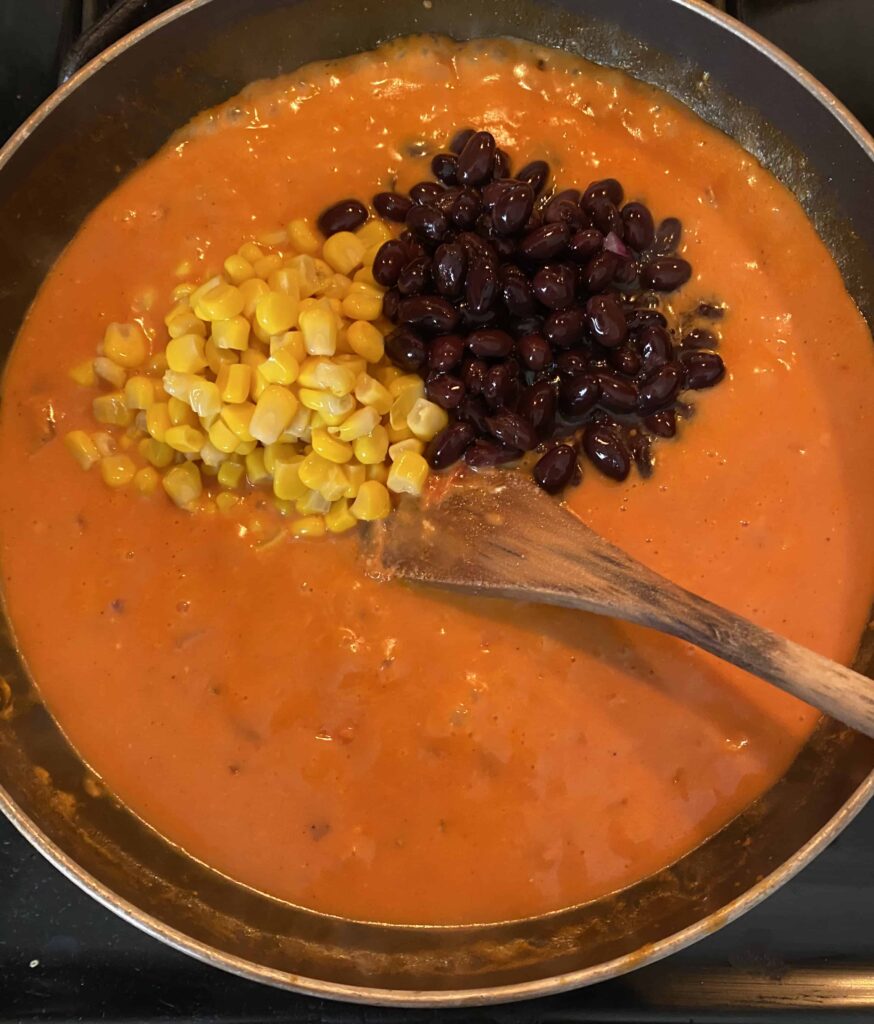 Cooking Tips
I've made this recipe using red peppers and orange peppers. I think they can be used interchangeably, but I really liked the orange peppers the best!
As mentioned above, I wouldn't recommend substituting in taco seasoning. I think you really need to use the fajita spices for the best flavor of this dish.
Want this vegetarian? Skip the rotisserie chicken! The chicken adds a nice heartiness if you like having meat part of your dinner, but the overall flavor of the pasta won't change without the meat…so go ahead and make it meatless if you want!
I think this would also be great with elbow noodles if you don't have penne on hand.
Want extra crunch? Serve with some tortilla chips!
Since this is loaded with lots of fajita ingredients, I don't think you need to serve this with any side items. If you really want something on the side, I think a light salad would be great!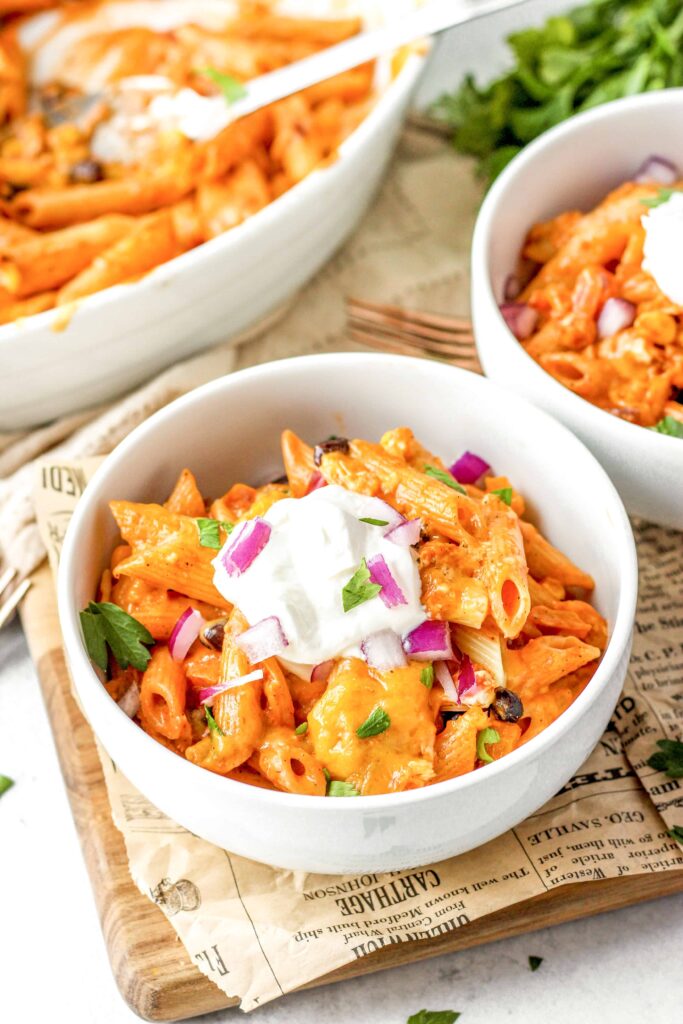 Looking for more easy dinner ideas for the week? I've got you covered! Check out some of my popular dinner recipes that could become your new family favorites!
Chicken Parm Meatballs
Easy Pesto Pizza
Chicken Piccata Meatballs
Enchilada Tacos
Crunchy Taco Meatballs
Or check out my section on Mexican inspired recipes!
Print
Fajita Pasta Bake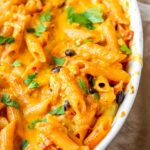 Fajita pasta bake combines all the savory flavors of fajitas in a cheesy pasta! Loaded with chicken, corn, beans, onions, and a warm enchilada sauce. The whole family will love this!
Author:
Prep Time:

10 minutes

Cook Time:

25 minutes

Total Time:

35 minutes

Category:

Main Dish

Method:

Saute

Cuisine:

Mexican American
3 cups penne pasta
1 cup shredded rotisserie chicken
1 tablespoon extra virgin olive oil
2oz cream cheese
1 orange pepper, diced
4 tablespoons diced red onion
1/2 cup canned corn, drained
1/2 cup canned black beans, drained
2 1/2 tablespoons fajita seasoning
3 oz tomato paste
1 and 1/4 cup chicken broth
1/2 teaspoon garlic powder
1/2 teaspoon chili powder
2 cups sharp Cheddar cheese, grated
Sour cream for garnishing
Instructions
1. Bring a salted pot of water to boil and cook the penne pasta 11-12 minutes.
2. While the pasta water is coming to a boil, shred the chicken, dice the onions and pepper, grate the cheese.
3. In a pan over medium heat, heat the extra virgin olive oil and add the orange pepper and red onion and cook for 10 minutes.
4. Add the cream cheese to the pan and stir to melt, then add the tomato paste and fajita seasoning and stir to combine. Add the chicken broth, stirring to make the creamy sauce. Add the garlic powder, chili powder, corn, black beans, and chicken. Bring to a light boil to thicken, then reduce heat and simmer about 5 minutes.
5. To a casserole dish, add your pasta, then cover with the sauce and stir until all the noodles are coated. Top with the shredded Cheddar cheese and broil on high for 3 and 1/2 minutes until the cheese is browned and bubbly. Serve with sour cream and top with more diced red onions for crunch!
Notes
You can use a red pepper in place of an orange pepper.
If you want, make this vegetarian and omit the chicken. I've eaten this meatless and think it's delicious with and without the chicken!
Keywords: fajita pasta bake