So you like baked ziti, but you want to level up your baked pasta dinner? Well then let me introduce you do Baked Penne Vodka.
A smooth and creamy vodka sauce, mini penne noodles, and the best finishing touch is the cool Burrata cheese on top. A baked pasta heaven! If you love classic baked ziti and you love penne alla vodka, this Baked Penne Vodka dish is going to be right up your alley!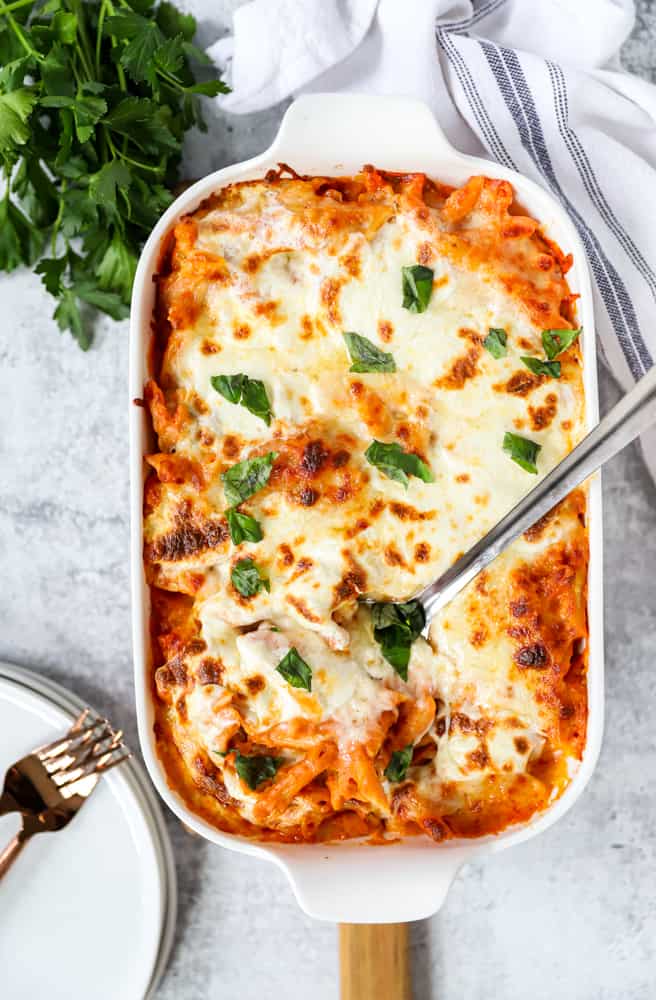 Ingredients
Here's what you need to make this recipe. I recommend making your own vodka sauce, it's easy and the flavor of the homemade sauce really makes this extra special.
Mini penne pasta
Garlic cloves
Butter and flour
Half & half
Tomato paste
Vodka
Fresh basil
Parmesan cheese
Salt, pepper, garlic powder
Mozzarella cheese
Burrata
If you're pressed for time and want to make this super easy, you can use your favorite jarred vodka sauce. I'd recommend having two jars on hand just to be sure you have enough sauce to cover all the noodles and make this super saucy!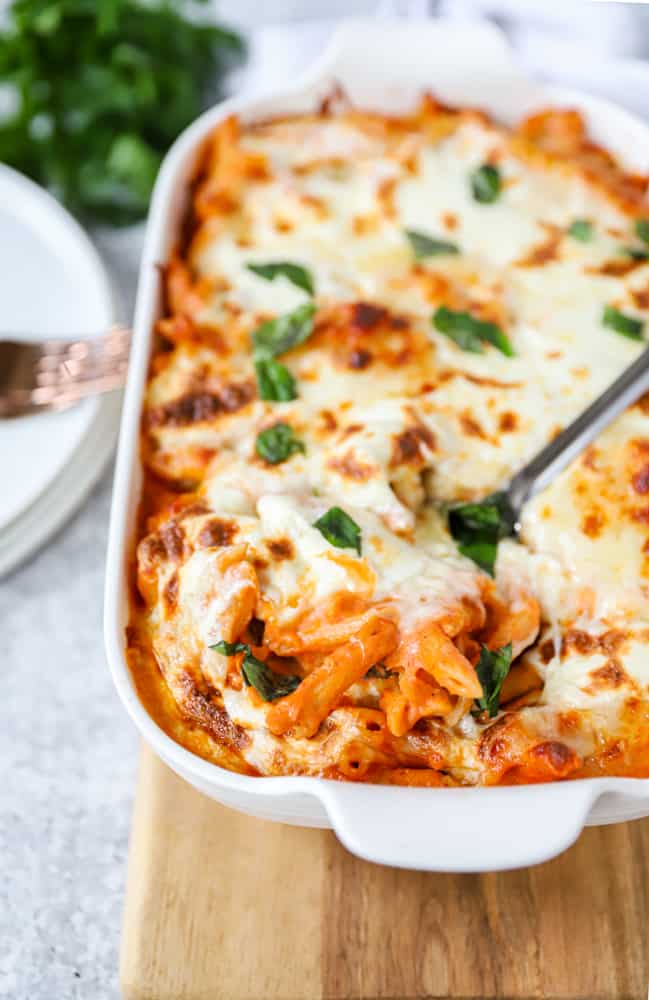 How to make Baked Penne Vodka
This is a great weeknight dinner idea! It's easy, filling, and ready from start to finish in under 40 minutes. Let's break it down…
Cook the pasta. I used mini penne for this! I liked it better than the large sized penne noodles, I feel like you get more sauce to noodle ratio. Plus, they cook really fast! You only need about 7 minutes to cook the noodles.
Make the sauce. Like I said above, you can use jarred sauce if you really want to make this super fast and easy, but I'm a fan of just making your own. A homemade vodka sauce isn't complicated at all! About 15 minutes to make the sauce is all you need! So while the pasta is cooking, you can whip up your vodka sauce!
Assemble. Combine the cooked pasta and the sauce then spread that into your baking dish. Then top with shredded Mozzarella cheese, Burrata cheese, and a little sprinkle of Parmesan.
Bake and broil. Bake the pasta at 375 degrees for 25 minutes, then pop it under the broiler for about 2 minutes to get the cheese all browned and bubbly.
Eat! By this time, you should be hungry and ready to eat! To serve, add a little extra fresh Burrata to your plate, and any extra fresh basil if you'd like.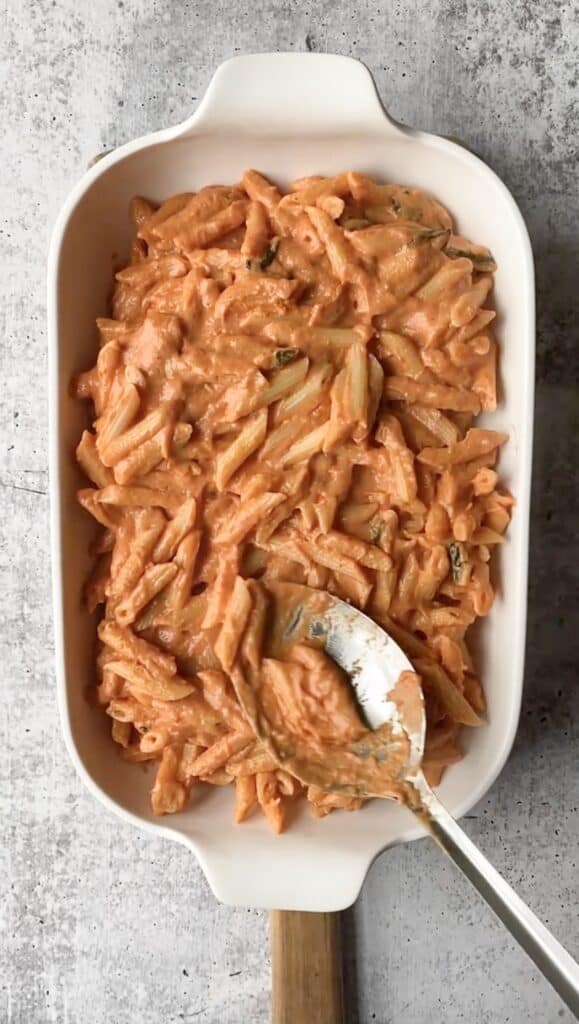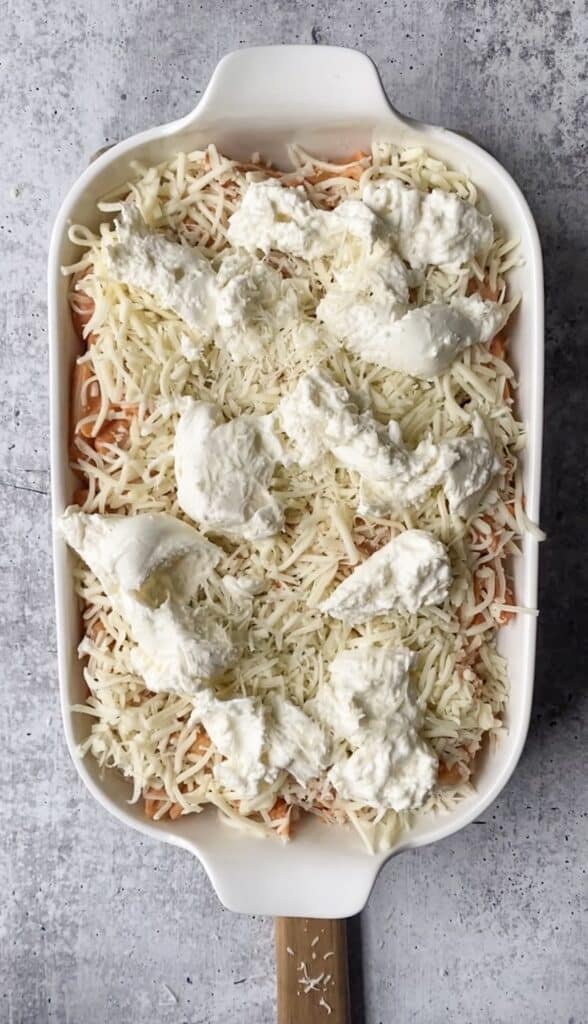 So you're probably here because you like comfort food pastas, easy pasta recipes, and cheesy pastas! Well you're in luck…because that's what I like too! So I've got plenty of more recipes you can check out that might be a hit with your family!
Pesto Ravioli with Burrata and Crispy Pancetta is a one pan meal that will really fill you up!
Some wine infused cream sauces, Sherry Cream Sauce and Marsala Cream Sauce are two very popular pasta dishes on the blog!
I love how easy it is to make pasta sauces, so easy you'll skip buying the jars! Make my Easy Alfredo Sauce and see just what I'm talking about.
Let's change gears for a second and go Tex-Mex! Fajita Pasta Bake is a cheesy pasta bake loaded with onions, corn, beans, peppers and rotisserie chicken.
A few more cream sauce pastas with Roasted Red Pepper Pasta, Creamy Pesto Pasta, and Creamy Sun-dried Tomato Pasta! Which one do you think you'd like?
Lastly, how about a night cap? Sip on a Limoncello Martini or my Limoncello Vodka for a fresh and light cocktail.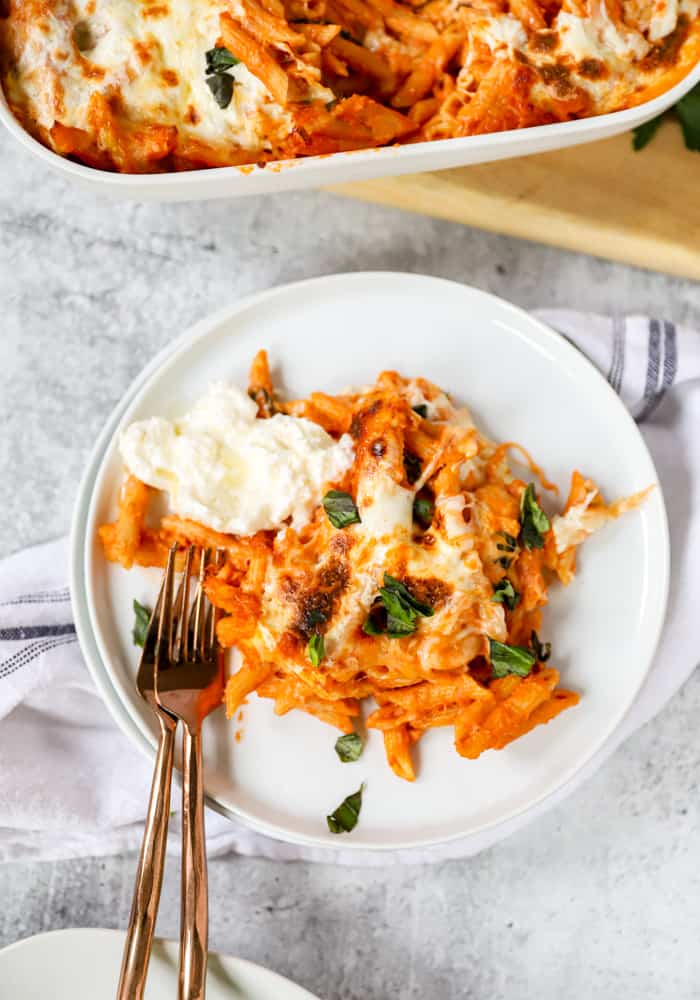 Cooking Tips
If you make this I want to help make sure it comes out perfect! Here are some tips and suggestions.
I used mini penne noodles, I wanted a smaller noodle so that the sauce can really shine through. If mini penne isn't your thing you can use your favorite noodle or whatever you have on hand.
If you've never cooked with Burrata before, you'll find it in the specialty cheese display at your grocery store. Sometimes they come in containers of 2, and sometimes the containers contain 4. If you can't find Burrata, you can substitute with ricotta. I use 2 balls of Burrata for the top of the baked penne vodka, then about 1/2 a ball per person for serving. So for a family of 2 a container of 4 balls is enough for two meals. I recommend picking up 2 containers so you have enough for leftovers! Nothing wrong with extra Burrata.
If you want to use jarred vodka sauce, I recommend buying 2 jars so you're sure to have enough sauce! Nothing worse than too many noodles and not enough sauce.
I use bagged shredded Mozzarella for this! You can grate your own if you'd like, but I've never had an issue used pre-shredded Mozzarella cheese.
You can store the leftovers in an air tight container in your fridge, eat within 5 days for bets freshness.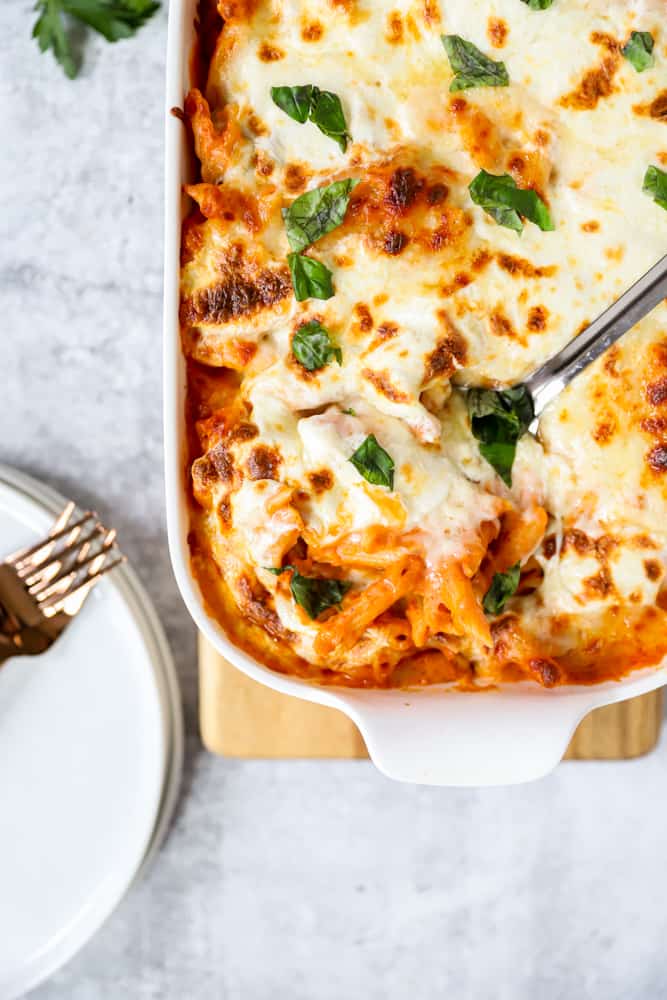 Print
Baked Penne Vodka
Like baked ziti? Then you'll love this Baked Penne Vodka! A delicious homemade vodka sauce, mini penne, lots of Mozzarella cheese, and cool creamy Burrata cheese. Cheese loves, this pasta bake is for you!
Author:
Prep Time:

10 minutes

Cook Time:

35 minutes

Total Time:

45 minutes

Yield:

6 servings

Category:

Main Dish

Method:

Bake

Cuisine:

American Italian
3 cups mini penne pasta
3 garlic cloves, grated
2 tablespoons salted butter
2 tablespoons all purpose flour
2 cups half & half
6oz can tomato paste
1/4 cup vodka (this is just the size of a mini bottle)
1 tablespoon fresh chopped basil, plus more for garnishing your plate
2 tablespoons grated Parmesan cheese (plus a little more for garnishing at the end!)
3/4 teaspoon salt
1/2 teaspoon garlic powder
1/4 teaspoon black pepper
1 ladle of reserved boiling pasta water (in case the sauce ever gets too thick)
2 cups shredded Mozzarella cheese
4 balls Burrata cheese (2 will be used on the pasta bake, 2 will be for serving)
Instructions
1. Bring a large pot of salted water to boil. Preheat oven to 375. Cook the 3 cups of mini penne pasta according to box directions. As the pasta is cooking, carefully reserve 1 ladle of water.
4. While the pasta is cooking, begin making the vodka sauce. In a medium pan over medium heat melt the butter then add the grated garlic and cook 1 minute. Add the flour and whisk until combined, cook about 30 seconds. Add the tomato paste and stir to incorporate with the flour…cook another  minutes. Add the half & half and gently whisk to blend the tomato paste into the cream. Then, add the vodka and basil. Bring to light boil, then reduce heat and add the Parmesan cheese, salt, pepper, and garlic powder. Simmer for 8-10 minutes. If the sauce begins to thicken too much, add the reserved pasta water a little at a time.
3. Mix the pasta with the vodka sauce then pour into your baking dish, layer with the Mozzarella cheese, then tear and spread 2 Burrata balls overtop. Sprinkle with a little extra Parmesan cheese. Bake for 25 minutes, then place under the broiler for 90 seconds – 2 minutes. 
To serve, add a little extra Burrata on the side!
Notes
If you want to make this extra fast and easy, you can use your favorite jarred vodka sauce, but I really think making your own will yield the best flavor!
Keywords: baked penne vodka