Roasted red peppers are one of my favorite flavors. So it was no surprise I wanted to make a creamy roasted red pepper pasta sauce perfect for a comforting bowl of pasta.
You can make this roasted red pepper sauce in 30 minutes from start to finish! You can serve it just over pasta, or you can add chicken, chicken meatballs, or even serve on fish! It's a versatile sauce with a pleasing flavor that's robust but doesn't come off overpowering.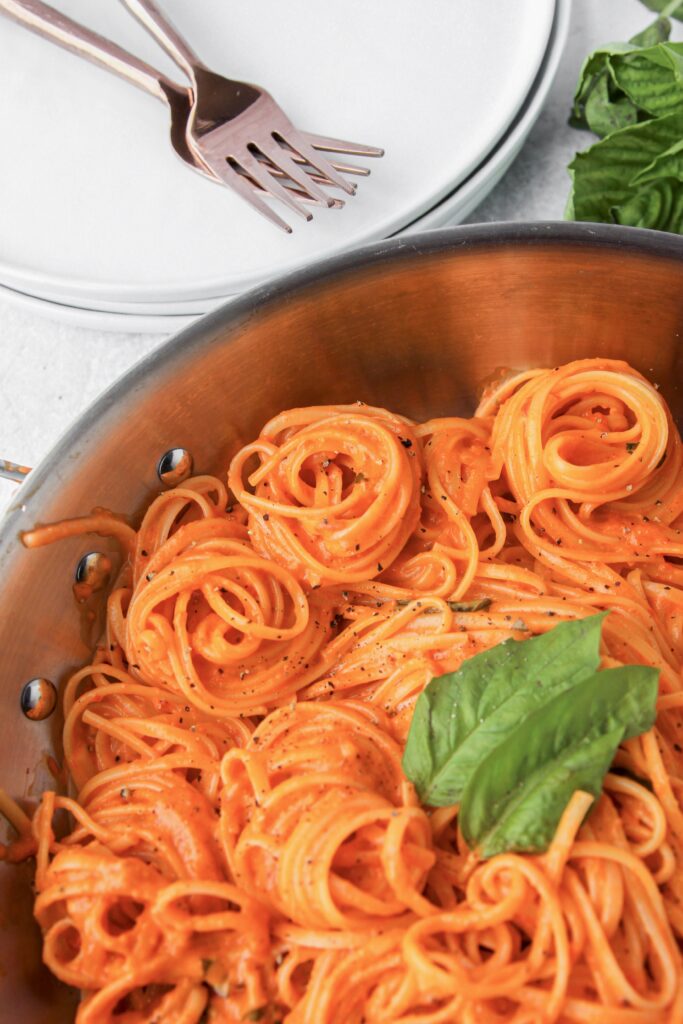 What you need to make this recipe
Here's what you need to make this pasta sauce! Roasted red peppers are always a good thing to keep in your pantry, so next time you're grocery shopping grab a jar or two!
Ingredients
Thin Linguini, or your favorite thin pasta
Jar of roasted red peppers, I used these roasted red peppers
Extra virgin olive oil
Fresh basil
Garlic cloves
Light cream
Salt
Garlic powder
Black pepper
Parmesan or Romano cheese for garnishing
Kitchen tools and gadgets
Here's what you need to have to make this pasta sauce!
A medium sauce pan
Zester or grater to grate the garlic
Large pot to boil the pasta
Cutting board, knife, spoons
How long does it take to make the pasta and sauce
Now, if you're familiar with my recipes, you know I love a good pasta sauce.
Why? Because you can whip up an inspired, fresh, delicious pasta sauce in less than 30 minutes. Like my Easy Alfredo Sauce…you'll never buy jarred Alfredo sauce again once you try this recipe. Or my Alfredo Tomato Sauce, Creamy Sun-dried Tomato Pasta, or Creamy Pesto Pasta.
So for this Creamy Roasted Red Pepper Pasta sauce you only need 30 minutes.
The biggest tip to maximize your time in the kitchen and get this sauce and the pasta made in less than 30 minutes is to prep and start cooking while you're waiting for the pasta water to boil!
While the pasta water is coming to a boil you can:
Peel and grate the garlic
Chop the basil
Blend the roasted red peppers
Get your salt, pepper, and garlic pepper
Get the pasta sauce cooking
It takes about 8-10 minutes to boil water depending on the size of your pot. If you use those minutes to prep and start the sauce you're half way done before you've even starting cooking the pasta!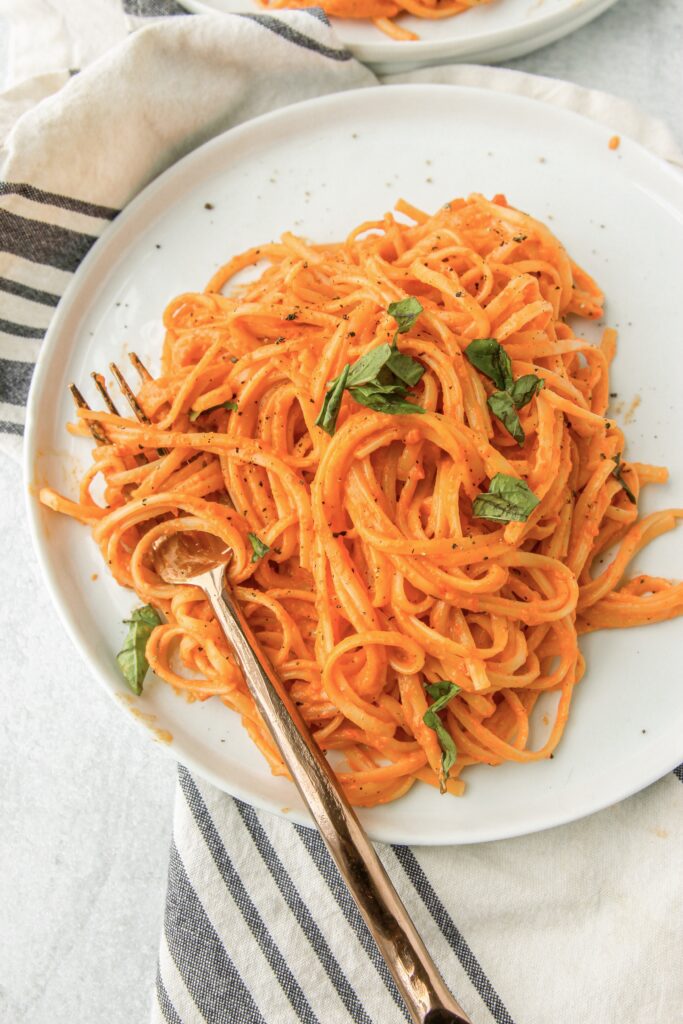 What else can I cook with creamy roasted red pepper sauce
This sauce is so versatile, and you can use it in more ways than just pasta! Here are some ideas:
So lots of ideas from pasta, to pizza, and chicken!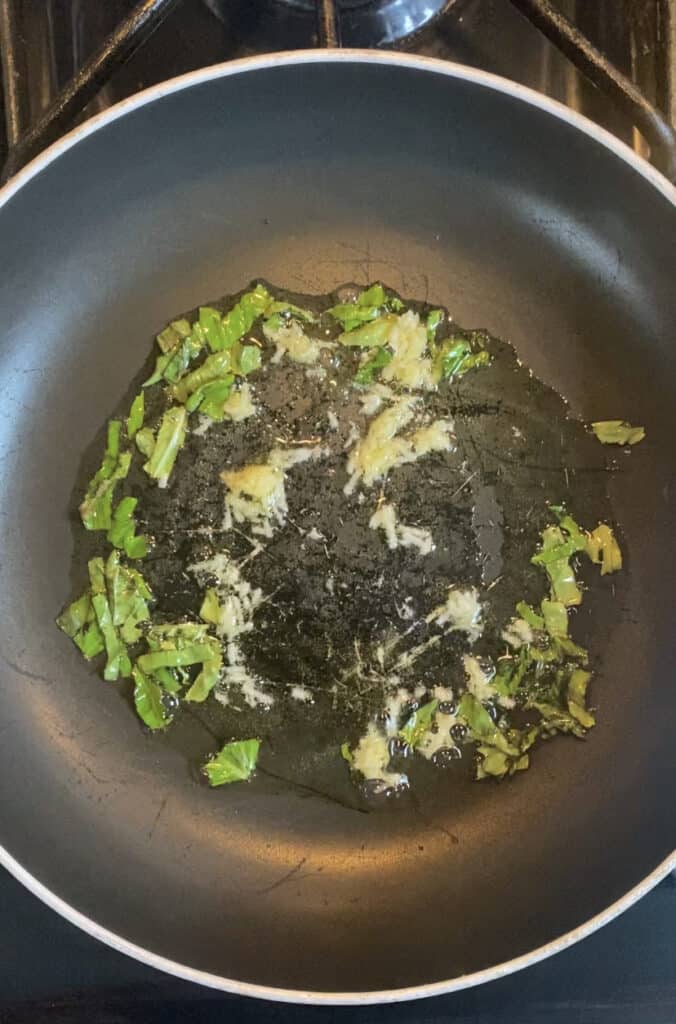 Sautéing the grated garlic and basil together really helps add deep flavors to the sauce, and balance the creaminess!
Not only does it make the sauce taste amazing, but isn't the smell of garlic and basil absolutely incredible?
I really like grating my garlic instead of chopping. I feel like I can get a more even flavor in the sauce, and you won't have any large pieces.
I'll be honest, measuring pasta is one of my weaknesses. I've gotten better with short pasta being able to measure cups, but when it comes to long pasta I always make too much!
For this recipe I used half of a 1lb box of linguini and I found that was enough for 4 servings.
One of my biggest pet peeves is adding too much pasta to the sauce and not having enough sauce to coat all the noodles! So my trick to avoid this, add your pasta a little at a time to your sauce. I never add all my cooked pasta all at once to my sauce pan! A little at a time, stir, repeat. When I've got the right pasta to sauce consistency we're ready to eat!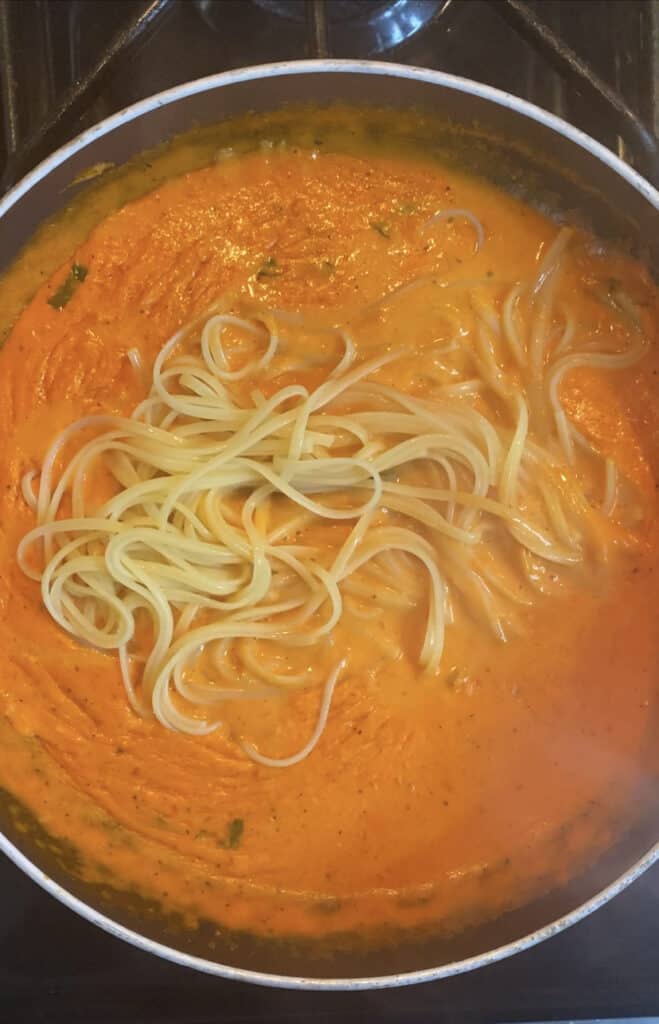 Cooking Tips
In this sauce I used light cream here, but you can also use half & half! I make cream sauce pastas all the time with half & half. I do not recommend heavy cream. Heavy cream is way too, well, heavy. I find it adds way too much cream flavor and overpowers the freshness of the roasted red peppers.
For pasta I recommend a thin pasta, like thin linguini or thin spaghetti. You could also use rigatoni! You just need to adjust cooking time for the type of pasta you're using.
As the sauce simmers if it gets too thick just add a few tablespoons of the boiling pasta water. Don't add more cream to thin out a sauce, you'll be adding more cream than is needed in the recipe! Pasta water is the best thing to use.
This really is such an easy sauce you can make for a weeknight dinner! And just store the leftovers in an airtight container and you've got lunch or dinner the next day. My personal preference is to eat leftovers within 3 days of making the dish.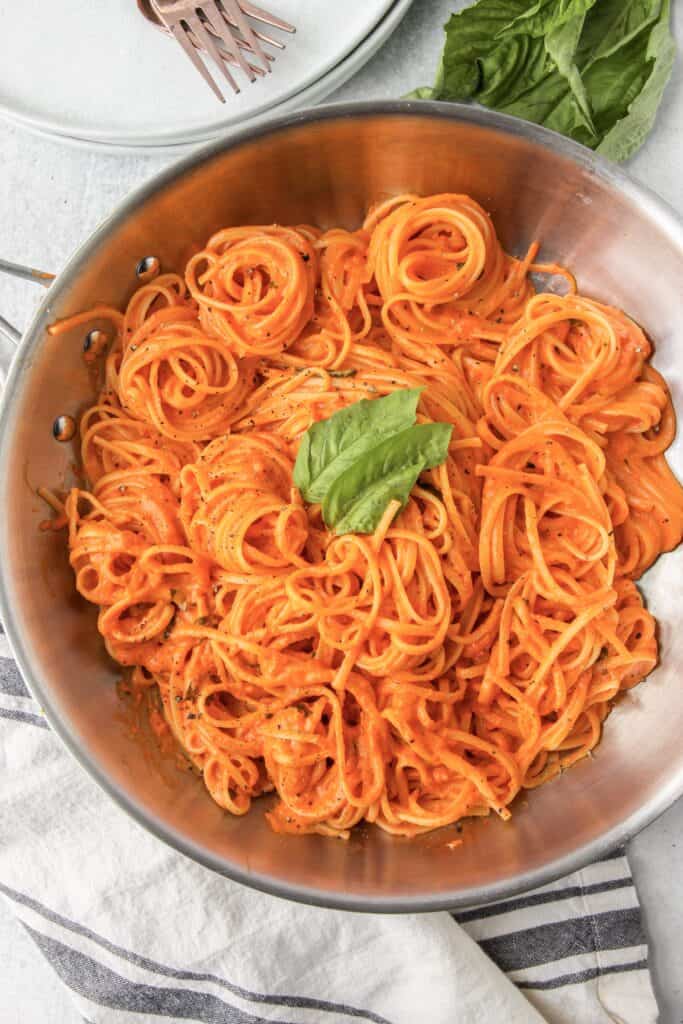 If you liked this recipe here are some other easy dinner recipes to check out!

Marsala Cream Sauce
Creamy Curry Pasta
Fontina Veggie Pasta
Vodka Sauce with Meatballs
Meatballs are one of my favorite easy dinners to make, I've got a whole bunch of meatball recipes if that's your thing too!

Chicken Parm Meatballs
Chicken Piccata Meatballs
French Onion Meatballs
Taco Meatballs
Buffalo Chicken Meatballs
Easy Baked Meatballs
Print
Creamy Roasted Red Pepper Pasta
Creamy Roasted Red Pepper Pasta sauce is a decadent and smooth sauce made with blended roasted red peppers. This sauce is great over pasta or serve on chicken or fish. A creamy versatile red pepper sauce!
Author:
Prep Time:

10 minutes

Cook Time:

25 minutes

Total Time:

35 minutes

Yield:

4 servings

Category:

Pasta

Method:

Saute

Cuisine:

American
1/2 lb thin linguini pasta (this is for 1/2 of a box of linguini)
1 12oz jar of roasted red peppers, drained
1 tablespoon extra virgin olive oil
3 large basil leaves, chopped
4 garlic cloves (2 will go into the blended sauce, and 2 you will grate and saute)
1/2 cup light cream
1/2 teaspoon salt
1/4 teaspoon garlic powder (optional for extra garlic flavor)
1/4 teaspoon pepper
Parmesan or Romano cheese for garnishing 
Instructions
1. Bring a pot of salted water to boil, when the water boils add your linguini and cook to your liking. I like my cooked a little more than al dente so I cooked mine for 7 minutes.
2. While the water is coming to a boil, in a food processor or blender, add the drained roasted red peppers, 2 of the garlic cloves, the salt, pepper, and garlic powder. Blend until completely smooth.
3. In a medium sauce pan over medium heat, add the extra virgin olive oil and the chopped basil. Cook for 1 minute, then add the grated garlic and cook for an additional 1 minute. Pour in the blended roasted red peppers and the light cream. Stir to combine and heat until a light simmer. Taste and season with more salt and pepper to your liking. Simmer about 10 minutes to enhance flavors, if sauce gets too thick as it's cooking, add some of the boiling pasta water. I usually add a few tablespoons to keep the sauce light.
4. To serve, add the cooked linguini into the sauce and stir to coat. Top with more black peppers, and Parmesan or Romano cheese.
Enjoy!
Notes
I found 1/2 of the box of linguini to be enough pasta. You can cook more pasta if you'd like, but add it a little at a time to the finished sauce so you don't add too much pasta and not have enough sauce to coat it all!
If you don't want the sauce too garlicky, you can reduce the garlic powder to 1/4 teaspoon…then add more if you want to after tasting.
I recommend light cream or half & half, heavy cream is too dense and will create too much of a "cream" flavor and overpower the roasted red pepper flavors.
Keywords: creamy roasted red pepper pasta