Creamy Curry Pasta is a savory and warm vegan pasta sauce recipe that is loaded with flavors from the curry and sesame oil. Pour over your favorite pasta noodle or rice noodle and add spinach and mushrooms for the finishing touch.
A creamy sauce that's dairy free!
Coconut milk and cornstarch combine to make the creamy curry seasoned sauce that coats each noodle. You don't even miss the dairy!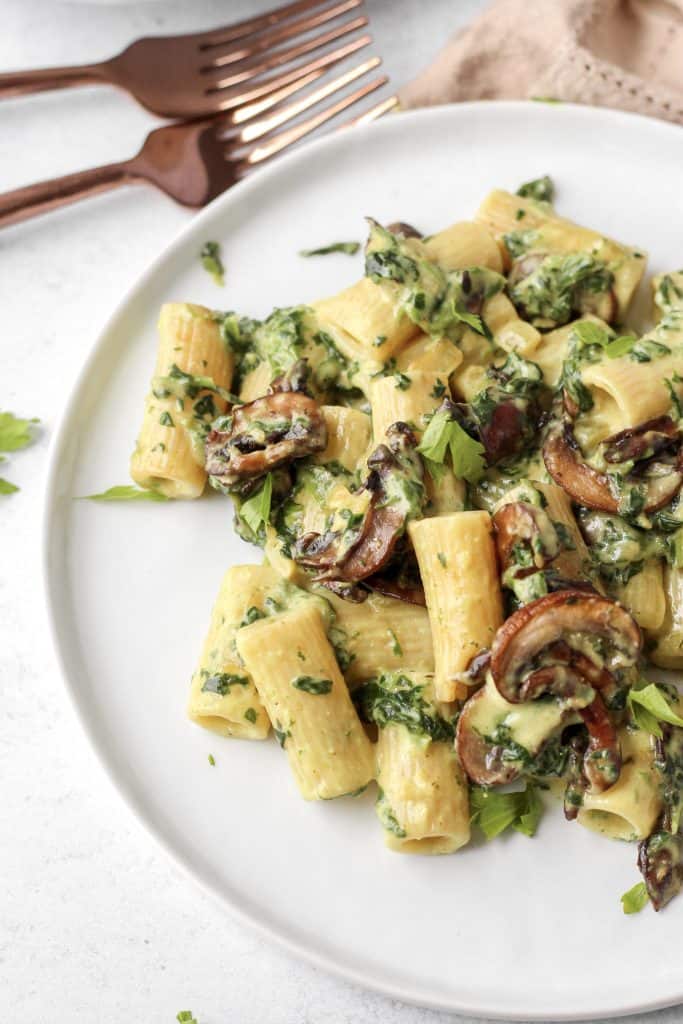 Is traditional boxed pasta vegan?
Your traditional boxed pasta typically contains the following ingredients:
Semolina
Wheat flour
Vitamin B3, Iron, Vitamin B1, Vitamin B2, Folic Acid.
So you'll notice nothing in there that would scream "not vegan!" But, here's the next piece of info you need from the boxed pasta, which for you is going to determine whether you can use boxed pasta or need to substitute for a different noodle:
"This product is manufactured on equipment that processes products containing eggs".
So, while the pasta itself does not contain eggs, it comes into contact with surface that has touched eggs.
Always read the packaging!
If you want a wheat free and gluten free noodle, check out these rice noodles here.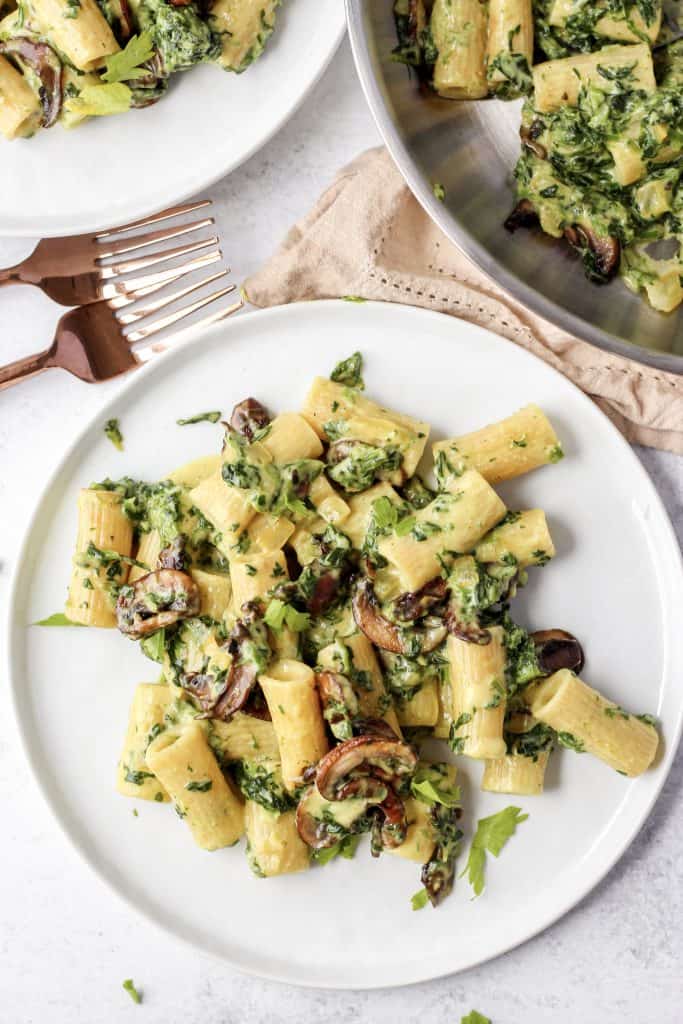 What makes this a vegan pasta recipe
So how can a recipe with the word creamy in it really be a vegan recipe?
That's right, in this recipe there's no:
Butter
Cream or half & half
Sour cream or cream cheese
Cheese
And yet, it's creamy and rich and so satisfying!
The sauce is made with a blend of curry power, sesame seed oil, garlic and onions and a can of coconut milk.
My trick is making a slurry of corn starch and water and that thickens the sauce from a soup-like consistency to more of a cream sauce. The spinach and sauteed mushrooms give the pasta some hearty substance, each bite is so savory you'll be wanting seconds.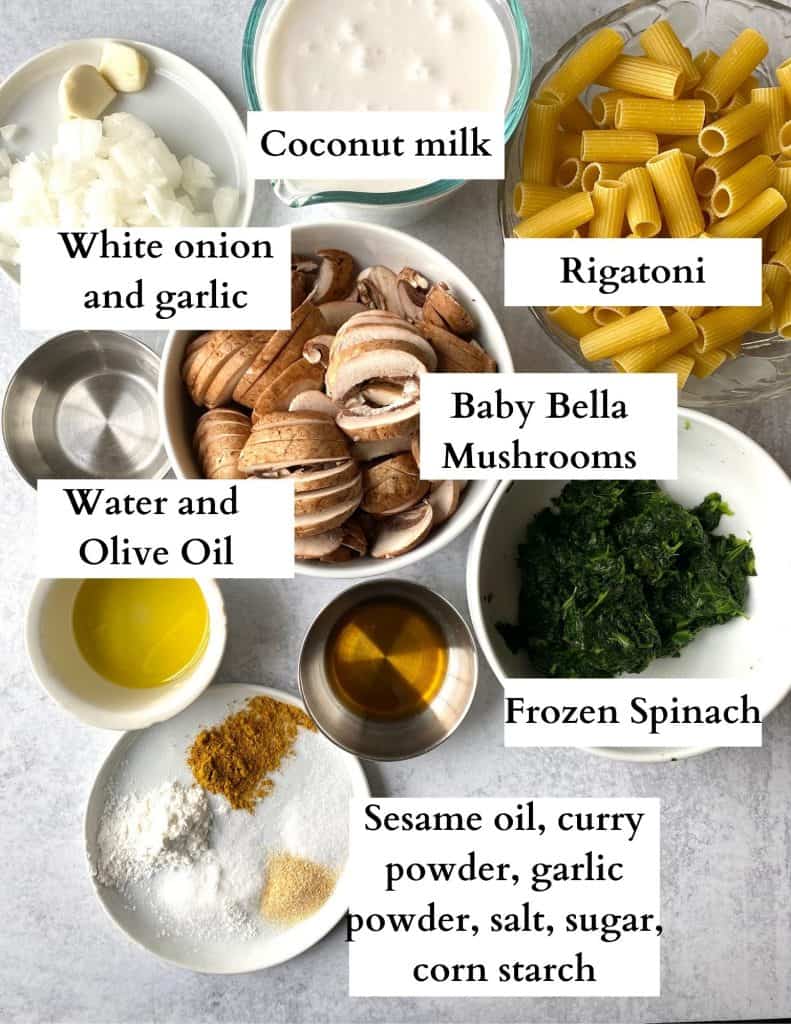 Cooking Tips
You can use what ever pasta noodle you'd like, even rice noodles if you want t go totally gluten free and vegan. I do think shorter noodles work better versus long noodles like spaghetti.
A slurry is a combination of water and corn starch and is used to thicken sauces. It really comes in handy if you ever had a sauce that's too thin and watery!
You want to use the coconut milk from the can, not the kind from a carton near the other milks. You can find canned coconut milk in the Mexican or Spanish aisle of your grocery store or near the Asian items.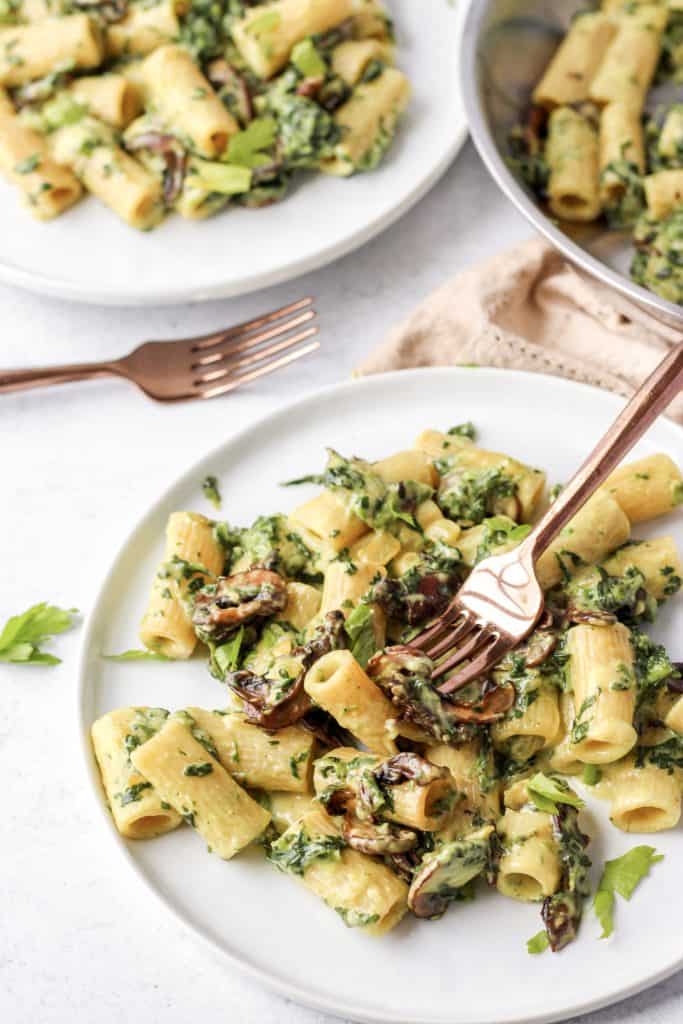 I have a few other vegan dinner recipes ideas you might like:
Roasted Sweet Potato and Broccoli Tahini Bowls
Stuffed Roasted Sweet Potatoes with Chick Peas
If you want more food photos, cooking tips, and recipe ideas follow me on Instagram by clicking here!
Print
Creamy Curry Pasta
This vegan pasta recipe isn't light on flavor and abundance! A coconut milk sauce thickened with corn starch and seasoned with sesame seed oil. Loaded with crispy chickpeas and roasted broccoli.
Author:
Prep Time:

15

Cook Time:

35

Total Time:

50 minutes

Yield:

3 servings

Category:

Vegan

Method:

Saute

Cuisine:

American
2 and 1/4 cups rigatoni pasta
10oz frozen spinach, cooked and strained
10z baby bella mushrooms, cleaned and sliced thin
3 tablespoons olive oil
2 teaspoons sesame seed oil
2 garlic cloves, grated
1/2 cup small diced white onion (I like them diced very small)
2 teaspoons white sugar
1/2 teaspoon salt
2 teaspoons curry powder
1 13.5oz can coconut milk
2 tablespoons water
4 teaspoons cornstarch
1/4 teaspoon garlic powder
1/2 ladle of reserved pasta water if needed to thin the sauce
Instructions
1. In a large sauce pan heat the 3 tablespoons of olive oil, add the mushrooms and cook for 15-17 minutes until deep brown. Spoon onto a paper towel lined plate and sprinkle with salt. Set aside until the end of the recipe. While the mushrooms are cooking, cook your frozen spinach and bring a large pot of salted water to boil.
2. Once the water is boiling, add the noodles and cook according to package directions.
3. While the pasta is cooking heat the 2 teaspoons of sesame seed oil, diced onions, and grated garlic in a medium pan over medium heat for 3-4 minutes. Add the curry powder and stir to coat the onions. Pour in the coconut milk and season with the sugar and salt. In a small bowl, combine the water and cornstarch then pour into the coconut sauce, raise heat so the sauce boils, then reduce to simmer. If needed, add1/2 of a ladle of the boiling pasta water to the sauce and stir (I don't need this every time). Simmer the sauce on low heat until the noodles are done cooking. If the sauce at any point gets to watery/thin, add cornstarch a teaspoon at a time and whisk into the sauce, you'll just need to reboil any time you add cornstarch so that it activates and thickens the sauce. If your sauce ever gets too thick, add small amounts of the boiling pasta water to bring it back to a cream sauce consistency.
4. To serve, pour the drained spaghetti into the pan with the coconut curry sauce and stir until all the noodles are coated. To each bowl of pasta, top with the roasted broccoli and roasted chick peas. Serve with naan.
Notes
Adapted from: In Pursuit of More
Use coconut milk from the can, not the kind in a carton from the milk aisle.
You can use traditional pasta noodles or rice noodles.
Keywords: creamy curry pasta