Did you read this title? Just look at all that flavor packed into the title of this recipe: chickpea and spinach curry sweet potatoes. This is the new comfort food. This is comfort food that's vegan!
I know I know…when someone says 'comfort food' our minds jump to images of cheesy, pasta, carb-loaded meals. It just happens to be that this recipe is all of the flavors and hearty ingredients I loved packed into this neat little sweet potato. These chickpea and spinach curry sweat potatoes are going to be the breath of fresh air of your dinner menus need.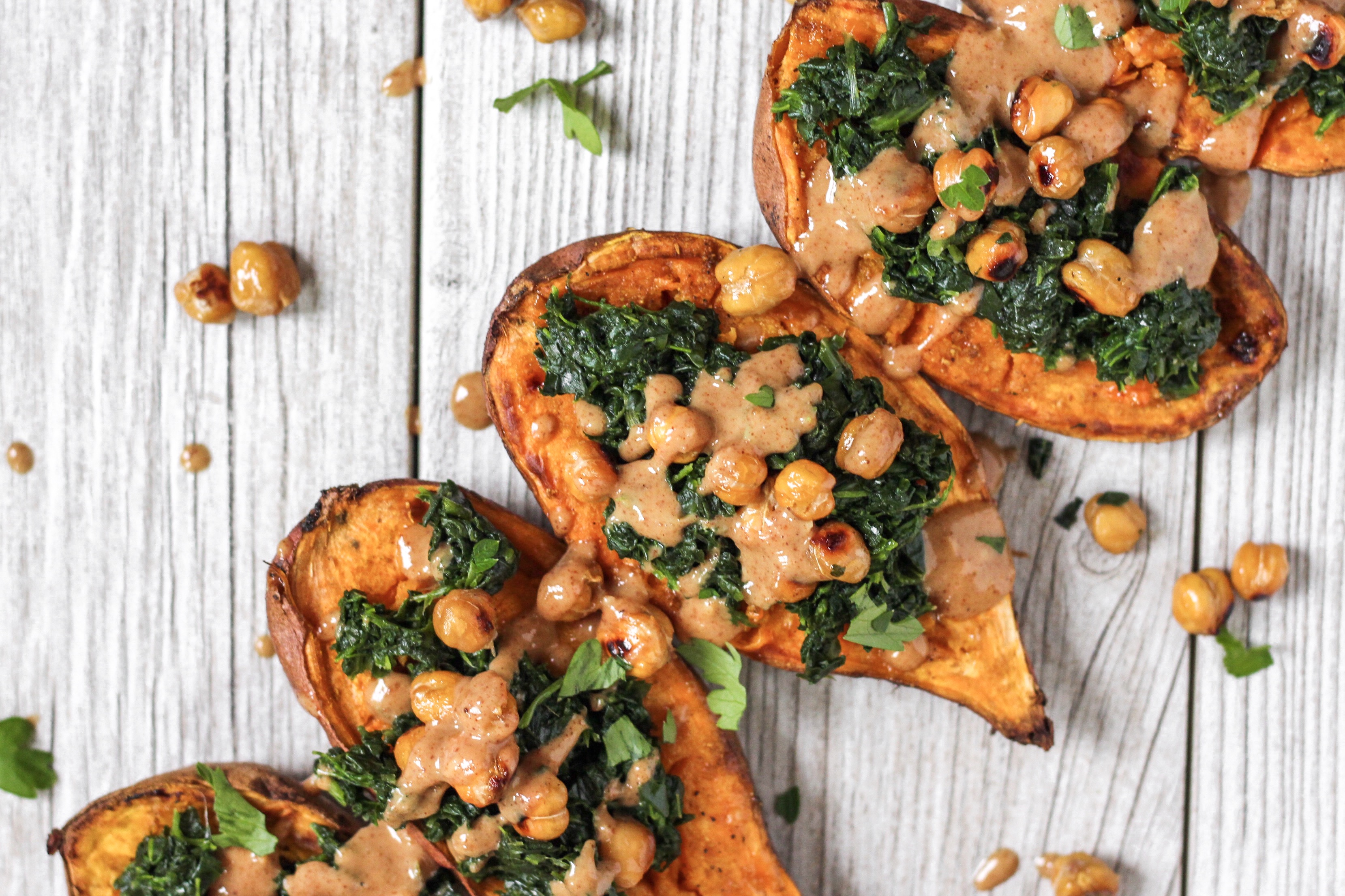 These stuffed sweet potatoes are warm, filling, seasoned with curry, and you'll feel like you did something good for yourself if you eat these for dinner. What I love about these is that you feel completely satisfied after eating these. Sweet potatoes seasoned with curry, spinach, crispy chick peas then tahini…this is a meal in itself. Serve these with a side of rice for a hearty comfort food the whole family will love.
It's very important that your sweet potatoes are small….don't go for those monster sized potatoes that look more like a melon than a sweet potato. Those will be entirely too hard to cut in half before roasting them. Sweet potatoes are quite tough on their own, so get the small ones and you'll be able to get your knife through them.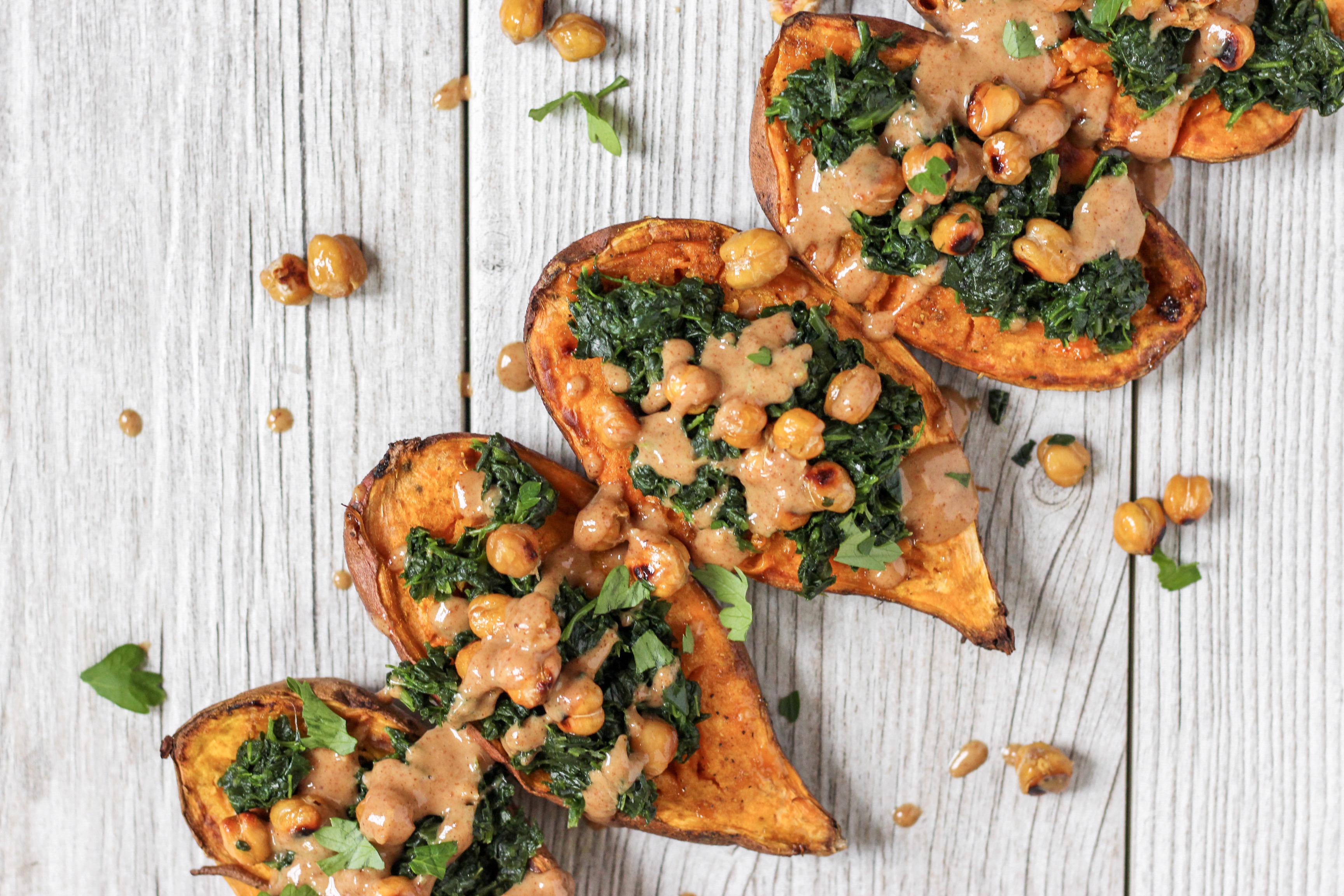 Look at how gorgeously colorful this dinner is too. Vibrant greens and oranges and those crispy chickpeas have a touch of deep brown. A dinner plate that is this beautiful and delicious is the best of both worlds!
Did you make this? Let me know what you think!
You might also like:
Roasted Sweet Potato and Broccoli Bowls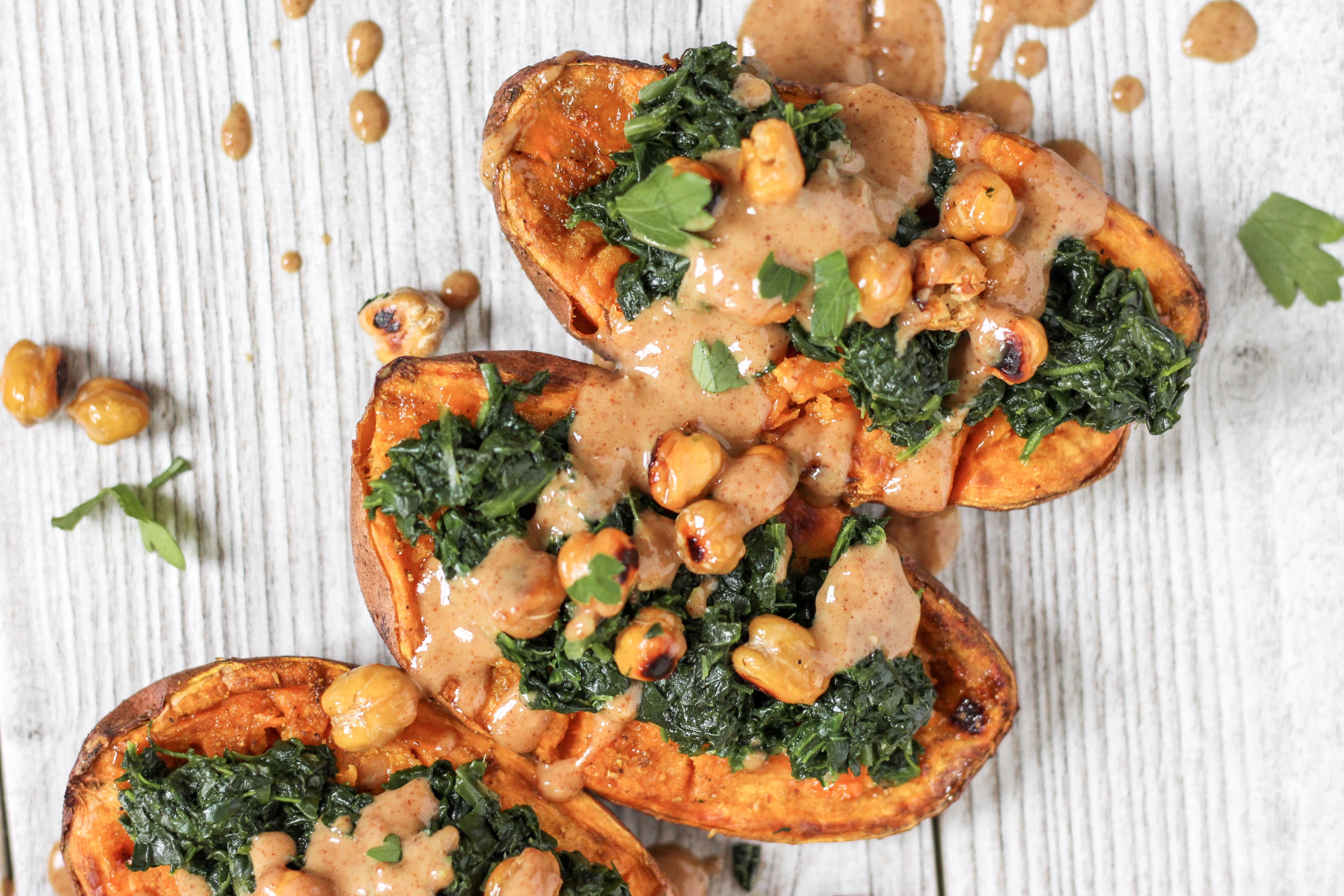 Print
Chickpea and Spinach Stuffed Sweet Potatoes
Chickpea and Spinach Stuffed Sweet Potatoes combine the savory flavors of curry and tahini stuffed inside a roasted sweet potato. So filling and a new take on comfort food.
Author:
Prep Time:

15 minutes

Cook Time:

30 minutes

Total Time:

45 minutes
For the Sweet Potatoes
3 small/medium sweet potatoes
1/2 tablespoon olive oil
Salt
Curry powder
1 box frozen chopped spinach
For the Chick Peas
1 10.5oz can chick peas, drained
2 teaspoons olive oil
Dash salt and dash garlic powder
For the Almond Butter Tahini
3 tablespoons almond butter
1 tablespoon tahini paste
1 lemon, juiced
1 tablespoon soy sauce (or substitute with gluten free soy sauce)
3 gloves garlic, grated
1/4 teaspoon ground ginger
3 tablespoons water
Instructions
 1. Preheat your oven to 450 degrees. Carefully, carefully, slice your 3 small sweet potatoes in half. Score each with a knife, I cut 3 horizontal lines and one down the center. Brush the tops of each half with some olive oil (it's OK if you don't use all the oil, you just want to lightly brush the tops). Sprinkle each with a few dashes of curry powder, and season with salt. Bake for 30 minutes.
2. Drain the chick peas, coat with the 2 teaspoons of oil and lightly season with 1-2 dashes of garlic powder and a sprinkle of salt. Place in the oven with the sweet potatoes and roast for 25 minutes.
3. Place the spinach in a microwave safe bowl and cook for 7 minutes.
4. To make the almond butter tahini, combine all ingredients in a bowl. If it's too thick, add more water a teaspoon at a time until your consistent is able to drizzle over the potatoes.
5. When the potatoes are done roasting, remove from oven and use a fork to mash each slightly to make a space where you can spoon in the spinach. If the potatoes are too tough, keep roasting in small increments until they can easily be mashed. 30 minutes was perfect for me, but if you're potatoes are too large they might need more time. Stuff the potatoes with as much spinach as you want, fill with chick peas, then generously cover with the tahini. Eat with rice.
Notes
This recipe is not gluten free. Use gluten free soy sauce in the tahini if needed.
Inspired By: The Last Ingredient
Almond Butter Tahini