Roasted sweet potato and broccoli rice bowls is going to be your new favorite dinner. This is the recipe that's going to change your mind if you think you don't like vegan dinners. This is packed with roasted sweet potatoes, roasted broccoli, crispy chick peas, and rice then covered in an almond butter tahini. Do I have your attention?
Recipe at a Glace
Prep time: 10-15 minutes
Cook time: 30 minutes
Notes: Drying your chick peas on a paper towel before roasting them will help them get extra crispy!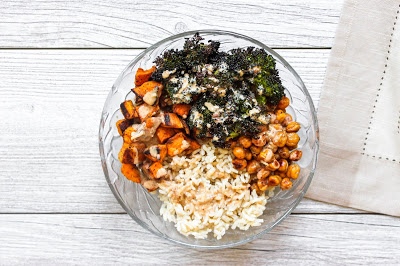 Roasting veggies is one of my absolute favorite ways to eat vegetables. The crispiness and depth of flavor roasting adds makes just about anything so savory and addicting. This rice bowl has diced roasted sweet potato, chopped roasted broccoli, and crispy roasted chick peas. So much flavor. Then, to really take this over the top it's drizzled with an Almond Butter Tahini recipe I found. Guys, this tahini is literally the best thing I've eaten in a long time. I was just dipping tortilla chips in it as I waiting for the veggies to finish roasting.
The best part about the roasted sweet potatoes? They're seasoned with curry. If you've never eaten curry seasoning before I really urge you to try it on these sweet potatoes. The flavor is similar to cinnamon and cumin mixed together, it's not spicy at all. More like a really warm spiced flavor. It's incredible when it's paired with the almond butter tahini sauce.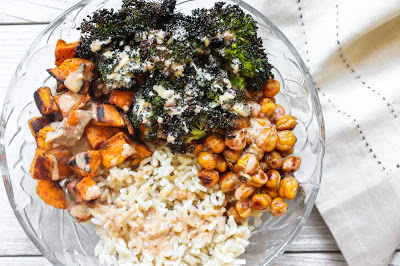 Cooking Tips
Let your chick peas dry on a paper towel for a few minutes, it will help them get crispier when they roast.
You can serve this with any rice you like, I've been loving Jasmine rice lately but brown rice or white rice is fine too.
For the sweet potatoes, I like to dice them the size of a small home fry, if you go too large they might not cook all the way through.
Have leftovers? No problem! Save in a container with the tahini on the side, then just heat up and pour the tahini on when it's time for lunch!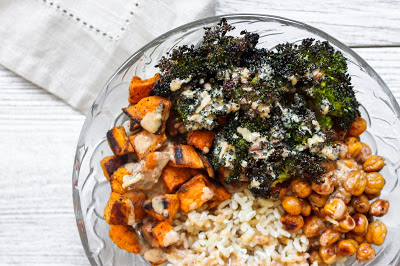 Once you eat the roasted sweet potato and broccoli rice bowls not only are you going to feel full and satisfied, but you're going to feel great too. No bloated way-too-full feeling here! If you like this recipe you're going to love this Chickpea and Spinach Stuffed Roasted Sweet Potato!
Print
Roasted Sweet Potato and Broccoli Tahini Rice Bowls
This rice bowl is packed with roasted sweet potatoes, roasted broccoli and crispy chickpeas. The almond butter tahini dressing makes this extra savory!
Author:
Prep Time:

15 minutes

Cook Time:

30 minutes

Total Time:

45 minutes

Category:

Vegan

Method:

Bake

Cuisine:

American
For the Bowls
-2 medium sweet potatoes, diced into medium sized chunks (about the the size of homefries)
-1 large head of broccoli, diced into chunks removing as much of the stem as possible
-1 15.5oz can of chick peas, drained and dried on a paper towel
-5 tablespoons Extra Virgin Olive Oil
-1 teaspoon sea salt
-1/2 teaspoon curry powder
-salt, pepper, garlic powder
-Cooked brown rice or Jasmine rice
For the Almond Butter Tahini
-3 tablespoons almond butter
-1 tablespoon tahini paste
-1 lemon, juiced
-1 tablespoon soy sauce
-3 gloves garlic, grated
-1/4 teaspoon ground ginger
-3 tablespoons water (you want the consistency to be able to drizzle, add more water if the sauce is too thick)
Instructions
1. Drain the canned chick peas, remove any shells that are coming loose and place the chick peas on a plate lined with paper towel. Pat the tops with paper towel to remove excess moisture and let try while you prep the other veggies.

2. Preheat oven to 425. Peel and dice the sweet potatoes. Pour into a large bowl, toss with 2 tablespoons of the EVOO and the curry powder. Pour onto a large baking sheet. Next, dice the broccoli into small pieces removing as much of the stems as possible. Pour into the large bowl, add the sea salt and 2 tablespoons EVOO. Toss to coat then pour onto the other side of the large baking sheet with the sweet potatoes. Take the dried chickpeas and pour into a bowl and coat with 1 tablespoon EVOO and season lightly with salt, pepper, and a few dashes of garlic powder. Place the chickpeas onto a separate baking sheet. (There's so much flavor elsewhere in this dish that I keep the chick peas a little basic and using them mostly for the crunch factor).
3. Place the sweet potato/broccoli baking sheet in the oven and set the time for 30 minutes. After 5 minutes has passed, place the chick peas in the oven for the remaining 25 minutes. So basically the sweet potatoes and broccoli bake for 30 min while the chick peas bake for 25 min.
4. While everything is baking is you're cooking rice on the stove top now's the time to do that. As mentioned above, I use a rice cooker which I love. I love that it saves me from having to watch one more pot or stir something else. Just set the cooker and let it do it's thing. To make the tahini sauce, juice the entire lemon into a bowl and grate the 3 cloves of garlic and also add to the bowl. Add in all remaining ingredients and whisk together. If it is too thick add another tablespoon of water. You want this to be the consistency of a dressing and not heavy or thick like peanut butter.
5. Assemble to bowls by first adding as much rice as you want, then as much veggies and chickpeas. Drizzle generously with the almond butter tahini.
Keywords: roasted sweet potatoes and broccoli