No appetizer is more synonymous with game day than buffalo chicken wings. The hot sauce, the blue cheese or ranch dressing, the crunchy celery, all washed down with ice cold beer. But the one thing I hate about eating a buffalo wing is the sticky messy fingers.
Buffalo Chicken Meatballs solve that problem. With a buffalo chicken meatball you get all the spicy flavors without the mess!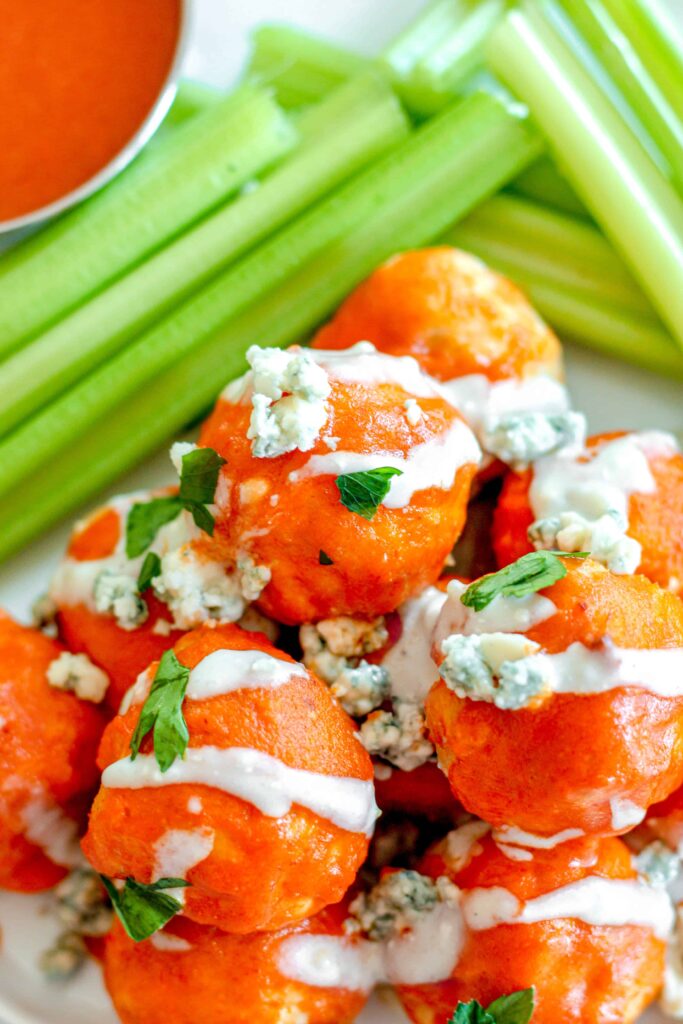 These spicy little meatballs will be a hit at your football viewing party. Set some toothpicks next to them to make it easy for guests to serve and eat.
No messy fingers, no need for wet napkins to clean your hands! But all the taste and flavors you'd expect from buffalo chicken.
I've mentioned this before, but my biggest pet peeves about appetizer foods at a party is if they're not easy to eat.
Finger foods and party appetizers must be easy for party guests to eat! Nothing overly large or cumbersome, nothing that makes a huge mess or messy hands, and nothing that takes more than 2 bites to eat it. So you can tell why I love these meatballs. They check all the boxes on my appetizer rules
Able to be eaten 1 or 2 bites
Mess-free, provide toothpicks for easy serving and eating
Easy to eat with no parts that might fall off or dissemble
Ingredients
Here's what you need to have on hand to make these! This list includes the ingredients for the meatballs, the hot sauce, and the blue cheese sauce.
Ground chicken
Breadcrumbs
An egg
Flour
Worcestershire sauce
Ranch dressing
Garlic powder, onion powder, salt, pepper
A lemon
Blue cheese
Half & half
Hot sauce
White Vinegar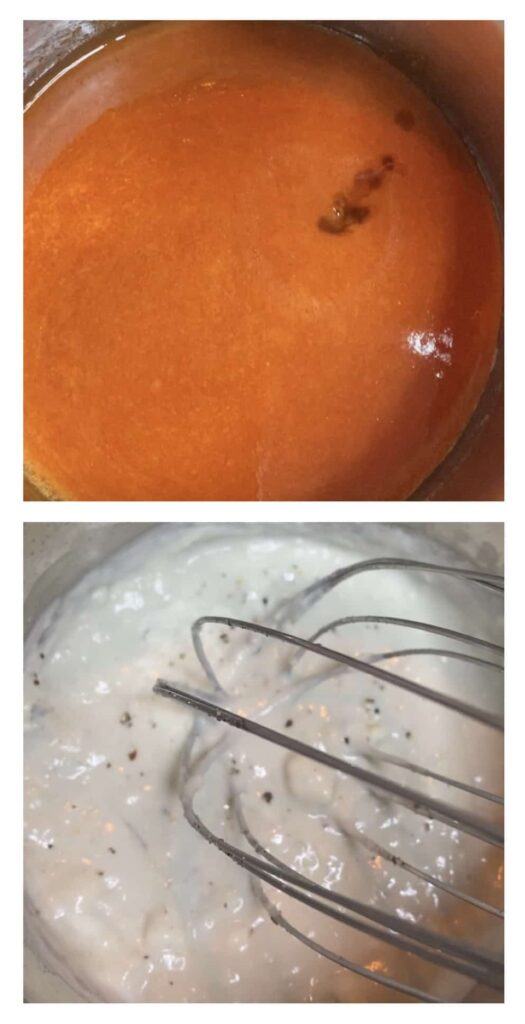 Ranch or blue cheese sauce
Let's talk sauce. The great debate of which is better for hot wings, ranch dressing or blue cheese?
I'm a fan of both, and both are cool and creamy and help balance the spice from the buffalo sauce.
Blue cheese can be polarizing, it can be one of those things you either love or hate. For me, I had to warm up to blue cheese. As I got older, I started to enjoy it in more recipes, like crumbled blue cheese on top of a burger…so good.
Now, I'm reaching for the blue cheese sauce for my buffalo wings, or buffalo chicken meatballs. For this recipe, either will work fine if you're not a fan of blue cheese.
So which sauce side are you on?
Cooking Tips
Bake the meatballs elevated on a cooling rack like the photo above. It help that any fat liquids that bake out of the meat will sit underneath your meatball, instead of the meatball sitting in this liquid the whole time. This helps prevent soggy meatballs!
I've made these meatballs several ways when testing them, using ranch dressing and using dry ranch seasoning. The meatballs using dressing in the meatballs instead of the dry seasoning came out much better!
Ground chicken is wetter than ground beef, and since we're adding ranch dressing it adds even more moisture to the mix. Chill the meat in the fridge for about 10 minutes before rolling them into balls to help make them easier to work with.
Wet hands make it easier to roll meatballs! As your hands start to get sticky, give them a quick rinse under the faucet, and then finish rolling the meatballs.
If you like this recipe you might also like these for game day. Click the link to view that recipe!
Beer Cheese Mac n Cheese
Gruyere and Bacon Potato Bites
Lemon and Garlic Whipped Feta
I've also got this recipe her for Buffalo Chicken Burgers, and these other great game day burgers French Onion Burgers!
And, if meatballs are your thing..I've got you covered. Click one of these below to go to that recipe!
Chicken Piccata Meatballs
Chicken Parm Meatballs
Taco Meatballs
Easy Baked Meatballs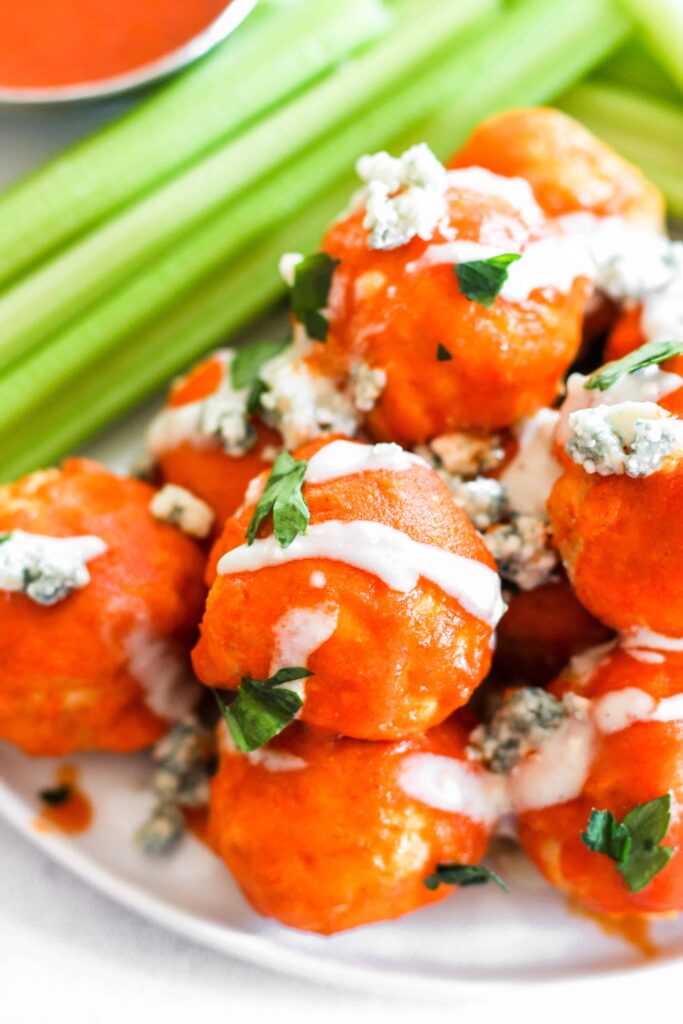 Print
Buffalo Chicken Meatballs
Buffalo Chicken Meatballs give you all the flavors of a buffalo chicken wing without the mess! Easy to eat, moist and tender, and perfect to dip in blue cheese or ranch!
Author:
Prep Time:

10 minutes

Cook Time:

30 minutes

Total Time:

40 minutes

Yield:

16 meatballs

Category:

Appetizer

Method:

Bake

Cuisine:

American
For the Chicken Meatballs
1lb ground chicken
1/2 cup plain breadcrumbs
1/2 teaspoon garlic powder
1/4 teaspoon onion powder
1 egg
1/4 teaspoon salt
1/8 cup + 2 tablespoons ranch dressing
For the Buffalo Sauce
4 tablespoons salted butter
2 tablespoon all purpose flour
1 cup hot sauce
1/2 teaspoon Worcestershire sauce
1/4 teaspoon garlic powder
1 tablespoon dark brown sugar
1 teaspoon white vinegar
For the Blue Cheese Sauce
3/4 cup crumbled blue cheese
1/2 cup of half & half
3 teaspoons all purpose flour
4 teaspoons fresh lemon juice
Instructions
1. Preheat oven to 400 degrees. To make the meatballs, in a large bowl combine the ground chicken, bread crumbs, egg, garlic & onion powders, salt, and ranch dressing. Stir to combine, then use your hands to make medium sized meatballs. This is a wet mixture, but it's going to help these meatballs stay moist! Chill the mixture in the fridge for 10 minutes, then roll into meatballs…I made 16 meatballs. Bake for 20 minutes, then remove from oven and spoon the Buffalo sauce over each meatball to cover the meatball completely, then put back in the oven for an additional 5 minutes.
2. To make the Buffalo sauce, as the meatballs are baking melt the butter in a medium size pot over medium low heat. Once melted, add the flour and whisk to combine, breaking up any clumps. Next, add the hot sauce, Worcestershire, garlic powder, brown sugar, and vinegar. Stir to combine, making sure the brown sugar has dissolved. Remove from heat and save until it's time to spoon over the meatballs!
3. To make the blue cheese sauce, in a medium pot over medium heat, add the half & half and heat until you see a little steam coming off the cream. It doesn't need to be bubbling, you just want it hot enough to melt the cheese. Whisk in the flour, then add the blue cheese and lemon juice. Season with salt and pepper. Pour into a serving bowl and let cool.
4. To serve, plate the buffalo chicken meatballs and serve with bowls of the remaining Buffalo sauce and blue cheese dipping sauce.
Keywords: buffalo chicken meatballs