Do you like buffalo wings and buffalo chicken dip, basically buffalo anything? Me too! Then you'll love these buffalo chicken burgers! These chicken burgers get smother with crumbled blue cheese, spicy buffalo sauce, and crispy bacon. So much savory and spicy flavors!
Recipe at a Glance
Prep time: 40 minutes
Cook time: 12-15 minutes
Notes: The prep time is long because the ground chicken mixture chills in the fridge for 30 minutes. This helps the mix firm up and makes it easier to work with and form into patties.
I fully admin I have an obsession with anything buffalo chicken. If I see buffalo chicken dip on a menu, chances are I'm going to order it. So creating a buffalo chicken burger recipe was right up alley. That blend of spicy from the buffalo sauce, and the cool creamy cheese is seriously addicting.
Cooking Tips
So first, the chicken burger itself is quite mild. You can add more hot sauce if you want to the burger, but the more liquid you add the wetter the chicken mixture will become and gets stickier to work with. If you want a spicier burger I'd recommend swapping one of the tablespoons of ranch dressing for a tablespoon of hot sauce.
The mixture should chill for 30 minutes in the fridge before you form the patties to cook them. It will be easier to form the patties and work with the mixture.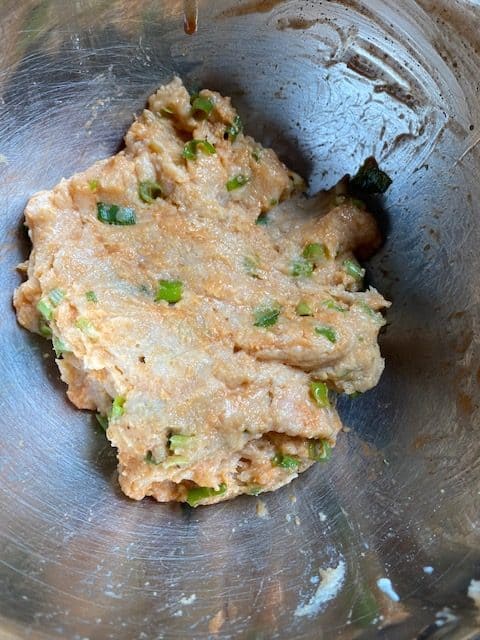 When you form the patties and put them in the pan to cook, press down in the center a few times to form an indentation. This will prevent the patties from puffing up and becoming too circular like a meatball.
If the patties stick to the pan, add a little more olive oil as they're cooking.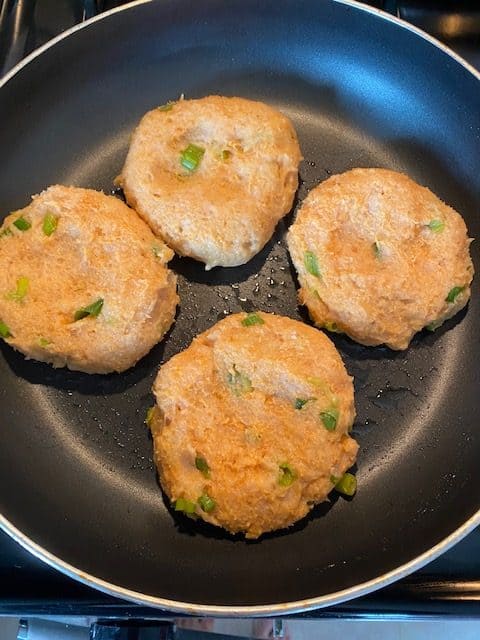 So if you're like me and love anything and everything buffalo chicken, you're in luck. I've got more buffalo chicken recipes on the blog like these Buffalo Chicken Meatballs and this Buffalo Chicken Pasta.
Serve these with fries, sweet potato fries, or tator tots!
Print
Buffalo Chicken Burgers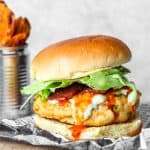 If you like buffalo wings or buffalo chicken dip you'll love these buffalo chicken burgers! Smothered with crumbled blue cheese, buffalo sauce, and crispy bacon, these are loaded with savory and spicy flavors.
Author:
Prep Time:

40 minutes

Cook Time:

15 minutes

Total Time:

55 minutes

Category:

Chicken

Method:

Saute

Cuisine:

American
Scale
Ingredients
1lb ground chicken
1/2 teaspoon garlic powder
1/4 teaspoon onion powder
2 tablespoons ranch dressing
2 tablespoons hot sauce
1/3 cup diced scallions
1/2 cup + 2 tablespoons of breadcrumbs
1 egg
4 strips of bacon
4 potato buns
Crumbled blue cheese
1 tablespoon olive oil
Iceberg Lettuce
Instructions
1. To make the chicken burger mixture, in a large bowl combine the ground chicken, garlic powder, onion powder, ranch dressing, hot sauce, scallions, breadcrumbs, and the egg. Mix well until everything is combine. Chill in the fridge for 30 minutes, this well help the mixture firm up a bit and will be easier to work with and form the patties.
2. While the chicken is chilling in the fridge, cook the strips of bacon in a frying pan over medium to medium high heat. Flip occasionally until they're cooked just the way you like them, I like my bacon crispy so I cooked mine for 10 minutes. Then remove from the pan and let dry on a paper towel lined plate.
3. Once the chicken has chilled for 30 minutes, form into 4 equal sized burger patties. In a large frying pan, drizzle a the olive oil and heat over medium heat. Add the 4 burger patties to the hot pan and press down in the center of each patty to form an indentation. This will prevent the patties from puffing up and turning into meatballs. Cook on the first side for 5 minutes, then flip the burgers and cook an additional 6 minutes. During the two minutes of cooking, top each burger with a generous amount of crumbled blue cheese, then cover the pan to help the cheese melt a bit. Internal temp of chicken should reach 165 degrees.
4. To serve, place the chicken burger on the bottom half of the buns, drizzle with buffalo sauce, top with a slice of bacon, Iceberg lettuce, then the top half of the bun. You can add more ranch dressing too if you'd like!
Keywords: buffalo chicken burgers