Buffalo chicken pizza is the ultimate spicy pizza! Homemade Buffalo sauce, rotisserie chicken, and an Asiago and Mozzarella cheese blend. Spicy, cheesy, flavorful perfection!
If you're looking for a fun new Buffalo chicken snack or a way to upgrade your next pizza night, you'll love how easy this is to make!
Recipe at a Glance
Prep time: 15 minutes
Cook time: 20 minutes
Notes: Rotisserie chicken makes this pizza ready to eat in just about 30 minutes! Want this extra spicy? Just increase the amount of hot sauce for that extra burst of heat. Top with Blue cheese and diced scallions for the perfect finishing bite.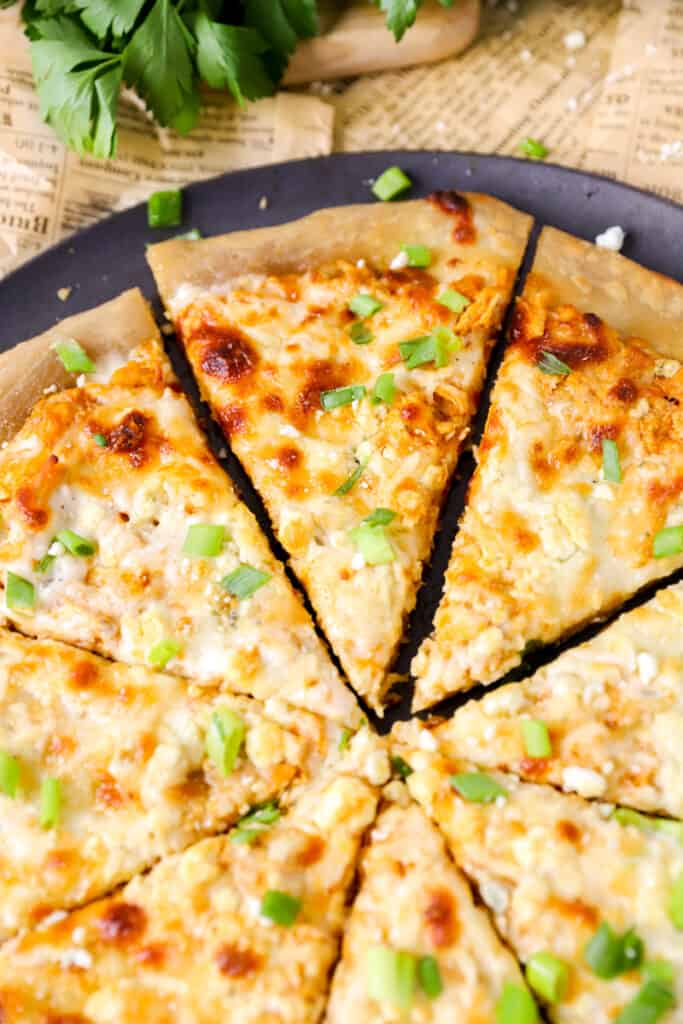 This isn't just your basic Buffalo chicken pizza. Oh no. We're not talking about just some chicken tossed with hot sauce, topped with cheese and baked.
So what's so great about this pizza I've cooked up for you? Here's what's extra special:
First, you're going to make a Buffalo hot sauce. Combining your favorite hot sauce with melted butter, some brown sugar and Worcestershire sauce really elevates the Buffalo sauce and gives it a more robust complex flavor.
Second, the cheese is a blend of Asiago and Mozzarella. The Asiago cheese really elevates the flavors and almost makes this not just any old Buffalo chicken pizza. It's almost, dare I say, gourmet.
Finally, I like a firmer crispier pizza so I prebake the dough first for 8 minutes. After the dough has prebaked then you add the sauce with chicken and cheese and bake until browned and bubbly.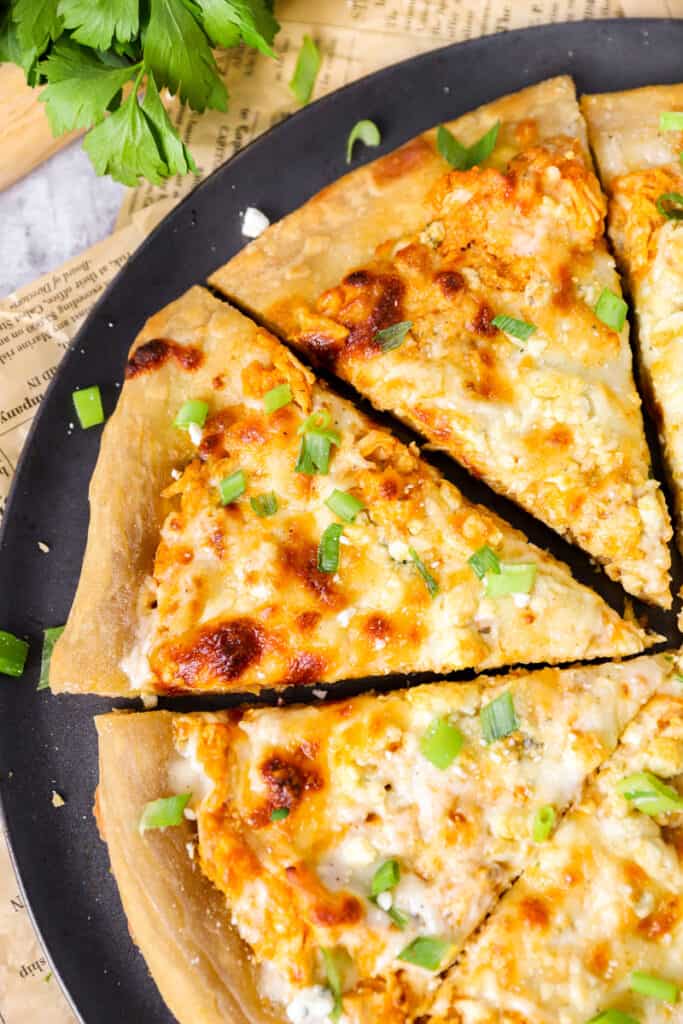 How to make a Buffalo chicken pizza
Prebake the dough. I love a firmer pizza that isn't too dough, so I bake my dough first without anything on it for 8 minutes.
Make the Buffalo chicken sauce. For this recipe you'll make a smooth Buffalo sauce with your favorite hot sauce, butter, brown sugar, and some seasoning. Then, mix in 2 cups of rotisserie chicken for perfectly coated spicy chicken!
Layer the pizza. Take your prebaked dough and spread the Buffalo chicken sauce all over top. Then combine the Asiago and Mozzarella cheese and sprinkle that over top of the chicken layer.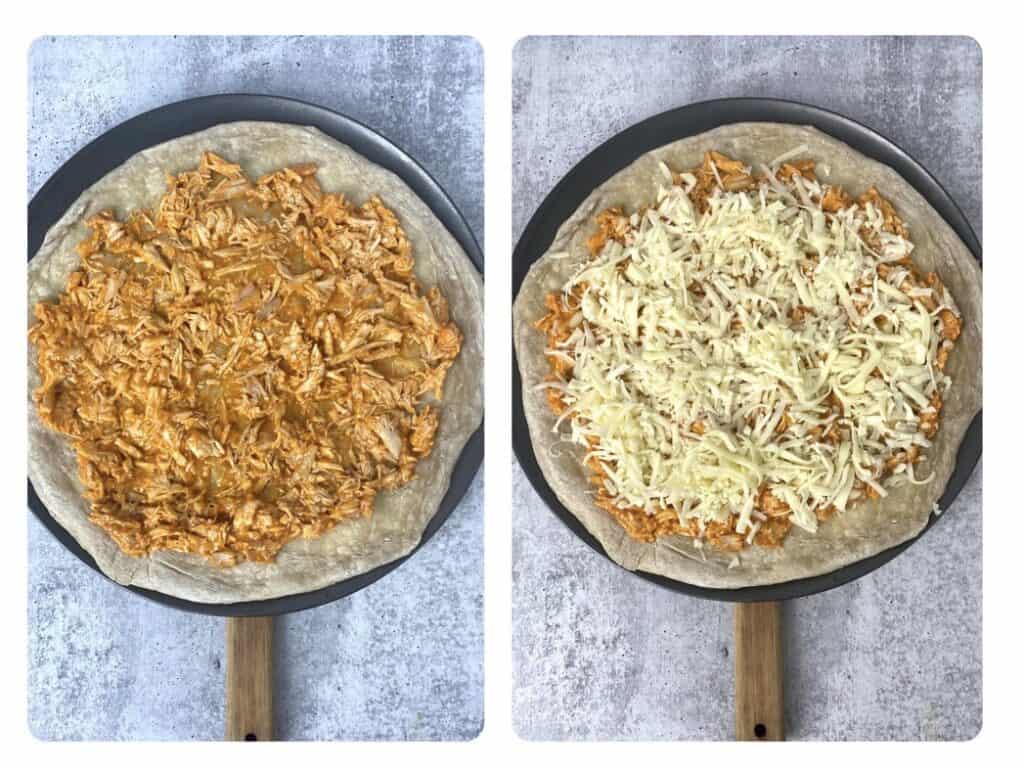 Drizzle with ranch. As much as you'd like, but just give a good drizzle of ranch dressing over the pizza.
Add Blue cheese. I really love Blue cheese, and I think it really adds that classic Buffalo chicken flavor here. If you like Blue cheese too go ahead and add a generous sprinkle over top!
Bake. Pop this back in the oven for 12 minutes until browned and bubbly!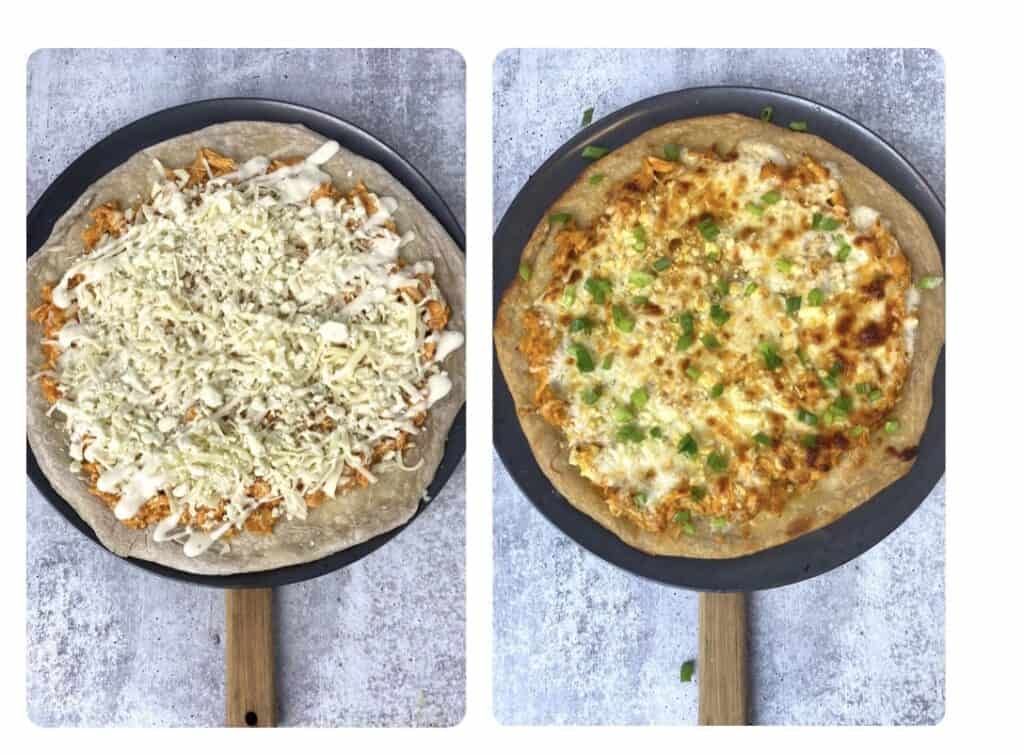 If there's Buffalo chicken dip on a menu, I'm going to order it. It's one of my biggest food weaknesses! So it's no wonder I've got lots of Buffalo chicken recipes here on the blog!
Let's started with the basic, Buffalo Chicken Dip. This is the snack classic and always a crowd pleaser!
How about some spice in that pasta? I've got this Buffalo Chicken Pasta Salad which will be the star of any cookout, or this Buffalo Chicken Pasta which is topped with crispy bacon.
Another cookout favorite, Buffalo Chicken Burgers can standup to any grilled beef burger! And get all the flavor of wings without the mess and bones with Buffalo Chicken Meatballs.
Last but not least are the fun snack Buffalo Chicken Taquitos.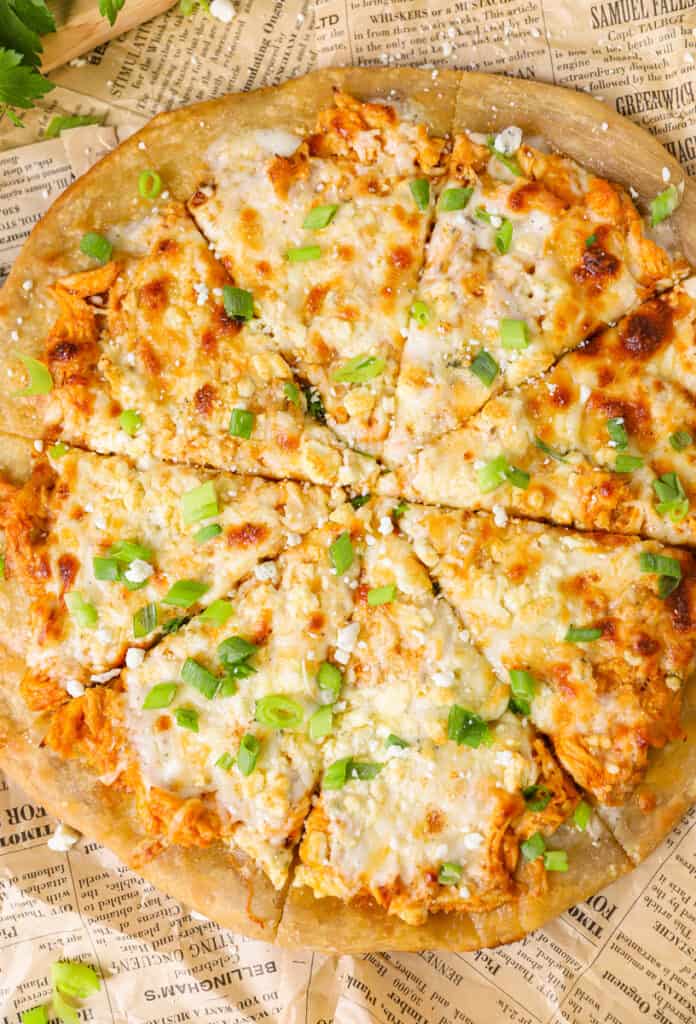 Cooking tips
Prebaking the pizza before adding the sauce and mixtures will prevent the dough from being to soft or soggy.
I use 1/2 cup of hot sauce for the Buffalo sauce, but if you really want a big kick of heat you can go ahead and increase that to 3/4 cup for a saucier pizza.
Using the blend of Asiago and Mozzarella is really going to give you that extra cheesy flavor. Plus, the Asiago has a robust flavor that can stand up to the heat of the hot sauce.
I tested this pizza multiple times, and really loved the flavor of adding the ranch dressing to the pizza before baking it! You could also dip the pizza in extra ranch after it bakes.
I hope you love Blue cheese as much as I do! Add a generous amount over top. If you don't love Blue cheese, just leave it off! The Asiago will still give you a strong cheese flavor.
I'm no a big fan of reheating pizza, but you can store the leftovers in the fridge and reheat either in the oven or in a pan on the stove.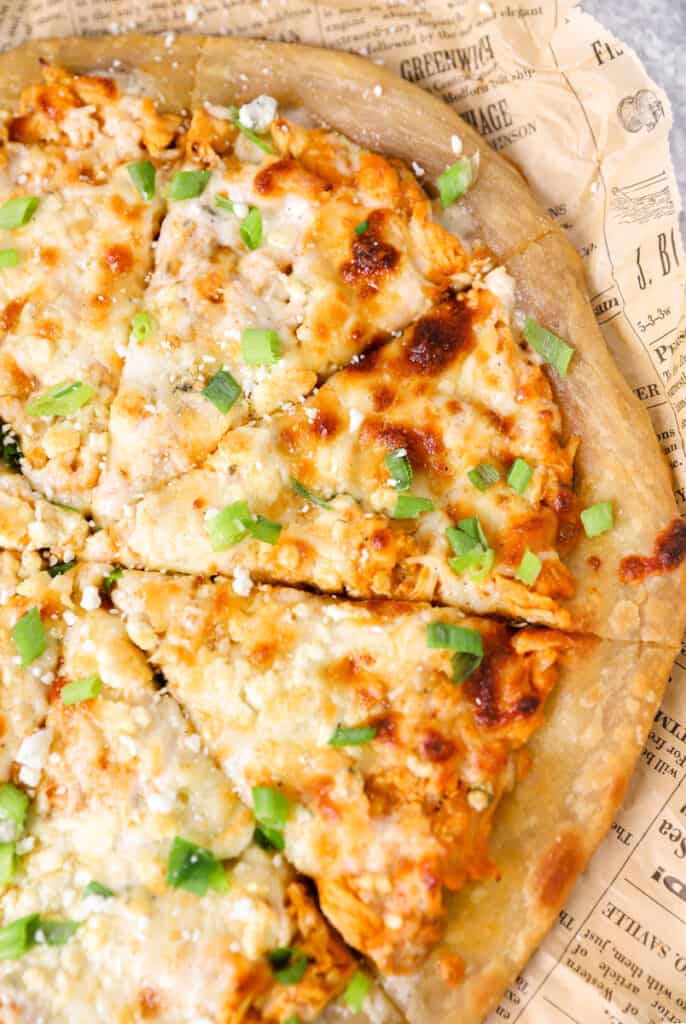 Want more recipes, cooking tips and food photography? Follow me on Instagram!
If you make this recipe, or any recipes from the blog, make sure to tag me! I love seeing your delicious creations!
Print
Buffalo Chicken Pizza
This spicy pizza is perfect for an upgraded pizza night or a game day get together! A smooth homemade Buffalo sauce, rotisserie chicken, and cheeses all baked until browned and bubbly.
Author:
Prep Time:

15 minutes

Cook Time:

20 minutes

Total Time:

35 minutes

Yield:

1 pizza

Category:

Main Dish

Method:

Baking

Cuisine:

American
2 cups shredded rotisserie chicken, recommend using only the white meat
1 pizza dough
1 cup shredded Mozzarella cheese
1 cup grated Asiago cheese
1/2 cup hot sauce, or use up to 3/4 cup for extra heat
2 tablespoons butter
1 tablespoon all purpose flour
1/2 tablespoon dark brown sugar
1/4 teaspoon Worcestershire sauce
1/4 teaspoon garlic powder
Blue cheese
Ranch dressing for garnish (about 1/4 cup)
Scallions for garnishing
Instructions
1. Preheat oven to 425 degrees. In a large bowl combine the Mozzarella and Asiago cheeses. Prepare the pizza dough and stretch it into a circle and place it onto your pizza pan. Bake for 8 minutes.
2. While the pizza dough is baking, prepare the hot sauce. In a small pot over medium heat add the butter and melt. Whisk in the flour, then pour in the hot sauce. I used 1/2 cup for a mild heat, but increase this amount to 3/4 cup for additional sauce and heat. Simmer about 2 minutes to thicken. Add the Worcestershire sauce, brown sugar, and garlic powder. Lastly, add in the shredded chicken and stir to coat the chicken in the hot sauce. Remove from heat.
3. Spread the Buffalo chicken mixture onto the prebaked pizza dough, leaving enough edge for a crust. Top with all of the Mozzarella Asiago cheese blend. Drizzle ranch dressing (as much as you'd like) over top, then sprinkle with as much Blue cheese as you'd like. Bake for 10-12 minutes. I usually bake for 12 minutes for a nice browned crust and browned and bubbly Mozzarella.
Garnish with diced scallions. Allow to cool slightly before slicing. Enjoy!
Notes
Increase the amount of hot sauce to 3/4 cup if you want a spicier pizza!
Keywords: buffalo chicken pizza