If you love penne vodka, get ready to meet your new favorite pizza. Vodka sauce pizza is just the thing you need to upgrade your next pizza night!
This super savory vodka sauce pizza is topped with pools of cool ricotta and crispy prosciutto. Yes…crispy prosciutto! Everything you want in the perfect pizza…a rich sauce, tons of cheese, and lots of garlicky flavor.
So, are you ready to add some vodka sauce to your pizza night?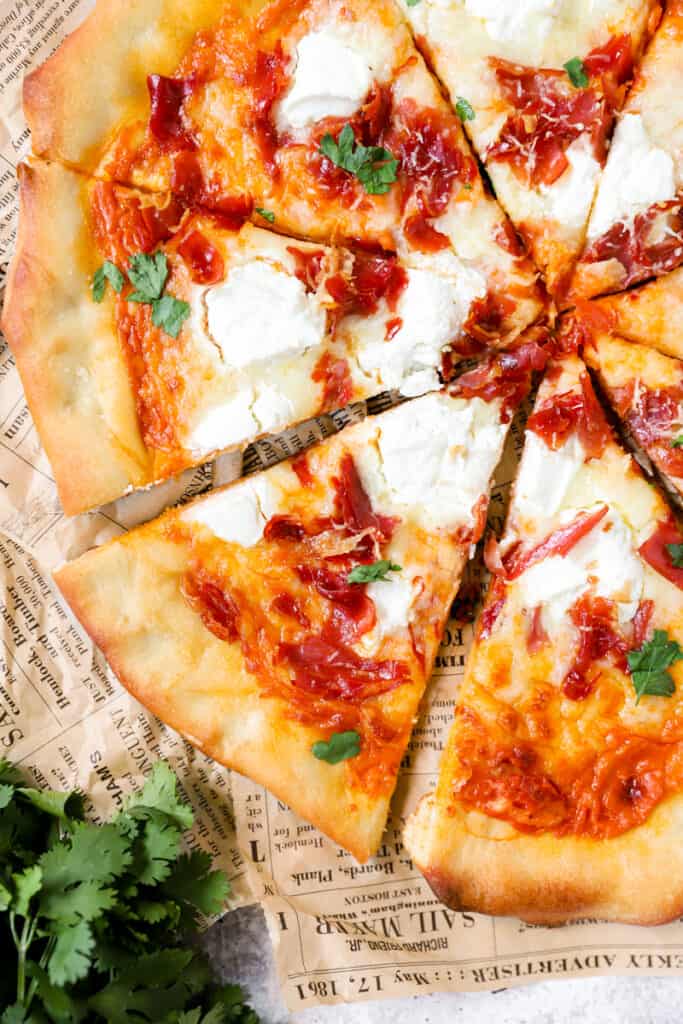 Ingredients
You know me, I like to jump right into it….so let's go through what ingredients you need to make this pizza!
Pizza dough. You can use fresh dough or the kind you buy in the poppable canister. I really recommend using fresh dough! In my grocery store I kind if in the same area has the refrigerated biscuits and rolls, towards the very bottom of the shelf. Here's the pizza dough I normally buy!
Cheeses. We've got 3 cheeses going on there. You'll need shredded Mozzarella and ricotta for topping the pizza, and you'll also need some Parmesan for the vodka sauce. I also like to sprinkle a little Parmesan over the whole pizza right before baking it too!
Basil. Not pictured below, but you'll need about 1 tablespoon of fresh chopped basil for the sauce.
Prosciutto. I used a 4oz package of sliced prosciutto. This will give you 8 slices.
Light cream. You can use light cream or half & half for the vodka sauce.
Tomato paste. Your favorite brand is fine. Since you'll only need a little for the sauce you can also find tomato paste in a squeezable tube instead of the can. You can find tube tomato paste like this one!
Vodka. Well, it is vodka sauce pizza after all! You only need a little bit, so one of those little mini bottles will be fine!
Butter, flour, garlic cloves. For making the roux as the base of the vodka sauce.
Salt, pepper, garlic powder. Let's make sure we season that sauce!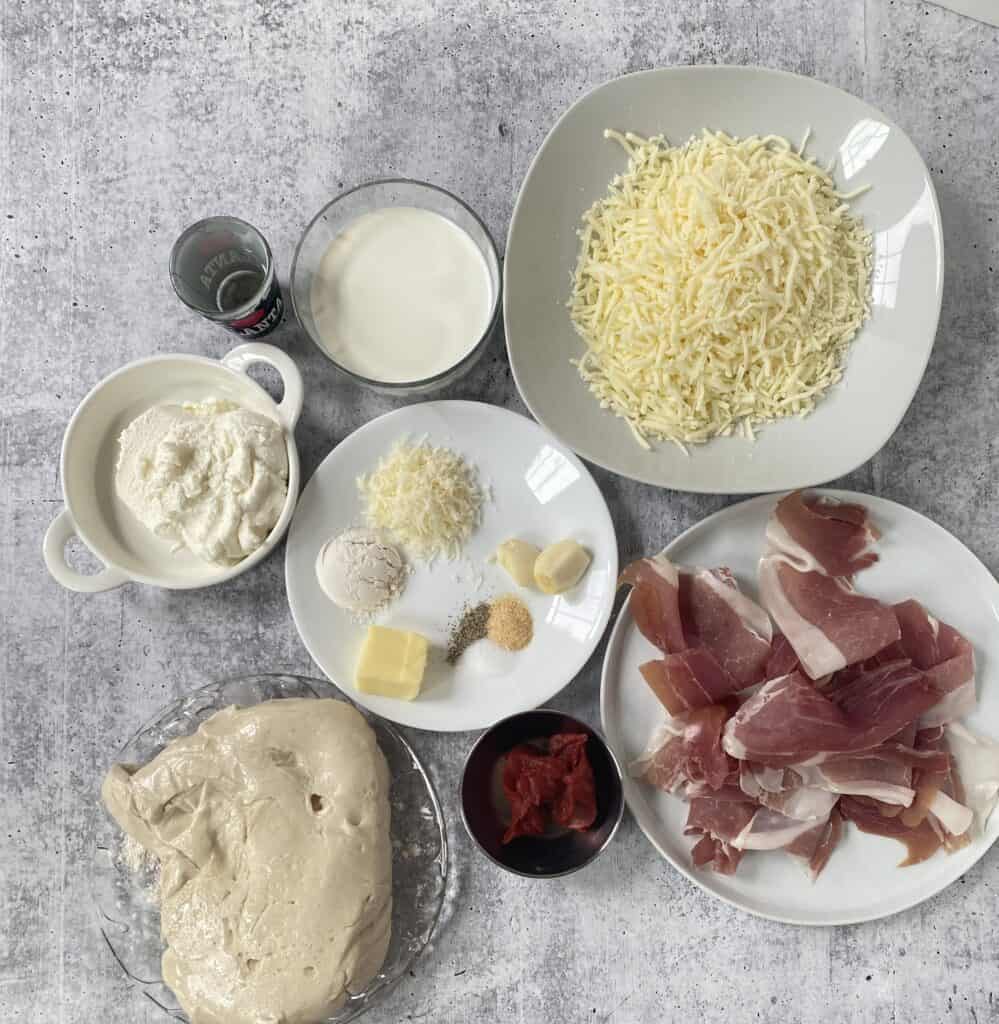 How to make the pizza
Now that you have all your ingredients, let's get to make a delicious pizza!
Step 1: Bake the prosciutto
If you've never had crispy prosciutto, let me prepare you….it's AMAZING. Think bacon but a little milder in flavor. So what you want to do is line a baking sheet with foil, add a baking rack, lightly spray with cooking spray, then add the slices of prosciutto on top. Bake for 10 minutes at 400 degrees.
Once you remove from the oven carefully place on a paper towel lined plate to absorb some of the excess oil.
Step 2: Prebake the pizza dough
I like a crispy pizza, so I also prebake my dough. After you've got your dough pressed out onto your baking pan, bake it for 8 minutes at 425 degrees. I also like to lightly spray my baking pan with cooking spray to ensure the dough doesn't stick!
Step 3: Make the vodka sauce
The recipe card below has all the instructions on how to make the sauce. But you'll melt the butter, add the garlic and flour. Pour in the cream, vodka, basil, tomato paste, Parmesan, garlic powder, salt and pepper. Bring to a simmer. I like this sauce to be a pit thicker than a pasta sauce so it can act as a strong foundation for the cheeses.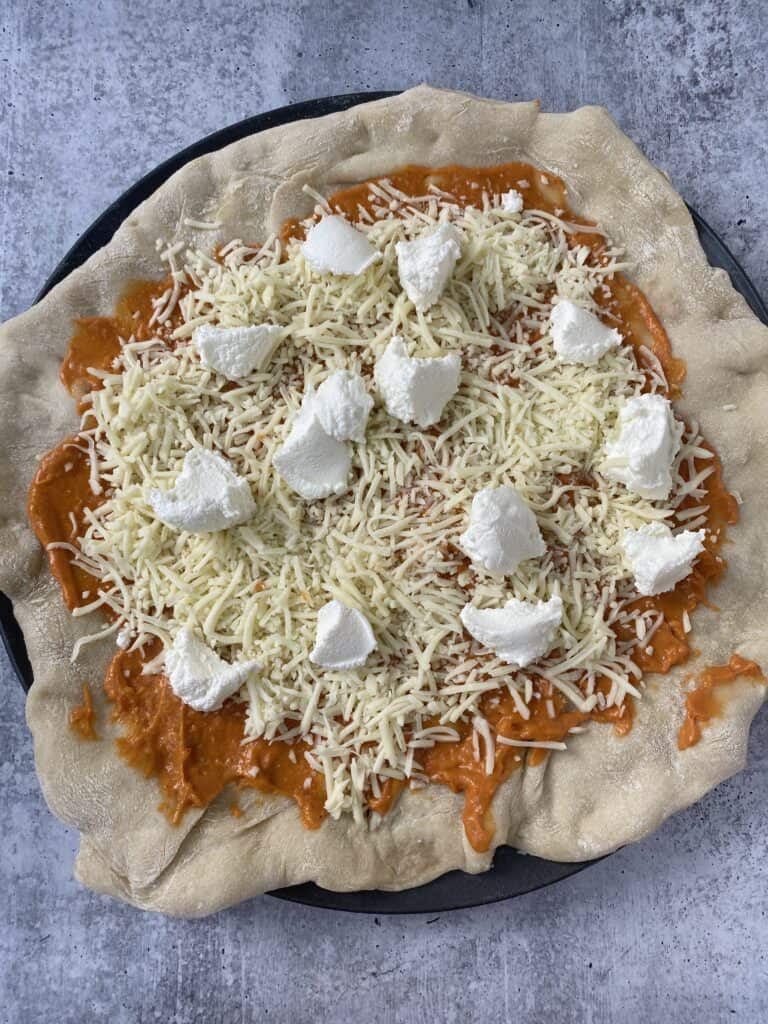 Step 4: Layer the pizza
With your prebaked pizza dough, now spread the vodka sauce over top. Add the Mozzarella cheese, ricotta cheese, and crumbled crispy prosciutto. You can also sprinkle a little more Parmesan overtop, and I also like to lightly brush the exposed crust with olive oil so it has a little extra flavor.
Step 5: Bake
Bake the pizza at 425 degrees for 12 minutes.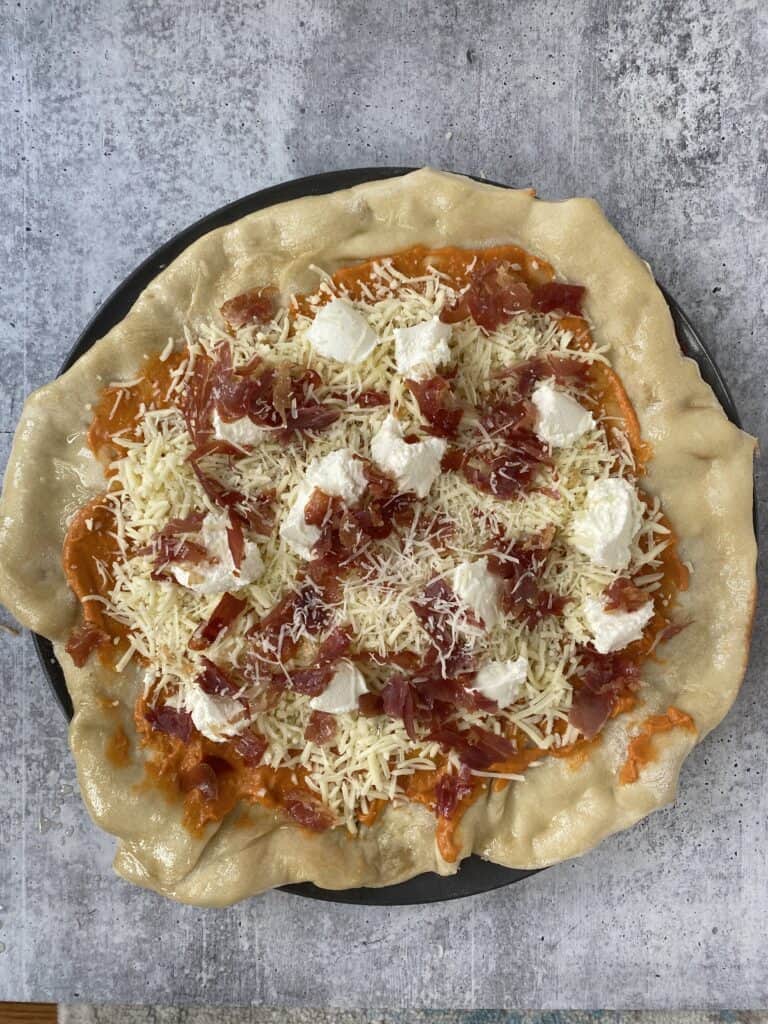 Cooking tips
For this recipe you'll make your own vodka sauce. But, if you want to make this extra fast and easy, you can use your favorite jarred sauce. You'll want at least 1 cup of jarred sauce, a bit more if you want it saucy. This is one of my personal favorite jarred vodka sauces.
Make sure you blot the prosciutto after it bakes. It can get oily, like bacon, and you don't want to add too much extra oil to the pizza and cheese.
I like a crispier pizza, so I always prebake my pizza dough for 8 minutes before adding all the toppings.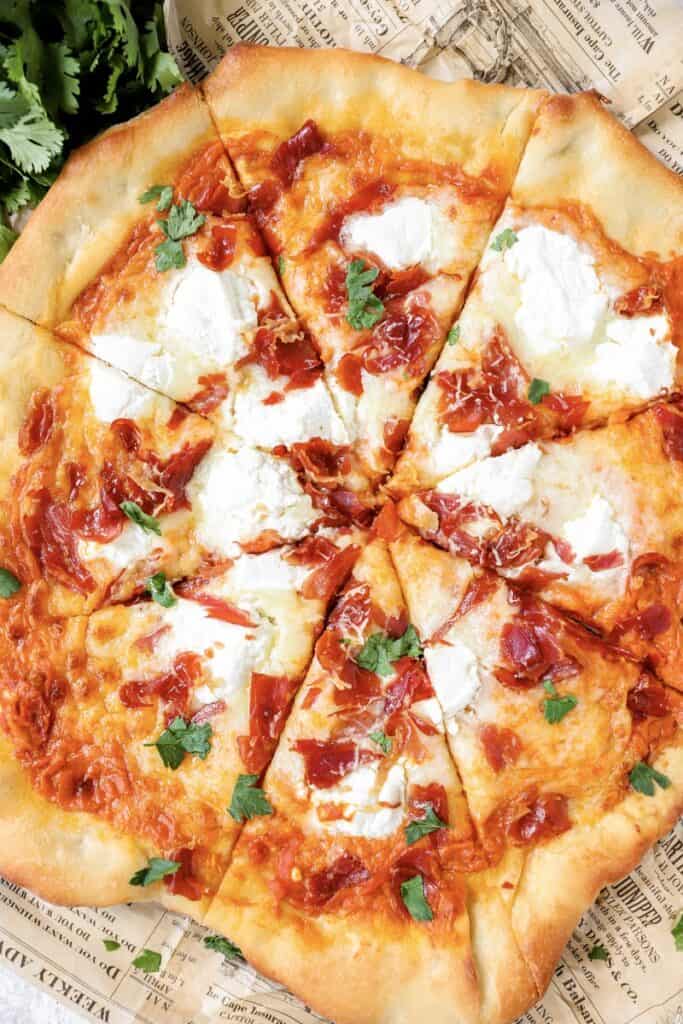 Want more pizza? Check out some of my other pizza recipes that will make pizza night a little more fun! Goat Cheese and Onion Pizza is almost like gourmet pizza from your own kitchen, I've got a Pesto Pizza for pesto lovers, and my all time favorite is my Roasted Red Pepper Pizza.
Or maybe you want more recipes using vodka sauce? No problem! Here's my Penne Vodka and one of our new family favorites this Baked Penne Vodka.
And if it's fast and easy dinner ideas you'll love Easy Alfredo Sauce, Fajita Pasta Bake, or these Chicken Parm Meatballs.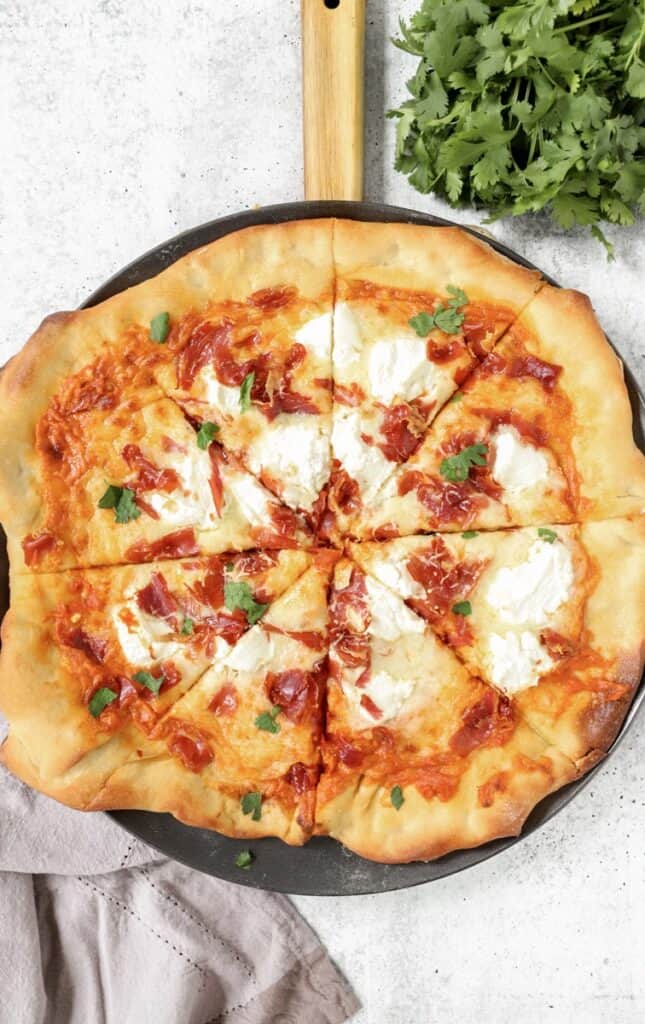 Print
Vodka Sauce Pizza
Pizza topped with vodka sauce, ricotta, and crispy prosciutto. Your pizza night is about to get a serious upgrade!
Author:
Prep Time:

15 minutes

Cook Time:

30 minutes

Total Time:

45 minutes

Yield:

1 pizza

Category:

Main Dish

Method:

Baking

Cuisine:

American Italian
1 fresh pizza dough
4 oz sliced prosciutto (8 slices)
1 and 1/2 cups shredded Mozzarella
1/2 cup ricotta
2 garlic cloves, grated
1 tablespoon salted butter
1 tablespoon all purpose flour
3/4 cup half & half or light cream
2 tablespoons tomato paste
3 tablespoons vodka 
1 tablespoon fresh chopped basil
1 tablespoon grated Parmesan cheese
1/4 teaspoon salt
1/4 teaspoon garlic powder
1/8 teaspoon black pepper
Extra virgin olive oil
Instructions
1. Preheat oven to 400 degrees. Line a baking sheet with foil, top with a baking rack and lightly spray it with cooking spray. Add the sliced prosciutto and bake for 10 minutes. Remove from the oven and carefully place on a paper towel lined plate to absorb excess oil. Once cooled, crumble into pieces.
2. After the prosciutto has baked, increase the oven temperature to 425 degrees. Prepare your pizza pan by lightly spraying with cooking spray, and add your pizza dough.  Prebake the dough for 8 minutes.
3. While the prosciutto and dough are baking, start making your vodka sauce. In a medium pan, melt the butter then add the grated garlic and cook 1 minute. Add the flour and whisk until combined, cook about 30 seconds. Add the tomato paste and stir to incorporate with the flour…cook another minute. Add the half & half or cream and gently whisk to blend the tomato paste into the cream. Then, add the vodka and basil. Bring to light boil, then reduce heat and add the Parmesan cheese, salt, pepper, and garlic powder. Simmer for a few minutes until the pizza dough is done prebaking. 
4. Assemble the pizza by topping the dough with the sauce, leaving an edge for the crust, then topping with the Mozzarella, dollop the ricotta over top, add the crumbled prosciutto, then brush the exposed crust with the olive oil. Sprinkle the whole pizza with extra Parmesan cheese if you want.
5. Bake the pizza for 12 minutes until the cheese is browned and bubbly. Allow to cool a little before slicing and serving. 
Keywords: vodka sauce pizza