So you want a super savory breakfast? Let me introduce you to my take on shakshuka, Chorizo Shakshuka.
Shakshuka is a North African and Middle Eastern dish and is made with tomatoes, peppers, onions and warm spices topped with eggs and cheese! Once you make this you'll want to make it every weekend, it's that good!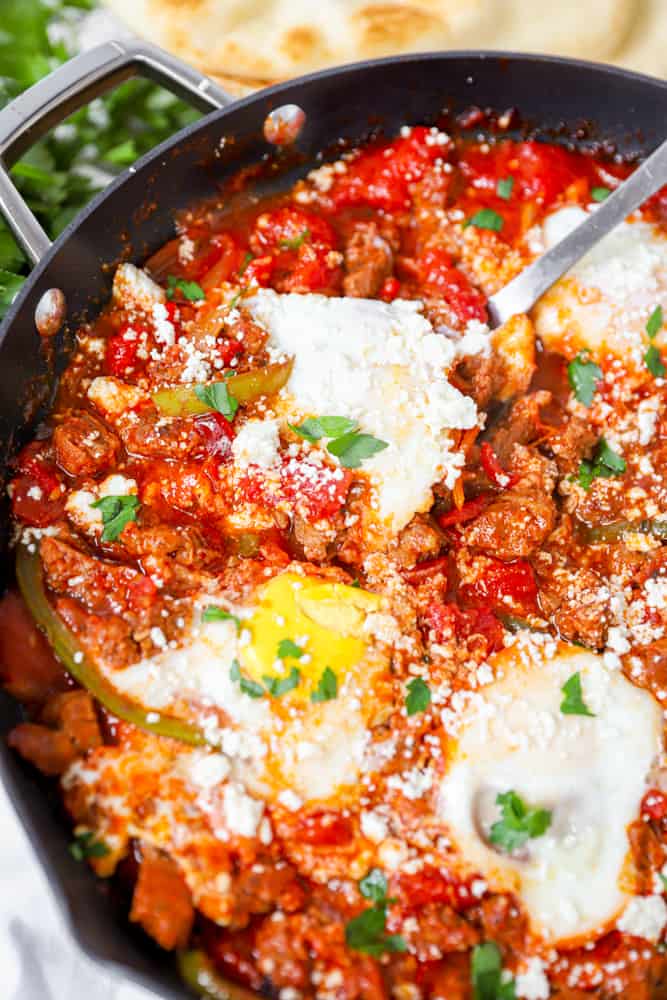 What is shakshuka
Shakshuka, or sometimes spelled Shakshouka, is a Middle Eastern and North African breakfast of poached eggs and a tomato mixture with peppers, onions and spices.
It's rich and abundant in flavor and hearty so that it will keep you full all morning. It's a perfect for when you want a savory breakfast recipe that isn't lacking in flavor. Trust me, with all the spices and the chorizo this dish will make your mouth happy!
Ingredients
Here's what you need to make chorizo shakshuka.
Chorizo. I use the package of 5 links, which you'll remove from the casing. If you can find ground chorizo you can use that too!
Eggs. Depends on how many people are eating breakfast!
Peeled plum tomatoes. You'll rough chop the tomatoes and use the sauce from the can.
Peppers, onions, garlic. You'll use a red pepper, a green pepper, a white onion, and 3 cloves of garlic.
Spice mix. The spice blend is where all the flavor is at! You'll need garlic powder, salt, cumin, oregano, chili powder, and smoked paprika.
Queso fresco. The perfect cool finishing touch to a spicy bite! You could also use feta cheese.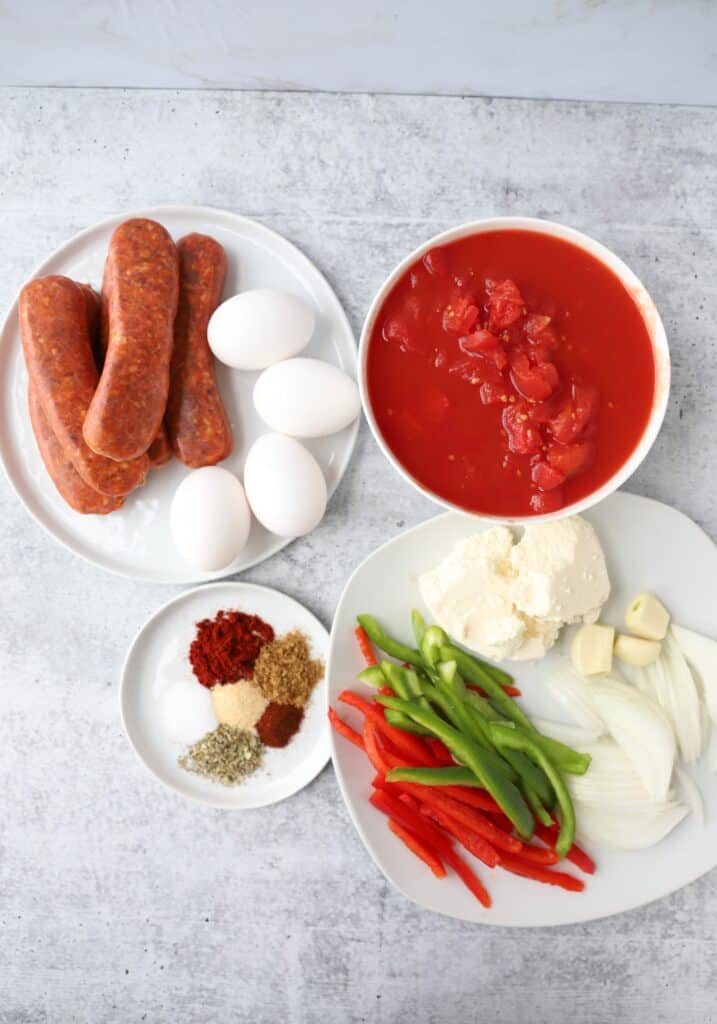 It's super important to make sure you're using smoked paprika, not just 'paprika'. The smoked paprika has all the flavor, you don't want to miss out on that!
If you like this spice blend, check out one of my other easy spice mixes here, Homemade Sazon.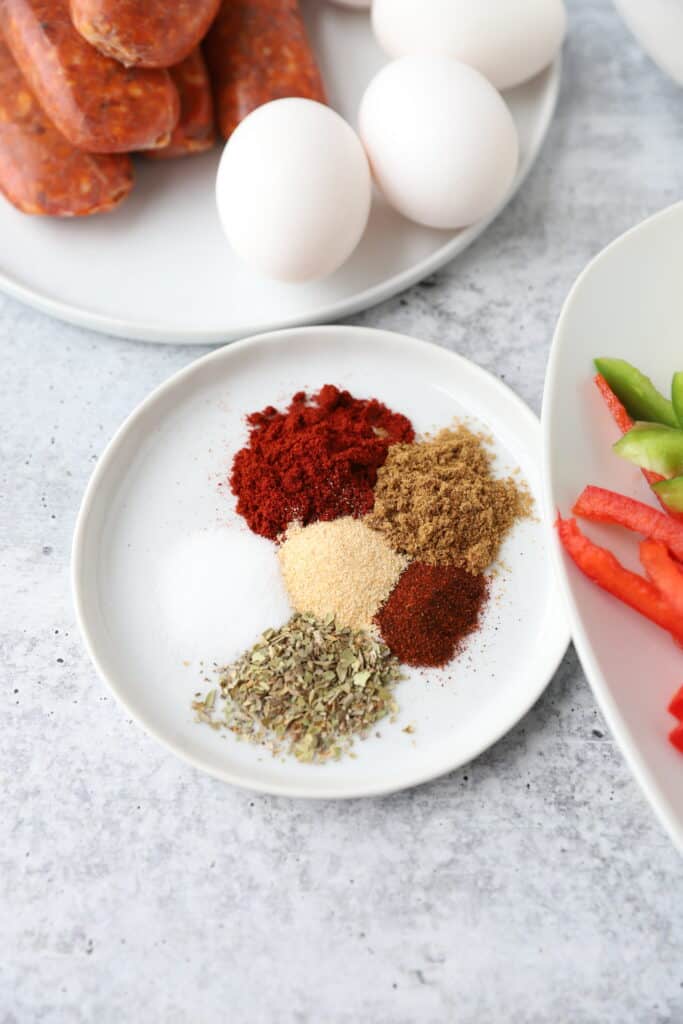 How to make the chorizo shakshuka
Prep the chorizo. First, remove the chorizo from that casing and cook until fully cooked. Break the chorizo up into pieces as it's cooking…it will take about 10-12 minutes. Once cooked, spoon onto a paper towel lined plate and blot as much oil as you can. We don't want to add too much oil into the tomato sauce.
Cook the peppers and onions. Heat 2 tablespoons of oil in a large pan, then add the peppers and onions. Spread in an even layer and cook for 5 minutes, then stir and cook an additional 4 minutes allow them to get browned.
Add the garlic and spices. Add the spice blend and the grated garlic and stir. Allow to cook for 1 minute.
Add the tomatoes. Add your roughly chopped peeled plum tomatoes and all the sauce from the can. Allow to come to a bubbly simmer.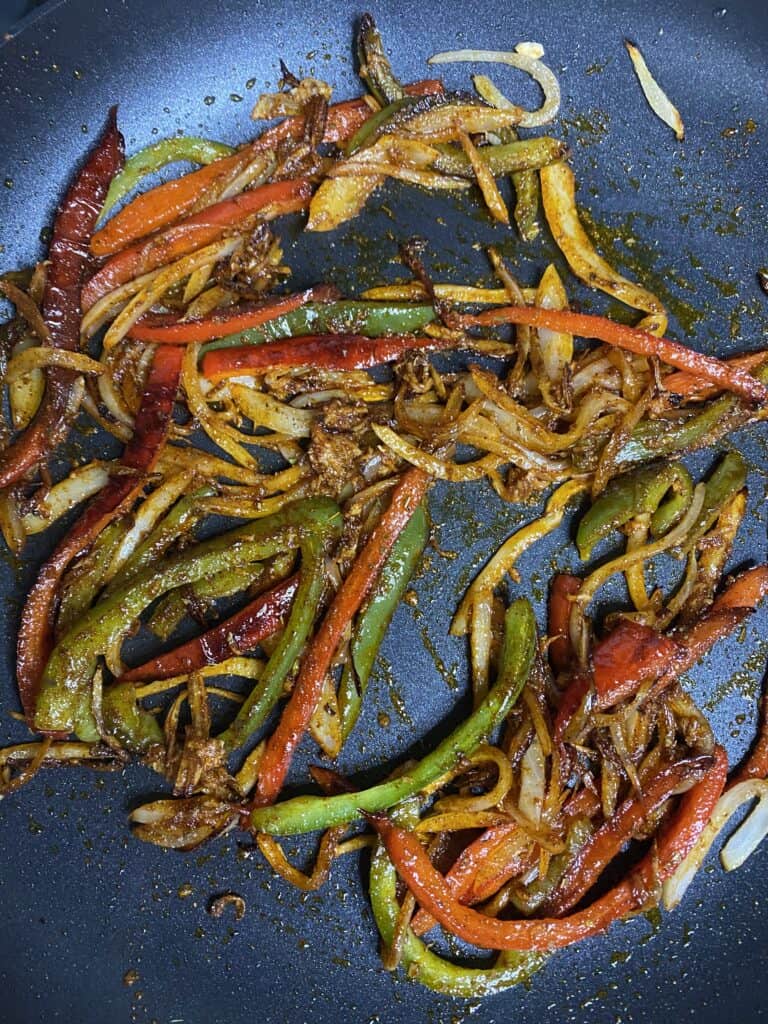 Add the chorizo. Pour in the dried chorizo. It's important you've dried as much oil as you can off the chorizo so it doesn't make the sauce too oily.
Add the eggs. Make little wells where you want to add your eggs, then carefully crack as many eggs as you want!
Cook eggs. After you've added the eggs, cover and cook 5-8 minutes. This all depends on how you like your eggs! You definitely need to make sure the whites have cooked and are no longer translucent, but the yolks can be cooked to your liking. If you don't like runny yolks at all, you can cook about 10 minutes for a fully poached egg.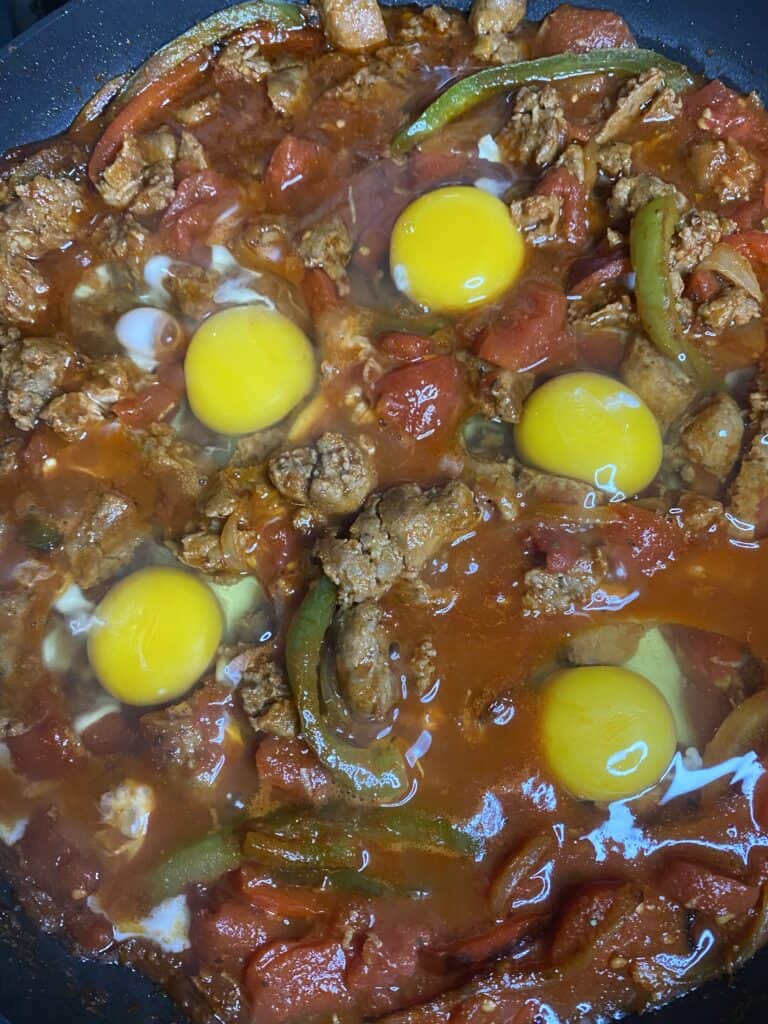 Serve. To serve, top with queso fresco and serve with a bread like naan or a super crusty bread perfect for soaking up the sauce!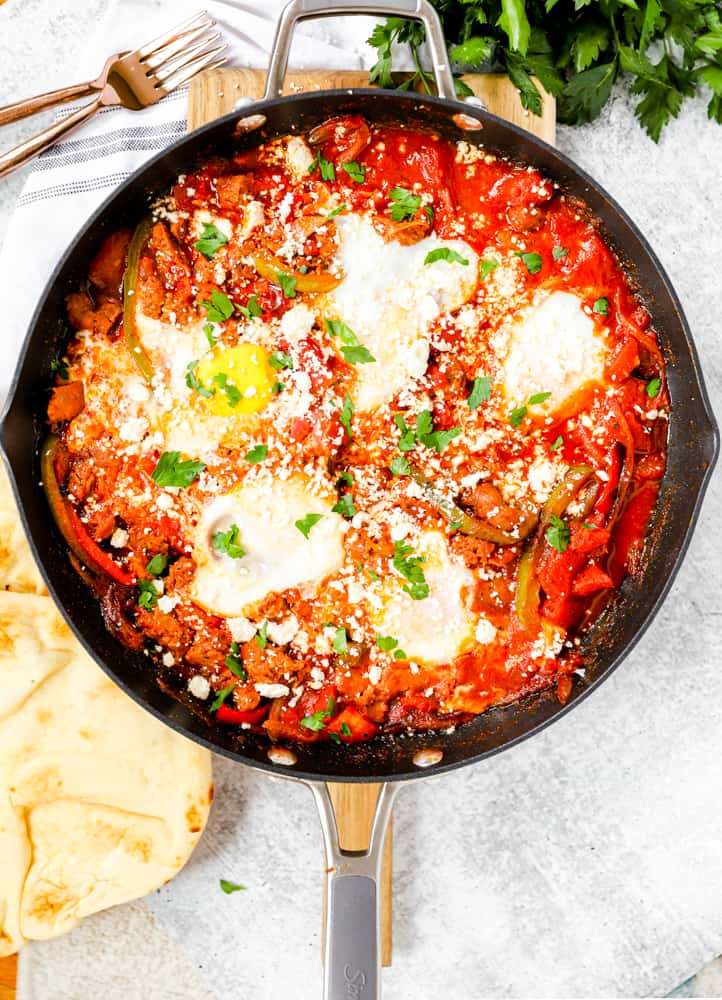 Cooking tips
Make sure to dry the chorizo as much as you can before adding it back into the sauce. Chorizo can be oily, and we don't want to add too much excess oil into the final sauce.
How long you cook the eggs in the sauce is totally up to you, depending on how runny you like your yolks! It's important that the egg whites are cooked through and are no longer translucent, but average cooking time for eggs is 5-8 minutes. Want a fully cooked yolk? Cook the eggs for 10 minutes!
I love eating this with naan, but you can also serve this with thick bread or pita. You'll definitely want something to soak up the sauce so you don't leave anything behind!
This chorizo version I top with queso fresco, but you can also top with feta if you don't have any queso fresco!
While you can store leftovers for another day, I recommend not saving the eggs. Make the eggs fresh for when you reheat the chorizo tomato sauce.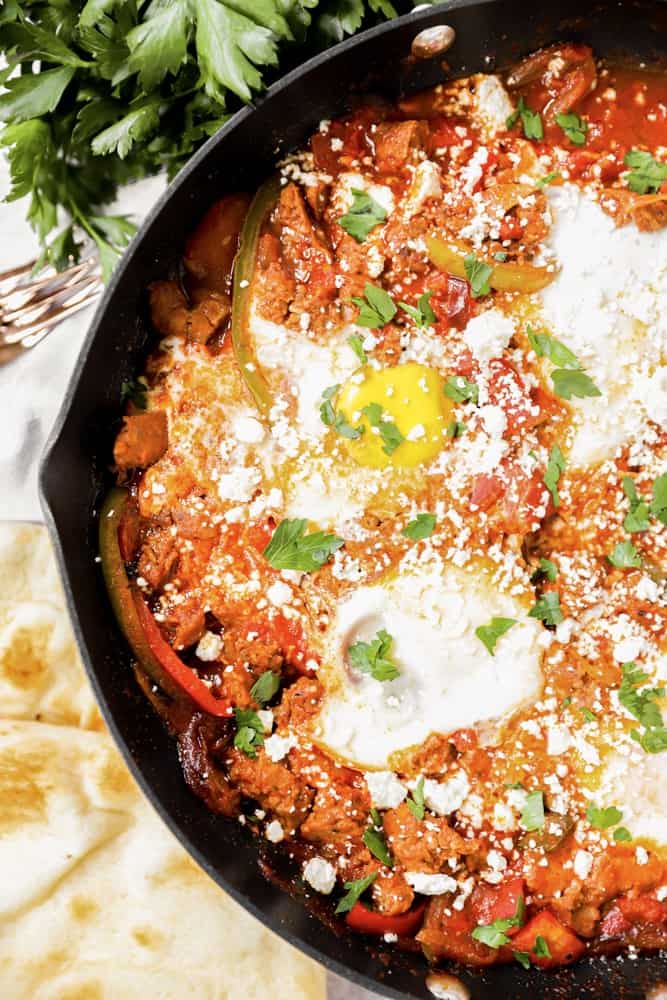 Looking for more recipes to add to a brunch menu? Check out some of my favorite dishes for breakfast or brunch!
Scones are a must on a brunch spread! Here are three of my best scones, which one would you make? I've got Copycat Panera Orange Scones, Lemon Blueberry Scones, and Raspberry White Chocolate Scones.
A fun side dish to this Chorizo Shakshuka could be this Dominican Mangu! Mangu is an easy side dish of mashed green plantains, and pairs well with breakfast meats and cheeses.
Tired of boring yogurt? Solve that with this Walnut Granola!
Really 'wow' everyone with this Pumpkin Pancakes. Perfectly pumpkin spiced pancakes that can be enjoyed any time of the year!
Or, checkout some more Mexican inspired recipes! Like Creamy Mexican Corn Chowder, Mexican Street Corn Fries, and Creamy Chicken Tortilla Soup.
Print
Chorizo Shakshuka
Chorizo Shakshuka is a savory breakfast recipe loaded with peppers, onions, spices, and topped with poached eggs. Serve with thick bread or naan for a filling and hearty meal.
Author:
Prep Time:

15 minutes

Cook Time:

40 minutes

Total Time:

55 minutes

Yield:

6 servings

Category:

Breakfast

Method:

Saute
1 small white onion, sliced thin
1/2 red pepper, sliced thin
1/2 green pepper, sliced thin
3 cloves garlic
5 chorizo sausage links, removed from casing
2 tablespoons extra virgin olive oil
1 (28oz) can whole plum tomatoes, roughly chopped (you'll use the tomatoes and the sauce)
1/2 teaspoon salt
2 teaspoons smoked paprika
1 teaspoons cumin
1/4 teaspoon chili powder
 1/2 teaspoon garlic powder
1/2 teaspoon oregano
5–6 eggs (depending on how many servings you need)
Crumbled feta or Queso Fresco (I used Queso Fresco)
Instructions
1. Mix together the cumin, paprika, garlic powder, oregano and chili powder. In a large sauce pan over medium/ medium-high heat, cook the chorizo. Cook on one side for 5-6 minutes, then flip and cook the for about another 5 minutes. Use your spatula break up the links into small pieces, and continue to cook until no longer pink inside. Once cooked, spoon into a paper towel lined bowl to absorb excess grease. 
2. Clean the pan, then heat the extra virgin olive oil over medium-high heat. Add the sliced onions and peppers. Spread them out into an even layer and let them cook, untouched about 5-6 minutes. Stir and cook another 4 minutes until the peppers and onions are browned. Add the spice mix and the grated garlic, stir to coat then cook for 1 minute. Add the tomatoes and bring to a simmer, then add the chorizo and stir. 
2. Add your eggs, then cover and cook 5-8 minutes depending on how you like your eggs. Make sure the whites have been cooked and are no longer translucent. If you don't want runny eggs, cook them 8-10 minutes for fully cooked poached eggs.
3. To serve, plate a few spoonfuls of the chorizo tomato mixture, your eggs, and top with crumbled queso fresco. Eat with sturdy thick bread, fresh biscuits, or naan.
Keywords: chorizo shakshuka