I love a good scone first thing in the morning with my first cup of coffee. These vibrant lemon blueberry scones are loaded with bright lemon citrus and lots of cool fresh blueberries. These scones taste so good you'll think they came from a bakery!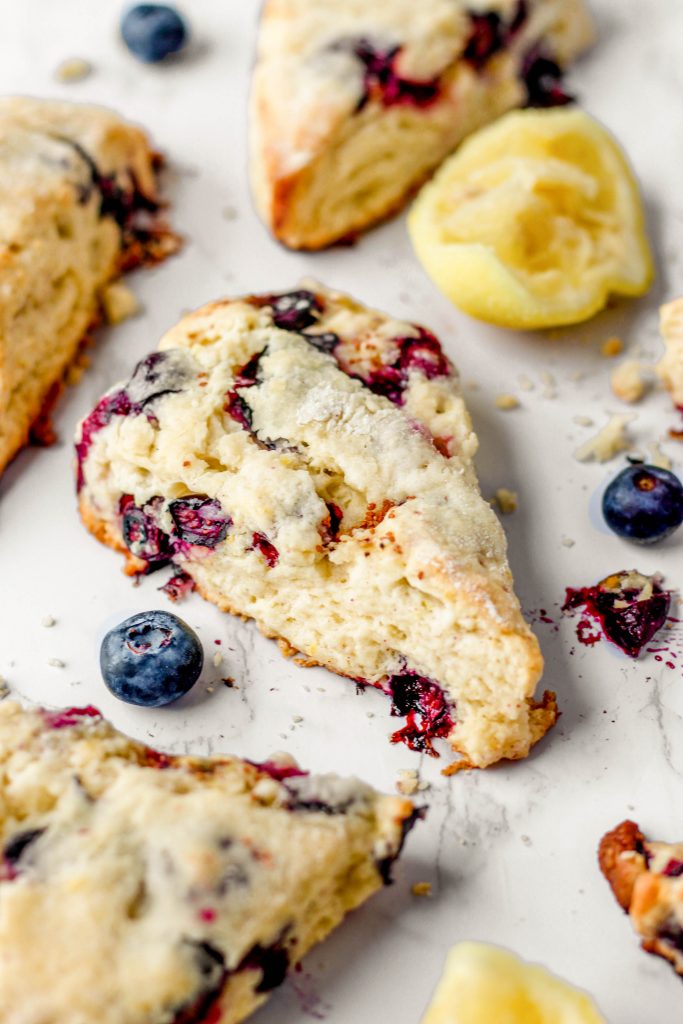 One of my favorite scones recipes I've made are these Copycat Panera Orange Scones. It truly is one of my favorite scone recipes, so when I set out to create a fresh Lemon Blueberry Scone I went right to that base recipe for the scone.
The best thing about these scones is that they aren't the crunchy kind! The added sour cream in the dough helps keep these soft and pillowy. The tops and bottom have the much needed light crunch, while the inside is softer than a biscuit, but denser than cake.
Each blueberry is a welcomed bite of cool freshness that will leave you hoping each bite contains a hidden blueberry. Just in case you weren't getting enough lemon in the scone themselves, the glaze is packed with lemon zest and lemon juice.
The last thing I love about scones, is they are easy. No rising needed, so special complicated method. Make a batch of these and enjoy them with your morning coffee, or a little treat in the afternoon. Their light and summery flavor won't leave you weighed down!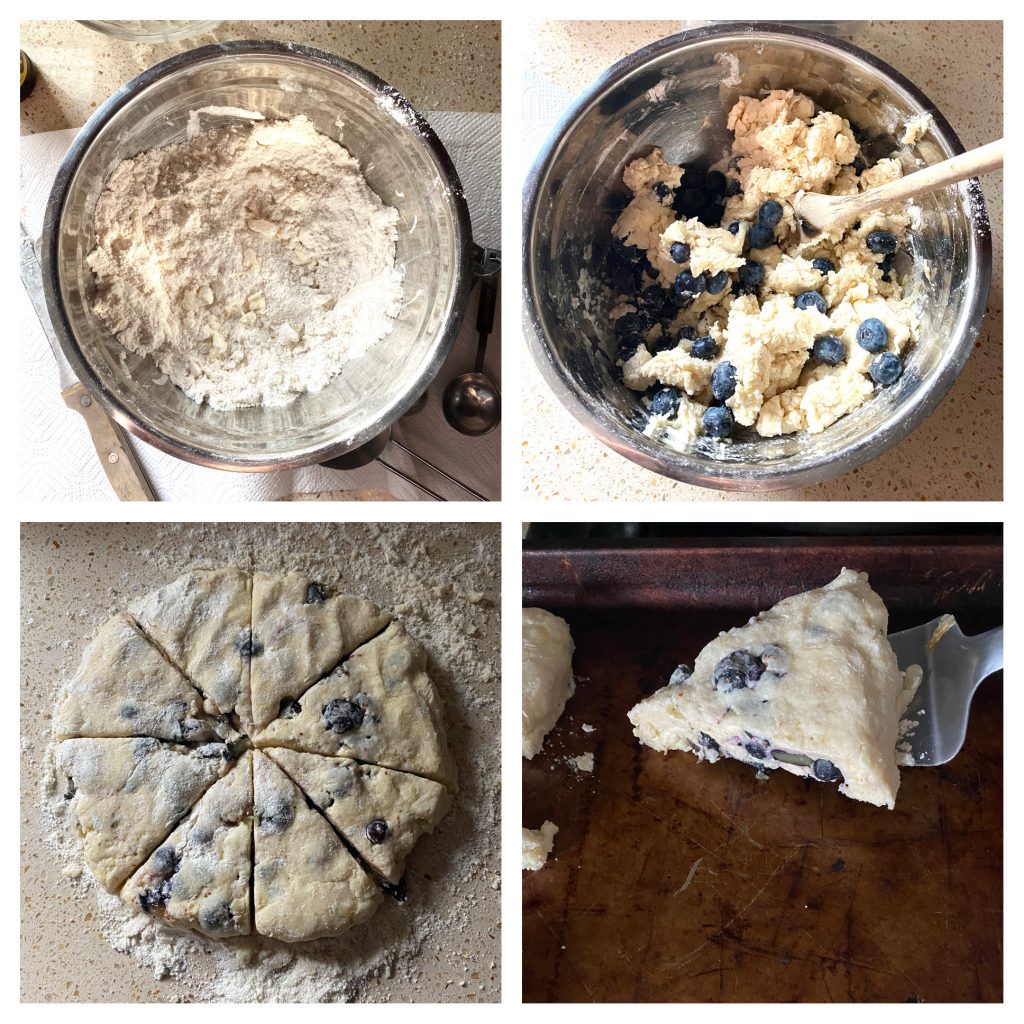 How to Make Scones
I love scones because even if you're not a baker, you can make these scones! There's no complex methods, you don't need any yeast or to let any dough rise. They're a fool proof easy baking recipe!
First, you start with just mixing together sugar, lemon zest, flour, salt, baking powder, and baking soda.
Next, cut int he cubed butter. You can do this with a fork, but it's much easier to do with a pastry cutter. This is the one I have, I love it! It makes the process much faster. You definitely don't want to use your hands though. If you use your hands you'll start to melt the butter and that's not what we want to do!
After this, fold in the blueberries. You want to gently fold them in so you don't mash the blueberries creating too much blue or purple texture to the dough.
Next, lightly flour your counter and pour the dough onto the flour and lightly knead it into a circle about 7″ wide, then slice into 8 triangle scones.
Place the scones on a lightly greased baking sheet and bake for 15-17 minutes. Once cooled, topped with the lemon glaze!
These are so good they taste like the came from a bakery!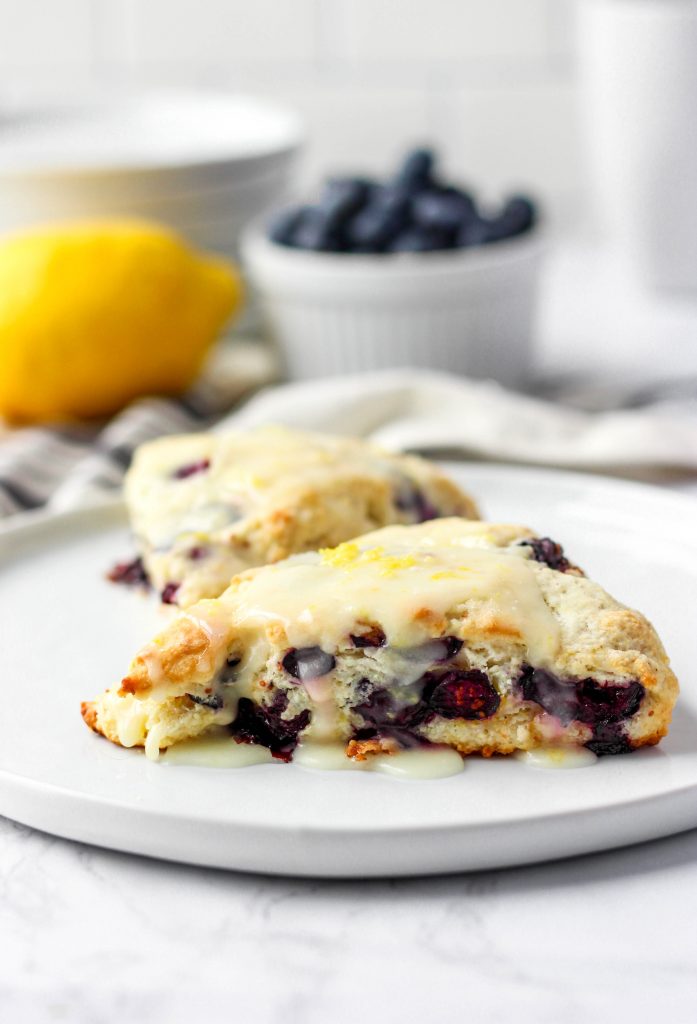 Follow me on Instagram for more food photos, cooking tips, and recipe ideas!
Print
Lemon Blueberry Scones
Lemon blueberry scones add a bright lemony bite to breakfast. Loaded with fresh blueberries, the added glaze gives an extra lemon citrus flavor. Enjoy these any time of the year for breakfast or an afternoon snack with coffee or tea.
Author:
Prep Time:

10 minutes

Cook Time:

15 minutes

Total Time:

25 minutes

Yield:

8 scones

Category:

Breakfast

Method:

Baking

Cuisine:

American
For the Scones
1/3 cup sugar
1 lemon, you'll be using the zest and 2 tablespoons of lemon juice
1 cup fresh blueberries
2 cups all purpose flour
1 teaspoon baking powder
1/2 teaspoon salt
1/4 teaspoon baking soda
8 tablespoons butter, cut into cubes
1/2 cup sour cream
1 egg
For the Glaze
3 tablespoons butter, melted
1 cup powdered sugar
1 teaspoon of lemon zest
2 tablespoons + 1 teaspoon of fresh lemon juice
Instructions
1. Heat oven to 400. In a medium bowl combine the sugar and the zest of the whole lemon. Stir in the flour, baking powder, baking soda, and salt. Add in the cubed butter, using a pastry cutter or a fork to break up the butter into the flour. You want the flour to get to a course meal texture. Avoid using your hands, this will begin to melt the butter too much and make it too soft.
2. In another bowl, stir together the sour cream and the egg. Stir in the 2 tablespoons of fresh squeezed lemon juice. Using a fork, stir this sour cream batter into the flour dry ingredients and lightly stir, then lastly fold in the blueberries. I say fold in, because you want to gently stir them in so you don't break them or burst them. You want to make sure the blueberries stay whole. Now, using your hand, form dough into a ball. It will help to lightly flour your hands to prevent it from sticking like crazy to your hands.
3. Lightly flour your counter top, place the dough ball onto your lightly-floured surface and form into a circle about 7″ wide. Cut into triangles. See the instructional photos in the blog post above. Place on a lightly greased baking sheet and bake 15-17 minutes.
4. To make the glaze, combine all of the glaze ingredients in a bowl. When the scones have cooled add as much glaze as you'd like!
Keywords: lemon blueberry scones