If you love the flavors of Mexican Street Corn you'll love these Mexican Street Corn Fries!
Seasoned sweet potato waffle fries loaded with all the goodness of Mexican Street Corn. Pan roasted corn, Pepper Jack cheese, cotija cheese then drizzled with Mexican crema. These loaded sweet potato fries are even better than a nacho!
I recently updated this post switching from using hand cut sweet potato fries to using waffle fries instead! I found that these are just easier to eat using the waffle fry, and much easier to make too! If you've found this recipe from the Pinterest pin and want to use hand cut sweet potato fries, I've still included those instructions in the notes section of the recipe card.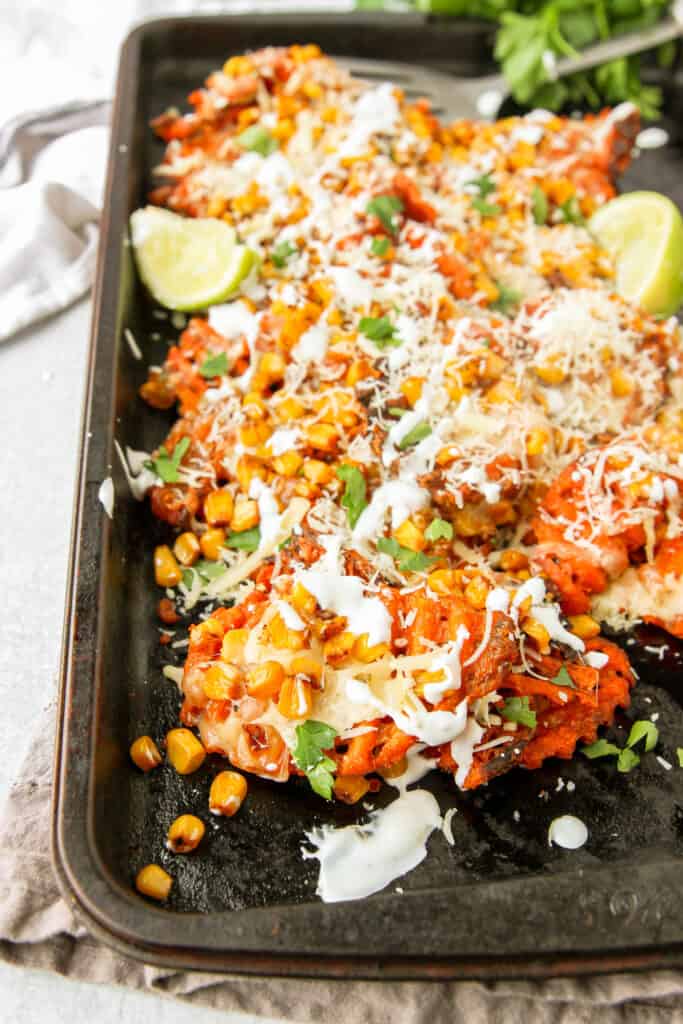 What is Mexican street corn?
Elote, Mexican Street Corn, is a savory corn on the cob snack. It's a grilled corn on the cob, then topped with cheeses, spices, and lime juice. Seriously the perfect blend of warm corn, salty Cotija cheese, spicy chili powder, and sour lime juice.
So this loaded waffle fry is inspired by this delicious Mexican street corn. Taking those savory flavors, adding them on top of a crispy sweet potato waffle fry, and serving as an appetizer than can challenge a nacho as the best party snack!
What you'll need to make Mexican street corn fries
So here's what you'll need to make this appetizer:
Corn- frozen, fresh, or canned
Cotija cheese
Limes
Chili powder
Butter
Salt & pepper
Mexican crema or sour cream
Sweet potato waffle fries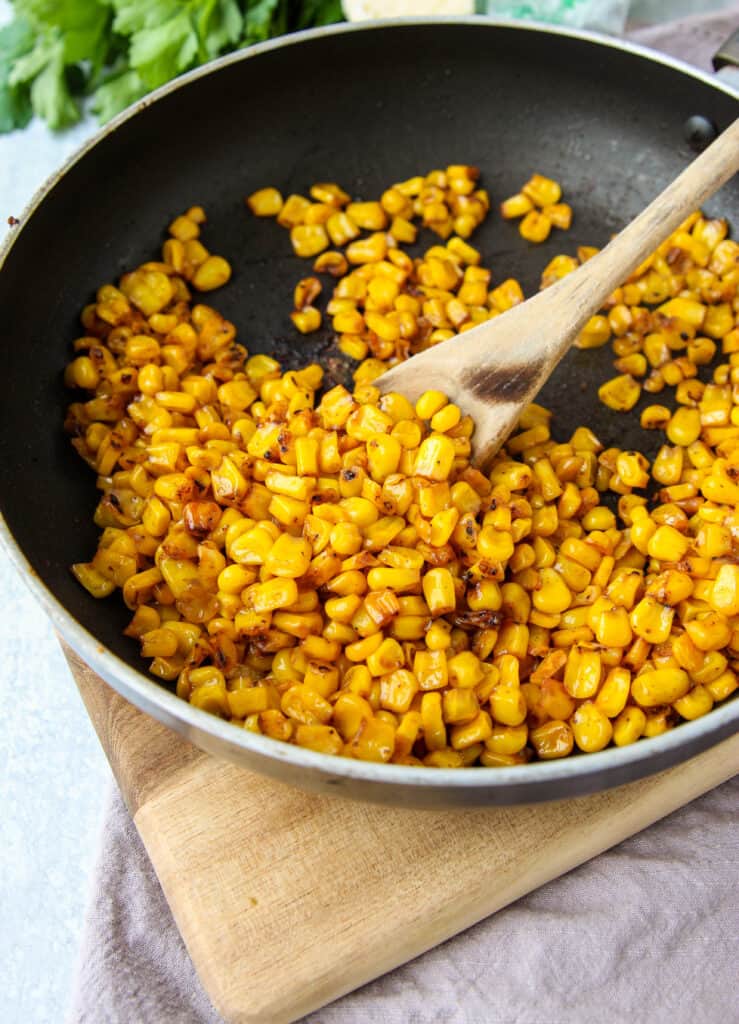 Cotija cheese
Depending on your grocery store, you might not be able to find Cotija, I really hope you can, because it's one of my favorite Mexican cheeses! It's crumbly and salty, I almost find the flavor is like a milder feta cheese but a harder texture.
In my grocery store I can buy it either in a cheese triangle, or pre-grated. I always like to buy the triangle block and grate it myself! If you can't find Cotija, you can substitute with feta cheese.
Mexican Crema
I really prefer to use Mexican crema as the finishing touch on these fries! That's usually how I make them, but of course when I made them for this post the store was out so I had to substitute with some sour cream.
Mexican crema isn't exactly sour cream, but it's close. Crema is thinner and not nearly as tart or…sour. It's a smoother, milder flavor and even though the fat content is a bit higher than sour cream, I actually find the flavor lighter. I think because it doesn't have the sour punch of sour cream it works better as the topping on tacos, quesadillas, and here on these waffle fries.
If you can't find crema, you can use sour cream. What I do is thin out the sour cream by mixing it with a little water! This will make it easier to drizzle and dip!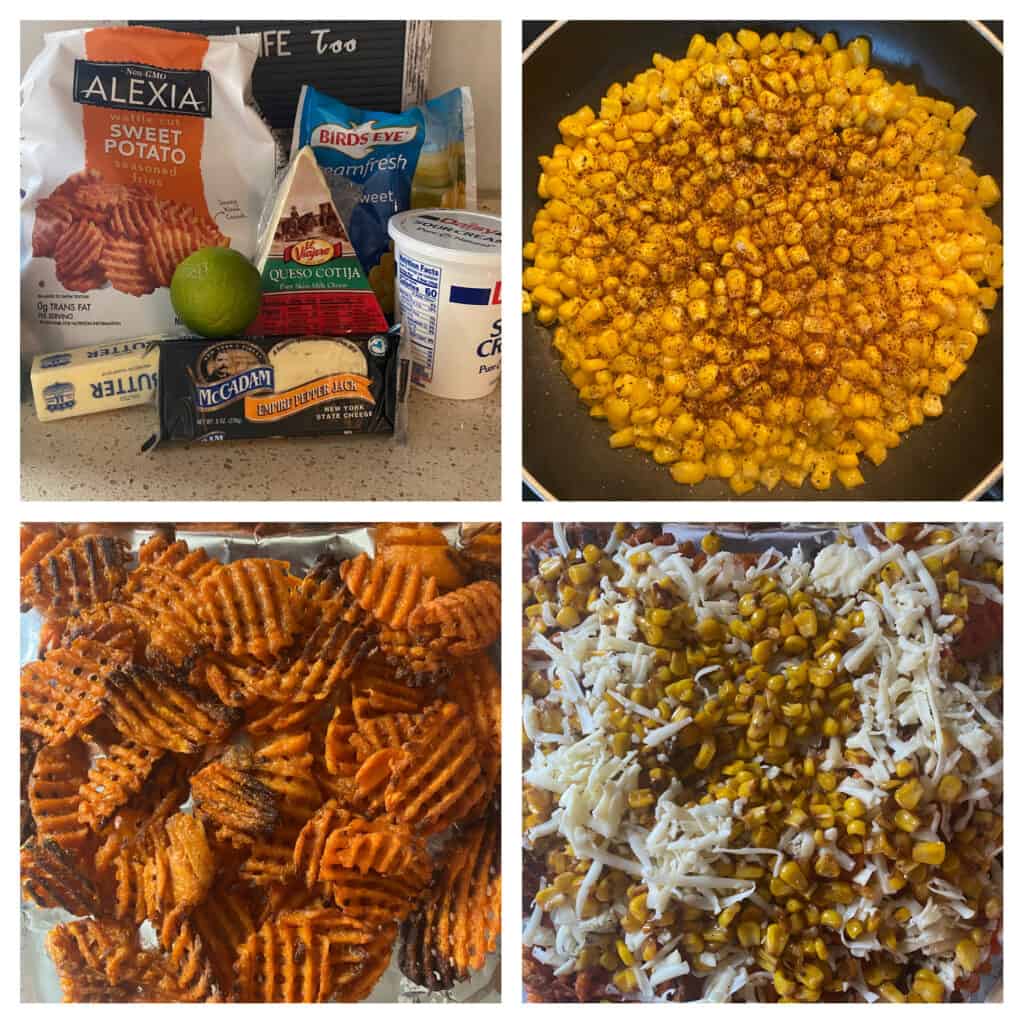 Cooking Tips
For the corn you can use fresh, frozen, or canned. Whatever you have on hand, or whatever you're able to buy! If you buy ears of corn, just careful remove the kernels from the cob. If you use frozen like I did, make sure to cook the corn first before pan roasting it. And if you use canned corn, just drain and add to the pan!
I've made this recipe both using waffle fries and cutting sweet potatoes and making homemade fries. Both produce a delicious appetizer, but the waffle fry is going to give you an easier to eat snack. I think treating this almost like a nacho is the way to go. If you want to still hand cut fries just make sure the wedges are wide enough to hold corn and cheese and not be too floppy!
If you can't find Cotija cheese you can substitute with feta…but I really hope you can find Cotija! It's one of my favorites!
If you can't find Mexican crema, add a little water to some sour cream to make a smoother dipping sauce you can drizzle.
These are best served fresh, and hot! I don't recommend making these ahead of time, or storing in the fridge. Fresh is the way to go here.
Want extra spice? Add some cayenne pepper to the roasting corn, or serve with a chipotle sauce, or even my Harissa Mayo!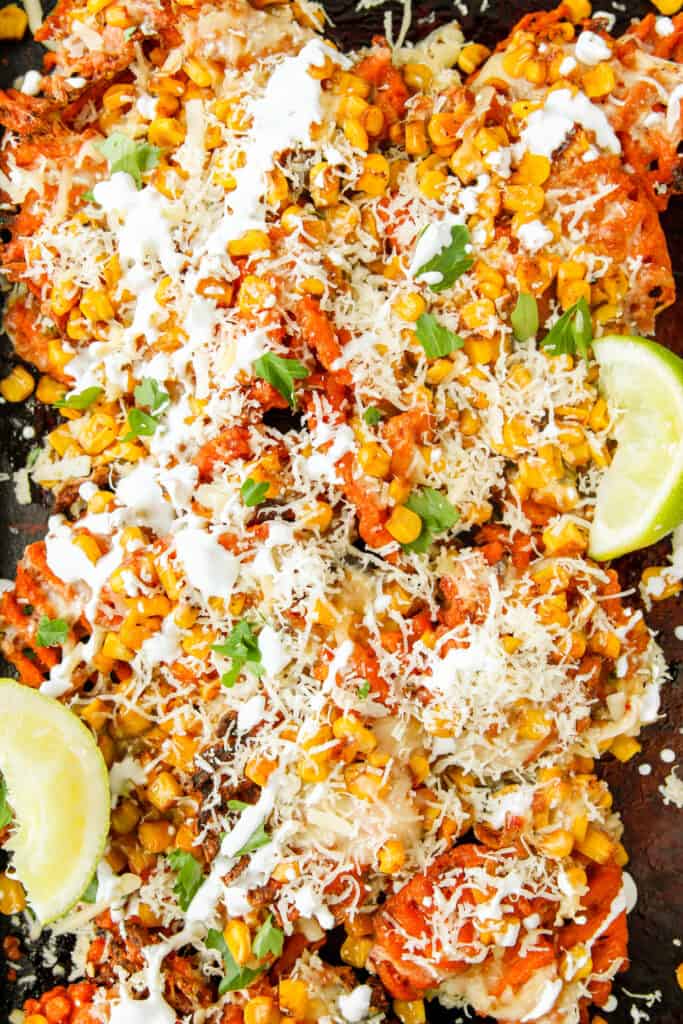 If you like Mexican inspired dishes as much as I do I have a few other recipes you might want to check out on the blog!
Searching for more fun party apps? Here are some others you might want to add to your spread
This photo below is what the older recipe looked like when I used hand cut fries instead of waffle fries. If you're here because of Pinterest this is probably the photo you saw!
So let me know…are you team waffle fry or team hand cut fry?
Find me on Instagram at ASeaonedGreeting for more food, recipes, and cooking tips!
Print
Mexican Street Corn Fries
Mexican Street Corn Fries are the perfect party appetizer! Seasoned sweet potato waffle fries then loaded with pan roasted corn, Pepper Jack cheese, cotija cheese, and Mexican crema! Add some fresh lime juice for the perfect finish.
Author:
Prep Time:

10 minutes

Cook Time:

40 minutes

Total Time:

50 minutes

Category:

Mexican

Method:

Bake

Cuisine:

Mexican
20oz  bag sweet potato waffle fries
10oz bag frozen corn, cooked (or you can use canned corn, or fresh corn)
1/4 teaspoon chili powder (or more if you want it spicier!)
1 tablespoon of salted butter
3/4 cup shredded Pepper Jack cheese
Cotija cheese
Mexican Crema
1 Lime, cut into 4 wedges
Instructions
1. Cook waffle fries according to instructions on the bag.
2. While the fries are baking, start preparing the corn. In a medium pan, add the butter and heat over medium heat. Season the corn with a little salt and pepper and the chili powder. Spread the corn into an even layer and cook for about 10 minutes, stirring occasionally and squeezing one lime wedge over top. You want the corn to get browned! After it has browned, pour into a bowl.
3. Transfer the cooked waffle fries onto a foil lined baking sheet, top with the shredded Pepper Jack cheese and the corn. Broil for about 4 minutes so the cheese melts and gets browned and bubbly.
4. To finish the fries, top with a generous amount of the cotija cheese and drizzle with the crema. Then, squeeze 1-2 lime wedges over top.
Enjoy!
Notes
If you want to make your own fries instead of the bagged waffle fries here's what you need:
3-4 medium sweet potatoes
2 tablespoons of olive oil
1 teaspoon paprika
1/2 teaspoon salt
1/2 teaspoon garlic powder
1/2 teaspoon chili powder
1/4 teaspoon onion powder
In a small bowl mix the paprika, salt, garlic powder, onion powder and chili powder. To prepare the fries, slice your sweet potato into fries about the size of steak fries. You can leave the skin on, but if you prefer it off you can peel the potatoes before slicing them into fries. After you've cut your fries, add them into a large bowl. Add the 2 tablespoons of oil and stir to coat the fries, then pour in the spice mix and coat the fries. Pour the fries onto the baking sheet then bake at 450 for 15 mins, the flip the fries and bake another 15 minutes. Start checking the fries to make sure they aren't burning, some ovens may run a little hot.
Keywords: Mexican Street Corn Fries