Have you ever had kolokithokeftedes? These delicious Greek zucchini fritters are a perfect little appetizer or side dish! Hearty and filling, they're packed with fresh flavors from dill to scallions and feta cheese to lemon zest.
The longest part of this recipe is letting the shredded zucchini rest for 30 minutes to start to dry out the excess water. Once you've mixed up your fritter batter these fry up in about 4 minutes per side.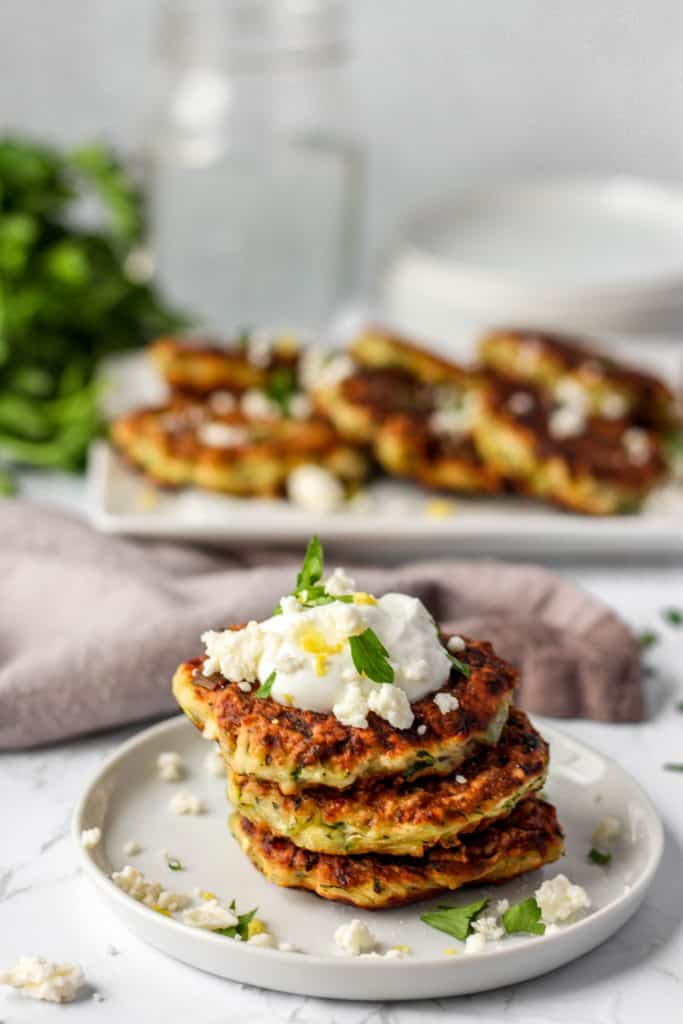 How to pronounce kolokithokeftedes
Maybe you're like me, and at first I was confused on how to pronounce this. Once you break it down into parts, then put those parts together you'll be saying this 5 times fast! Ok let's break it down phonetically:
Kolo-kee-tho-kef-te-des
Ok a little faster now:
Kolokeetho-keftedes
All together now:
Kolokithokeftedes
How'd you do? Now let's talk about how to make them.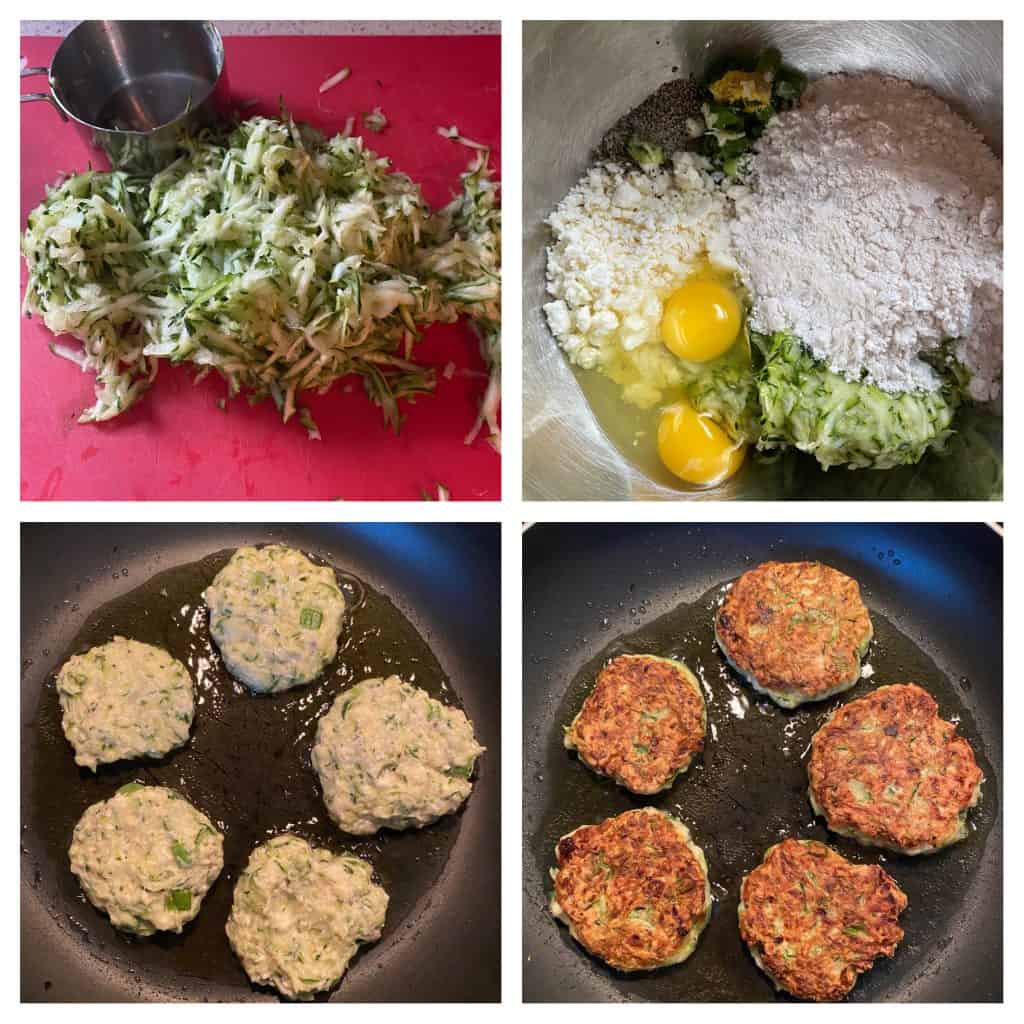 Cooking tips
I use a box grater like this one to shred the zucchini. A box grater is one of my most used kitchen gadgets. If you don't already have one I really recommend buying one!
Don't rush letting the zucchini dry in those 30 minutes. Zucchini holds SO much water and you don't want to have fritters that are wet and soppy.
Also don't skip hand wringing the shredded the zucchini after it's rested for 30 minutes. Watch how much water you can squeeze out!
This recipe calls for 1 and 1/4 cup of flour. This was perfect for my zucchini. If you're zucchini stayed too wet, you may need to increase the flour, just add a tablespoon at a time if needed.
This batter does stay somewhat wet, you want to be able to work with it with your hands without it falling apart or being drippy wet.
Make sure to flatten them in the pan. You don't want them to be too thick or the inside won't cook. I take my spatula and spray it with cooking spray then flatten them once I've added them to the oil. It helps prevent the batter from sticking to the spatula.
I found cooking these between 3 and 1/2 minutes to 4 minutes per side was good for me! You want a rich brown crispy color without being burned.
While you can serve these with tzatziki, I really liked just plain Greek yogurt. I found it really lets all the flavors of the kolokithokeftedes shine through without competing with a sauce!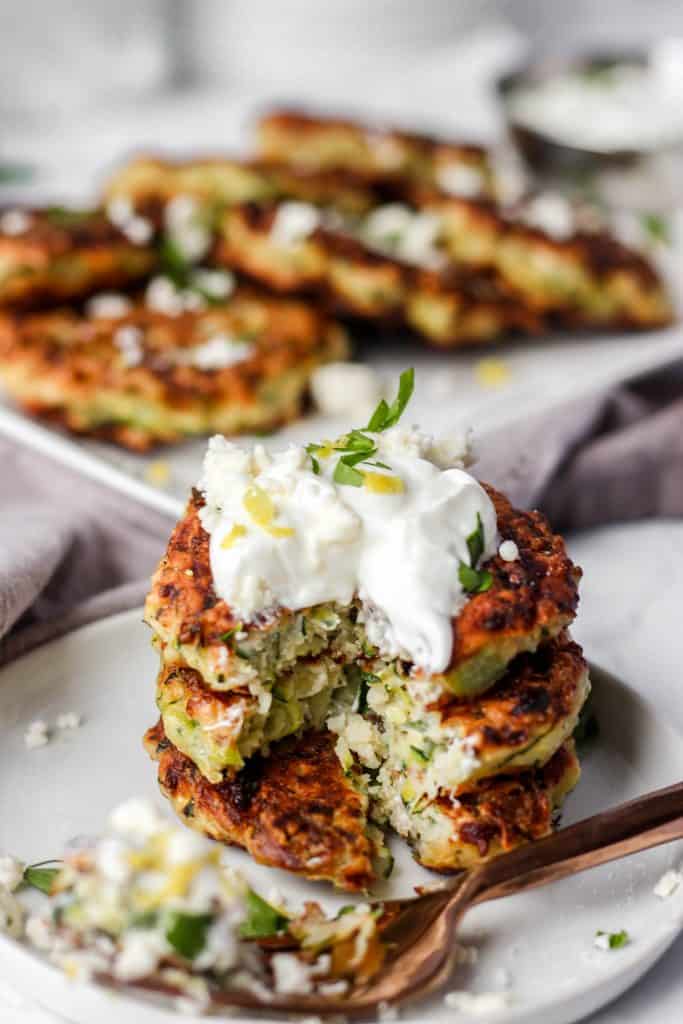 What to serve with the fritters
So I think these are totally fine on their own as an appetizer, here are some ideas for a main dish if you wanted to eat these as a side dish.
Grilled chicken or steak
Lasagna
Lemon sauce pasta
Lemon chicken
Rice bowls
Gyros
I've even eaten these reheated in the morning with a fried egg!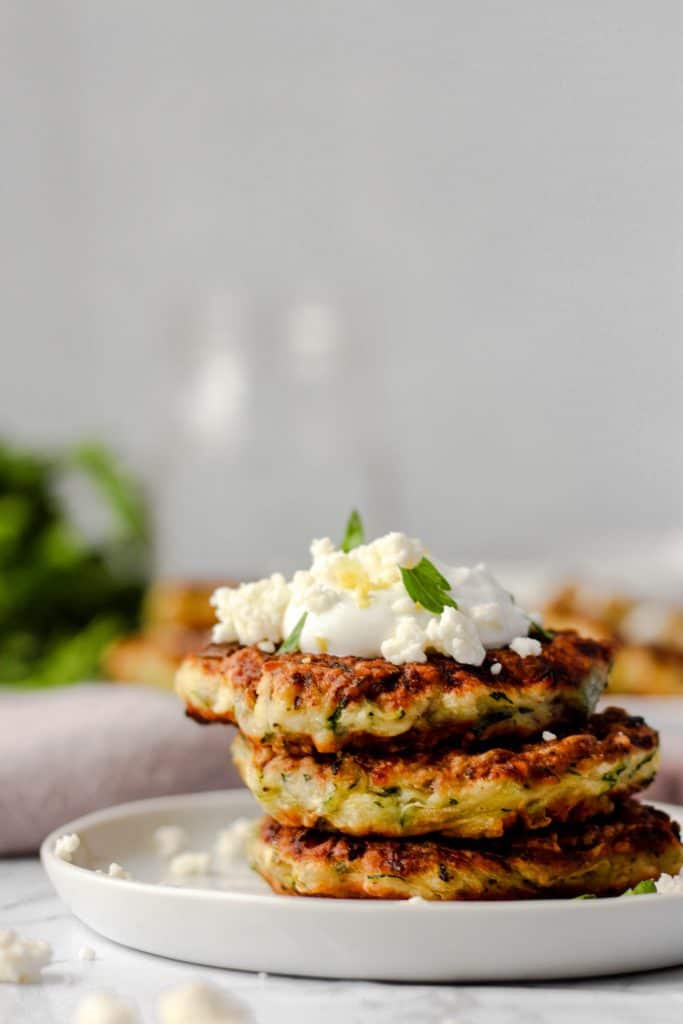 Looking for more appetizer ideas? I have a whole section for Appetizer Recipes!
My favorite appetizers are:
Lemon and Garlic Whipped Feta
Brie and Raspberry Bacon Bites in Phyllo Cups
Or, if you're wanting more Side Dish Recipes, check out my Green Beans with Toasted Almonds and Lemon!
Print
Kolokithokeftedes – Greek Zucchini Fritters
Kolokithokeftedes are a Greek Zucchini fritter that are perfect as an appetizer or side dish! A blend of shredded zucchini, feta cheese, scallions, dill, and a little lemon zest…these are bright and flavorful and satisfyingly filling! Serve with Greek yogurt our tzatziki.
Author:
Prep Time:

35 minutes

Cook Time:

8 minutes

Total Time:

43 minutes

Yield:

12-13 fritters

Category:

Appetizer

Method:

Fry

Cuisine:

Greek
-4 cups shredded zucchini (for me this was two large zucchini)
-1 tablespoon chopped dill
-4 garlic cloves, grated
-1/2 teaspoon salt
-1/2 cup chopped scallions
-1 tablespoon dry oregano
-5oz crumbled feta cheese
-1 teaspoon lemon zest
-1 and 1/4 cups all purpose flour
-2 eggs
-3/4 teaspoon salt
-1/4 teaspoon black pepper
-3 tablespoons oil for frying
Instructions
1. Shred the zucchini and place it in a strainer in the sink, sprinkle with 1/2 teaspoon of salt and let sit for 30 minutes.
2. After the zucchini has rested, working in handfuls squeeze the zucchini vigorously to remove excess water. Squeeze each handful several times, then add to a large bowl. Once all the zucchini has been dried and is in the bowl, add the dill, scallions, garlic, oregano, feta, lemon zest, flour, and eggs. Stir to combine then add the 3/4 teaspoon salt and 1/4 teaspoon pepper and stir.
3. Heat the 3 tablespoons oil over medium to medium high heat in a medium pan. The oil needs to be hot enough so that when you add a fritter it starts to sizzle and fry immediately. You don't want it just sitting in oil absorbing the oil and not cooking. You can do a small test with a drop of fritter batter to check if the oil is hot enough.
4. Once the oil is hot enough, form your fritter patties, I do about slightly large than a golf ball then flatten it as much as I can then add to the oil. You don't want these to be thick or the batter inside will stay too wet and not cook, so try and get these flat. Cook for between 3 and 1/2 minutes and 4 minutes per side until browned and crispy on each side. Let rest on a paper towel lined plate to absorb any excess oil as you finish cooking the rest of the fritters.
5. To serve, top with sprinkled feta cheese, a dollop of Greek yogurt, and sprinkle with salt.
Keywords: kolokithokeftedes