Never choose between enchiladas or tacos. Now you can have both with these easy baked chicken tacos! Make a mild enchilada sauce with shredded rotisserie chicken, then bake in flour tortillas with lots of cheese. The best of two dishes combine to make this family favorite!
Recipe at a Glance
Prep time: 10 minutes
Cook time: 25 minutes
Notes: This recipe uses a fun cooking tip to easily bake these chicken tacos standing up! An upside down muffin tin makes the perfect tortilla holders so you can fill and bake tacos! See photos below.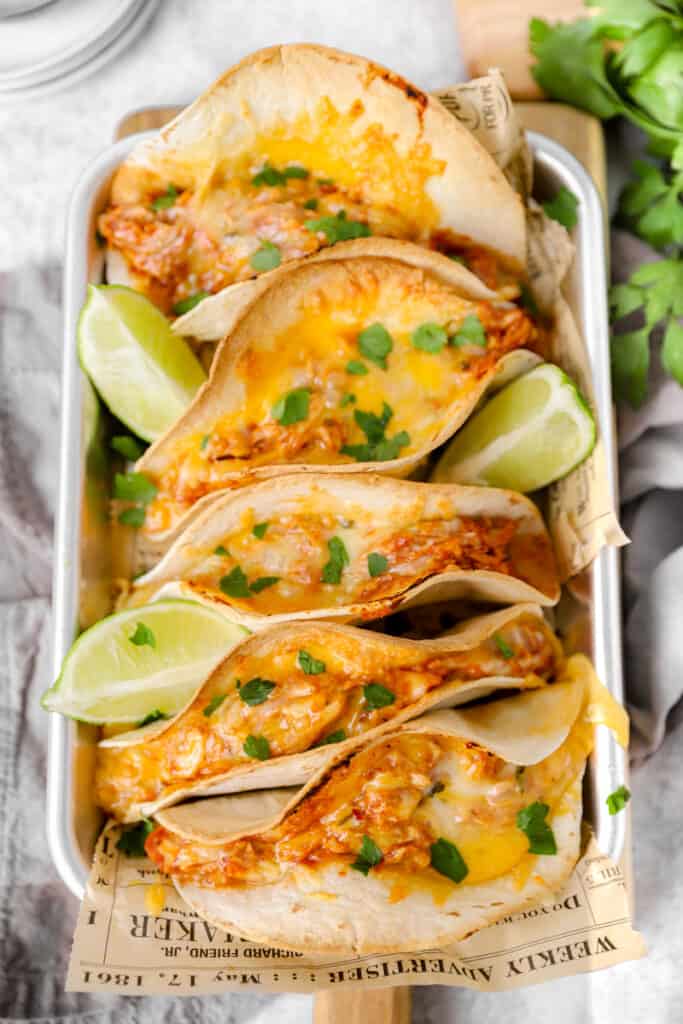 I love a good chicken taco, but during the week I also need my dinners to be super easy. By using rotisserie chicken in this recipe you'll save time and less to cleanup! That's s double win for me.
When I was creating this recipe, I wanted an easy way to bake chicken tacos with as little mess as possible. How can I make an enchilada sauce chicken filling and not have it spill out during the baking process?
Well, scroll down to see the fun way you can use your muffin tins and turn them into taco holders!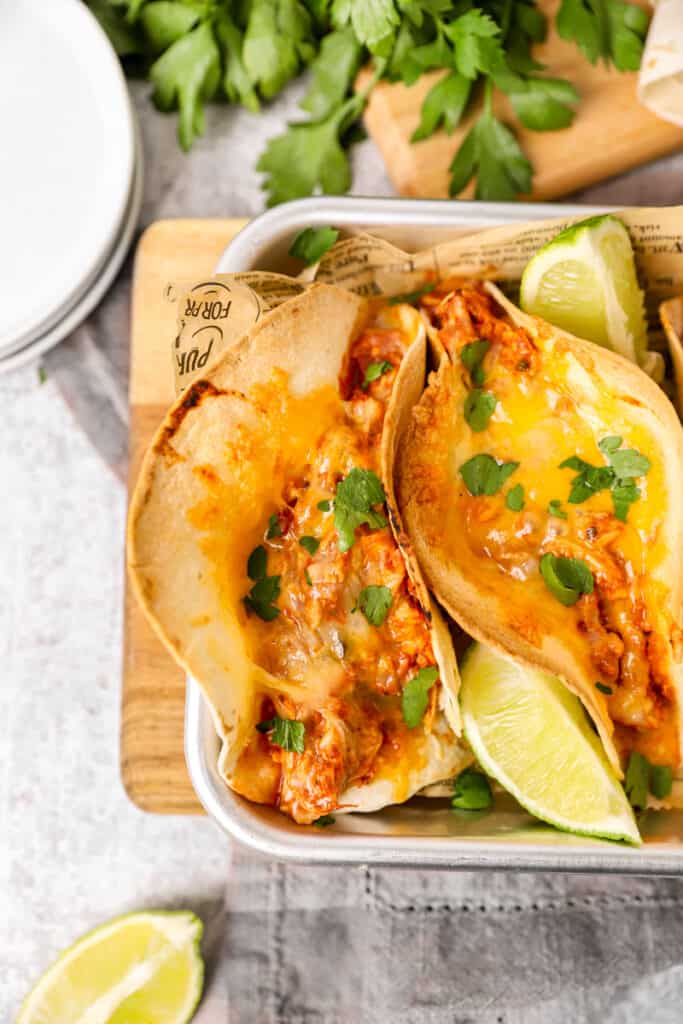 How to bake chicken tacos
Ok, let's talk about my super easy way to bake tacos standing up. All you need is a regular old muffin tin and cooking spray!
First. Get your largest baking sheet and line it with foil.
Next. Take your muffin tin and flip it upside down and place it on top of the foil-lined baking sheet. Spray the muffin tin with some cooking spray so the tortillas and cheeses don't stick.
Last. Place your tortillas into the grooves, fill with the enchilada chicken mixture, top with cheeses, then bake for 10 minutes at 400 degrees!
So easy! Using the muffin tin also really helps the tortilla to hold it's shape and not fold open as it's baking.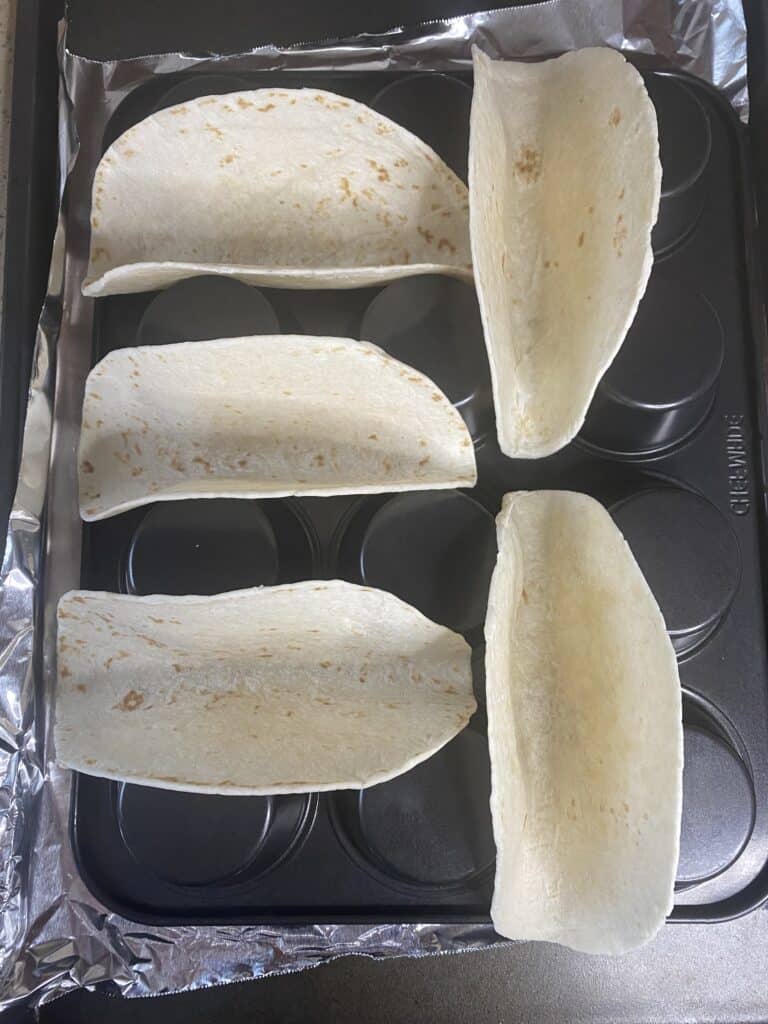 I really like this method because you can really stuff the tacos if you want a thicker taco and it helps all the filling stay inside the tortilla!
If you don't have any muffin tins, you can grab a set like this 2 pack muffin baking pans!
Using taco sized tortillas you'll see I can fit 5 tacos per muffin pan. You'll need to use two pans if you want to bake all the tacos at once. Or, if you only have one then you'll bake the tacos in two batches.
These tacos come out of the oven extremely hot, so it's not a huge problem if you need to make these in batches…you'll need the extra minutes to allow these to cool!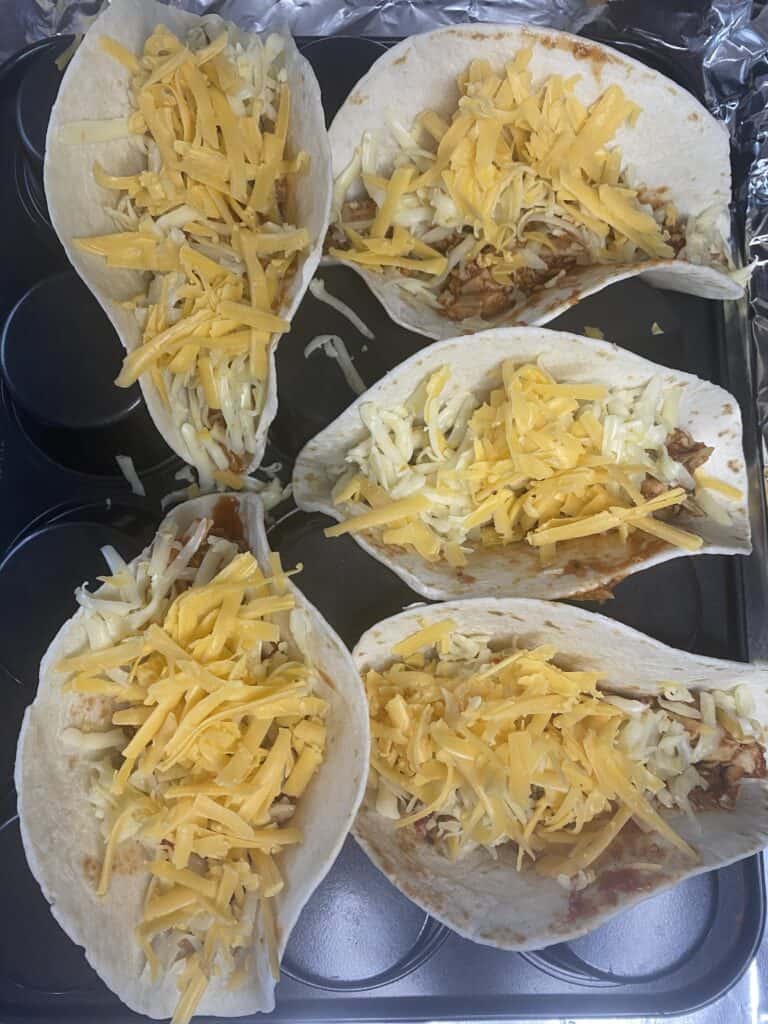 While I kept my tacos simple just with sour cream, you can have fun with these and add any extra taco toppings you like! Some ideas:
Pico de gallo
Shredded lettuce
Diced onions
Diced tomatoes
Add black beans to the enchilada sauce
Guac
Corn
Looking for more Mexican inspired recipes? I've got a few you might like!
Mexican Stuffed Sweet Potatoes
Taco Meatballs
Creamy Mexican Corn Chowder
Mexican Street Corn Fries
Walking Taco Casserole
And if it's dinner recipes you can get on the table super fast, here are some of my quick to make dinners! Creamy Sun-dried Tomato Pasta is one of our favorite creamy pasta dinners. Upgrade pizza night with this Roasted Red Pepper Sauce Pizza! And these Chicken Parm Meatballs are one of the most popular recipes here on the blog!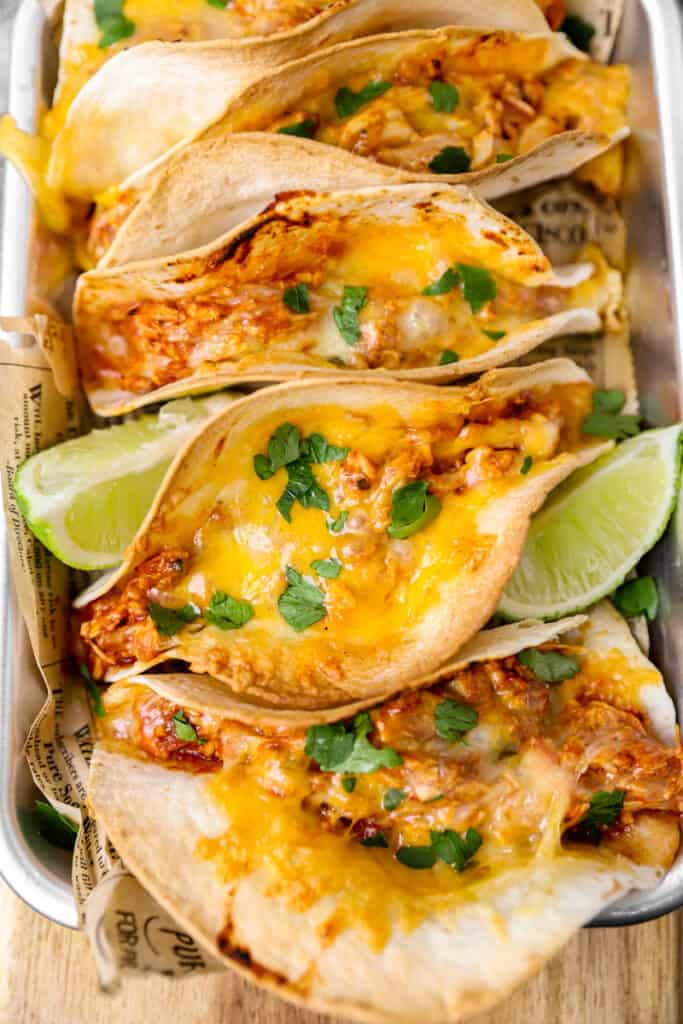 Want more cooking tips, recipes, and food photos? ]Follow me on Instagram!
If you make this recipe or any of the recipes from the blog, make sure to tag me! I love seeing your delicious creations!
Print
Baked Chicken Tacos
Baked chicken tacos are an easy taco recipe perfect for a busy weeknight! Rotisserie chicken in an enchilada sauce, then baked until crispy with lots of cheese. 
Author:
Prep Time:

10 minutes

Cook Time:

25 minutes

Total Time:

30 minutes

Yield:

8-9 tacos

Category:

Main Dish

Method:

Bake

Cuisine:

Mexican
2 cups shredded rotisserie chicken
8-9 flour tortillas
1/3 cup tomato paste
1 and 1/4 cup chicken broth
1/2 teaspoon garlic powder
1/4 teaspoon salt
1/4 teaspoon oregano
1/4 teaspoon ground cumin
1/4 teaspoon chili powder
1/4 teaspoon smoked paprika
1/8 teaspoon black pepper
Shredded sharp Cheddar cheese and pepper jack cheese
Instructions
1. Preheat the oven to 400 degrees.  In a medium pan over medium heat add the 1/3 cup of tomato paste and cook for 1 minute. Then add in the 1 and 1/4 cup chicken broth and stir to combine, then add the 1/2 teaspoon garlic powder, 1/4 teaspoon each of oregano, salt, cumin, smoked paprika, chili powder and 1/8 teaspoon pepper. Simmer for 8-10 minutes to thicken, then add the shredded chicken and stir to combine. 
2. As the sauce simmers, prepare your muffin tins for baking. Flip upside down and spray with cooking spray (see photos above) Place this muffin tin on a baking sheet in case cheese or juices bake out.
3. Place the tortillas in the grooves of the muffin tin so they stand up straight (see photos above). Fill each tortilla with the chicken and enchilada sauce, then top with as much of the cheeses as you'd like. Bake for 10 minutes. Allow to cool before eating these come out piping hot!! Top with any additional taco toppings you want, and serve with crema or sour cream.
Notes
These come out of the oven very hot. Allow to cool before biting into them. If you only have one muffin tin, you can bake these in batches. I can fit 5 tacos per muffin tin. 
Muffin pans should be placed on a baking sheet so that any sauce or cheese bakes onto the sheet and doesn't fall onto the oven floor.
Keywords: baked chicken tacos