Are you looking for an easy dairy free and gluten free snack? These mushroom chips are easy, take less than 30 minutes from start to finish, and are the perfect combination of savory, salty, and crispy.
These mushroom chips are pan fried, not baked, so they're ready in about half the time as baked chips. Not only do these make a perfect nibble, you can also add these to recipes like pizzas, pastas, and chicken for a slightly crispy mushroom bite.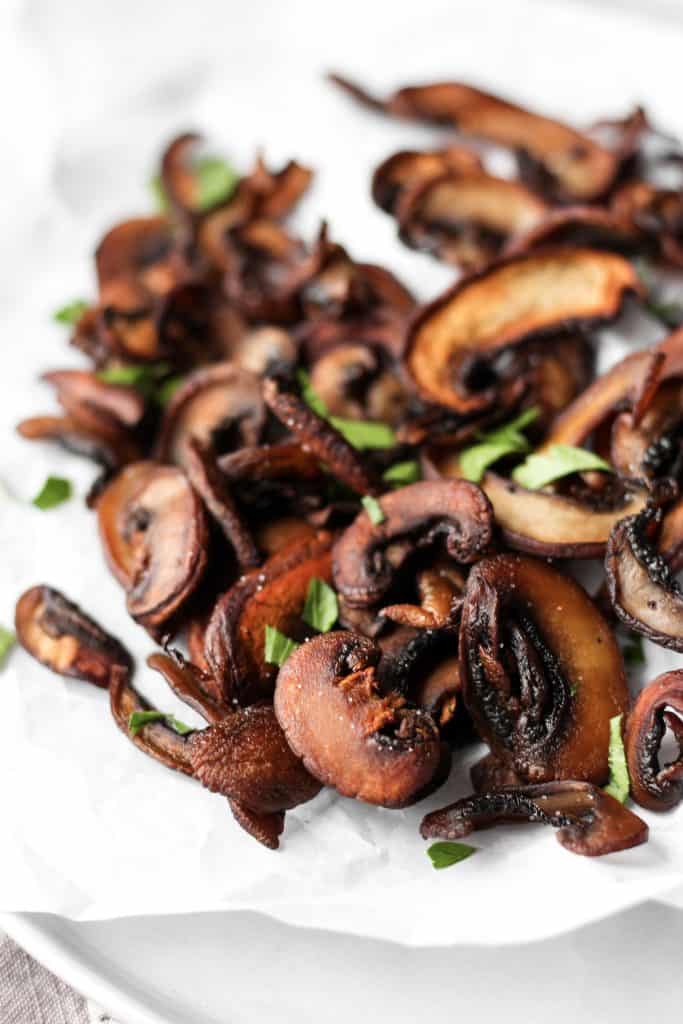 These are the snack you need if you want something a little crunchy, a little salty, but you don't want to be reaching the bottom of a bag of potato chips.
If you are searching for a snack that's not loaded in dairy these are going to be right up your alley. And even if you're not living a gluten free and dairy free life, these chips are so satisfying and packed with that warm mushroom flavor.
And, with just 3 ingredients they are easy and quick to make!
How to make pan fried mushroom chips
So like this title mentions, I cook these up in a pan instead of baking them. Here's all you need:
8-10oz package of mushrooms, sliced
Olive Oil
Salt
So, let's talk a little more about these little cuties.
What type of mushroom can I use? I've made these with baby bells and cremini and think they both turn out perfect! So I'd recommend choosing one of those.
Do I need to wash the mushrooms before cooking them? Mushrooms are like little sponges and will absorb water, which won't give you a crispy mushrooms chip. To clean a mushroom give it a quick dash under your faucet then rub them with a damp paper towel to clean them. Don't soak them!
How thin do I need to slice the mushrooms? I added the photo below to show you the slice I do on my mushrooms. You don't want them so thin that they burn but you can't have them too thick where they won't get crispy.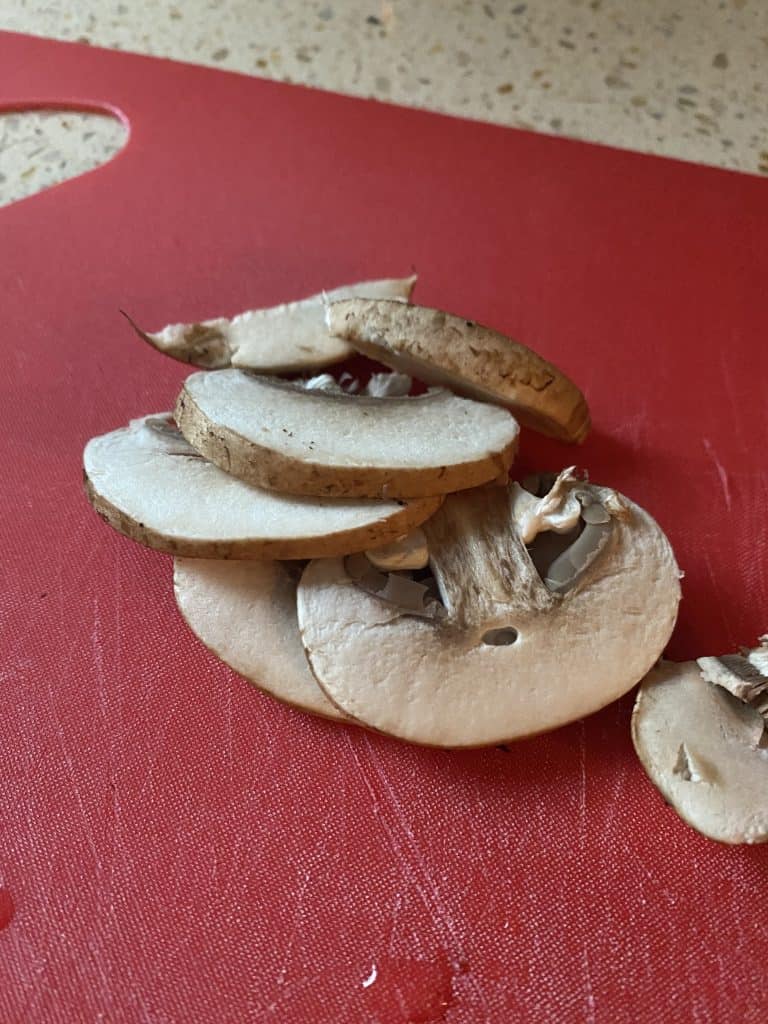 So maybe you want to know what else you can do with mushrooms chips besides just snack on them? I've got you covered! Check out one of my most popular recipes on the blog, my Creamy Marsala Sauce Pasta.
This recipe is vegetarian! It's a creamy Marsala sauce pasta that's topped with these mushroom chips! It's rich, filling, and I promise you won't miss the chicken in this Marsala sauce!
So let me know, will you be snacking on these or adding them to another recipe?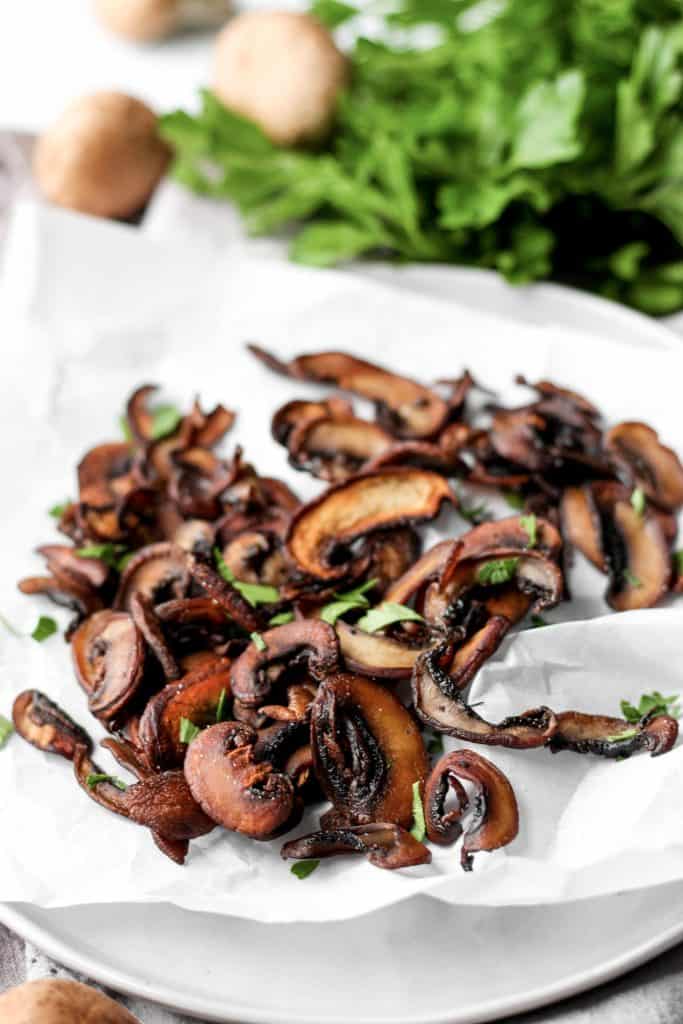 Print
Mushroom Chips
Mushroom chips are an easy dairy free gluten free snack that's ready in less than 30 minutes. Pan fried thin sliced mushrooms for a slightly crispy snack or add to your favorite recipes!
Author:
Prep Time:

5 minutes

Cook Time:

15 minutes

Total Time:

20 minutes

Category:

Appetizer

Method:

Saute

Cuisine:

American
8–10oz of cremini or baby bella mushrooms, sliced thin (see photo above for example)
2 and 1/2 or 3 tablespoons olive oil (depends on whether you use 8oz or 10oz of mushrooms)
Salt
Instructions
1. To a medium pan add the olive oil. If you're using an 8oz package of mushrooms use the 2 and 1/2 tablespoons of oil. If you've got the 10oz pack of mushrooms go with 3 tablespoons. Heat over medium heat then add the mushrooms.
2. Saute the mushrooms for 13-15 minutes until crispy but not burned, stirring occasionally but letting them get browned. Keep an eye on them at the end so they don't burn. The mushrooms will shrink up as they cook if your pan looks too full to start. I alternate between medium and medium high heat to get the level of crispiness I wanted. Spoon onto a paper towel lined plate, sprinkle with salt, then eat!