I absolutely love a good no bake cheesecake. I'm not a huge baker, but that doesn't mean I don't enjoy desserts and treats! This no bake coconut cheesecake is a perfect easy dessert any time of the year, but I especially love this in the warmer months.
It's cool, refreshing, with the slightly sweet flavor of coconut. The best part? The crust is made with graham cracker crumbs and toasted coconut crumbs! This will become a new family favorite dessert!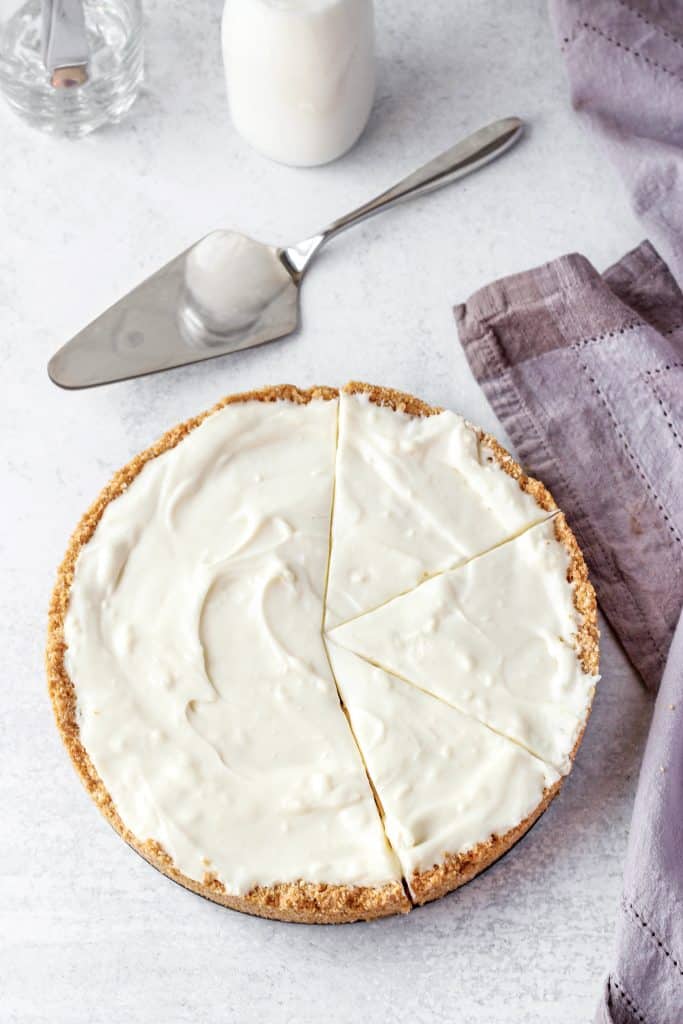 Maybe you're like me. I love the flavor of coconut, but I don't like the texture. I've always found it kind of mealy and hard to chew. Nothing was worse than biting into a chocolate from an assorted chocolates box and finding out it was the coconut one.
So that's why for this no bake coconut cheesecake I'm using all the delicious flavor of coconut without the texture.
The cheesecake batter is flavored with coconut milk and coconut extract. Then, toast these coconut pieces and pulse them in a food processor to add to the crust.
If you like coconut pieces, you can toast some extra and sprinkle it over top for an extra coconut bite!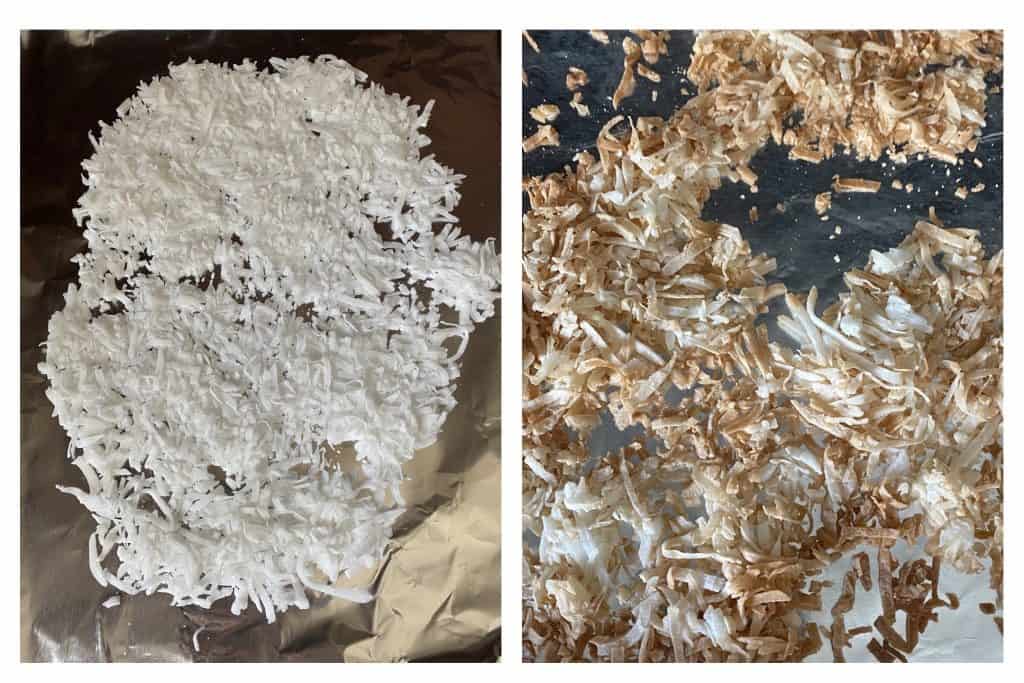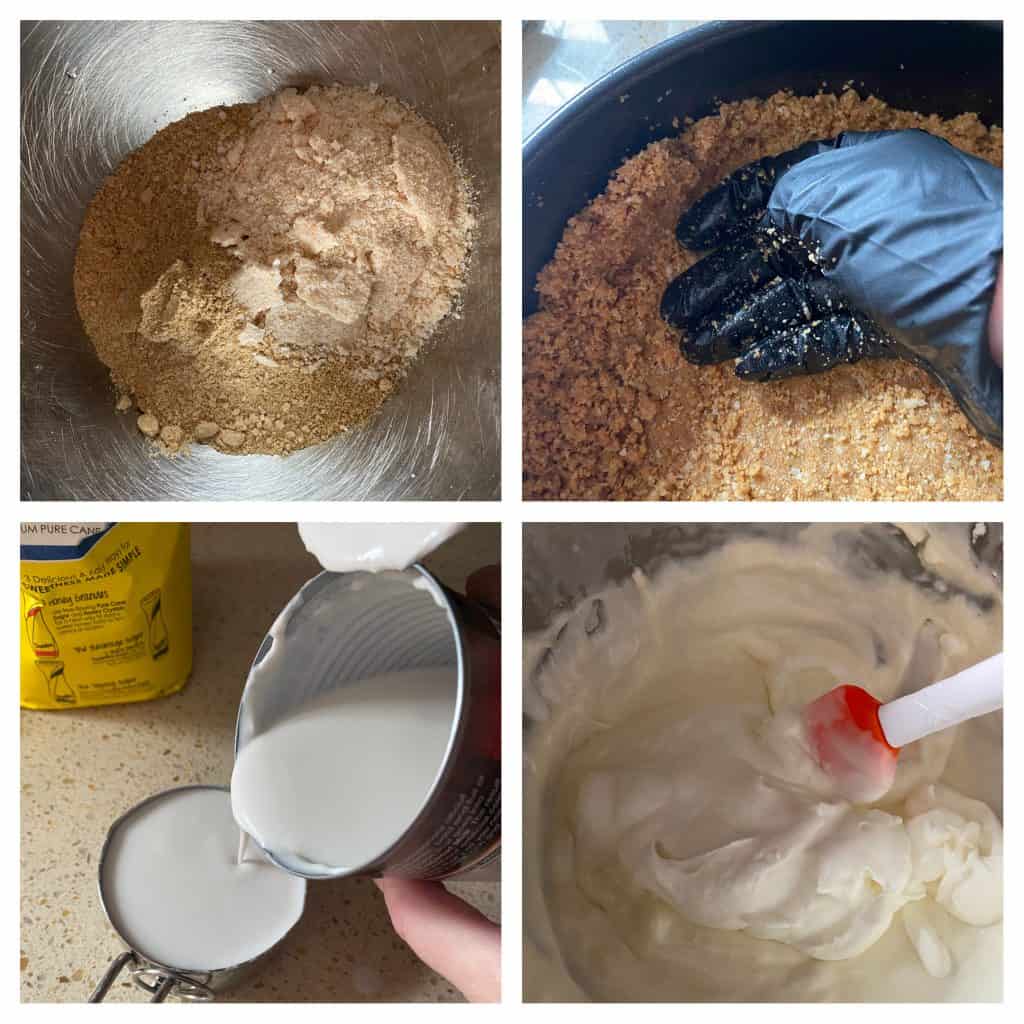 Helpful Tips
Ok let's get into some helpful tips and tricks for making this no bake cheesecake.
For the Crust
After you toast your coconut pieces, add them to a food processor (or I always use my Nutribullet) and blend them until a fine powder. You don't want any big coconut pieces in the crust.
To make the crust in the pan, I always add about half of the crumb mixture first and press down to form the base of the crust. Then, a add the remaining crumbs all around the edge and use my hand to kind of push up to form the edge.
When it's time to serve, if there's any part of the crust edge that is much higher than the cheesecake filling you can break it off to form a nice even edge all the way around.
For the Cheesecake
One of the most important parts of making a cheesecake is letting the cream cheese soften and come to room temperature before mixing it. If it's still too cold you won't be able to get a totally smooth texture and you'll have a few lumps. It's not the end of the world, but visually it's not what we want. And, it's especially important if you're making a chocolate cheesecake sine the white clumps will be really noticeable.
When adding the powdered sugar to the smooth cream cheese you need to sift it in so you're adding it as a super fine powder. If you just dump it in from from the box you'll risk getting clumps, again not what we want!
For the coconut milk use the kind in a can, not the kind in the carton from the fridge section. The canned coconut milk is thicker.
At a minimum this needs to chill in the fridge for 5 hours. But I really recommend making this the day before and letting it sit over night. You want to make sure it's fully set and not too loose in the middle.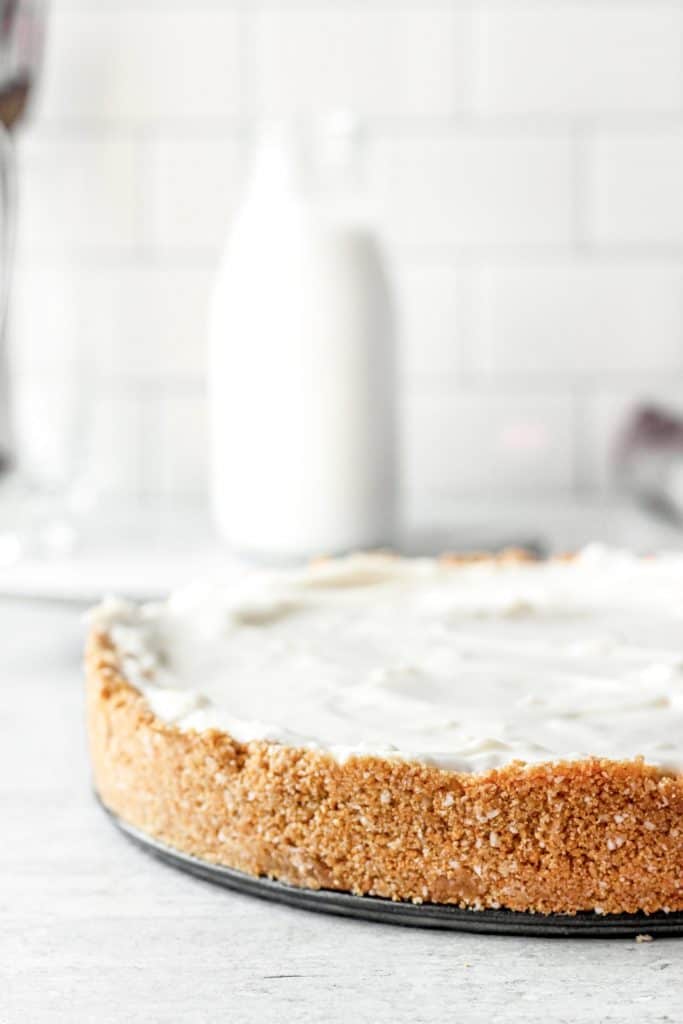 Look how you can see the coconut mixed into the graham cracker crust! It really adds a nice hint of coconut without being overpowering or adding a mealy texture.
This would be the perfect dessert to bring to a summer party! Just keep it in the fridge until it's time to serve dessert so it's nice and cold, light and refreshing.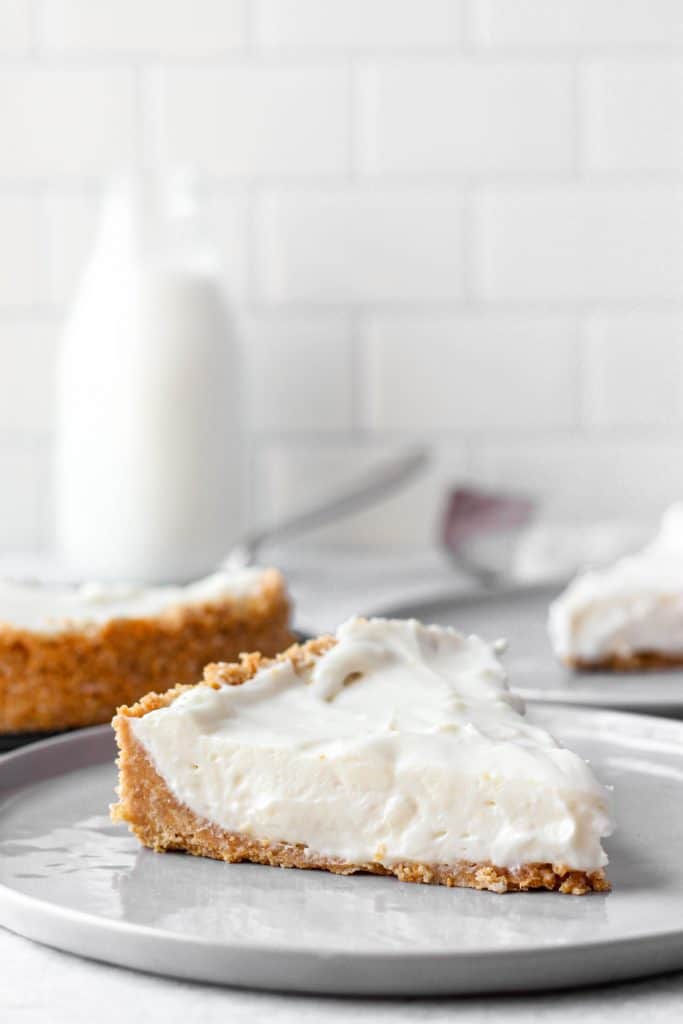 Looking for more dessert ideas? Check out my collection here in Dessert Recipes.
Or, if you like no bake cheesecakes you'll love my rich No Bake Chocolate Cheesecake
Want more cooking tips, food photos, and dinner ideas? Find me on Instagram at ASeasonedGreeting
Print
No Bake Coconut Cheesecake
This no bake coconut cheesecake is a refreshing dessert! Cream cheese batter flavored with thick coconut milk and coconut extract, and a crust make with toasted coconut and graham cracker crumbs. Perfect any time of the year!
Author:
Prep Time:

20 minutes

Cook Time:

5 hours

Total Time:

5 hours 20 minutes

Yield:

1 cheesecake

Category:

Dessert

Method:

Mix

Cuisine:

American
For the Crust
10oz of salted butter, melted
2 cups of graham cracker crumbs
1 cup of sweetened coconut flakes
For the Cheesecake
2 8oz blocks of cream cheese, softened
1/2 cup powdered sugar
1/2 cup white sugar
3 teaspoons coconut extract
3/4 cup canned coconut milk
1/3 cup heavy cream
Instructions
1. Spray your spring form pan with cookie spray. Preheat your oven to 325 degrees. Line a baking sheet with foil and add the coconut shavings in an even layer. Bake for 4 and 1/2 minutes, stir, then bake an additional 90 seconds – 2 minutes. Keep a close eye on it at the end to make sure they don't burn. You want a nice golden brown color. Add the toasted coconut to food processor and blend until they turn into a fine powder.
2. To make the crust, in a large bowl add the graham cracker crumbs, the toasted coconut crumbs, and the melted butter. Stir so all of the crumbs have absorbed the melted butter. Pour into the spring form pan. I like to pour about 1/2 of the crumb mix first, press down firmly to form the bottom base of the crust, making sure no areas are too thin and you can't see the bottom of the pan. Then, I add the remaining crumb mix all around the out edge of the crust and pressing/pushing up to form the edge. The top edges don't have to be perfect, but you do want the edge to be an even height all the way around. Once you've finished this, put it in the fridge as you make the cheesecake.
3. To make the cheesecake filling, first you need to make whipped cream. Add the 1/3 cup of heavy creamy into a mixer and beat on high for about 3 minutes. Pour into a separate bowl and set aside.
4. Next, add your softened cream cheese blocks to a stand mixer and using the flat paddle attachment blend until completely smooth. Sift in the powdered sugar (sifting in is important so you don't get clumps of the powdered sugar), then add in the white sugar and coconut extract and blend to combine. On low speed, add in the coconut milk and blend until combined.
5. Fold in the whipped cream into the cream cheese batter. You want to gently fold in and make sure it's all been blended in, you don't want to see white streaks running through the batter. It should all be one even color.
6. Remove the crust from the fridge, pour in the cheesecake batter, smooth over the top, then refrigerate for a minimum of 5 hours. But I suggest chilling overnight. 
When it's time to serve, if there's any part of the crust edge that is much higher than the cheesecake filling you can break it off to form a nice even edge all the way around.
Notes
Make sure the cream cheese is softened and not cold. Using the cream cheese too soon will cause little clumps and it will be hard to get a smooth looking cheesecake.
Sift in the powdered sugar, this will also prevent clumps.
For best results, chill overnight.
Keywords: no bake coconut cheesecake