If you've been searching for an easy bite sized appetizer, search no further. Baked Brie and Raspberry Bacon Phyllo Cups are the perfect little appetizer for either a party you're hosting or to bring to a party if you're a guest. Baked brie in phyllo cups are easy, adorable, and check every box on the "must have" list for perfect party snack.
There's a lot of things I love about these baked brie in phyllo cup treats.
They're cheesy. Let's face it, cheese makes everything better.
They've got crunchy bacon. If we think cheese makes everything better, bacon definitely takes things for ordinary to out-of-this-world.
The combination of the sweet raspberries, buttery Brie, and savory bacon hits every flavor profile needed to make a well-rounded snack. The bacon helps but the sweet of the raspberry, and the raspberry helps the mild Brie shine. Being served in crunchy phyllo cups makes them an inviting snack people just can't help but want to eat.
Last but definitely not least, they are easy to eat at a cocktail party.
Let me broaden on that last point for a moment. When you're making an appetizer for a party, especially a cocktail party, you need to consider how easy that item is to eat in one or two bites. That's the rule. Cocktail party snacks need to be easy to eat, and easy to eat while holding a conversation and holding a cocktail.
I see tons of super cute appetizers, but they'd be totally cumbersome or awkward to try and eat while you're standing, talking, and holding a drink in your other hand. So please, remember to keep your guests comfort in mind when you're planning a party menu!
Tips for Making Baked Brie in Phyllo Cups
First, I've noted in the recipe card below, but the Brie needs to be frozen for about an hour before you can dice it. You can't skip this step. Have you ever tried to cut or slice Brie? It's an incredibly soft cheese and it's nearly impossible to control and get perfect slices or squares. With freezing, you get a hard cheese that you can easily dice in the little squares needed for these phyllo cups.
For this recipe, you'll be making a raspberry preserve spread. I've also made a version of these before using store bought jarred preserves, and I much prefer making my own. By making your own, you can control the amount of sugar and there's freshness to the raspberries that you just don't get from a jar. Bonus, it's super easy to make. Just mash the raspberries in a pot of medium-low heat, stir in a few ingredients, then pour into a bowl to cool. That's it! Trust me, your guests will be impressed with the fresh raspberry taste.
For this recipe, I recommend to remove the rind from the cheese. The rind on this cheese is edible, however I don't like the texture and prefer to remove it anytime I eat Brie.
Having a party? You might also like:
Gruyere and Bacon Bites

Print
Baked Brie and Raspberry Bacon Phyllo Cups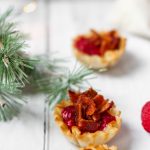 These are the perfect bite sized appetizer for a Holiday party. Smooth and creamy Brie cheese combines with homemade raspberry spread and savory crunchy bacon. Impress your guests with these little cuties.
Author:
Prep Time:

1 hour

Cook Time:

18 minutes

Total Time:

1 hour 18 minutes

Yield:

30

phyllo cups

1

x
8oz wedge of Brie cheese
2 boxes of 15 count phyllo cups
5–6 slices of bacon
1 cup fresh raspberries
1 tablespoon white sugar
1 tablespoon water
1 teaspoon white vinegar
2 teaspoons corn starch
2 teaspoons dark brown sugar
Instructions
1. Freeze the Brie cheese for one hour.
2. When the freeze time for the Brie is almost up, place the 30 phyllo cups on a baking sheet and preheat the oven to 350 degrees.
3. Cook the bacon strips in a large frying pan, I like crispy bacon which takes about 10 minutes for me. Once the bacon is cooked to your liking, remove and place on a paper towel lined plate and dab with a paper towel to remove excess grease. Once bacon is cooled to the touch, crumble into small pieces.
4. To make the raspberry preserve spread, place the 1 cup of raspberries into a small pot over medium-low heat and mash with a fork. Add the water and the white sugar and continue to mash until the raspberries have broken down completely. Stir in the corn starch, brown sugar, and vinegar and cook for about 2 minutes, then pour into a bowl to let cool.
5. To prepare the Brie cheese, remove from packaging and slice off the rind. Dice the wedge into small squares that can git into the phyllo cups. Place one cheese square into each phyllo cup, you should have some cheese squares leftover. Bake for 8 minutes. Remove from the oven and fill any cup that looks low with another small square of cheese. Top with the raspberry preserves and crumbled bacon. Bake another 10 minutes.
Notes
The Brie cheese needs to freeze for an hour before making this. If you don't it's going to be a nightmare trying to dice it into the little squares that fit in the phyllo cups.