The easiest and best party dip has just arrive: Cream Cheese Salsa Dip.
This dip is easy, has only 5 ingredients, is inexpensive, and doesn't need to bake! Once the cream cheese has softened you can whip this up in less than 10 minutes. Perfect for a little get together or for watching game day snacking.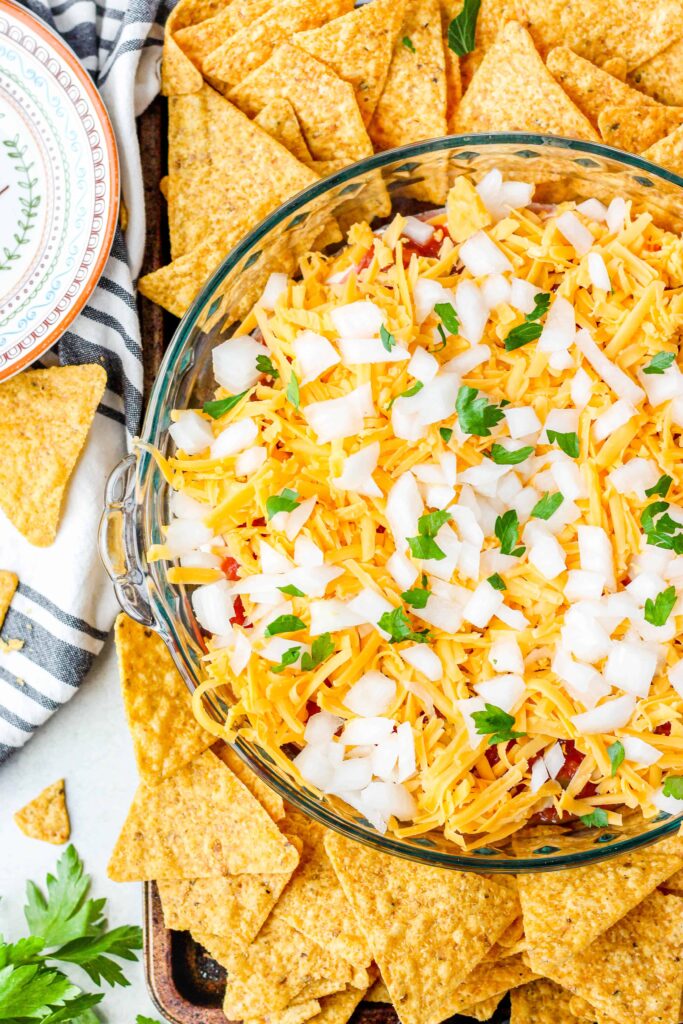 At any party or get together, a dip is an absolute must.
I don't care what other snacks there are, there's got to be a good dip.
Hot or cold, doesn't matter….just make sure it's there. Everyone loves grabbing that crispy chip and going in for the perfect scoop. The scoop that contains a little part of each of the dip components so that the chip has transformed into a mini replica of the full dip.
This Cream Cheese Salsa Dip is something my mom would make every summer. The funny thing is, as a kid I didn't appreciate how great this dip is. Instead, I'd run up to it, steal some of the Cheddar cheese off the top then sneak away.
Now as an adult, I've come to appreciate this dip for it's delicious simplicity. Just 5 inexpensive ingredients, arranged in a colorful layer make a salsa dip that will surely disappear by the end of the party.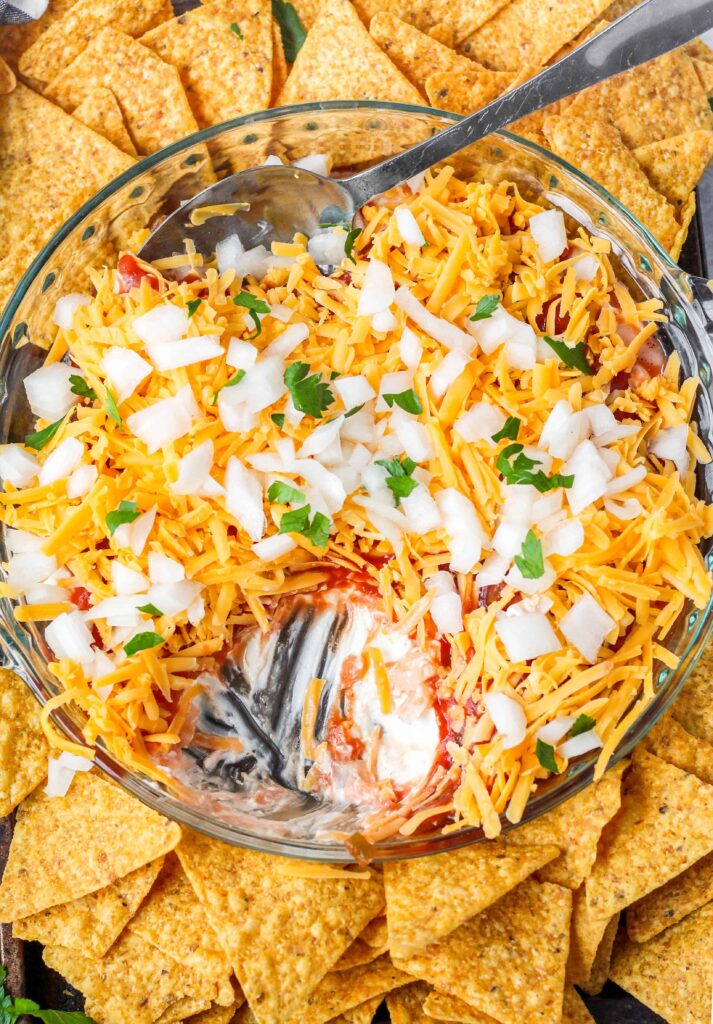 Ingredients
Here's what you need to make this dip! Just 5 inexpensive ingredients:
8oz block of cream cheese
8oz container of sour cream
15oz jar of your favorite salsa
2 and 1/2 cups of shredded sharp Cheddar cheese
1/2 cup diced white onion
So easy! The only thing I don't normally have on hand is the salsa. But the cream cheese, sour cream, cheese and onions I usually have. Full disclosure, I like this dip so much sometimes I'll make a quick half order of this as a snack.
How to make the dip
This is one of those recipes that's more of an assembly recipe, that's how easy this is!
With a handheld mixer or in a stand mixer, blend the softened cream cheese and the sour cream together. Pour this into your serving dish.
Shred your cheese, and dice your onions…or you can do this while the cream cheese is softening.
Pour the jar of salsa on top of the cream cheese blend.
Next, add the shredded cheese.
Last, add the diced onions.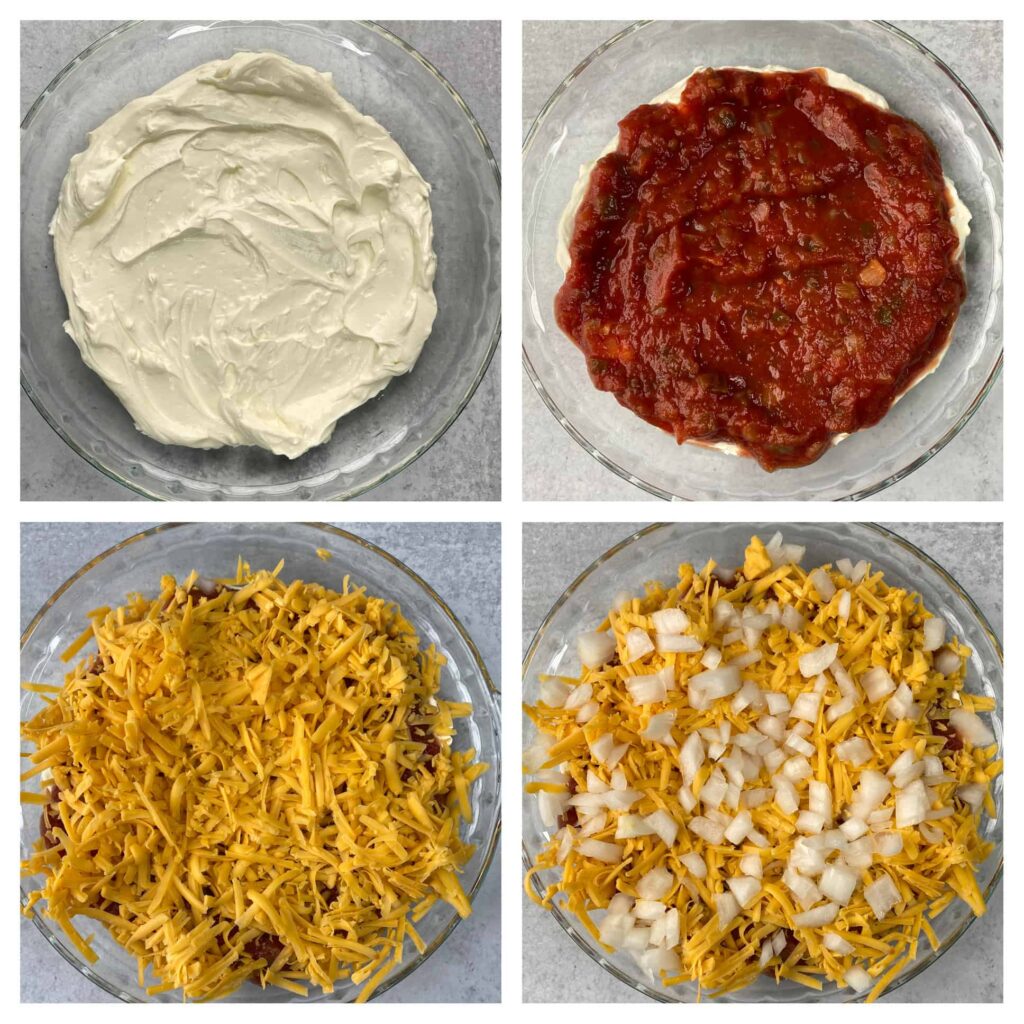 Can I add additional toppings?
Yes, you can add whatever you'd like! I keep it simple with this for a few reasons. First, I wanted this to be really easy and inexpensive, so limiting to a 5 ingredient dip made sense. Second, this is cream cheese salsa dip not a taco dip. But I also have a taco dip if you're wanting to make a super loaded dip! I've linked to my Hot Taco Dip recipe at the very bottom of this post if you're interested.

Can I make this ahead of time and keep it in the fridge?
This dip is best served right away. What I've found is that if you make this ahead of time too much of the liquid from the salsa will pool at the edges making the dip a little watery and messy. If you're bringing this to a party what you can do is layer the cream cheese blend in your serving dish but finish the assembly of the dip when you get there. All you need to do is pour on the salsa, and top with your pre-shredded cheese and already diced onions!

What cheese can I top this with?
I've always used a sharp or extra sharp Cheddar cheese. I love the bite that flavor gives to this dip! I think a pepper jack cheese would also be good if you have it. Since the cream cheese blend is really cool and creamy the cheese on top needs to be strong and not a mild cheese like Mozzarella.

Can I use bagged shredded cheese?
I'm a firm believe that you need to grate your own cheese. Trust me on this, once you start grating your own cheese you'll see how much softer it is than bagged cheese. It really doesn't take too much time, and all you need is a box grater! So if you don't have one, pickup a box grater and then buy a block of sharp Cheddar cheese.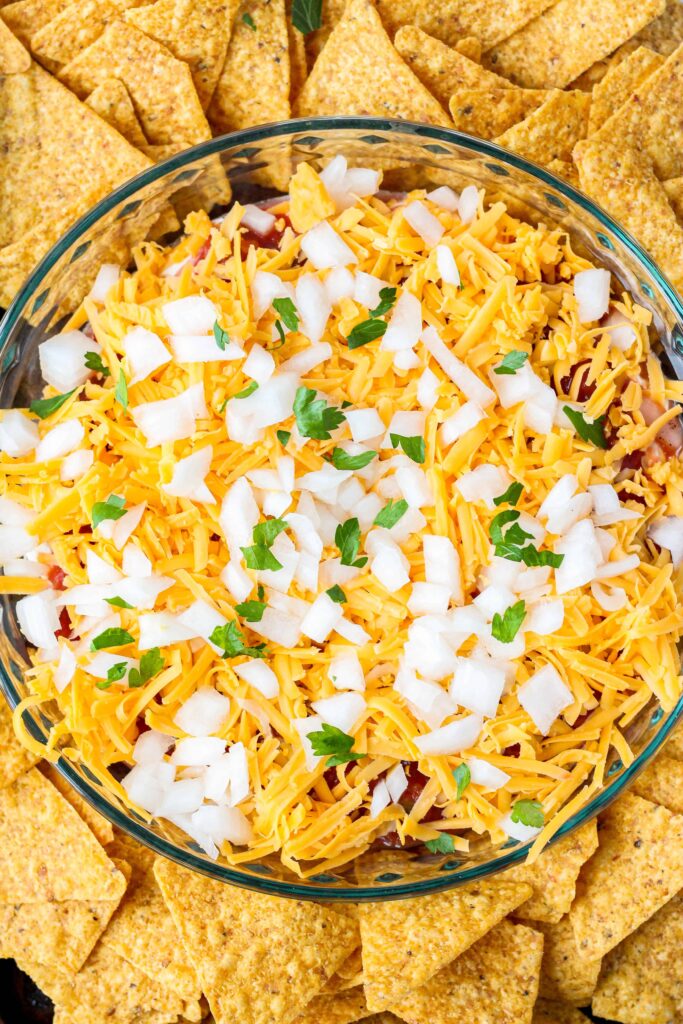 Looking for more appetizer recipes?
You're in luck! Small bites and dips are one of my favorite recipes to make. First, check out my section for a collection of all my Appetizer Recipes.
Or, here are some of my favorite appetizers and snacks that we love to make, and are always a hit at a get together!
Hot Taco Dip
Fried Brie Bites
Whipped Avocado Dip
Whipped Feta
Buffalo Chicken Meatballs
Baked Brie and Bacon Bites

If you make this let me know what you thought in the comments!
Print
Cream Cheese Salsa Dip
Cream Cheese Salsa Dip is an easy layered dip with a cream cheese base, salsa, cheese, and onions. Whip this up in under 10 minutes for an easy, inexpensive, and crowd pleasing dip.
Author:
Prep Time:

10 minutes

Total Time:

10 minutes

Category:

Appetizer

Method:

Mix
8oz block cream cheese, softened
8oz container sour cream
15.5oz jar medium spice salsa (our choose your favorite salsa, and choose a hotter flavor if you like it!)
2 and 1/2 cups shredded sharp Cheddar cheese
1/2 cup diced white onions
Instructions
1. Soften the cream cheese by leaving it out on your counter for 30 minutes. You need to do this so that it blends well with the sour cream. To a medium bowl add the softened cream cheese and the 8oz of sour cream. Using a handheld mixer, blend until smooth. It's OK if there are a few lumps, but you do want it to be mostly smooth. You can also use a stand mixer to do this if you have one.
2. To assemble, spoon the cream cheese sour cream blend into your serving dish and spread to cover the entire bottom. Whatever dish you use, you want it to have an edge higher than the dip, like the pie plate in the photo. This will make sure as the liquid from the salsa separates it doesn't run right off of a platter onto your table. Next, pour the entire jar of salsa over top and smooth to cover the cream cheese sour cream blend. Next, cover the salsa with all of the shredded Cheddar cheese. Lastly, sprinkle with the diced onions.
Serve with your favorite chips and enjoy!
Notes
You can use whatever salsa you like the best. I usually go for a medium spice salsa, but if you like it more or less spicy you can use whatever you like.
I've always used a sharp Cheddar cheese for the cheese, but I also think a pepper jack cheese would be good here too!
Keywords: cream cheese salsa dip