Move over fried Mozzarella, there's a new fried cheese bite on the block. Fried Brie Bites. Oh yes, these little buttery fried bits of cheese are everything you want in a savory fried snack. Pair with a sweet or spicy dipping sauce for the perfect bite.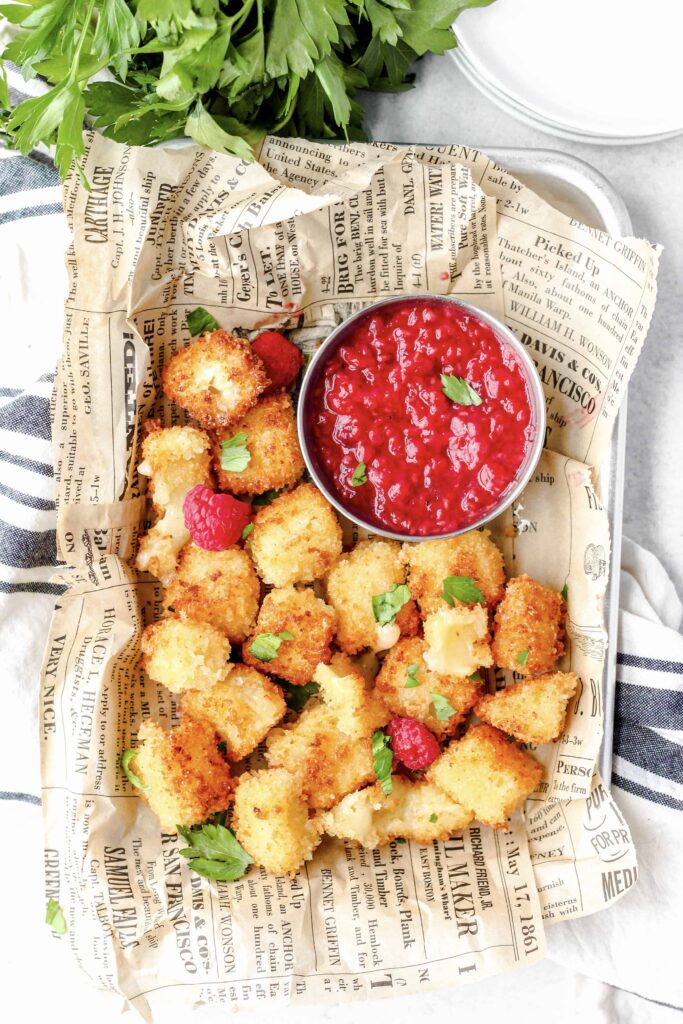 Brie cheese is one of those crowd pleasing cheeses. It's smooth, and creamy, and has a mild buttery taste that doesn't compete or over power.
It is delicious all on it's own, or pair it with something sweet like apples, honey, or a raspberry sauce like these Brie bites, or like in my Raspberry Bacon Bites.
Eat it cold as slices, or bake it until melty, or fry it up! It's such a versatile cheese and one of my favorites.
So you can see why I wanted to make a fried Brie bite recipe! Make this for a party and there won't be any left! It's impossible to eat just one!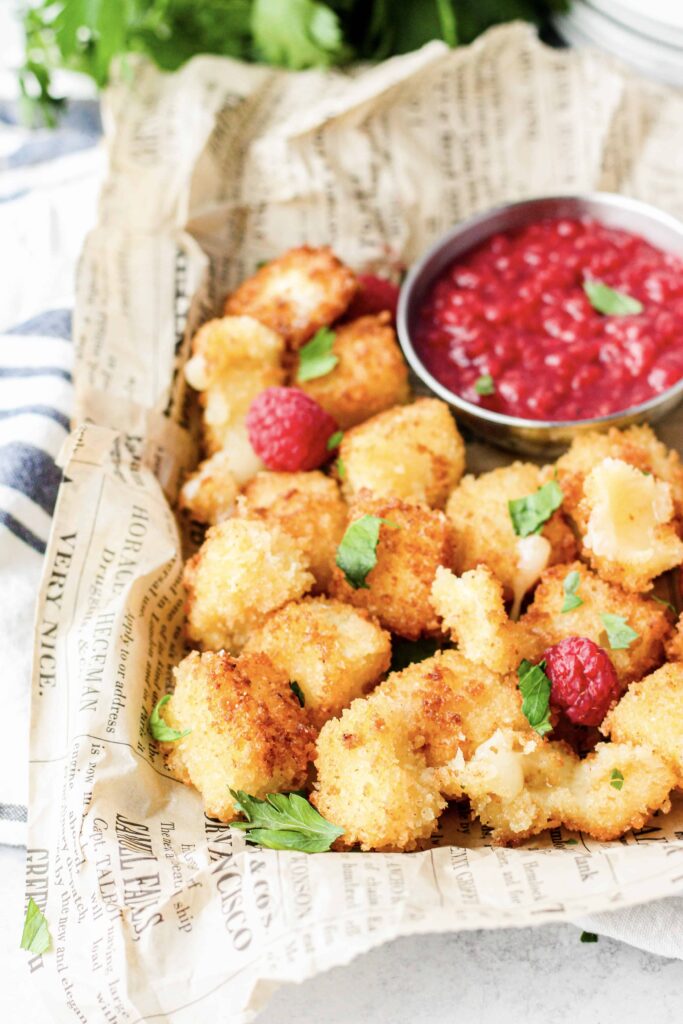 How to tell when the oil is ready
If you don't fry in oil often, it can be hard to tell when exactly the oil is hot enough to start frying the bites! Here are some tips, we're going to use sight, smell, and sound to figure it out!
Sight
The first thing you'll start to see is the heat coming off of the oil.
You know how on a super hot day, if you look out on the horizon you can see the heat waves dancing off the top of the road? You can kind of start to see that happening with the oil. The same thing starts to happen here, you can see the heat dancing off the top because the heat its starting to rise from the oil.
Smell
Uncooked oil doesn't have much a smell. When the oil has been heated to the point of being hot enough to fry you can smell the hot oil. It's a distinctive smell that you'll be able to recognize it the more you fry.
Sound
Well this one is a combination of sound and sight, but for these we're going use the flour test.
The flour test is taking a small amount of flour, like an 1/8 of a teaspoon small, and dropping it in the oil when you think it's ready. The flour should fry and sizzle right away. If it doesn't fry and sizzle right away, the oil isn't not enough. Wait for oil to heat a little longer then give another try.
I hope this helps you with your oil! The flour test is super helpful. You don't want to drop your cheese into the oil too soon. It you try to fry too soon it will just sit and absorb oil without cooking and get soggy.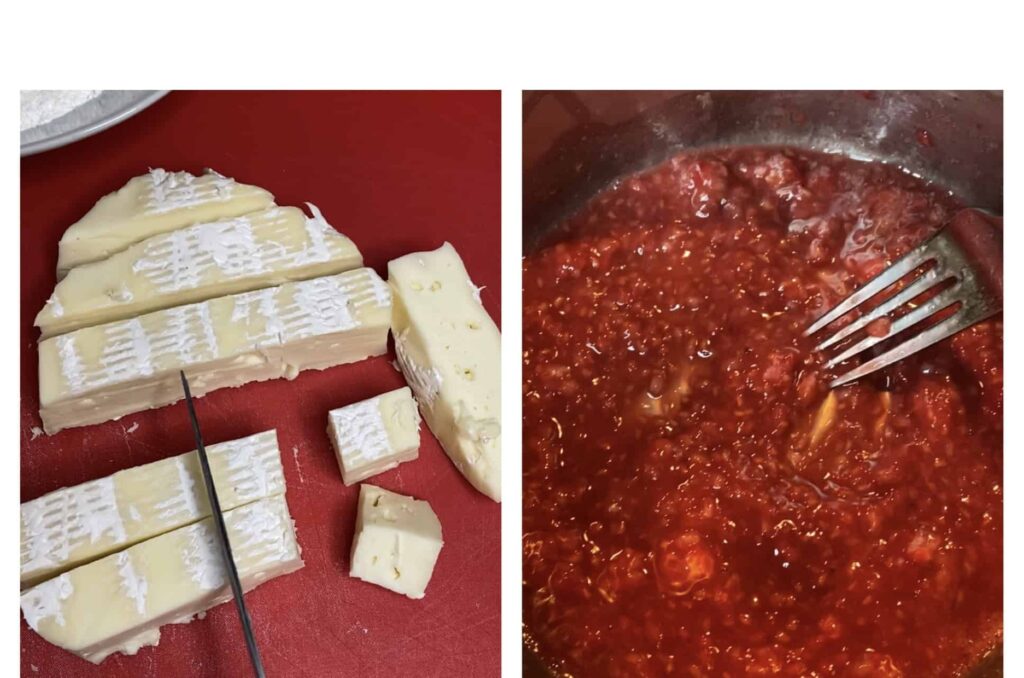 Cooking Tips
The rind is edible on the Brie, so it's personal preference whether you want to eat it or not. For me, I don't like the texture it adds. I love my Brie smooth and creamy. So, if you also don't want the texture the rind gives you can easily slice or shave it off.
I sliced my 8oz wheel into 28 bites. This resulted in the perfect size. You don't want them too big or else they won't fry properly in the oil.
The perfect amount of frying time is 1 minute total. Fry the Brie for 20 seconds on one side, flip, then cook another 20-30 seconds. Total time in the oil should be 1 minute, and not longer than 1 minute. I found that if they are left in too long the cheese will burst out and it gets way too melty.
The raspberry dipping sauce adds a nice touch of sweet to this. If you don't want a berry sauce, I think a red pepper spice sauce would be good or something like a sweet and sour. I'd recommend staying away from something like a ranch dressing or equally heaving sauce. The Brie is rich and buttery, and adding a thick sauce could weigh it down too much.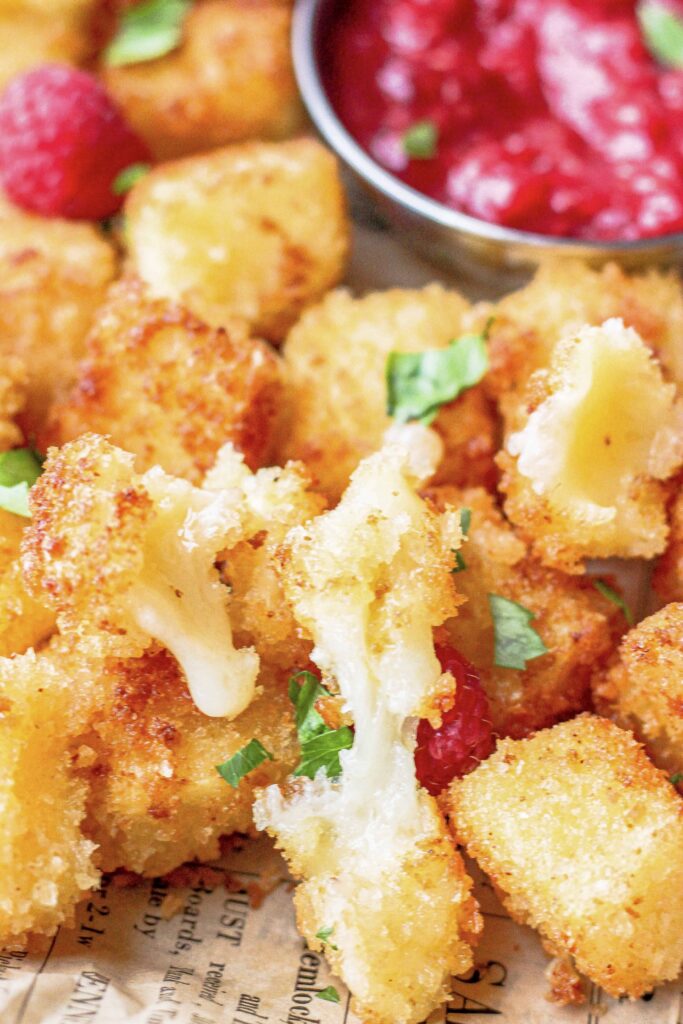 Want more appetizers? I got you covered! Check out my Appetizer section for a collection of snacks and small bites.
Some of my favorites are:
Whipped Feta
Buffalo Chicken Meatballs
Gruyere and Bacon Potato Bites

Print
Fried Brie Bites
Better than fried Mozzarella, these fried brie bites are smooth, buttery, and impossible to eat just one! Serve with a raspberry dipping sauce for the perfect combination of savory and sweet.
Author:
Prep Time:

1 hour

Cook Time:

5 minutes

Total Time:

1 hour 5 minutes

Yield:

28 bites

Category:

Appetizer

Method:

Fry

Cuisine:

American
For the Brie
8oz wheel of Brie
1 and 1/2 cups Panko breadcrumbs
1 egg + 1 tablespoon water
1/2 cup all purpose flour
2 teaspoons garlic powder
1 cup vegetable oil for frying
Salt
For the Raspberry Sauce
1 cup fresh raspberries
1 tablespoon white sugar
1 tablespoon water
1 teaspoon white vinegar
2 teaspoons corn starch
2 teaspoons dark brown sugar
Instructions
1. Place the wheel of brie in the freezer for 20 minutes. While the cheese is freezing, get your bowls ready for the dredging. Add the flour to a bowl and add 1 teaspoon of the garlic powder and mix. In another bowl, whisk the egg with the tablespoon of water. And in the last bowl combine the Panko with the remaining 1 teaspoon of garlic powder.
2. After the 20 minutes, remove the Brie from the freezer and remove the rind (you can leave on if you like it. I don't like texture of the rind so I cut it off). Dice the cheese into pieces, I made 28 bites. Coat each piece in the flour, then the egg, and lastly the Panko. Make sure to press the Panko into the bite so it sticks and there's a nice even coat all the way around. Place on a plate lined with parchment paper, place back in the freezer for 20 minutes.
3. While the cheese is re-freezing, make the raspberry sauce. Place the 1 cup of raspberries into a small pot over medium-low heat and mash with a fork. Add the white sugar and brown sugars and continue to mash until the raspberries have broken down completely. Mix the water with the cornstarch to make a slurry, pour into the pot along with the vinegar and cook for about 2-3 minutes, then pour into a bowl to let cool. If too thick, add a little more water to get the consistency you want.
4. To begin frying, heat the oil in a large pan over medium high heat. See post for detailed description of how to know when the oil is ready for frying! To fry, add about 6-7 brie bites into the oil at a time, cook 20 seconds, flip each bite, then cook another 20-30 seconds. The total frying time should not exceed 1 minute. Repeat until all brie has been fried, sprinkle all the brie bites with salt. Serve with the raspberry dipping sauce and enjoy!
Notes
Freezing the brie makes it easier to cut, then refreezing it makes sure the cheese ca withstand the hot oil!
The rind is edible, but many people don't like the texture. You can leave it on, but I choose to slice it off.
The post has more detailed explanation of how to know when the oil is ready, but you can test the oil by dropping in a little flour. If it begins to fry immediately the oil is ready! If the flour just sits for a few seconds and then begins to sizzle the oil isn't hot enough yet.
I only add 6-7 bites to my oil at a time. Adding too many cold bites at once could lower the temperature of the oil too much and result in oil that doesn't fry properly.
Keywords: fried brie bites