The almond sprinkle cookies will brighten your day! Soft, chewy, flavored with almond extract and bursting with vibrant sprinkle colors.
And if you want cookies but don't want a complicated baking recipe, these are the cookie for you. Wait until you see the fun baking hack that makes these quite literally the easiest homemade sugar cookie ever!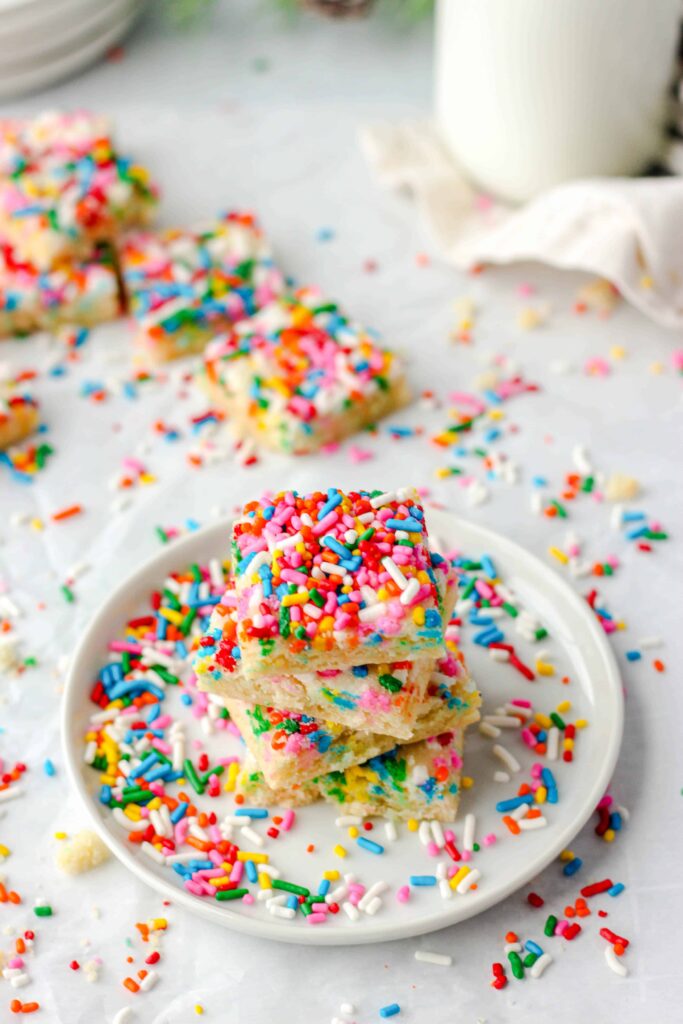 I'm not claiming this to be the easiest cookie recipe without backing that up with proof.
Here's what makes these the easiest sugar cookie recipe and the easiest kid friendly cookie recipe!
No making cookie dough balls
No need for any cookie cutters
No rolling a sheet of dough and making a messy counter
So I've said you're not making dough balls, you're not rolling dough, and you're not using cookie cutters. Want to know how you're going to make these cookies?
You bake one BIG cookie rectangle. Then, after this giant cookie bakes, use your pizza cutter and slice this into little square cookies!
See how easy that is? And why this is the perfect cookie recipe to try with your little ones.
My big cookie looks like this. I measured 9″ tall by 10″ and find this is the best size for the perfect cookie.
Let's talk sprinkles.
The vibrant colored sprinkles just pop on these cookies, and you can add as much as you like!
While I haven't tried these before, I am interested in trying sprinkles that don't use artificial colors. I found these sprinkles here on Amazon.
Has anyone tried these sprinkles? Or another sprinkle that uses natural food color? Let me know in the comments!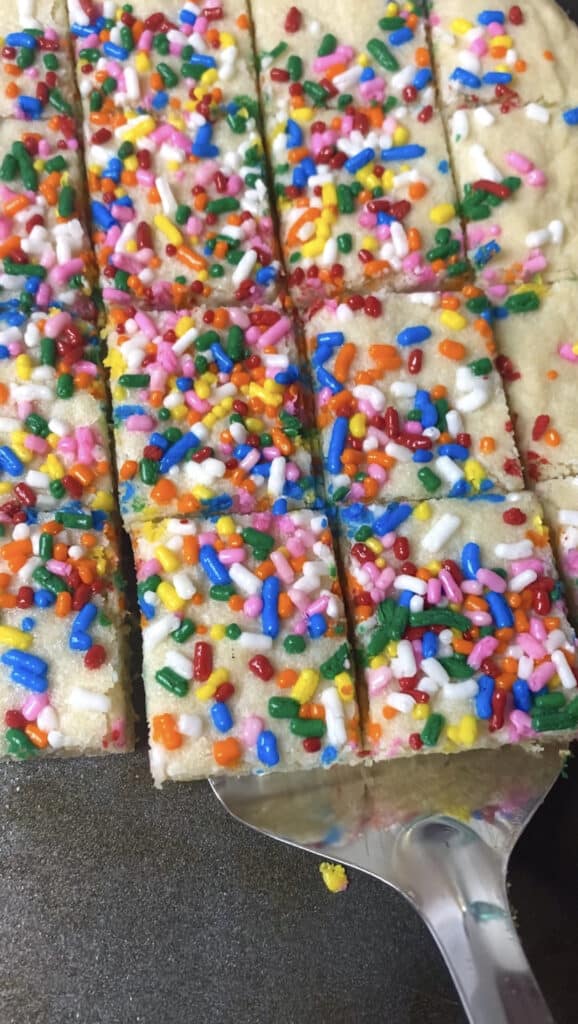 If you're looking for more Christmas cookies to add to your Holiday baking, I have a few more options to look at!

My absolute favorite cookie to make every year are these. Soft and Chewy Molasses Cookies Perfectly spiced, soft and chewy, totally irresistible!
Speaking of soft and chewy, here are my Brown Butter Chewy Oatmeal Cookies, Chewy Lemon Cookies, and Brown Butter Chocolate Chunk Cookies!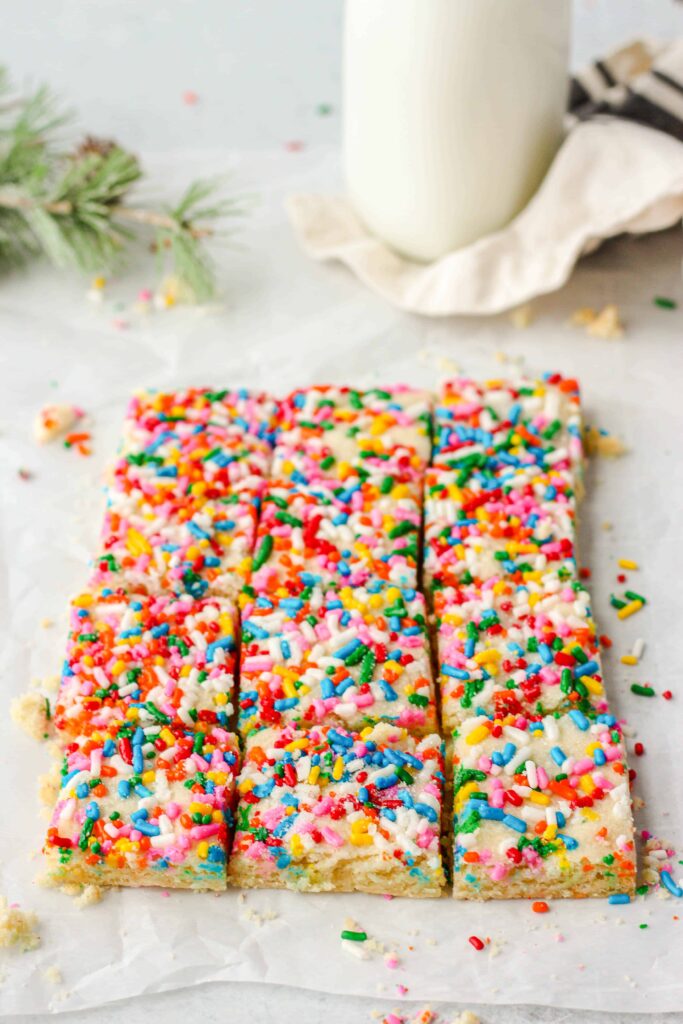 Baking tips
This dough is wet and a little sticky, it's not your traditional drier dough. Use a spoon, spatula or your hands to smooth out the dough and spread it on the sheet.
Use the smallest baking sheet you have, when you spread out the dough it's not going to spread all the way to the edges.
My favorite thickness comes from making the large rectangle cookie dough 9″ tall by 10″.
One it has baked, use your pizza cutter to slice into little squares.
This recipe uses shortening. I've never tried it with butter so don't know how that would turn out. While I don't use shortening often, it definitely works in this recipe!
As noted above, if you don't want the artificial coloring from traditional sprinkles, there are options for sprinkles that use natural coloring ingredients.
It can't get any easier than that to have homemade freshly baked almond sprinkle cookies!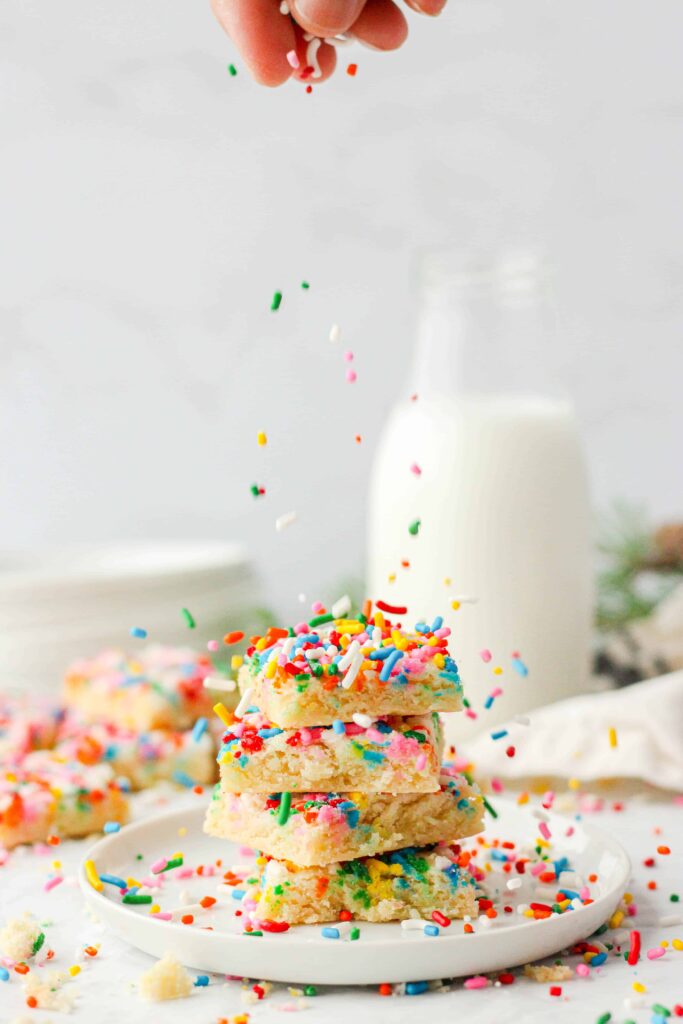 Print
Almond Sprinkle Cookies
Almond sprinkle cookies are an easy and soft baked sugar cookie perfect for Holiday baking. This bakes as one big cookie on a sheet pan then just slice into mini squares!
Author:
Prep Time:

5 minutes

Cook Time:

12 minutes

Total Time:

17 minutes

Yield:

30 cookies

Category:

Baking

Method:

Bake

Cuisine:

American
1 and 1/2 cups all purpose flour
5 tablespoons Crisco shortening
3/4 cup white sugar
1/3 cup vegetable oil
1 tablespoon milk
2 teaspoons almond extract
1 egg
1 and 1/2 teaspoons baking powder
1/4 teaspoon salt
Colored sprinkles + 1 tablespoon sugar for decorating
Instructions
1. Heat oven to 375. In a large bowl cream together the shortening and the 3/4 cup sugar. Add in the oil, egg, milk, and almond extract and beat until light and fluffy.
2. Gradually blend in the flour, baking powder, and salt at low speed. Spread onto an ungreased baking pan. Mixture will not cover the entire pan, spread until about 1/4″ thick. Mine measured 9×10. Sprinkle with the 1 tablespoon sugar and sprinkles. Bake for 10-12 minutes. Let cool for 5 minutes then slice with a pizza cutter to the desired cookie size.
Notes
This is a recipe my mom would make for us as kids! She found the recipe on the bag of Pillsbury Flour.
Keywords: almond sprinkle cookies