French onion soup lovers rejoice with this French onion meatball recipe! Loaded with sweet caramelized red onions infused with Sherry, perfectly seasoned meatballs, and lots of melted Gruyere cheese. These will become a family favorite!
Important note: These take at least an hour from prep to finish. For me, this is more of a weekend meal and not something to whip up quickly after a long day of work.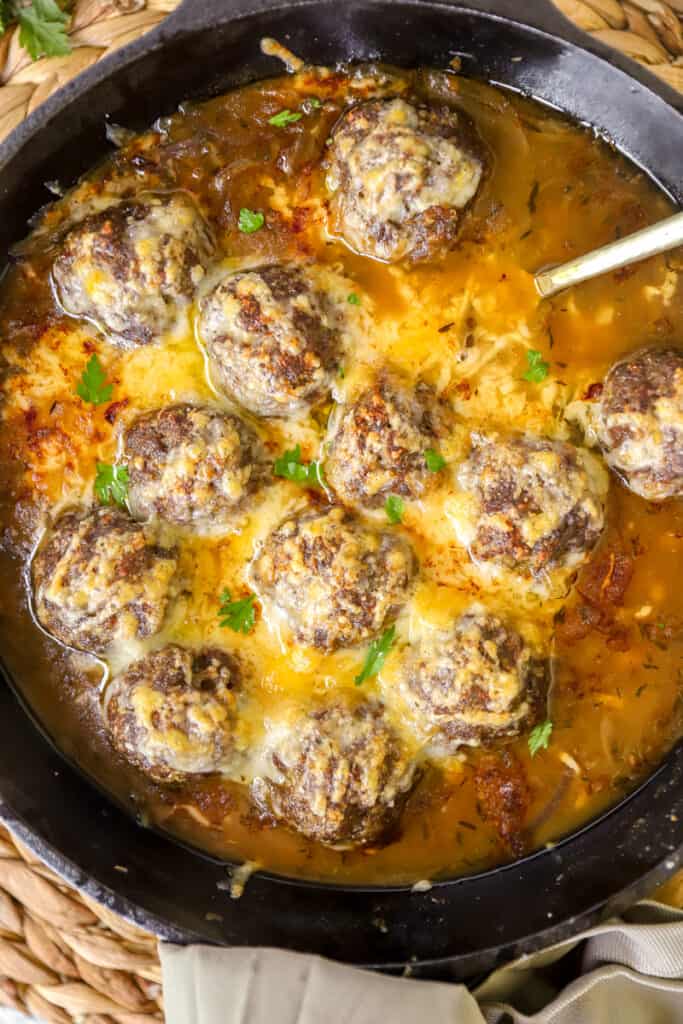 I absolutely LOVE a good meatball recipe. Even though these take more time than most of my other meatball recipes, I still think they can be considered on the "easy" side. Yes there are a few steps here, but there's nothing complex and the only thing that requires chopping are the red onions!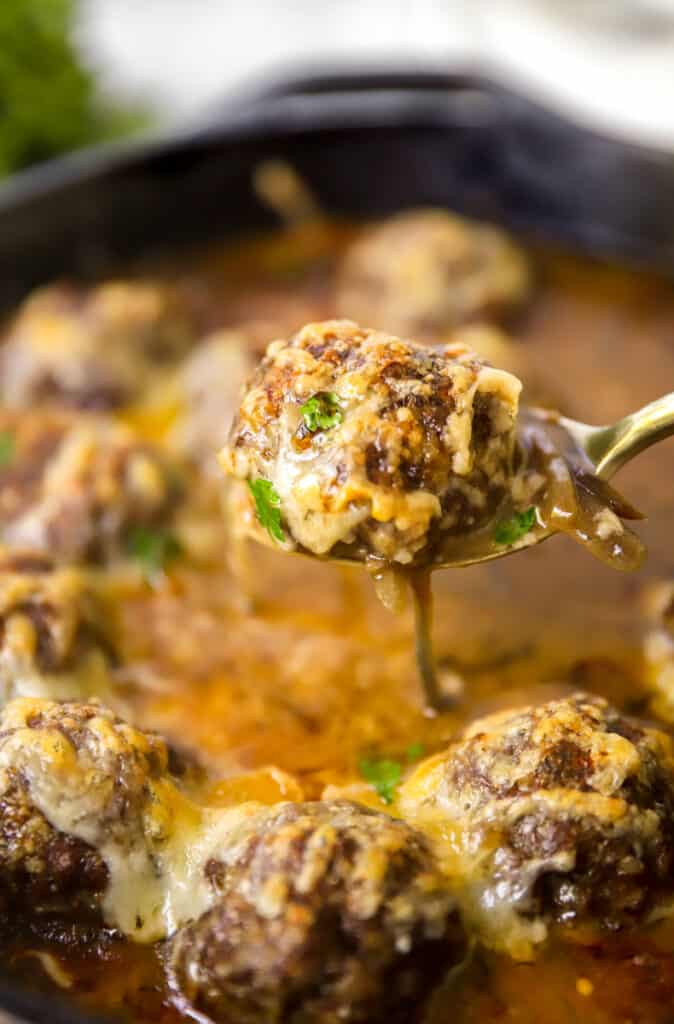 Steps to making the French onion meatballs
There are 3 parts to making this recipe! This isn't the full play by play of the recipes, you can scroll to the recipe card for that, but this gives you the big picture so you know what's ahead!
First you need to caramelize the onions. This takes the most time. For true caramelized onions you need at least 30 minutes, but depending on the heat it can take as long as 40 minutes. So you see it's not a "hard" recipe, but does take some time.
Next you need to make the meatballs. Add your seasonings, roll into 12 meatballs, then bake. They bake for about 20 minutes and these can cook while the onions are caramelizing!
Then you need to make the broth. Once the onions are done, you'll make a broth in the same skillet.
Last, you'll add the meatballs and cheese to the skillet then broil until browned and bubbly!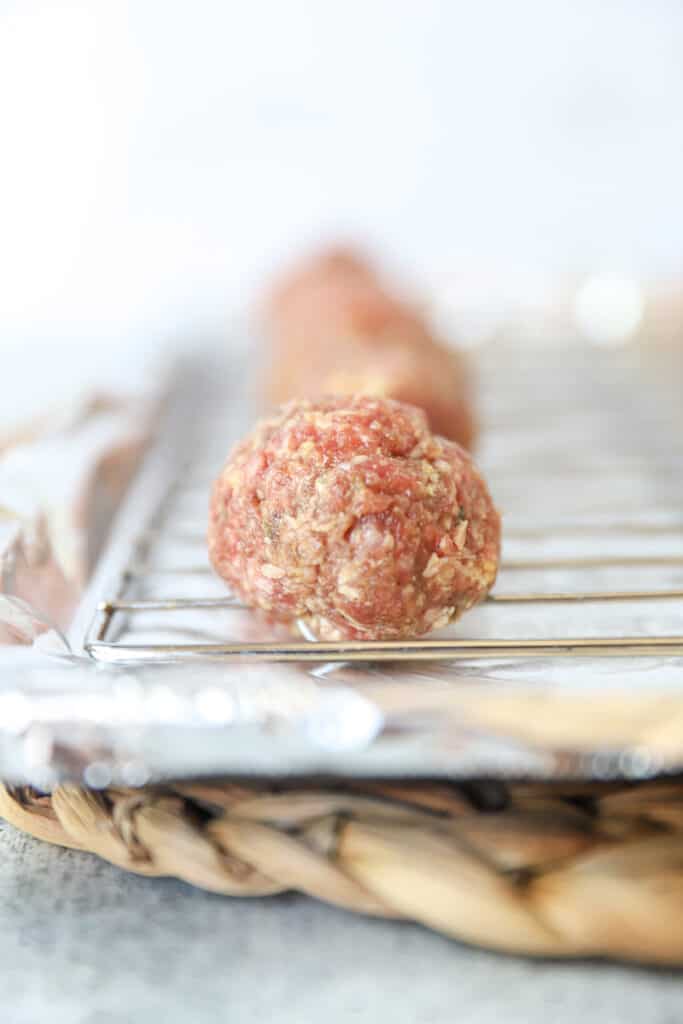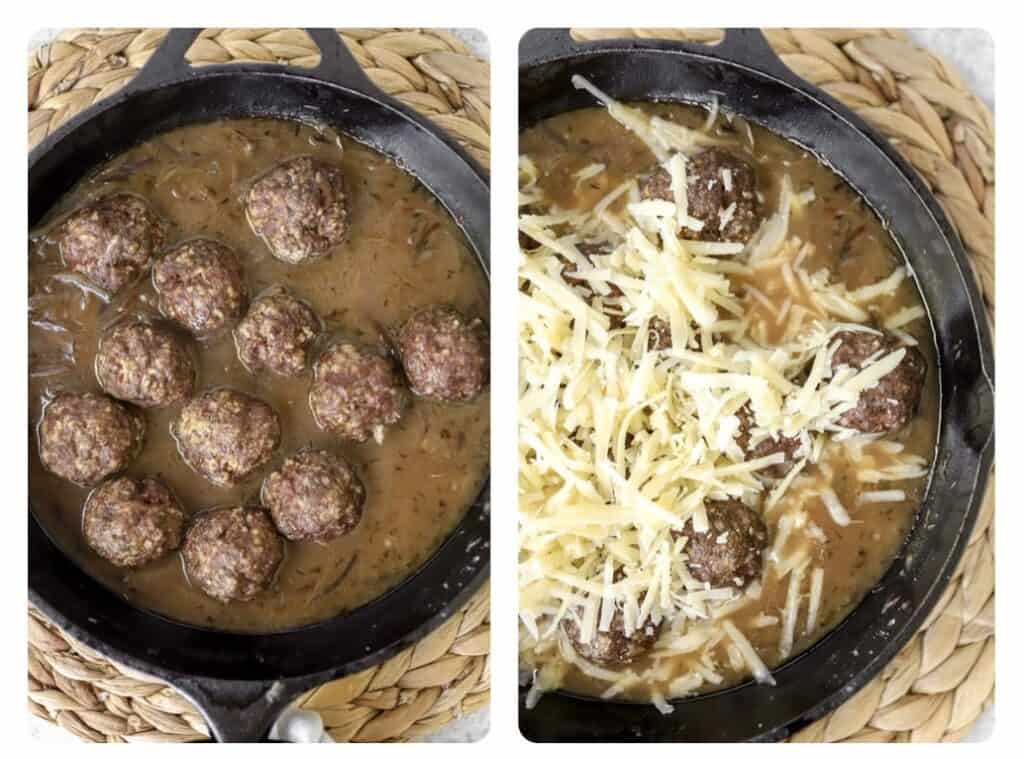 Ingredients
Here's what you need to have on hand to make this dish!
2 medium red onions
Butter
Salt & pepper
Dried thyme leaves
White sugar
Sherry wine
Beef broth
Flour
Ground beef
Garlic powder and onion powder
Worcestershire sauce
1 egg
Panko bread crumbs
Gruyere cheese
How many of these do you have on hand right now?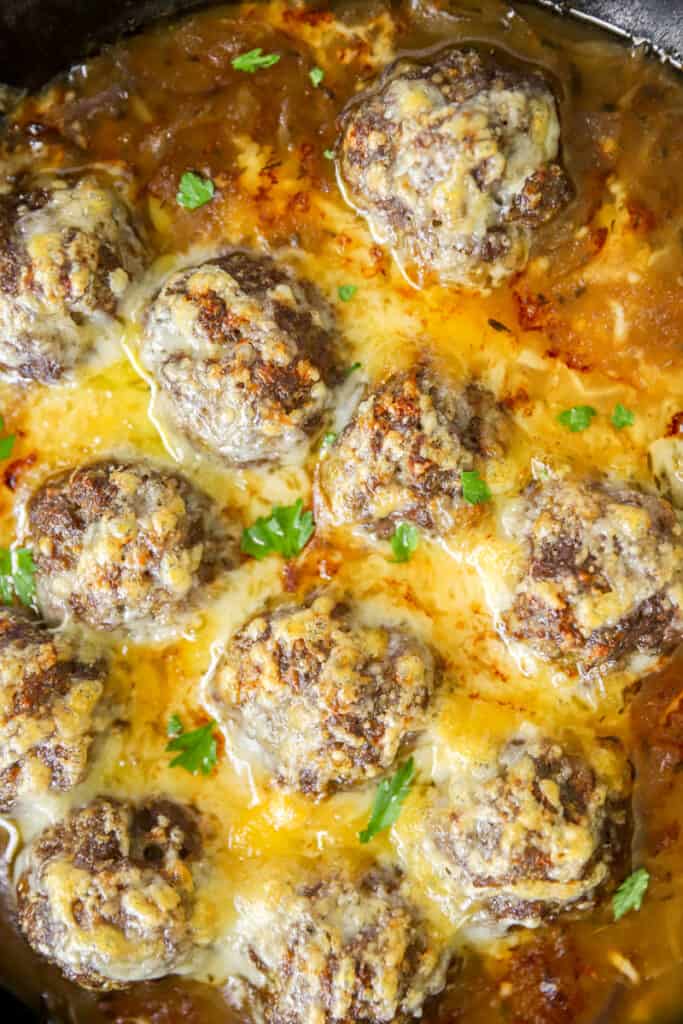 What ground beef to use
I recommend using a 90/10 for this recipe. These are meatballs, not burgers, so we really don't need the high fat content. We want the meat leaner, less fatty.
The best way to bake beef meatballs
Again, we're not looking for a juicy consistency like we do in burgers. The best way to bake beef meatballs so that they don't get all soggy and wet is to make sure the fat and oils bake away from the meat.
To do this I line my baking sheet with foil, then take a baking or cooking rack and add it on top, spraying it with cooking oil. Then, once I've formed my meatballs I place them on top of the baking rack. As they bake, the oils and fat will pool under the meatball leaving you with a nice and lean meatball!
Where to find Gruyere cheese
If this is your first French onion inspired recipe, this also might be your first time buying Gruyere! Go to your specialty cheese display area of your grocery store and you'll be sure to find it! There should be a few choices, this is the Gruyere I buy.
What sherry wine to use
When it comes to cooking wines like marsala or sherry, you have two options. First, you can go to your liquor or wine store and ask for it there. Or, you can go down the oils and vinegars aisle of your grocery store where there will be a shelf with some cooking wines. The grocery store cooking wine does have some preservatives in it, so if that's not to your liking go the wine store route. But for me, it's never bothered me so I've always used this sherry cooking wine and liked it just fine!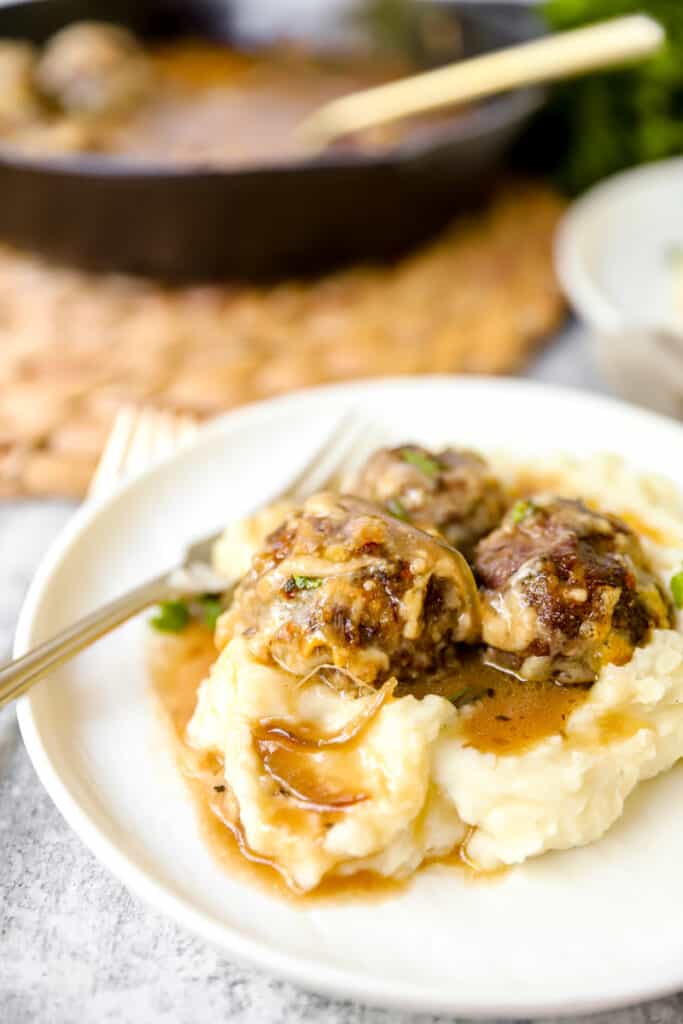 Want more meatball recipes? Here are more of my favorites!
Buffalo Chicken Meatballs
Chicken Piccata Meatballs
Chicken Parm Meatballs
Taco Meatballs
Easy Baked Meatballs
Greek Chicken Meatballs
And if it's more French onion inspired dishes you're searching for, you definitely want to try these:
French Onion Burgers
French Onion Grilled Cheese
Print
French Onion Meatballs
French Onion Meatballs combine the comforting flavors of the savory soup into a dinner ready meatball! Loaded with caramelized red onions and lots of melted Gruyere cheese, these are a filling and hearty dinner the family will love!
Author:
Prep Time:

20 minutes

Cook Time:

40 minutes

Total Time:

1 hour

Yield:

12 meatballs

Category:

Main Dish

Method:

Saute

Cuisine:

American
For the Onions
2 medium red onions, sliced very thin
2 tablespoons butter
1/4 teaspoon salt
1/2 teaspoon white sugar
For the broth
1 tablespoon butter
1 and 1/2 tablespoons flour
1/3 cup Sherry
1 can beef broth (14.5oz can)
1/2 teaspoon dried thyme leaves
For the meatballs
1 pound ground beef (use a 90/10)
1 teaspoon garlic powder
1/2 teaspoon onion powder
1/2 teaspoon salt
1/2 teaspoon dried thyme leaves
1/4 teaspoon pepper
1 teaspoon Worcestershire sauce
1 egg
1/4 cup Panko bread crumbs
1 cup grated Gruyere cheese, plus more for garnishing
Instructions
1. Preheat oven to 400 degrees.
2. In a cast iron skillet or oven safe skillet, heat the 2 tablespoons of butter over medium-low heat. Add the onions and sprinkle with the sugar and cook to caramelize for 35-40 minutes. I alternate heat between low and medium-low. Once done, season with the 1/4 teaspoon salt. Stir, then move to one side of the skillet to make room to make the broth. (Onions are finished in step 5 below)
3. While the onions are caramelizing, prepare the meatballs. In a large bowl season the beef with the garlic powder, onion powder, thyme, salt and pepper. In a separate smaller bowl, combine the egg, Panko, and Worcestershire. Pour this egg mixture into the bowl with the beef and stir gently to combine, then form your meatballs. I made 12 meatballs.
4. Spray a baking rack with cooking spray and place it on a foil-lined baking sheet and place your meatballs on top of the baking rack. Baking them slightly elevated like this will help avoid having soggy meatballs! Bake the meatballs for 20 minutes.
5. Getting back to the onions, once you have them caramelized and pushed to one side of the skillet, add the remaining 1 tablespoon of butter to melt. Add the 1/2 teaspoon dried thyme and cook for about 30 seconds then add the flour and stir to combine.
6.  Add the sherry and beef broth then raise the heat to a rapid simmer. Reduce heat to low simmer for 7-8 minutes to slightly thicken. Turn off heat. The consistency will be slightly thicker than broth, but not quite as thick as a gravy.
7. Add the cooked meatballs into the broth and top with the cheese. Place under the broiler for 5-7 minutes until the cheese is melty and browned.
Serve with mashed potatoes, top with additional cheese, and savor every bite!
Notes
If you don't have cast iron or an oven safe skillet, just pour everything into a casserole dish before broiling.
Keywords: french onion meatballs