You're probably familiar with French onion soup. That super cheesy soup that's usually served in little brown soup bowl crocks. Well what if I told you you could have all these flavors in a hearty and filling meatball?
I'm not a huge soup fan, so I put my thinking cap on and came up with these recipe for French Onion Meatballs. I first made these French Onion Burgers, and after eating these knew the flavors would be equally delicious in a meatballs!
Loaded with sweet caramelized onions infused with wine, meatballs perfectly seasoned, and lots of melted Gruyere cheese. These meatballs will become a family favorite!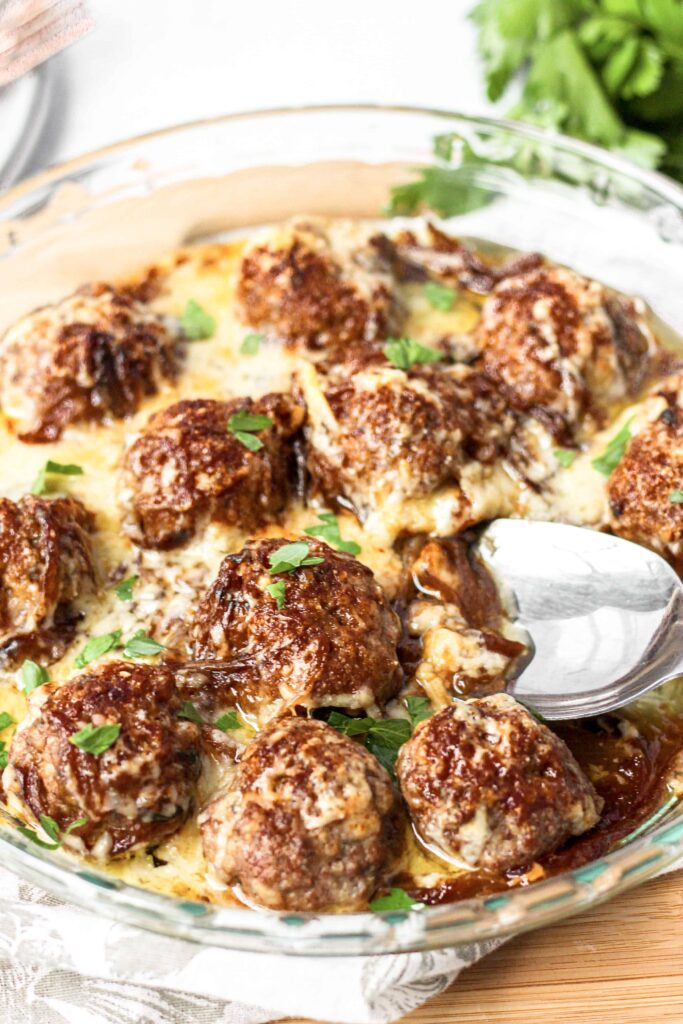 If you've been around here for a little while, you might know that I love a good meatball. If I can get it into a meatball you bet I'm going to try! Case in point, here are some of my meatballs recipes:
Buffalo Chicken Meatballs
Chicken Piccata Meatballs
Chicken Parm Meatballs
Taco Meatballs
Easy Baked Meatballs
Vodka Sauce with Meatballs
So I was on a mission to make my meatball version of the soup. I hope you like it as much as we did! I served mine on a plate, but how cute would it be to serve them in French Onion soup crocks like these I found on Amazon?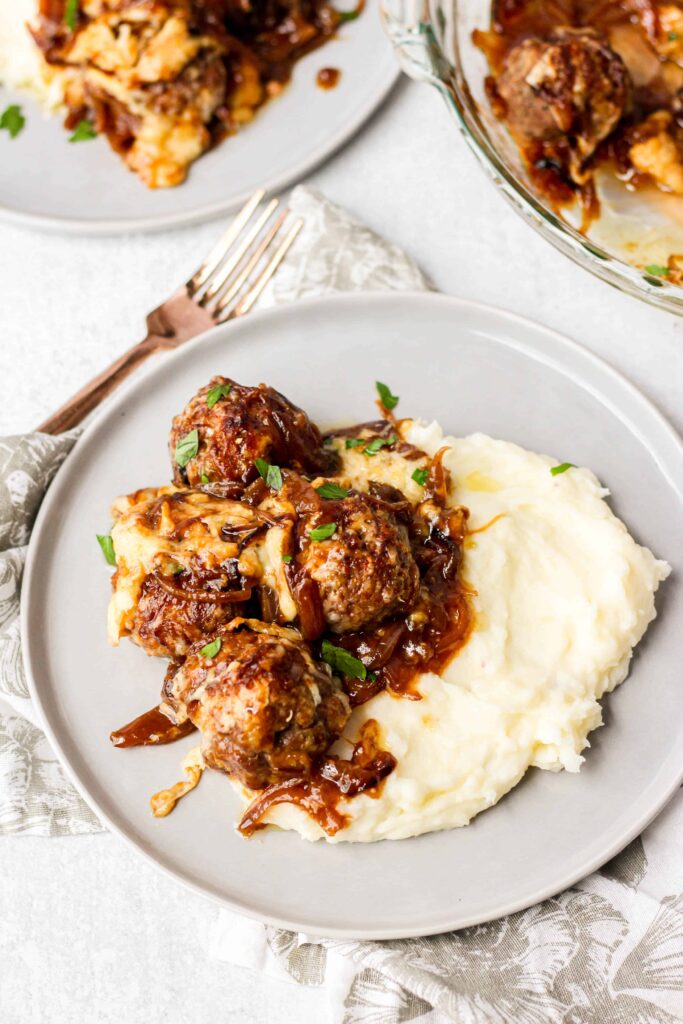 The recipe is made in two parts and then comes together for the final finish!
First, you'll need to make the onions and the broth while separately making the meatballs. At the end, you'll combine the onion blend with the baked meatballs, top with the cheese, and broil until melted and bubbly.
What I love about this is most of these ingredients I always have in my pantry, with maybe the exception of the Gruyere. So here's what you need to have on hand to make this!
Ingredients
2 medium red onions, sliced very thin
Olive oil
Salt & pepper
Dried thyme
White sugar
Butter
Dry red or white wine
Beef broth
Corn starch
Ground beef
Garlic powder and onion powder
Worcestershire sauce
1 egg
Panko bread crumbs
Gruyere cheese
How many of these do you have on hand right now?
Cooking tips and questions
What cheese can be used as a substitute to Gruyere?
Gruyere is a milk type of Swiss cheese. If you've never had it before, it's a crowd pleasing cheese since it's flavor isn't overly strong and isn't a pungent cheese like a Blue or Gorgonzola. I find Gruyere in my grocery store in the specialty cheese display. But, if you can't find it you can use traditional Swiss cheese instead.
What can I serve as a side dish with these meatballs?
Hands down I think mashed potatoes are one of the best sides for these. Mashed potatoes will soak up some of the broth, and if you have any extra cheese you can add to the potatoes to make nice cheesy mashed! For a little green, I think a green bean or broccoli would be good, or a Caesar salad! I also think these would be great on toasted roll as a sub sandwich.
How do I prevent my meatballs from getting soggy?
So this is why I always bake my meatballs elevated on a baking rack and never directly on the baking sheet. When you bake the meatballs, the fats are going to bake out and pool underneath the meatball. If your meatball isn't elevated, it means it's sitting in these fats and staying a little too wet. Raise them up on the baking rack and you'll still get all the flavors of a deliciously moist meatball without the soggy fat.
Can I save the leftovers?
Yes! Just save them in an air tight container. Personally I like to eat leftovers within 3 days for the best results.
How long to meatballs need to cook?
Unlike other ground beef recipes like a burger, meatballs need to be cooked all the way through. We don't want meatballs with any pink inside like you'd get with a medium or medium rare steak. From experience, I've found that baking in a 400 degree oven for about 20-22 minutes will get the best results with a done meatball. If you're baking in a sauce you may need to leave them in a little longer.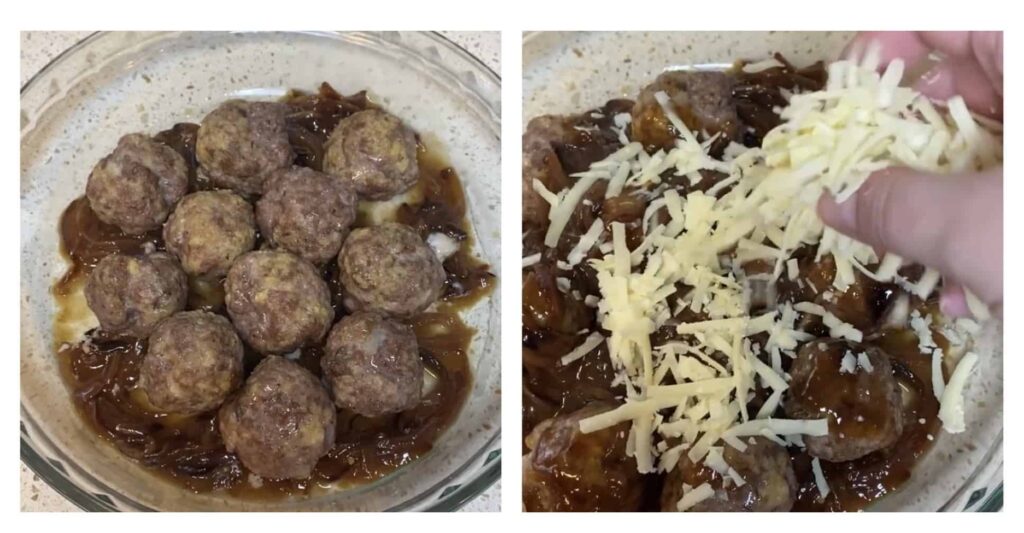 Need more dinner inspiration for the week?
Check out some more of my best recipes I think you might like!
Enchilada Tacos
Fajita Pasta Bake
Pesto Pizza
Cajun Mac and Cheese
Creamy Mexican Corn Chowder
Roasted Red Pepper Sauce Pizza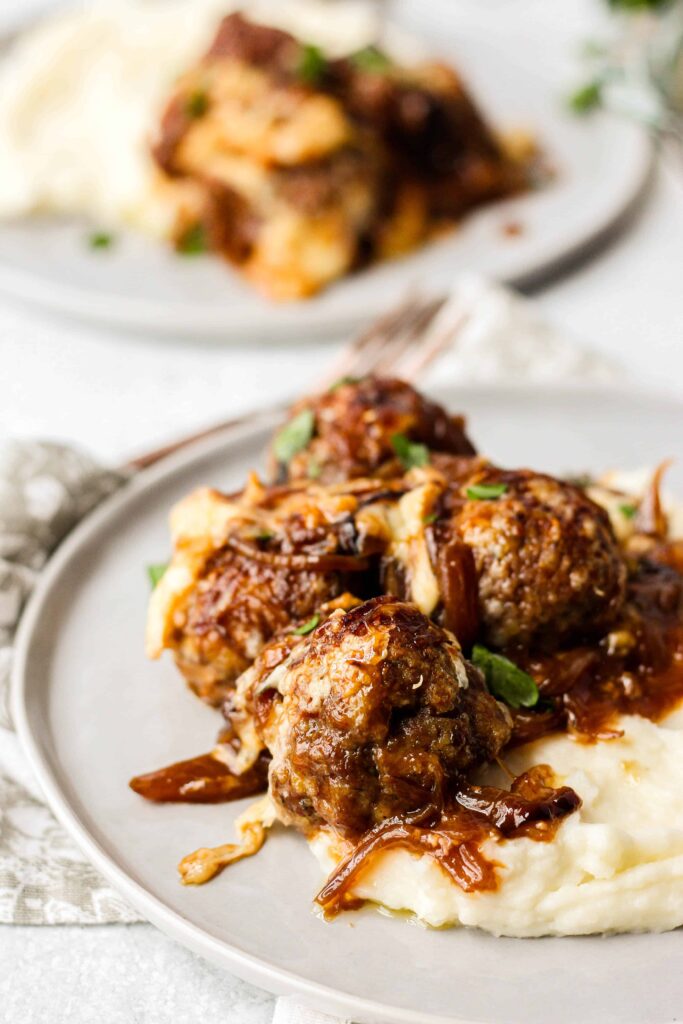 Print
French Onion Meatballs
French Onion Meatballs combine the comforting flavors of the savory soup into a dinner ready meatball! Loaded with caramelized onions and lots of melted Gruyere cheese, these are a filling and hearty dinner the family will love!
Author:
Prep Time:

20 minutes

Cook Time:

50 minutes

Total Time:

1 hour 10 minutes

Yield:

10-12 meatballs

Category:

Main Dish

Method:

Saute

Cuisine:

American
For the Onions
2 medium red onions, sliced very thin
2 tablespoons olive oil
1/4 teaspoon salt
1 teaspoon dried thyme
1 teaspoon white sugar
1 tablespoon butter
1/4 cup dry red or white wine
1 cup beef broth
3 teaspoons corn starch
For the Meatballs
1 pound ground beef
1/2 teaspoon garlic powder
1/4 teaspoon onion powder
1/2 teaspoon salt
1/4 teaspoon pepper
1 teaspoon Worcestershire sauce
1 egg
1/4 cup Panko bread crumbs
5oz Gruyere cheese
Instructions
1. In a large pot or dutch oven if you have one, heat the olive oil over medium heat. Add the onions and season with the 1/4 teaspoon salt and cook for 30 minutes then add the tablespoon of butter. Stir to coat the onions and cook for another 10 minutes.
2. While the onions are caramelizing, prepare the meat. In a large bowl season the beef with the garlic powder, onion powder, salt and pepper. In a separate smaller bowl, combine the egg, Panko, and Worcestershire. Pour this egg mixture into the bowl with the beef and stir gently to combine, the form your meatballs. I made 11 meatballs.
3. Preheat the oven to 400 degrees. If you have one, spray a baking rack with cooking spray and place it onto the baking sheet and place your meatballs on top of the baking rack. Baking them slightly elevated like this will help avoid having soggy meatballs! Bake the meatballs for 20 minutes.
4. While the meatballs are baking it's time to finish the onions and make the broth. In a jar, pour the beef broth and add the corn starch. Cover the jar and shake vigorously to combine, set aside and if there are any visible clumps of the corn starch remove those with a fork.
5. After the onions have cooked for 40 minutes, add the thyme,  1/4 cup of wine, the beef broth, and the sugar and raise the heat to a boil then reduce heat to simmer for 2 minutes.
6. To finish the dish, add the cooked meatballs to a casserole dish. Top with the onions, then with the shredded Gruyere cheese. Broil for 5-6 minutes until the cheese is melty and browned.
Keywords: french onion meatballs