French onion grilled cheeses are like French onion soup reimagined in grilled cheese form! Loads of savory caramelized red onions, Gruyere cheese, and a delicious dipping broth for the perfect finishing bite.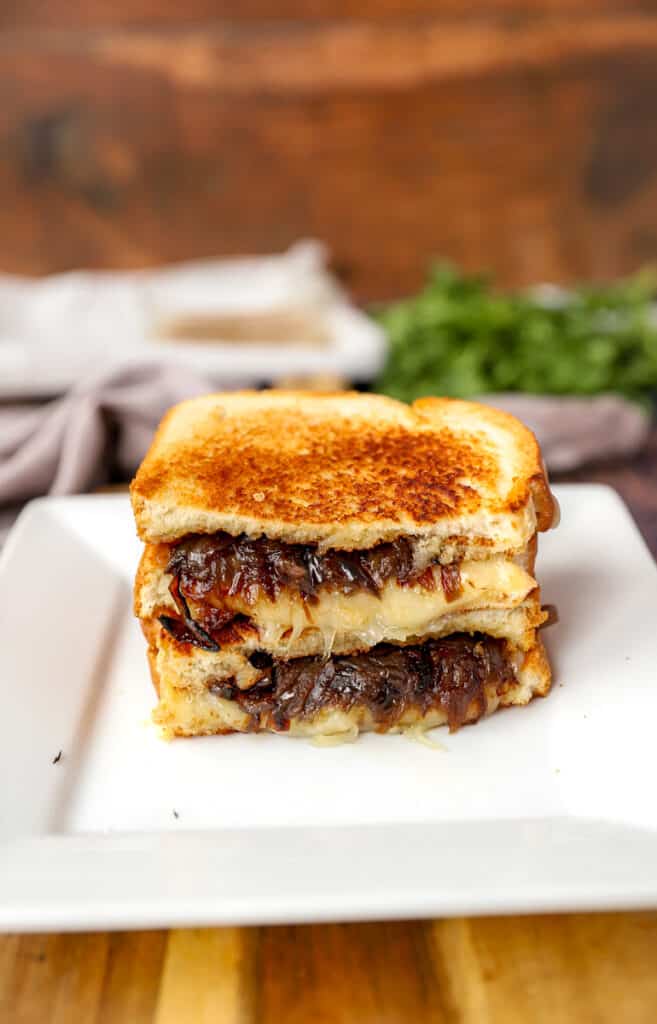 Who doesn't love a grilled cheese? It's comforting, a bit nostalgic, and of course delicious with the combination of buttery toasted bread and gooey cheeses. If you're wanting to take the concept of a grilled cheese and give it a grown-up spin, this recipe is definitely for you.
This French onion grilled cheese is worthy of sitting at the grown-ups table for sure! While I don't think this is a difficult dish to make, you do need to make sure you have a bit of time to prepare this. The onions need to caramelize for about 35 minutes, so from prep to finished sandwich you'll need to about about 50 minutes to play with. But I promise it's worth it!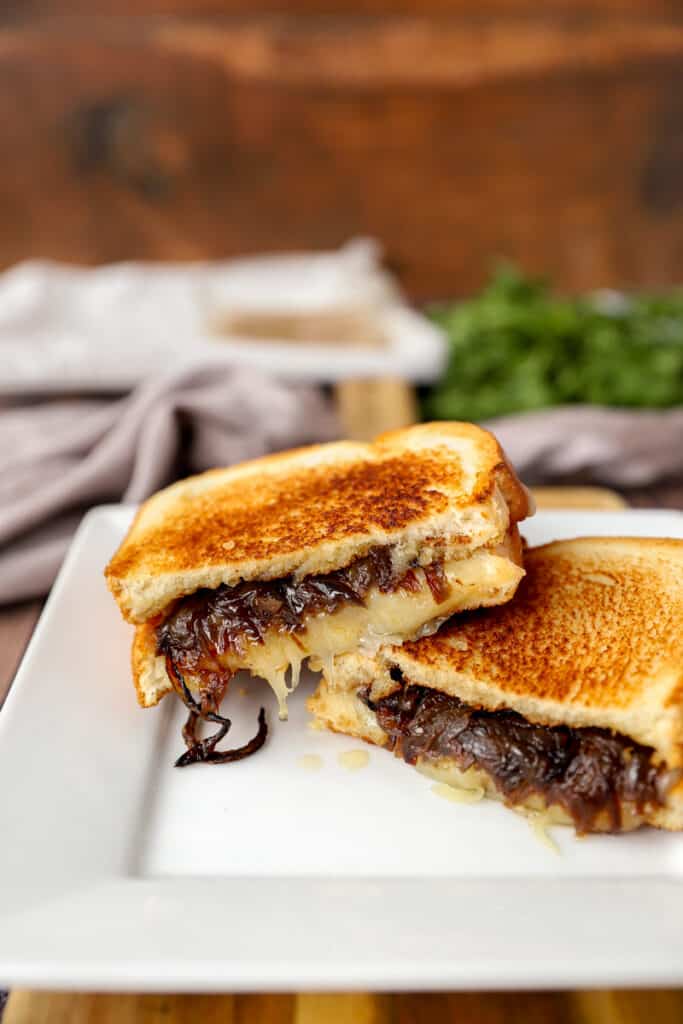 WHAT ONIONS TO CARAMELIZE
Whether you buy yellow, white, or red onions they can all be caramelized! So which should you use? Many French onion recipes call for yellow onions but I chose to go with red onions here.
Just look at this gorgeous mound of caramelized onions below. I chose red onions because I wanted to really reach deep color. You're not going to get this with a yellow onion, which would be a bit more mustardy-beige. Not only do I prefer the finished color of the onions, but I love the extra flavor you get from caramelizing red onions. Once you pair them with the Gruyere cheese it's one epic bite!
Want more onion reading material? Check out all the details on sweet, red, and white onions!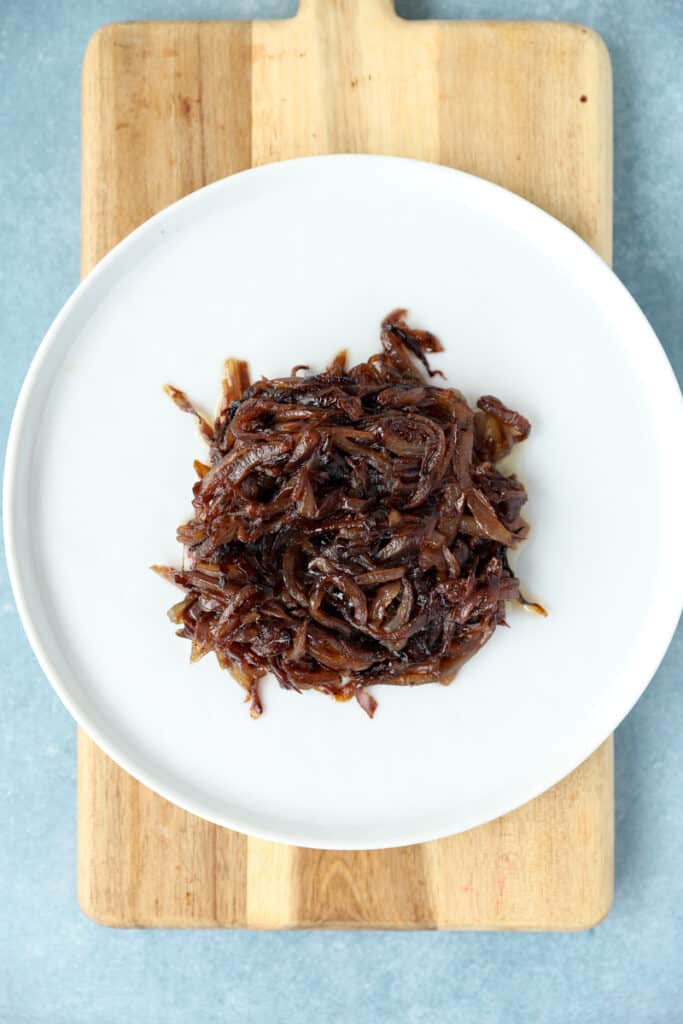 GRILLED CHEESE DIPPING BROTH
So we're leveling up this French onion grilled cheese with red onions, but there's one other show-stopping difference about my recipe. Unlike other recipes that are strictly the sandwich, with these you'll make a quick dipping broth that really makes this like a deconstructed French onion soup sandwich!
Once the onions are caramelized, you'll add some beef broth, Sherry wine, and seasonings to the Dutch oven. Let that cook to thicken for about 5-7 minutes and that's it! It's super simple but really makes this an epic grilled cheese.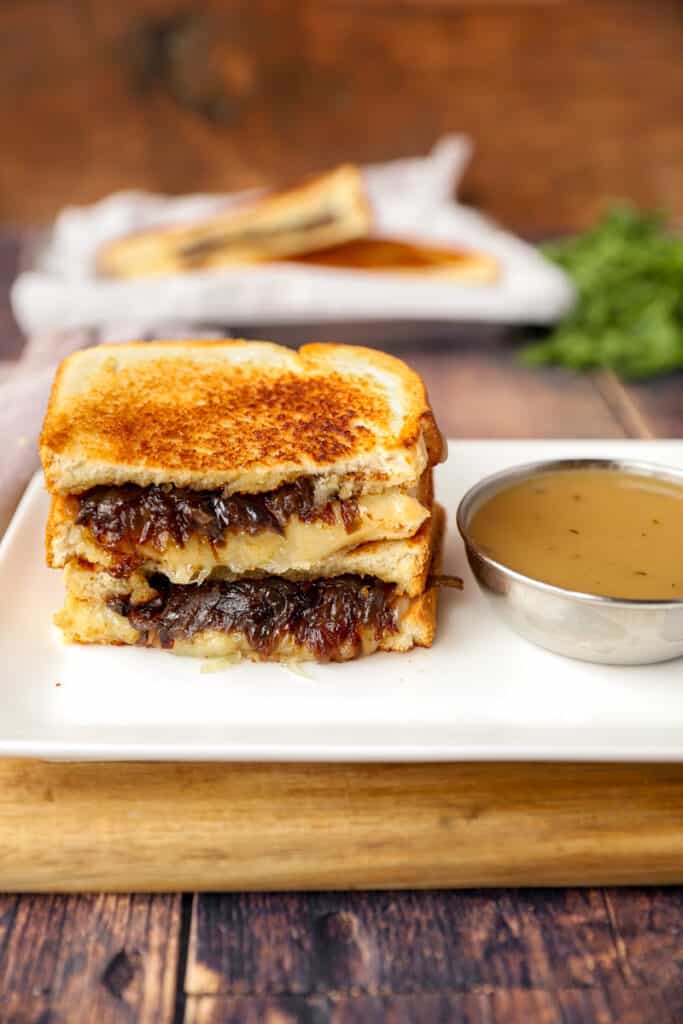 Want more inspired grilled cheese recipes? Here are some more to try!
Italian Grilled Cheese
Pimento Cheese Grilled Cheese
Oaxaca Grilled Cheese
More French onion inspired recipes!
French Onion Meatballs
French Onion Burgers
Got red onions? Use them up in some of these recipes
Pickled Red Onions
Taco Pasta Salad
Grinder Salad
Print
French Onion Grilled Cheese
An epic sandwich that changes the grilled cheese game! Savory caramelized red onions, Gruyere, and a delicious dipping broth for the perfect bite.
Author:
Prep Time:

15 minutes

Cook Time:

50 minutes

Total Time:

1 hour 5 minutes

Yield:

2 – 3 grilled cheeses

Category:

Main Dish

Method:

Saute

Cuisine:

American
For the Grilled Cheese
4 red onions, sliced thin
4 tablespoons salted butter
4-6 slices hearty white bread
3 cups shredded Gruyere cheese
1 teaspoon sugar
For the dipping broth
2 tablespoons salted butter
2 tablespoons all purpose flour
1/3 cup sherry wine
1 can beef broth (14.5oz can)
1/2 teaspoon dried thyme leaves
1/4 teaspoon pepper
Instructions
1. In a Dutch oven, melt the 4 tablespoons of butter over medium heat. Add the sliced red onions and stir to coat. Sprinkle with the teaspoon of sugar. Cook over medium heat, alternating between medium and medium low to prevent the onions from burning. Stir occasionally, you want to give them time to sit on the bottom of the pot to get browned, but stirring enough to prevent burning. Cook for 35 minutes, sprinkle with a bit of salt then spoon into a bowl and set aside.
2. To make the dipping broth, to the same Dutch oven add the 2 tablespoons of butter to begin to deglaze the bottom of the pot. Whisk in the 2 tablespoons of flour, then the thyme, sherry, beef broth, and pepper. Stir to combine then heat over medium heat for 3-5 minutes until it slightly thickens into a dipping consistency. Pour into a bowl and set aside until the grilled cheeses are done.
3. To make the grilled cheeses, butter each side of the hearty bread and add to a pan over medium heat. Once the first side is browned and toasted, flip the bread and to one side add as much cheese and onions as you'd like, then top with the other slice of bread. Continue to toast until the cheese has melted.
4. Slice and serve with a bowl of the dipping broth.
Notes
I don't add salt to the dipping broth because the broth has a food amount of sodium already. Give it taste and salt to your liking if needed!
Keywords: french onion grilled cheese