The beloved grilled cheese is getting a fun twist with this Italian Grilled Cheese! Provolone and Asiago cheeses combine with crispy prosciutto to make this super savory and very cheesy grilled cheese.
Recipe at a Glance
Prep time: 10 minutes
Cook time: 15 minutes
Notes: Get the prosciutto in the oven first as you prep the rest of the ingredients, this will help get this on the dinner table fast!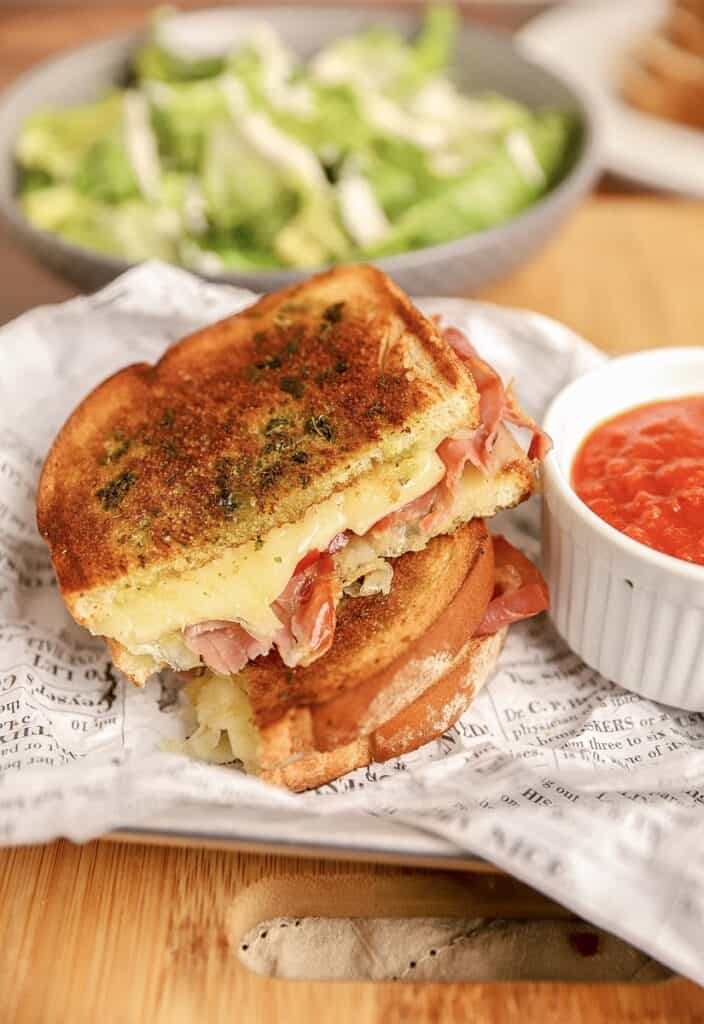 This definitely isn't your average grilled cheese. Using the Italian cheeses provolone and Asiago really give this a gourmet flavor! And are you seeing that that gorgeous buttery crust on the bread? You're not spread just plain old butter on the bread slices…oh no. You'll be making a savory basil butter that takes this grilled cheese to the next level.
How to make basil butter
Trust me, you don't want to skip this when you're making this grilled cheese. It's the little things like this that take this from be "ok" to "amazing"!
You'll only need two ingredients, and I bet you can guess what they are:
Salted butter
Finely chopped basil
When it comes to the basil, you can buy fresh basil an chop it yourself, but I absolutely love making this super easy and buying this pre-chopped basil. I can usually find this against the wall in the produce section where they sell the small single packets of herbs.
To make the basil butter just combine softened butter with 2-3 teaspoons of the chopped basil. Then just spread on the bread and toast!
I also use the basil butter on the rolls of my Meatballs Subs. It's SO good!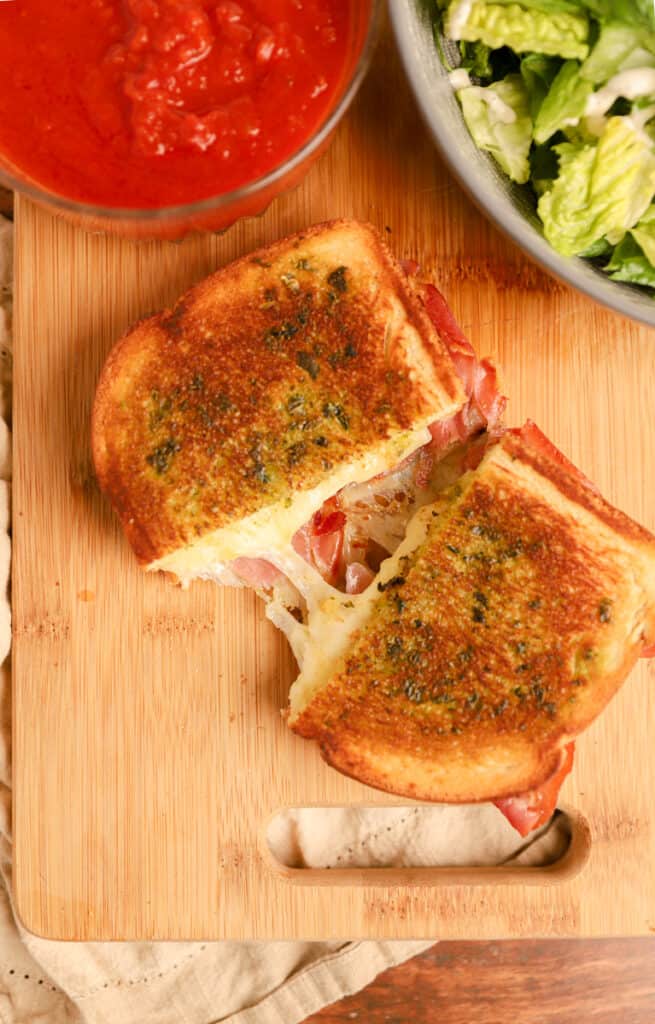 All about crispy prosciutto
This isn't just a cheesy grilled cheese…it's a grilled cheese with crispy prosciutto.
It's so easy to make, but really level this up to make an epic sandwich.
First you need a 3 ounce package of sliced prosciutto. Next, line a baking sheet with foil and add a baking rack. Add the slices of prosciutto in a single layer on the rack then bake for 10 – 12 minutes in a 400 degree oven until crispy!
You can also used crispy prosciutto in my Rigatoni Vodka and Vodka Sauce Pizza!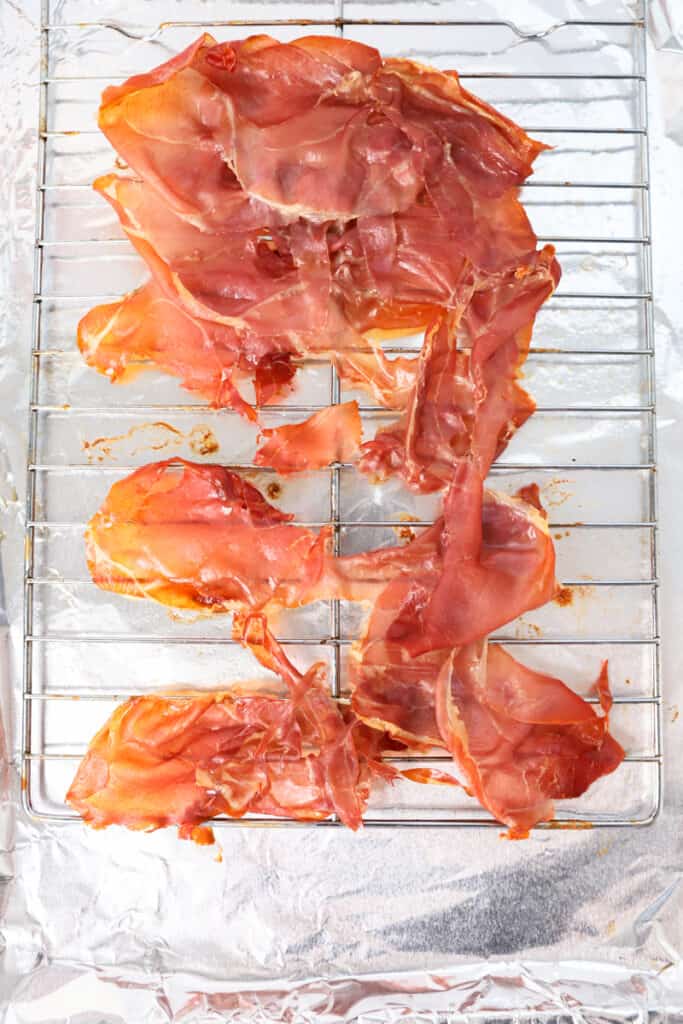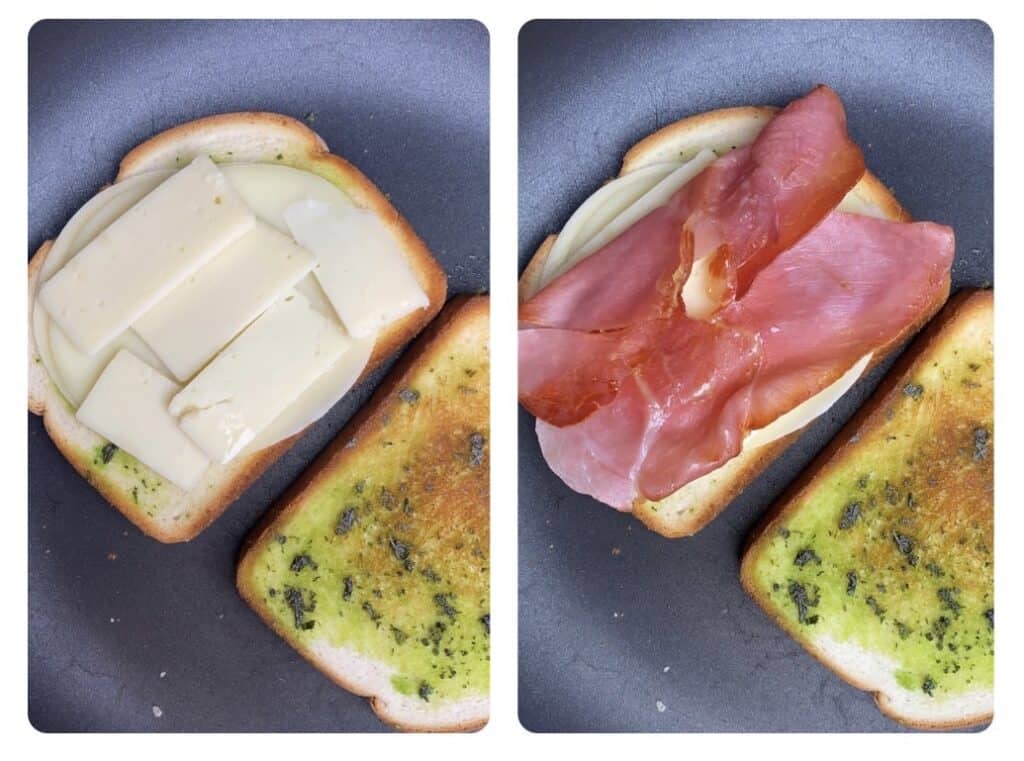 Cooking tips
My favorite cheese combination is the provolone and Asiago. Both have a distinct flavor that combine deliciously together! I've tried this with provolone and Mozzarella and I found it to be a little to chewy.
Make sure you season each side of the bread with a little salt and garlic powder.
Get the prosciutto in the oven first, then start prepping the rest of the ingredients and toasting the first side of the bread. This will help get this on the dinner table fast!
Cook the sandwich over medium heat. This will help the cheese melt and the bread brown without burning the bread.
Slice the Asiago thin! If you slice it too chunky and thick it will melt unevenly with the provolone, and you don't want that! We want both cheeses to be soft and melty.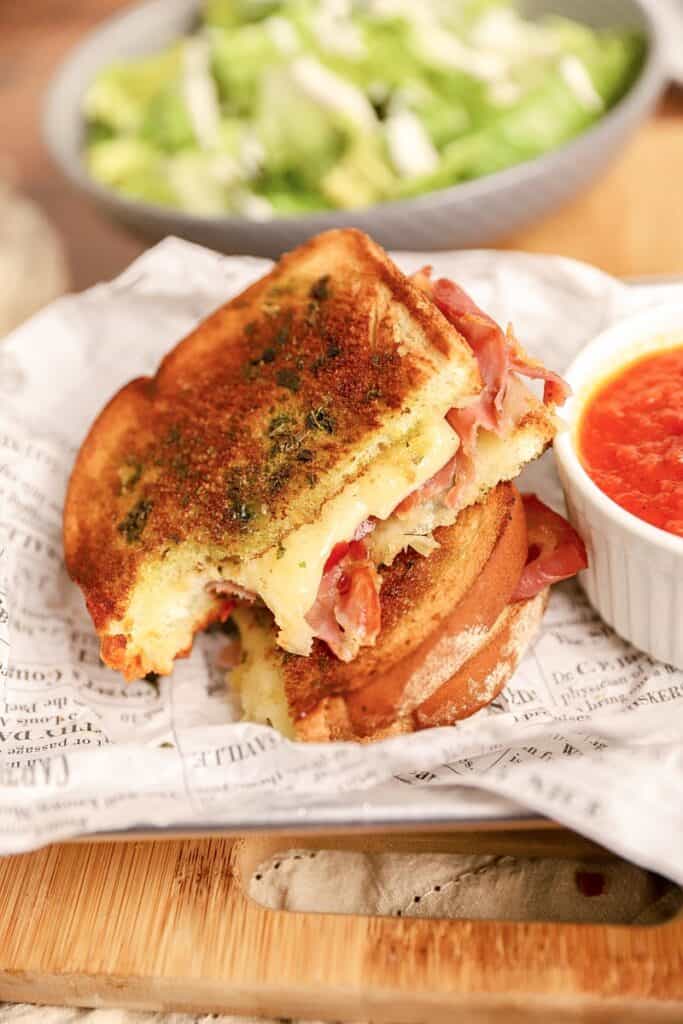 Grilled cheese lover? Check out the other grilled cheeses on the blog!
Oaxaca Grilled Cheese
Pimento Grilled Cheese
Print
Italian Grilled Cheese
A fun spin a a classic grilled cheese. Provolone and Asiago cheeses combine with crispy prosciutto to make and epic Italian grilled cheese!
Author:
Prep Time:

10 minutes

Cook Time:

15 minutes

Total Time:

25 minutes

Yield:

2 sandwiches

Category:

Main Dish

Method:

Saute

Cuisine:

American
4 slices of Sourdough bread
3-4 tablespoons salted butter
2 teaspoons finely chopped basil
3 ounce package of sliced prosciutto
6 slices provolone cheese
6-8 slices of Asiago cheese (Cut from the triangle block of cheese. If you can find pre-sliced Asiago then use one large slice per sandwich)
Salt and garlic powder for seasoning
Marinara sauce for dipping
Instructions
1. Preheat oven to 400 degrees. Line a baking sheet with foil, then add a baking rack. Add the prosciutto to the baking rack in a single layer, then bake for 10 – 12 minutes until crispy. Remove from the oven and carefully blot with a paper towel to absorb any excess oil. Set side until you're ready to add this to the grilled cheese.
2. Make the basil butter by mixing the softened butter with the chopped basil.
3. Heat a large frying over medium heat. To make one sandwich, take two slices of the bread and spread some of the basil butter on one side, season with salt and garlic powder. Add buttered side down into the pan, then spread more basil butter on the face-up side. Season again with salt and garlic powder.
4. When the bread has browned, flip to toast the other side. On one side add 2 slices of provolone, as much Asiago as you'd like, 2 slices of the crispy prosciutto, and then lastly one more slice of provolone. 
5. Combine the two bread slices together to form the grilled cheese, then continue to toast until the bread is browned and the cheeses are melty.
6. Serve with warmed marinara and enjoy!
Keywords: Italian grilled cheese