Meatball subs are a perfect way to use leftover meatballs and turn them into a new and delicious dinner!
I make my Easy Baked Meatballs one night for a spaghetti and meatballs dinner, then the next night I whip of these subs in less then 15 minutes. Easy, fast, and a cost effective way to avoid tossing leftovers!
Recipe at a Glance
Prep time: 10 minutes
Cook time: 5 minutes
Notes: Just warm up your leftover meatballs and sauce, add some basil garlic butter to the bread, load up the cheese then broil!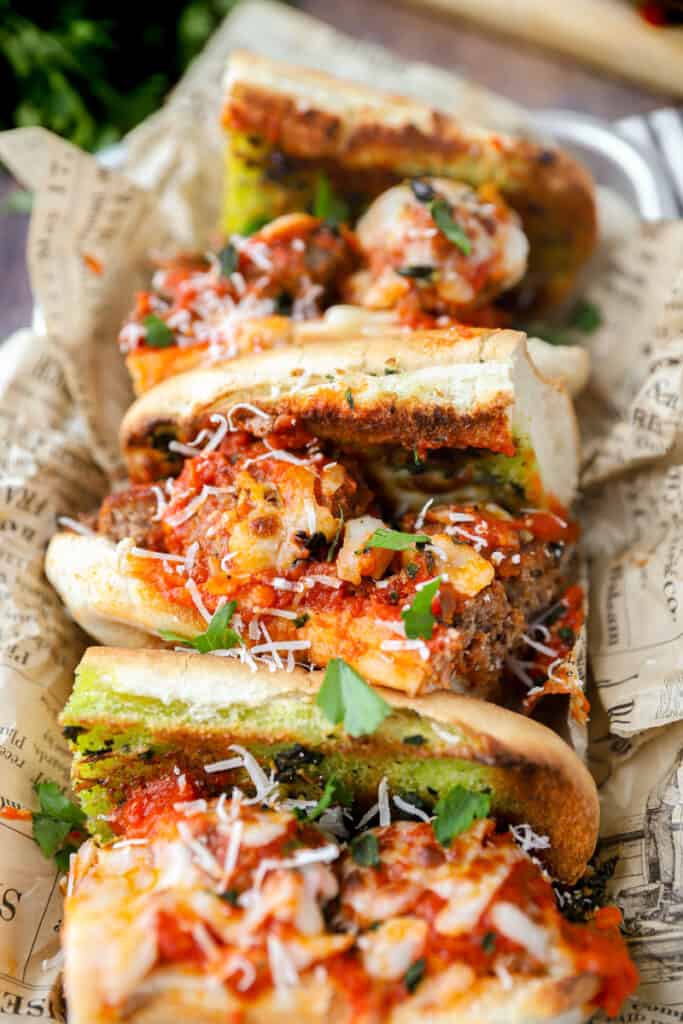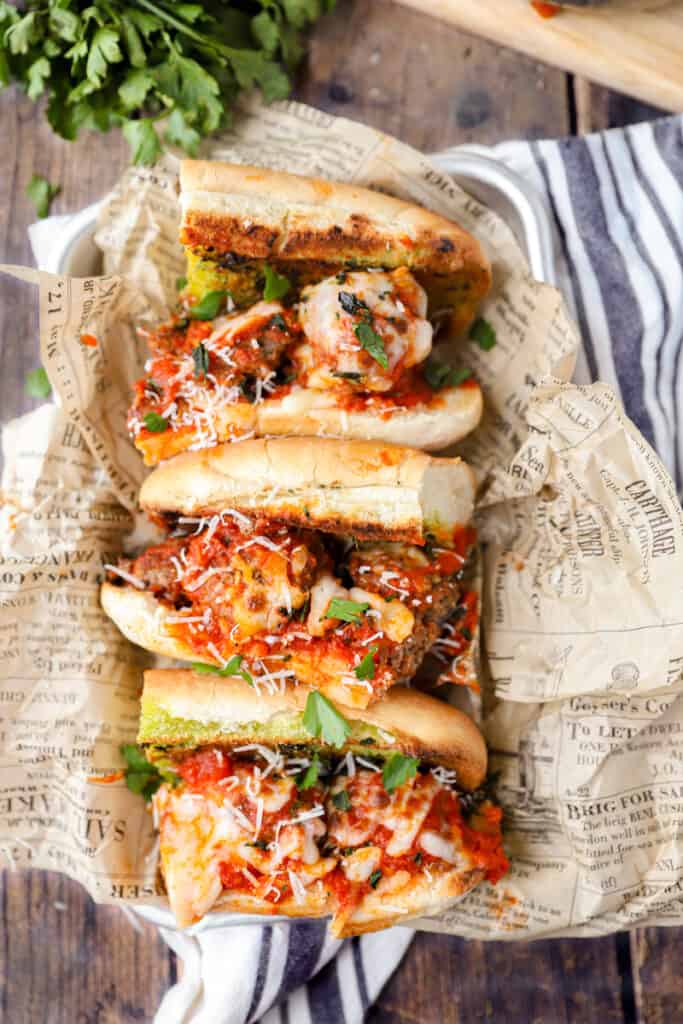 Now, I'm not opposed to leftovers, but for me it really helps to be able to repurpose them a bit into something different. Whether you're using leftover meatballs or using frozen meatballs, the best thing about this recipe is it's fast, but totally not lacking in flavor.
And it's thanks to this basil garlic butter you'll make.
That's right, make this basil garlic butter in a couple minutes and it's a game changer! Spread this on the one side of bread without the meatballs and it adds so much garlicky savory flavor to each bite.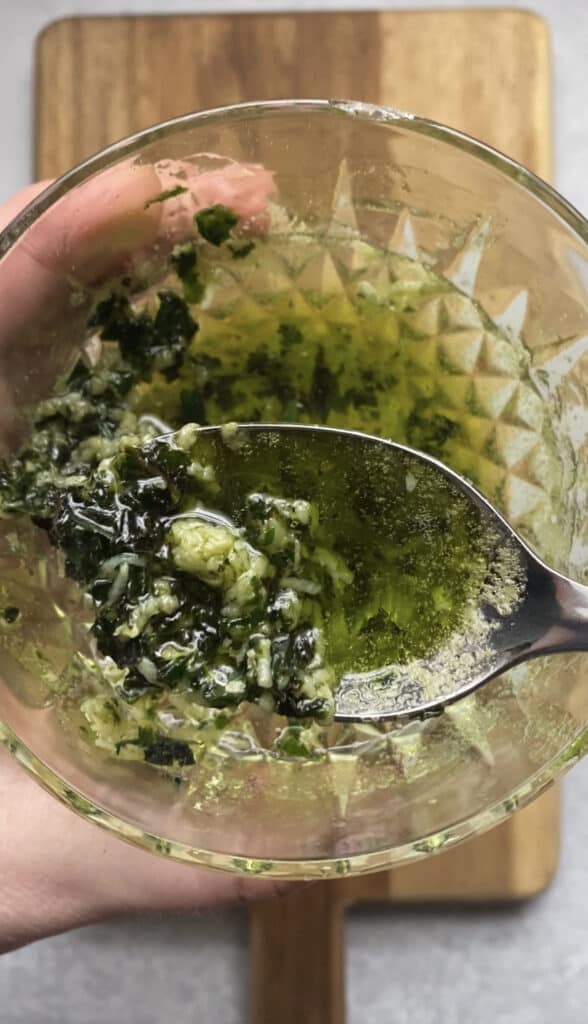 You'll also want to heat up the sauce you're using and the meatballs. Since you'll only be broiling the cheese on top it's not going to be hot enough for long enough to get the meatballs back to a hot temperature. So, warm those up in the microwave first before assembling the meatball parm sandwich.
And if you need a recommendation on a good pasta sauce, I always keep a jar or two of Rao's in my pantry.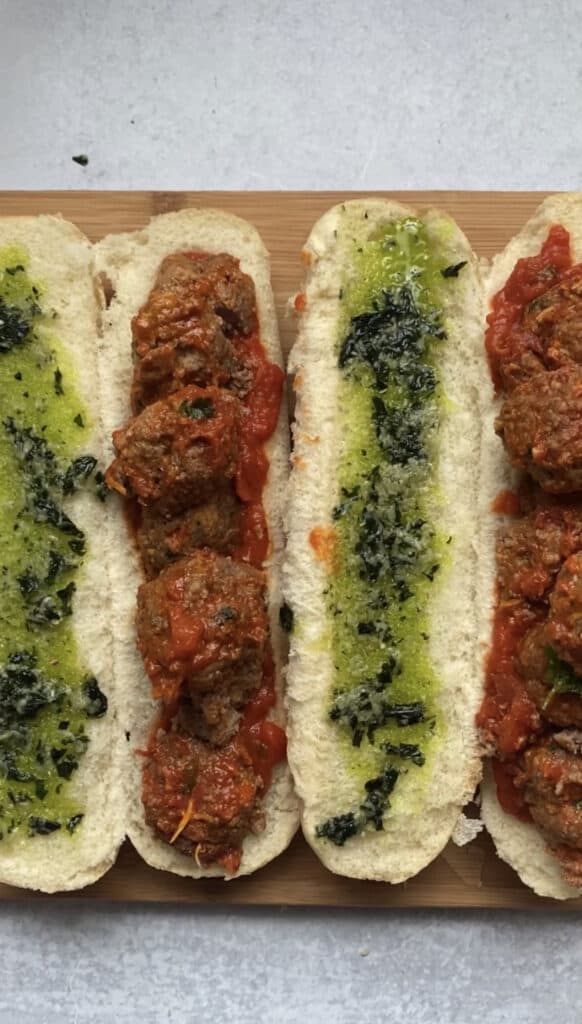 What to serve with meatball subs
To be honest these are quite hearty and can be the whole meal on their own, but here are a few side dish recommendations to complete the dinner!
Salad. I love a crisp Caesar salad or a simple garden salad.
Greens. Zucchini would be a great veg to add to your plate!
Pasta. Can't go wrong with boiling up some more noodles and loading them up with sauce.
Fries. I'm not one to shy away from more carbs on my plate.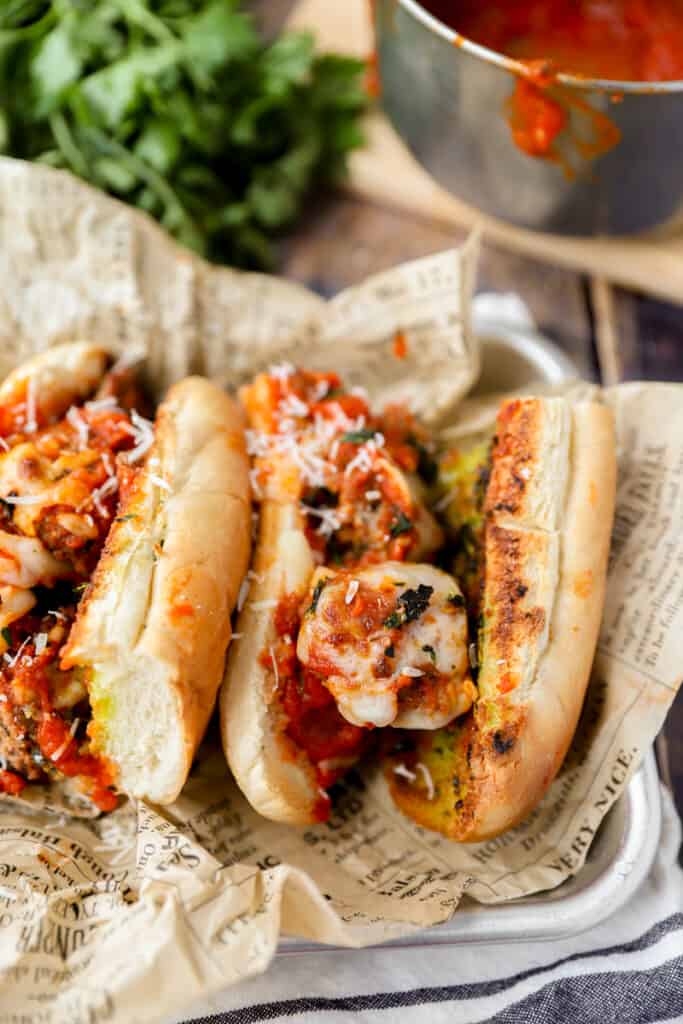 Cooking tips
When you're reheating the meatballs, slice them in half first! It will help them heat up faster without over cooking them and drying them out.
Unless you have some leftover homemade sauce too, use a jar of your favorite pasta sauce to make this extra easy.
I use Mozzarella, but you could also add other cheeses like Provolone and Parmesan.
Use very study and thick bread. Since you're adding sauce to this you don't want to make it overly soggy.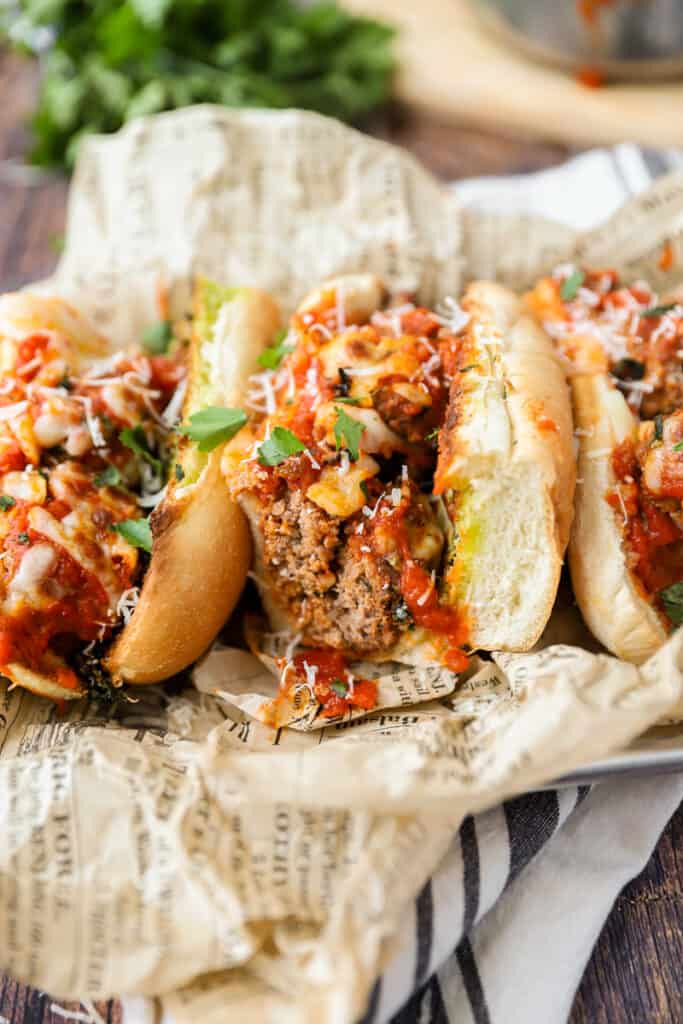 Looking for some more Italian inspired dinner recipes? Here are some of my favorites! The Chicken Parm Meatballs are one of the most popular recipes EVER!
If you made this recipe let me know what you thought in the comments!
Print
Meatball Subs
An easy meal to use leftover meatballs! Use your favorite pasta sauce, lots of cheese, and a basil garlic butter for a flavorful fast dinner!
Author:
Prep Time:

10 minutes

Cook Time:

5 minutes

Total Time:

15 minutes

Yield:

2 subs

Category:

Main Dish

Method:

Bake

Cuisine:

American Italian
 6-8 meatballs, cut in half
1 jar pasta sauce
Thick sub rolls or Italian rolls
2 tablespoons butter
2 cloves garlic, grated
2 teaspoons finely chopped basil, I use this brand of pre-chopped basil
Mozzarella cheese
Instructions
1. Make the basil garlic butter by melting the butter in a small pot over medium low heat. Add the grated garlic and the basil and cook for 1 minute. Pour into a heat safe bowl. If you're making more than 2 subs I recommend increasing the amount of butter you melt to 3 or 4 tablespoons so you have enough for all the subs. 
2. In either a pot or the microwave, warm up the sauce and the meatballs.
3. Lay your sub rolls on the baking sheet. On one side spread some of the basil garlic butter. On the other side spoon some of the sauce on top (not too much so the bread doesn't become soggy). Then, add the meatballs, spoon more sauce over top, and add as much cheese as you'd like.
4. Place under the broiler for about 3-4 minutes to brown and melt the cheese. If the exposed bread on the other side is getting too dark you can cover the bread with foil as the cheese side continues to cook. Always watch food under the broiler very closely as things can burn quickly and cook times will vary.
Enjoy!