Homemade smooth spaghetti sauce is an easy pasta sauce the whole family will love! Combine a few ingredients, let it simmer, then eat! You can let it simmer for hours until you're ready to serve dinner, or eat right away if it's a busy weeknight. And you use this in many more recipes like baked ziti, lasagna, stuffed shells, ravioli, or even pizza.
Recipe Info
Prep time: 15 minutes
Cook time: 1 hour
Notes: Just add the ingredients, mix, and let it simmer! This is the best red sauce when you want smooth sauce that can be used in a variety of recipes.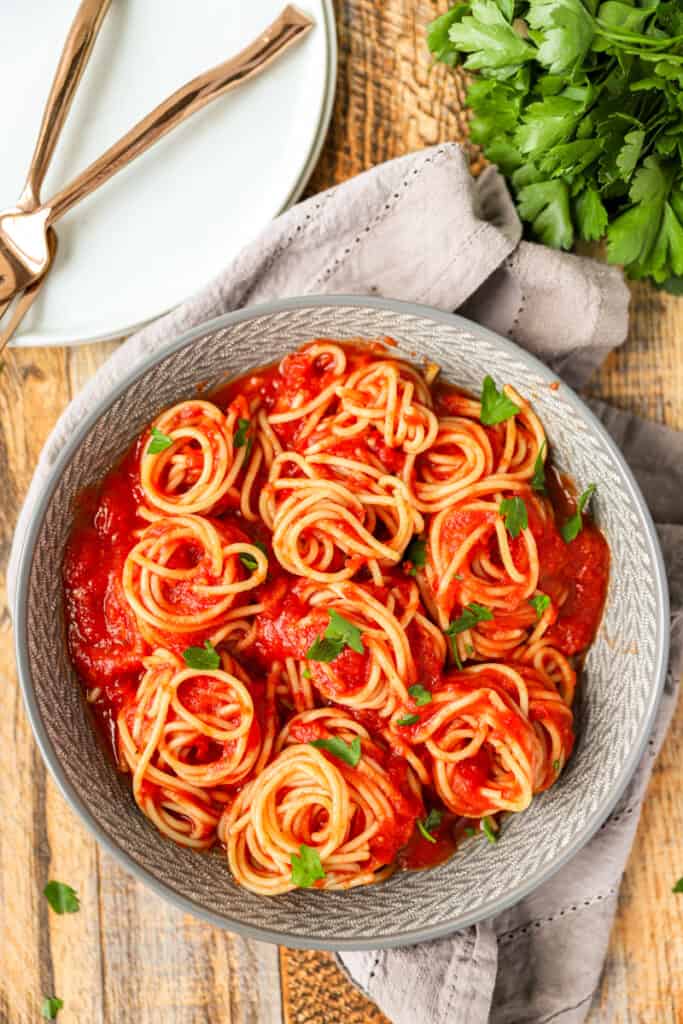 A good spaghetti dinner is one of the ultimate comfort foods, isn't it? Serve with a buttery piece of garlic bread, a fresh salad, and if you want to add some meat you can make my Easy Baked Meatballs.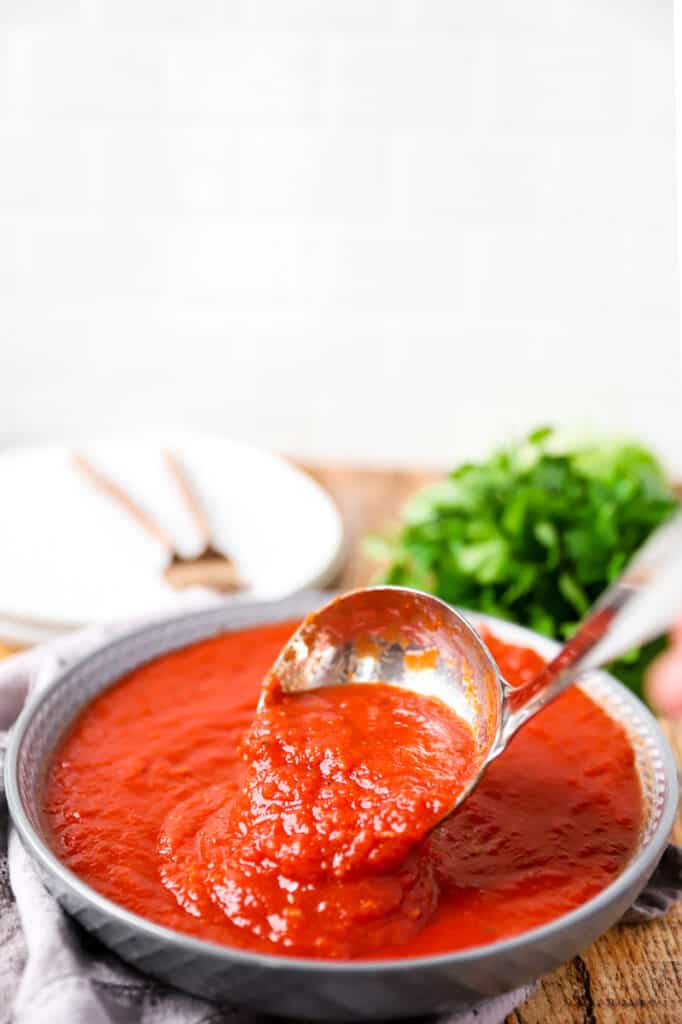 Ingredients
Here's what you need to make this red sauce! I love this because it's intended to be meatless and totally smooth, so you're not missing anything by having to leave out the meat! Stock up on the crushed tomatoes and tomato puree so you've always got the ingredients on hand to make this.
Crushed Tomatoes and Tomato Puree. Choose your favorite brand. You'll need two 28 ounce cans of the tomato puree, and one 28 ounce can of the crushed tomatoes.
White wine. Go with a dry white wine. If you want to skip the wine you can use chicken broth instead, but I love the extra depth of flavor you get from cooking with wine. And maybe I enjoy a few sips along the way :).
Garlic and Olive Oil. Wouldn't be an Italian recipe without some garlic, right? You'll use 4 cloves of garlic and 1 tablespoon of extra virgin oil oil.
White sugar. The tomatoes can be a a little bitter and acidic, adding a little white sugar helps sweeten them up.
Seasonings. Last, you'll need some garlic powder, onion powder, salt, and pepper!
Pasta. Not part of the sauce, but you'll need your favorite pasta! I actually prefer thin spaghetti, but use your favorite noodle or add to pizzas, baked pastas, you could even use this as a dipping sauce for Mozzarella sticks!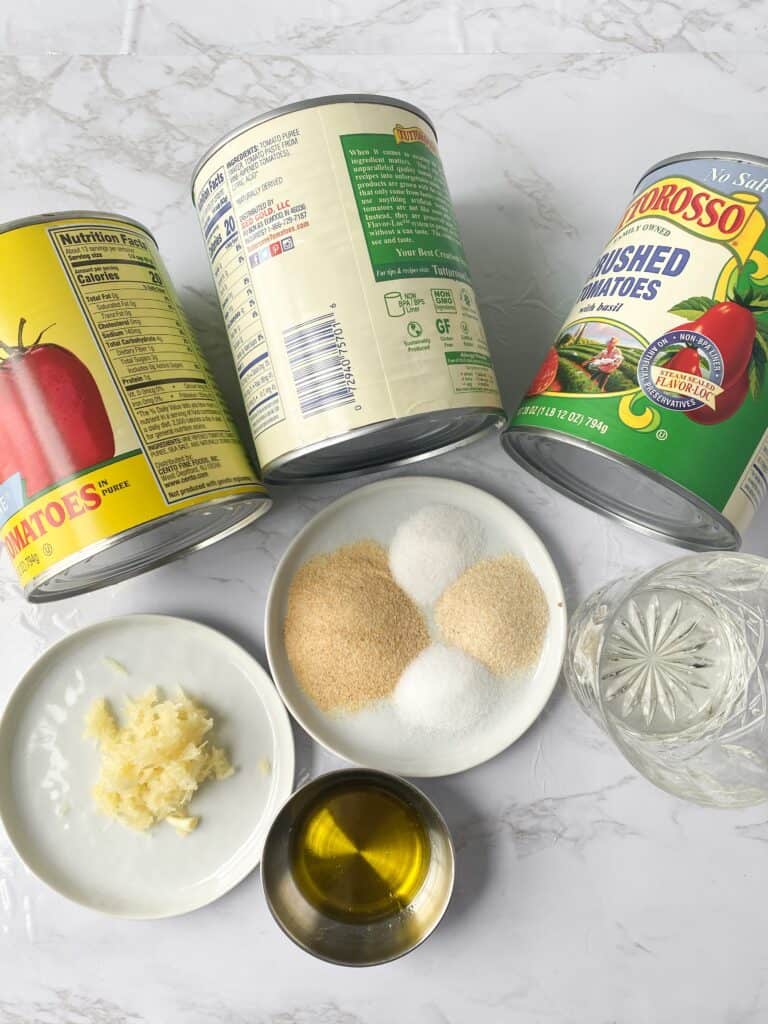 Like easy dinner recipes? That's my specialty! Check out these dinners you might want to add to you dinner menu this week.
Creamy Pesto Pasta
Easy Alfredo Sauce
Creamy Sun-dried Tomato Pasta
Marsala Cream Sauce
Sherry Cream Sauce Pasta
Vodka Sauce
Vodka Sauce Pizza
Baked Penne Vodka
Fajita Pasta Bake!
And if you're looking for something that's not a pasta try my Roasted Red Pepper Sauce Pizza or Crunchy Taco Meatballs!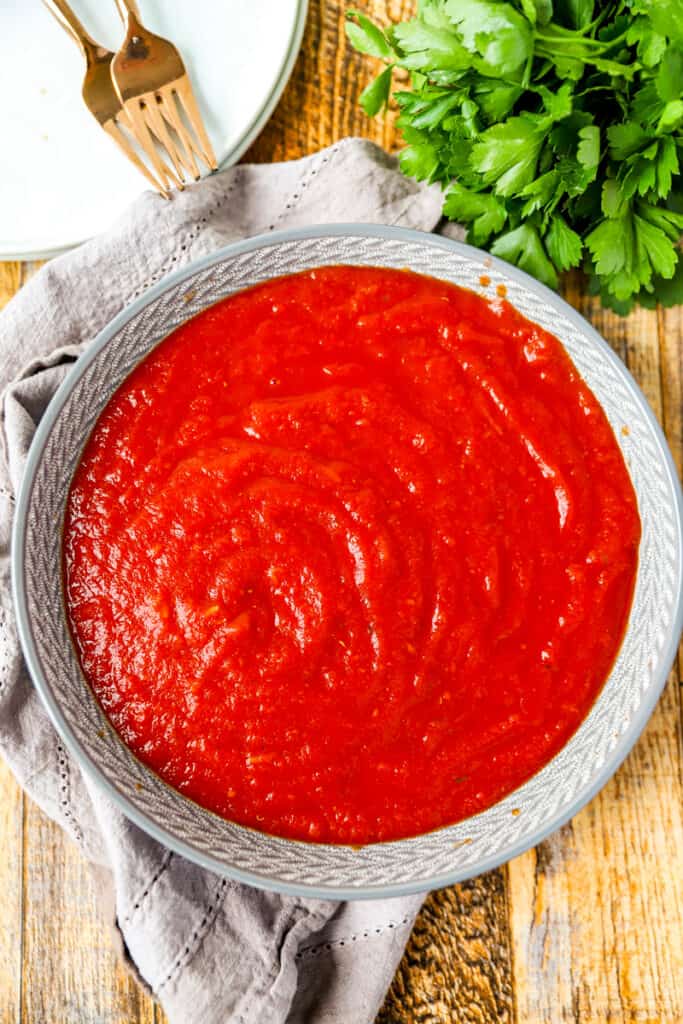 Other ways to use the smooth spaghetti sauce
So the obvious is that this is a sauce for spaghetti. But it's also so versatile! Once you whip up a batch of this sauce there are so many other ways you can use it, which helps to work through those leftovers!
Baked ziti
Lasagna
Pizzas
Ravioli, tortellini, or manicotti
Dipping sauce for fried Mozzarella
Also, while this is a meatballs spaghetti sauce, if you want to add some meat go ahead and make it however you'd like!
Add some meatballs or sweet or spicy Italian sauce as the sauce simmers to give it some extra flavor and really turn this into a hearty spaghetti and meatballs dinner.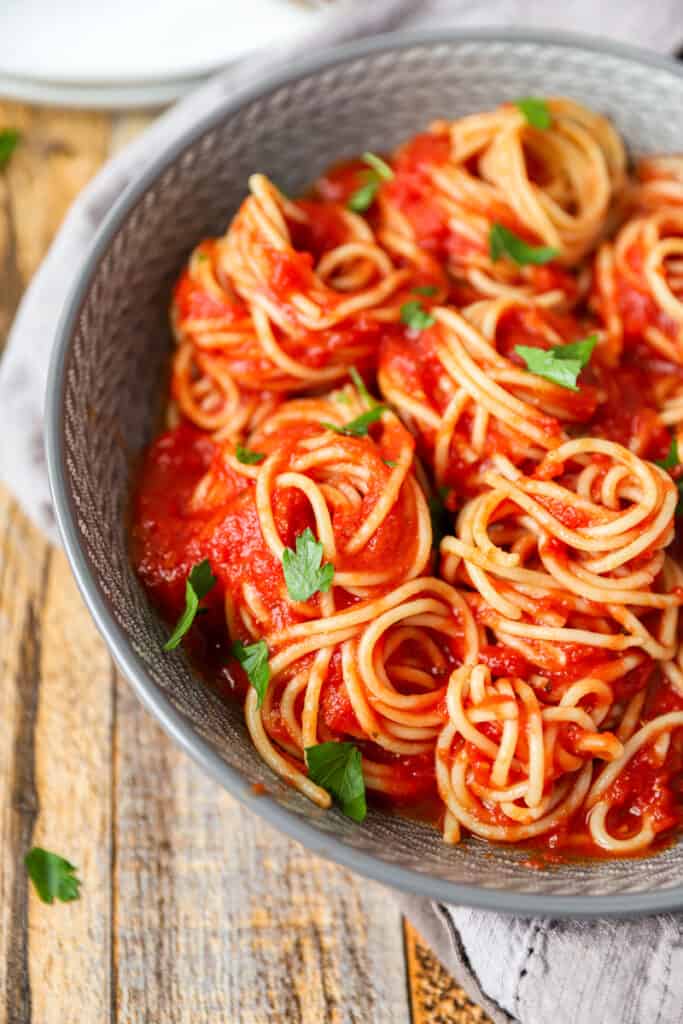 Cooking tips
As a recipe creator, it's my goal that you can make this recipe perfectly! Here are some tips, if you have any questions leave me a note in the comments!
This is a meatless recipe, but that doesn't mean you can't add some Italian meats if you prefer! I've made this before my first cooking some meatballs and Italian sausage then adding to the sauce as it simmers.
Don't want to add the white wine? No problem! You can skip it or replace with some chicken broth, or vegetable broth if you want to keep this vegetarian.
I definitely recommend letting this simmer for at least an hour. The tomato sauces really need the time to marry with all the other ingredients to allow that robust flavor to shine through.
I covered in the post above all the ways you can use this easy spaghetti sauce in other recipes, not just over noodles! Make a bit batch on the weekend and use it throughout the week.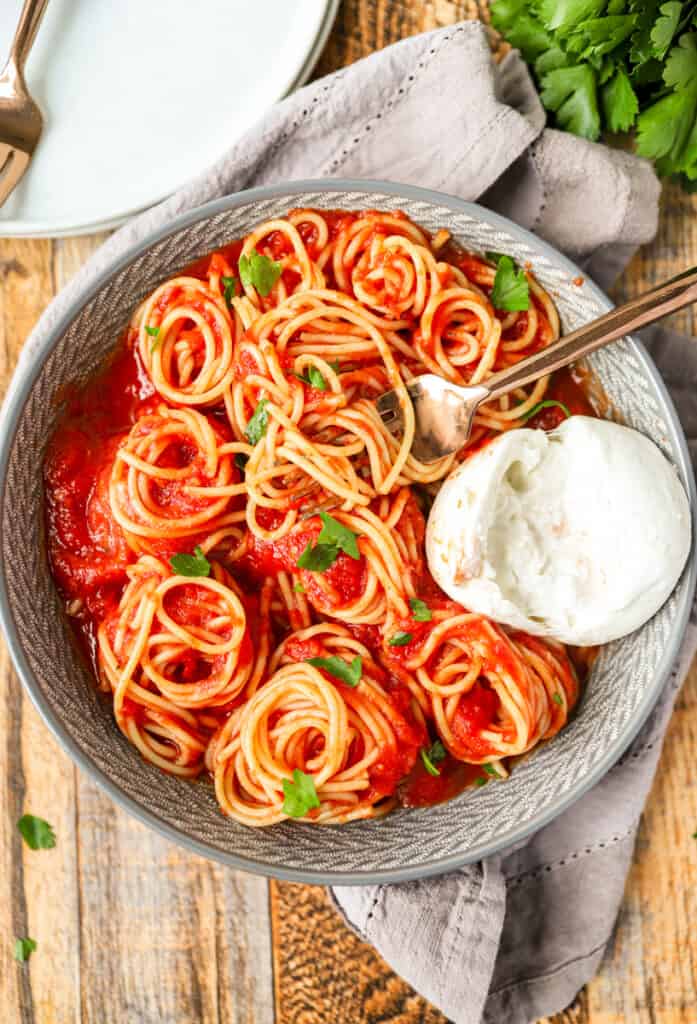 Do you want more recipes, cooking tips, and behind the scenes of my photo shoots? Find me on Instagram!
If you make any of these recipes make sure to tag me in the photo so I can see your delicious meal.
Print
Smooth Spaghetti Sauce
Smooth spaghetti sauce is a robust tomato sauce you can make and have plenty for leftover meals throughout the week. A few easy ingredients combine to make an this easy sauce that's perfect for spaghetti, pizza, lasagna, and more!
Author:
Prep Time:

10 minutes

Cook Time:

1 hour

Total Time:

1 hour 10 minutes

Yield:

6-8 servings

Category:

Pasta

Method:

Saute

Cuisine:

Italian
4 garlic cloves
1/2 tablespoon extra virgin olive oil
1/3 cup white wine
2 28oz cans tomato puree
1 28oz can crushed tomato
1 tablespoon garlic powder
2 teaspoons onion powder
2 teaspoons white sugar
2 teaspoons salt
1/4 teaspoon pepper
Instructions
1. Over medium heat, heat the extra virgin olive oil in a large pot and grate the garlic into the oil. Cook for 1 minute, then add the white wine and cook for an additional 90 seconds. Pour in both cans of tomato puree and the can of crushed tomatoes. Add the garlic powder, onion powder, sugar, pepper and salt and stir until fully blended in the sauce.
2. Bring the sauce to a boil then cover and simmer until ready to eat! I recommend simmering at least 1 hour. To serve, toss with cooked pasta and sprinkle with Parmesan…you can also serve with Burrata!
Notes
If you want to add meat, you can add cooked meatballs and sausage to the sauce as it simmers.
Keywords: Smooth spaghetti sauce