These meatballs are an easy baked meatball recipe with a surprise ingredient that helps keeps these moist and totally not dry! Isn't that one of the constant struggles with meatballs? How to get that perfect consistency while not being dry and crumbly?
Well you're in luck! This easy baked meatball isn't just ready to eat in about 30 minutes, it's not just easy…it's got the secret to moist meatballs that will make everyone ask you your secret!
You'll need about 10 minutes of prep time, then 20 minutes of baking time to make these!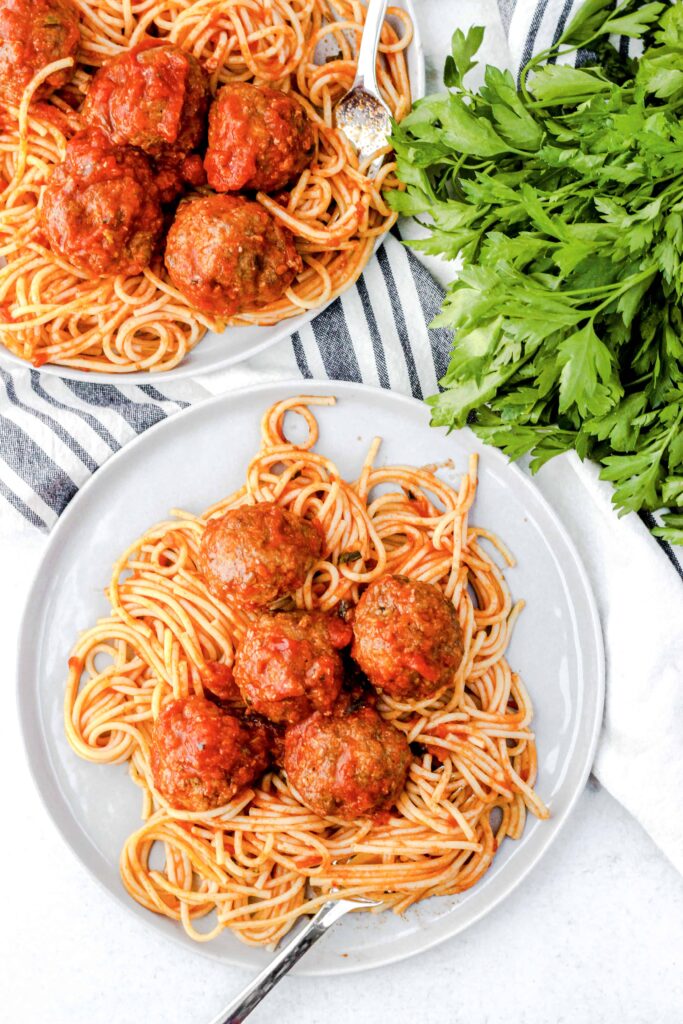 How to avoid dry meatballs
Ugh, the dry crumbly meatball.
No one wants or enjoys a dry meatball. So, how do we avoid a dry meatball and get that soft and moist texture? The answer is two part.
First, you need to add moisture to the meatballs in the form of milk or half & half. I used half & half in this recipe. Trust me! This is the game changer!
Some recipes use water, and I've tried that method too. In fact, that's how I used to make my meatballs. But recently I had watched a video on Bon Appetit about meatball making methods and they used milk. Once I tried this, I'm never going back to the water method!
Second, you need to mix the half & half with the breadcrumbs before you add it to the ground beef mixture. What can happen if you mix the dry crumbs into the beef the breadcrumbs will absorb the moisture from the beef, which is what creates a drier meatball. But now since we're mixing the breadcrumbs and cream together first, we form almost like this paste like wet cereal and the breadcrumbs don't have the ability to draw the moisture out of the beef.
This seriously going to give you that meatball where everyone will ask how did you do it?!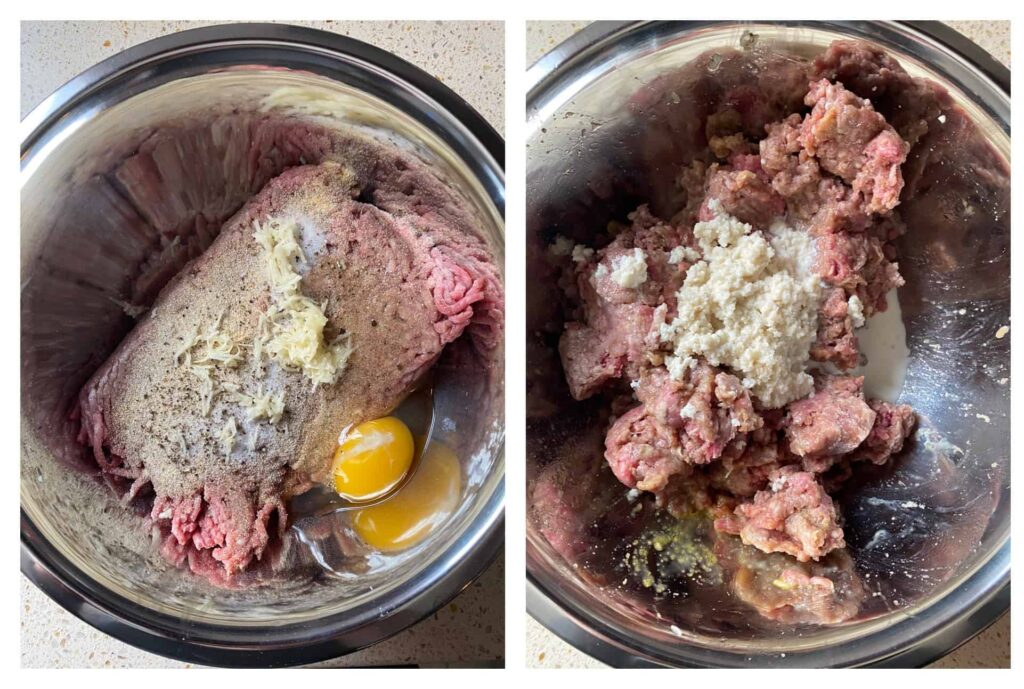 Cooking tips
A few tips to help you get the best meatball!
Don't over mix the meat mixture, you don't have to knead it like a dough. Just gently mix together and then form the meatballs.
Bake your meatballs slightly elevated on a cooling rack or baking rack on top of the baking sheet. By doing this the fat and oils will bake away from the meat and settle underneath it, and the meatball will be elevated above all this. If you don't elevate them the meatball will sit in these fats and they can become too oily or soggy. We want moist meatballs, not soggy!
Don't skip adding the half & half, and make sure you mix it with the Panko before adding to the ground beef mixture. This is the game changer for the perfect meatball!
If you're not making your own sauce, use the best jarred sauce you can find. The sauce is going to be the second most important ingredient here, so you really need a sauce that's high quality and will enhance the flavor of the meatballs!
Save the leftovers in an air tight container for another lunch or dinner! My personal preference is to use leftovers within 3 days. And, when I reheat meatballs I cut them in half so it's easier to get the center nice and hot again.
No need to brown these in a pan before baking. What makes these easy is needing only one cooking method! Just mix, bake, eat!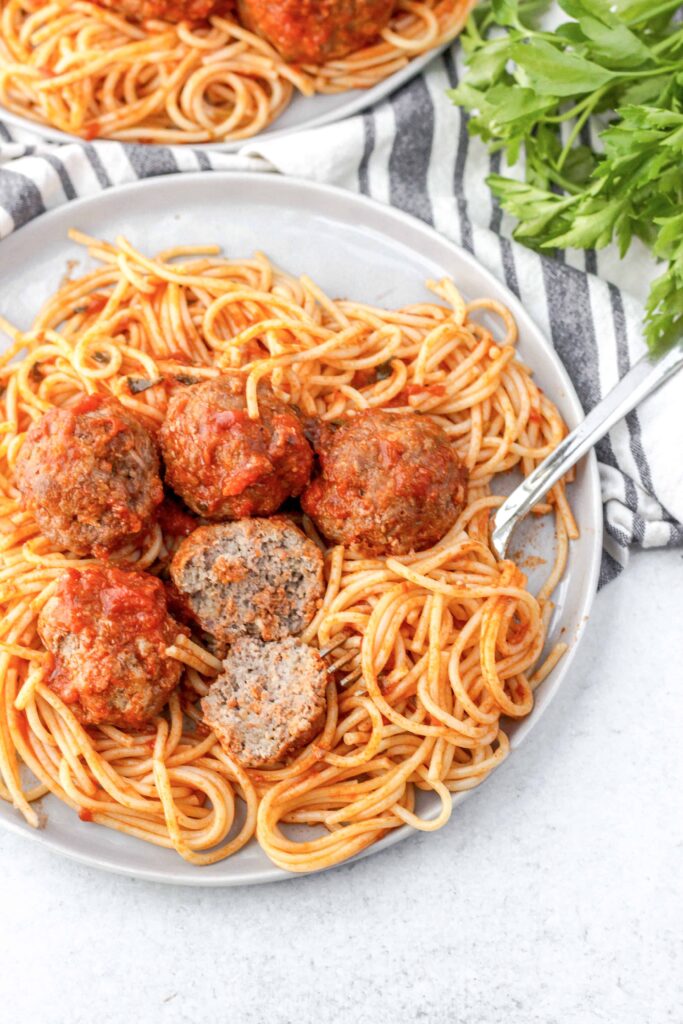 Like easy dinners? You're in luck, I do too! So I've got a ton of dinners that are easy and could become some of your family's new favorites! Click one of these recipes to get all the details.

Alfredo Tomato Sauce Pasta
Enchilada Tacos
Creamy Sun-dried Tomato Pasta
Creamy Marsala Pasta
Vodka Sauce with Meatballs
Sherry Cream Sauce with Ravioli
Creamy Pesto Ravioli with Pancetta
Roasted Red Pepper Pizza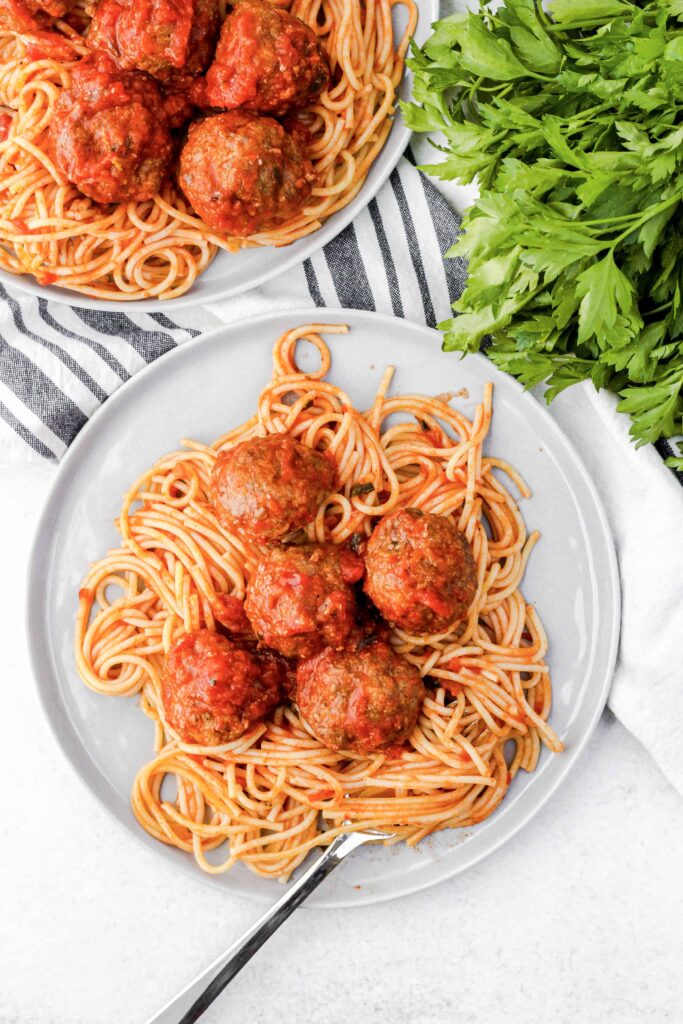 Print
Easy Baked Meatballs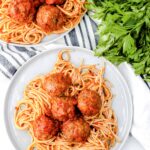 Easy baked meatballs are a meatball recipe with a surprise ingredient that keeps these super moist! Cover in homemade sauce or you favorite jarred sauce and serve with your favorite pasta for a comforting dinner.
Author:
Prep Time:

10 minutes

Cook Time:

20 minutes

Total Time:

32 minutes

Yield:

15

–

17

meatballs

1

x
Category:

Meatballs

Method:

Baking

Cuisine:

Italian
1lb ground beef
3 cloves garlic, grated
1 teaspoon garlic powder
3/4 teaspoon onion powder
1/2 teaspoon salt
1/4 tsp pepper
1/4 cup half & half
1/4 cup plain Panko bread crumbs
1 egg
Instructions
1. Preheat the oven to 400 degrees. Prepare your baking sheet by lining it with tin foil, then placing a cooling rack or baking rack on top and spraying it with cooking spray so the meatballs don't stick to it.
2. To make the meatball mixture, in a large bowl add the ground beef, grated garlic, garlic powder, onion powder, salt, pepper, and the egg.
3. In another smaller bowl combine the Panko and that half & half. Let this bread crumb mixture sit for 2-3 minutes to the bread crumbs absorb some of the liquid. Then, pour this into the bowl with the ground beef and mix everything together, but do not over mix or else you could end up with tough meatballs.
4. Once everything is combined, form into meatballs about the size of a golf ball and place them on the baking rack on the baking sheet. Bake for 20-22 minutes until no longer pink inside and cooked through. Serve with your favorite sauce and pasta!
Notes
If you want to make this easier use your favorite jarred sauce. Go for a quality jarred sauce if you're not making your own.
Keywords: easy baked meatballs