These Amaretto Blueberry Puff Pastries are the perfect blend of sweet blueberry, warm amaretto, and toasted almonds. The swirled pastry design makes these look impressive and like they came straight from a bakery! A few easy steps to make the swirled pastry, then fill with the homemade blueberry amaretto compote and top with toasted almonds. This is the best puff pastries recipe you need!
When I wake up in the morning and have that first cup of coffee, I need a breakfast treat to go with it. Something like a scone, maybe a muffin, or maybe something like these swirled puff pastries. Is it the healthiest thing? No. But it's what I like! There's just something comforting about a baked breakfast good that eases me into the start of the day
The best thing about these pastries is that they are really quite impressive looking. If you make these for a brunch party everyone will think you bought these from a bakery. That's how impressive they are! But don't let that scare you into thinking that this is a puff pastries recipe too complex to make. Making a swirled puff pastry is actually quite easy with just a few simple steps. Let's walk through the process together
Step by Step How to make the Puff Pastry Swirls
1. Take one sheet of the thawed puff pastry dough and cut it into strips. You should get 14-15. You don't want them too thick or too thin. In the image below you'll see I have 15 strips, although one towards the end was a little too thin, so aim for 14 strips.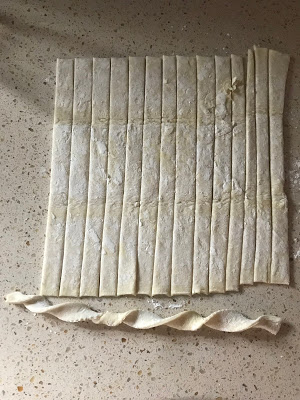 2. Now that you have your puff pastry strips, take each strip and twirl it into a corkscrew. Them, that that long corkscrew and spin it around to form a circular pastry shape. You're basically take one end of the strip, making that the center and wrapping the rest of the dough around this center.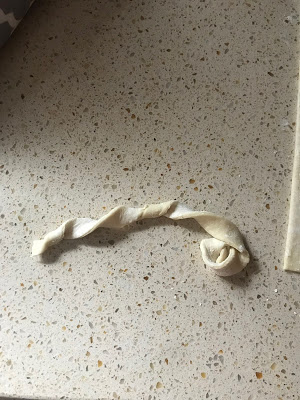 3. After you have all of your puff pastries in the circle shapes like below make sure to close any gaps in the spiral, if there are gaps then the blueberry sauce will spill out onto the baking sheet. Press down lightly in each center to make a small well where you can pour the blueberry sauce into. Bake these empty pastries at 400 degrees for 5 minutes.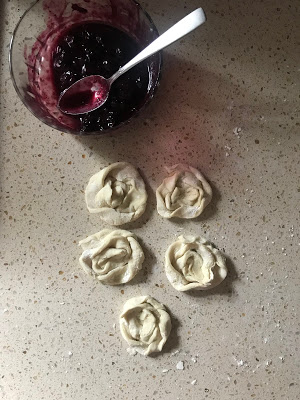 4. Once the dough has pre-baked it's time to fill with the homemade compote. Instructions on making the compote is in the recipe card at the bottom of this post. Fill each with the blueberry compote and bake again for 10 minutes.
5. After they are done baking, top with the toasted almonds and eat!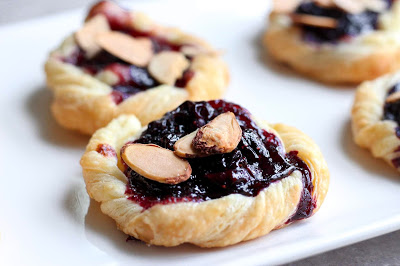 Print
Amaretto Blueberry Puff Pastries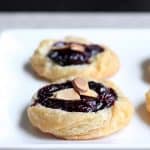 Amaretto Blueberry Puff Pastries are a warm and sweet pastry filled with a blueberry sauce with cinnamon, nutmeg, and amaretto. Top with toasted shaved almonds for a light crunch, these make the perfect breakfast snack with coffee or for a brunch gathering.
Author:
Prep Time:

40 minutes

Cook Time:

45

Total Time:

1 hour 25 minutes

Yield:

14

–

15

pastries

1

x
Category:

Breakfast

Method:

Baking

Cuisine:

American
1 sheet puff pastry, thawed (this takes about 30–40 min to thaw, so take this out of the freeze and leave it on the counter to it's ready for when you want to make these)
1/3 cup shaved almonds
1 cup fresh blueberries
2 tablespoons white sugar
2 tablespoons dark brown sugar
1 teaspoon fresh squeezed lemon juice
1/2 teaspoon cinnamon
1/8 teaspoon nutmeg
1 and 1/2 teaspoons cornstarch
4 teaspoons Amaretto liquor
Instructions
1. Heat oven to 350. Pour the shaved almonds onto a foil lined baking sheet and bake for 10-12 minutes until browned and toasted. Once they are toasted, remove from the oven and increase oven temperature to 400.
2.  In a medium sized pot, pour in the blueberries over medium heat, lightly mash them a few times with a large fork or potato masher to break up some of the blue berries and let the juices out. You don't want to break all of them, but you do need some of them to be mashed. Once there is some juice in the bottom of the pot, add both the white and brown sugar, as well as the lemon juice. Stir so the sugars dissolve. Next pour in the amaretto, the cinnamon, nutmeg, and corn starch. Heat to a light simmer, then reduce heat to low. Stir until thickened. If this blueberry sauce is watery, add corn starch a teaspoon at a time to re-thicken. If you add more corn starch, you'll need to heat the sauce to bubbly for the thickening process to happen. This whole process of making the sauce will take about 10 minutes. Remove from heat, pour into a bowl and allow to cool before filling the pastries.
3. To form the pastry cups, see the instruction photos above. Using a pizza cutter, slice the sheet of puff pastry into 11 or 12 strips, I did 12 although one strip was very thin. Then, take each strip of the puff pastry and twist into a spiral. Last, take each spiraled strip and wrap it around until you have a circular pastry cup. Press down in each center to make a well where the blueberry sauce can be poured. If you didn't look at the instructional photos please do this, just scroll up. It's a bit hard to explain the process and the photos will help you work with the puff pastry to get the correct method and shape.
4. Place each each unfilled pastry onto a lightly greased baking tray. Bake unfilled at 400 for 5 minutes. Remove from oven, fill with blueberry sauce, then bake another 10 minutes. Remove from oven and top with some shaved almonds.
Keywords: puff pastries recipe