These Blueberry Almond Danishes are the perfect blend of sweet blueberry, flaky puff pastry and smooth almond. The swirled pastry design makes these look impressive and like they came straight from a bakery! A few easy steps to make the swirled pastry, then fill with the homemade blueberry almond compote and top with toasted almonds.
Recipe at a Glance
Prep time: 40 minutes
Cook time: 30 minutes
Notes: The prep time is so long because the puff pastry needs that long to thaw! While the puff pastry is thawing you can make the toasted almonds and start making the blueberry sauce.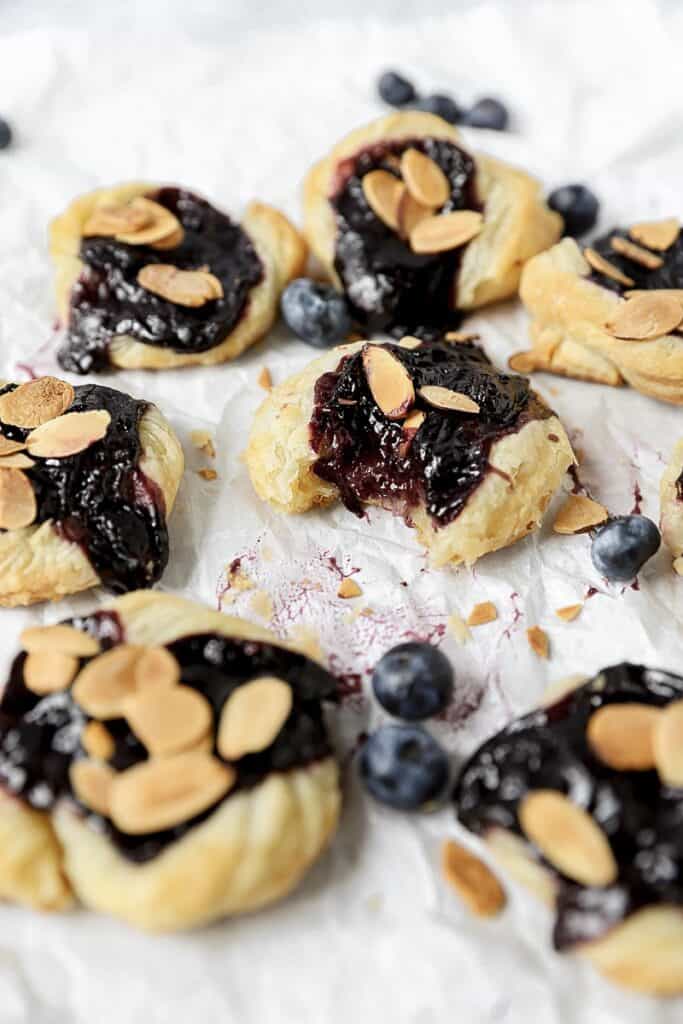 If you're here it's probably because you like blueberries! I have two other blueberry recipes you can check out. These Lemon Blueberry Scones are one of my favorite breakfast scones, and this Blueberry Compound Butter will be a game changer for your pancakes!
Speaking of scones…these Copycat Panera Orange Scones and Raspberry Scones would look beautiful on a brunch spread!
And lastly, more Danishes? These Mini Apple Danishes also use puff pastry and the same method as these blueberry almond Danishes!
Don't see what you want? Browse my breakfast recipes for pancakes, muffins, breads and more!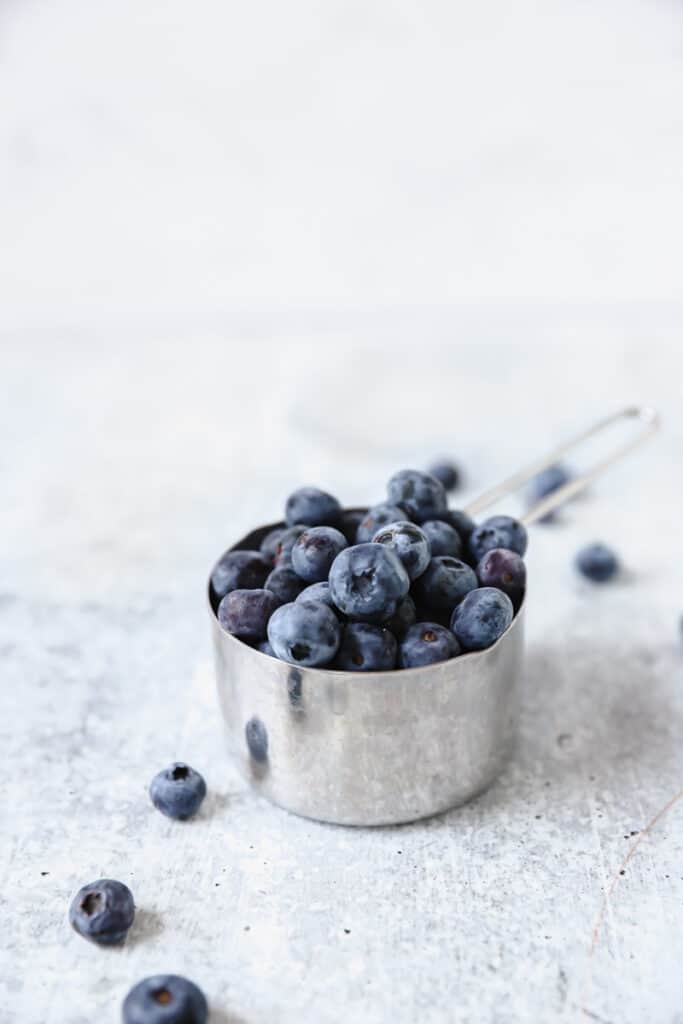 How to make Danishes with puff pastry
Some blueberry Danish recipes require you to make your own puff pastry. But I'd much rather save time and use store bought. This is the puff pastry I use every time! Super flaky and easy to work with.
First. Take one sheet of the thawed puff pastry dough and cut it into strips. You should get 11 strips. You don't want them too thick or too thin. I use a tape measure to make sure I'm cutting even strips.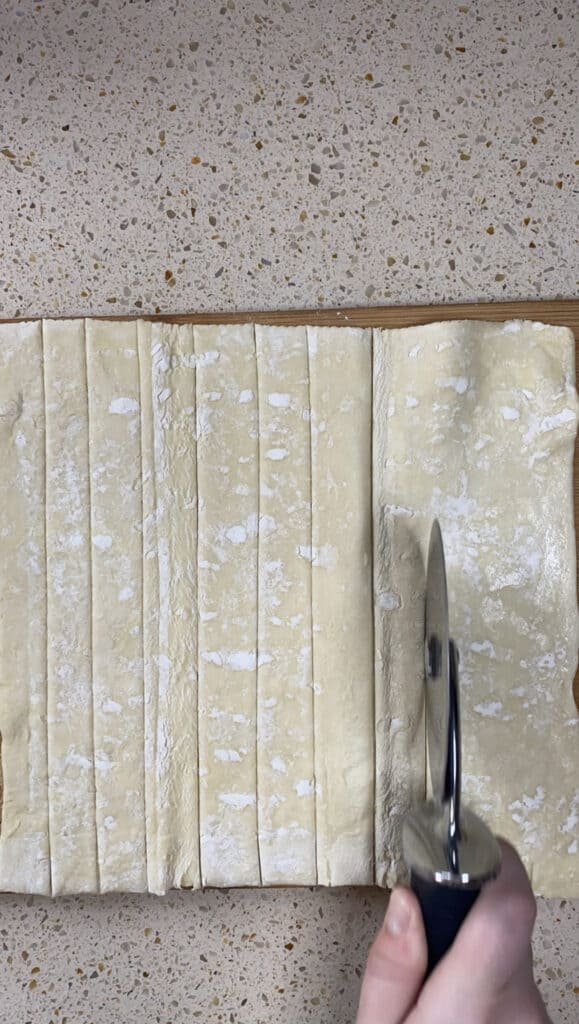 Next. Now that you have your puff pastry cut into strips, take each strip and twirl it into a corkscrew.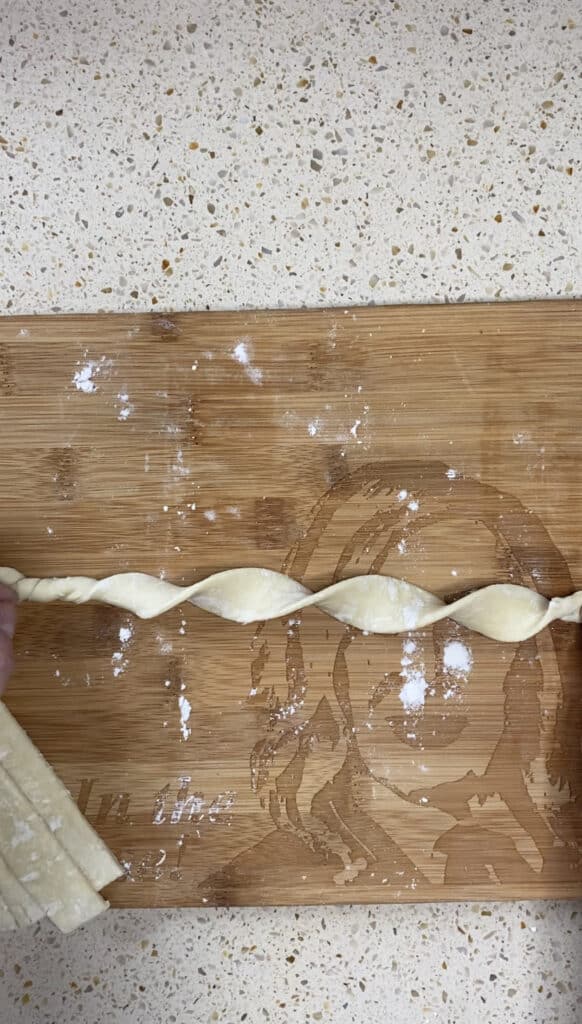 Then. Take that that long corkscrew and spin it around to form a circular pastry shape. You're basically take one end of the strip, making that the center and wrapping the rest of the dough around this center. Make sure that the end of the strip is tucked underneath the Danish.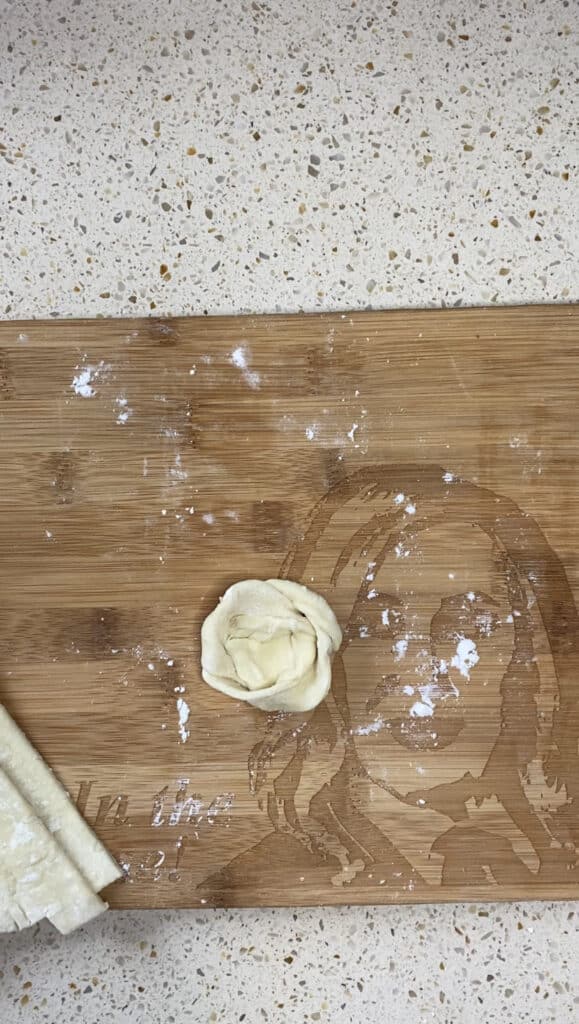 Last. After you have all of your puff pastries in the circle shapes like below make sure to close any gaps in the spiral, if there are gaps then the blueberry sauce will spill out onto the baking sheet. Press down lightly in each center to make a small well where you can pour the blueberry sauce into. Now you're ready to bake and fill your Danishes!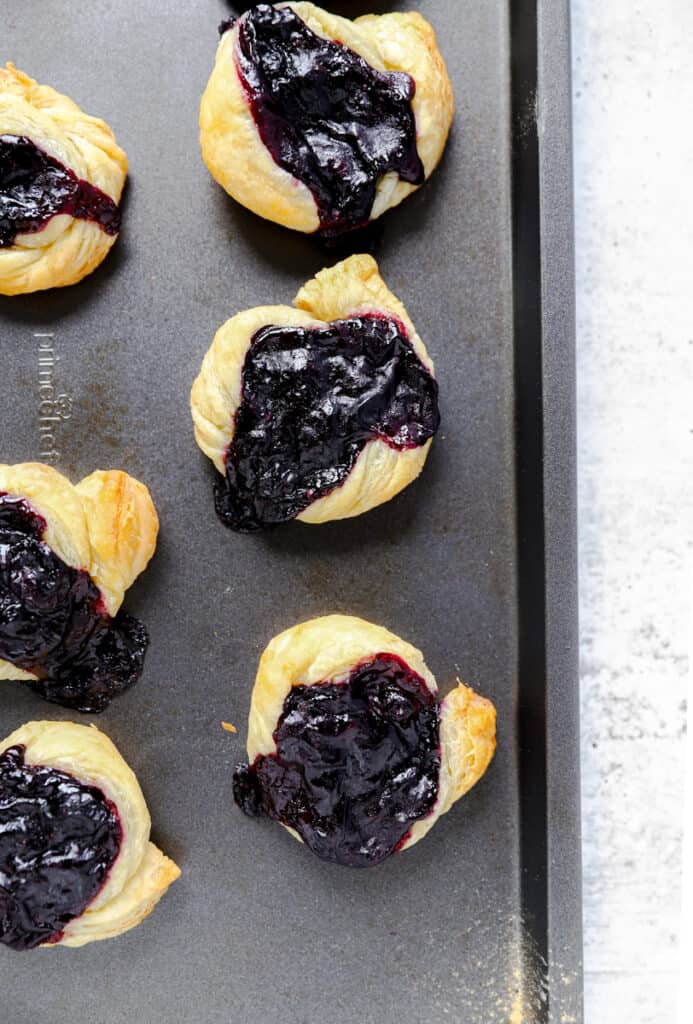 Cooking tips
Maximize the prep time! While the puff pastry takes about 40 minutes to thaw, in that time you can toast the almonds and start making the blueberry sauce.
Some of the blueberry sauce might spill out of the Danish as it's baking, that's OK! Just remove the Danishes from the baking sheet as soon as they're done baking so they don't stick!
If you have extra toasted almonds you can save them for a snack!
When you're making the Danishes, make sure the end of the strip is tucked underneath the Danish. This will make sure this loose end stays baked into the Danish keeping this nice circular shape.
These are best eaten warm and fresh from the oven! I don't recommend storing these in the fridge or making them a day ahead.
There will be a bit of extra blueberry sauce, you can save it in the fridge for a few days and use it on pancakes, biscuits, waffles, or French toast!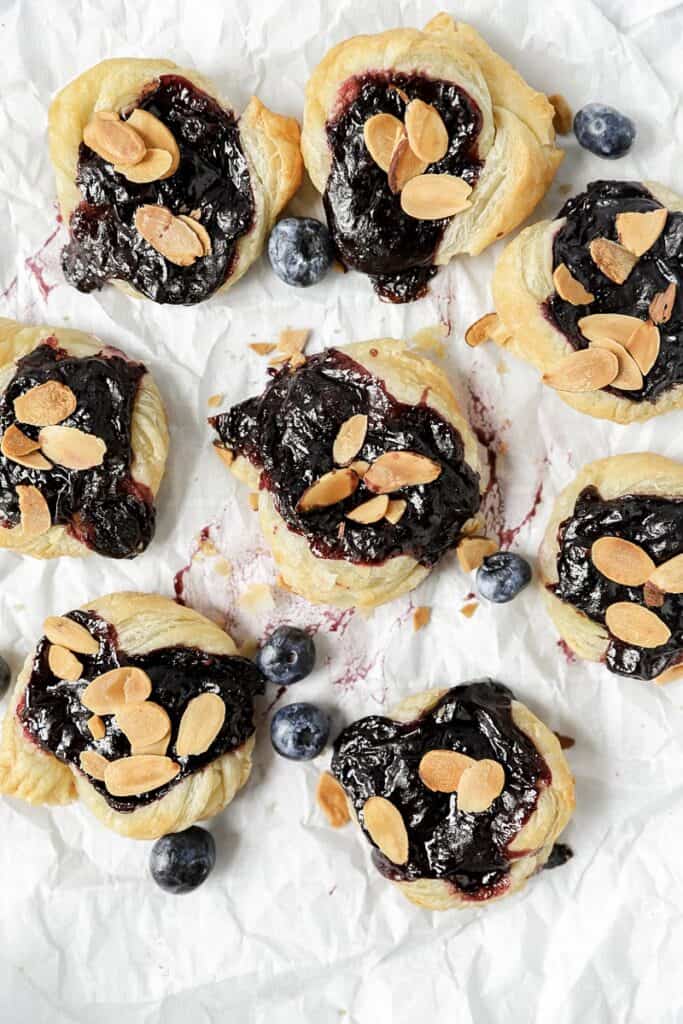 Want more recipes, cooking tips, and food photography? Follow me on Instagram!
If you make this recipe, or any of my recipes from the blog, make sure to tag me. I love seeing your delicious creations!
Print
Blueberry Almond Danishes
Blueberry Almond Danishes are a warm and sweet pastry filled with a blueberry sauce with cinnamon, nutmeg, and almond extract. Top with toasted shaved almonds for a light crunch, these make the perfect breakfast snack with coffee or for a brunch gathering.
Author:
Prep Time:

40 minutes

Cook Time:

30 minutes

Total Time:

1 hour 10 minutes

Yield:

11 danishes

Category:

Breakfast

Method:

Baking

Cuisine:

American
1 sheet puff pastry, thawed (this takes about 30–40 min to thaw, so take this out of the freeze and leave it on the counter to it's ready for when you want to make these)
1/4 cup shaved almonds
1 cup fresh blueberries
2 tablespoons white sugar
2 tablespoons dark brown sugar
2 teaspoons cornstarch
1 teaspoon almond extract
1 teaspoon fresh squeezed lemon juice
1/2 teaspoon cinnamon
1/8 teaspoon nutmeg
Instructions
1. While the puff pastry is thawing, heat your oven to 350 degrees. Pour the shaved almonds onto a foil lined baking sheet and bake for 8-10 minutes until browned and toasted. Once they are toasted, remove from the oven and increase oven temperature to 400 degrees.
2.  In a medium sized pot, pour in the blueberries over medium heat, lightly mash them a few times with a large fork or potato masher to break up some of the blue berries and let the juices out. You don't want to break all of them, but you do need some of them to be mashed. Once there is some juice in the bottom of the pot, add both the white and brown sugar, as well as the lemon juice. Stir so the sugars dissolve. Next pour in the almond extract, the cinnamon, nutmeg, and corn starch. Heat to a light simmer, then reduce heat to low. Stir until thickened. If this blueberry sauce is watery, add corn starch a teaspoon at a time to re-thicken. If you add more corn starch, you'll need to heat the sauce to bubbly for the thickening process to happen. This whole process of making the sauce will take about 10 minutes. Remove from heat, pour into a bowl and allow to cool before filling the pastries.
3. To form the pastry cups, see the instruction photos above. Using a pizza cutter, slice the sheet of puff pastry into 11. Then, take each strip of the puff pastry and twist into a spiral. Last, take each spiraled strip and wrap it around until you have a circular pastry cup. Press down in each center to make a well where the blueberry sauce can be poured. If you didn't look at the instructional photos please do!! It's a bit hard to explain the process and the photos will help you work with the puff pastry to get the correct method and shape.
4. Place each each unfilled pastry onto a lightly greased baking tray. Bake unfilled at 400 for 5 minutes. Remove from oven, fill with blueberry sauce, then bake another 10-12 minutes. Remove from oven, then using a spatula remove the Danishes to a place, do not let them rest on the baking sheet. Top with as much of the toasted almonds as you like!
Enjoy!
Notes
Any extra blueberry sauce, save it for pancakes, French toast, waffles or biscuits!
These are best served fresh, the day you make them!
Some of blueberry sauce might spill out of the Danish as it's baking, that's normal! Just remove the Danishes from the baking sheet when they're done baking and leave the overbaked sauce on the sheet. 
Keywords: blueberry almond danish