Spicy chicken nuggets are an easy homemade chicken nugget coated in a spicy breadcrumb! Cayenne pepper adds the heat with a little brown sugar to help balance the spice level. Pair with your favorite dipping sauce!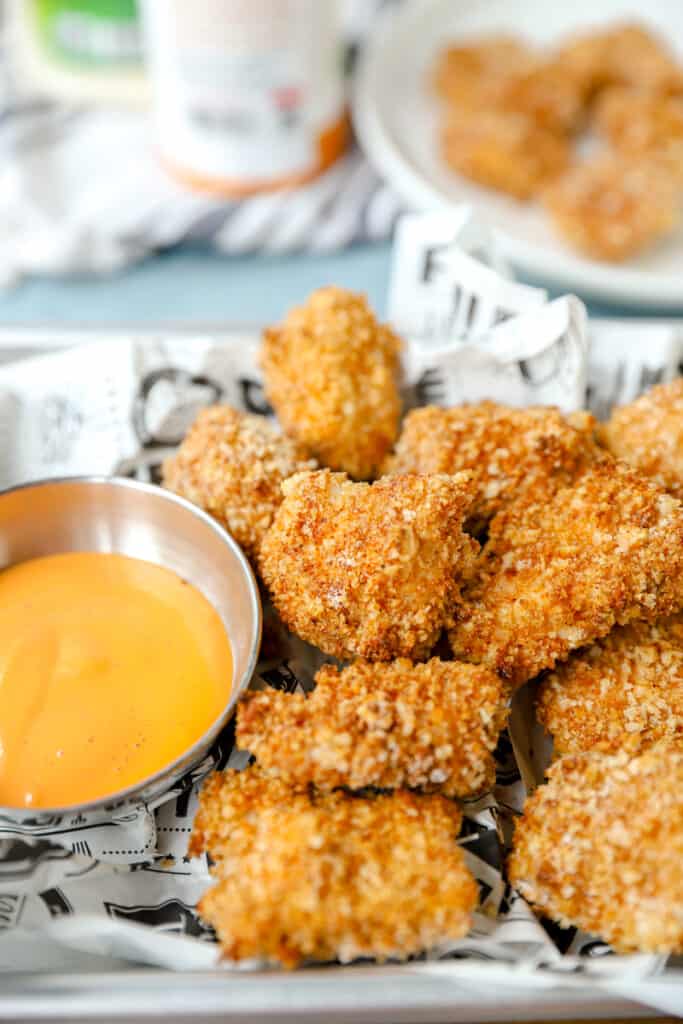 HOW SPICY ARE THESE CHICKEN NUGGETS?
The spice level can definitely depend on the level of heat you like. And the great thing with making these nuggets yourself instead of buying them is that you can control the level of heat and spice.
For this recipe, I'm rating this at a spice level "3" on a scale of 1-5 where "1" is very mild and "5" would be mouth on fire. You definitely know these are a spicy nugget, but there's room to make these even spicier if that's what you like! And these can be enjoyed without that uncomfortable "too hot" sensation.
For me, I like the middle of the road heat. I want to taste the spice and the heat, and get that cooling effect from the blue cheese or ranch. I don't want to totally burn my tongue, give myself a runny nose, and ruin the meal because I can't taste anything else. I think spice needs to be used in the right way so it's enhancing the meal but not overpowering it in way that it's the only thing you taste.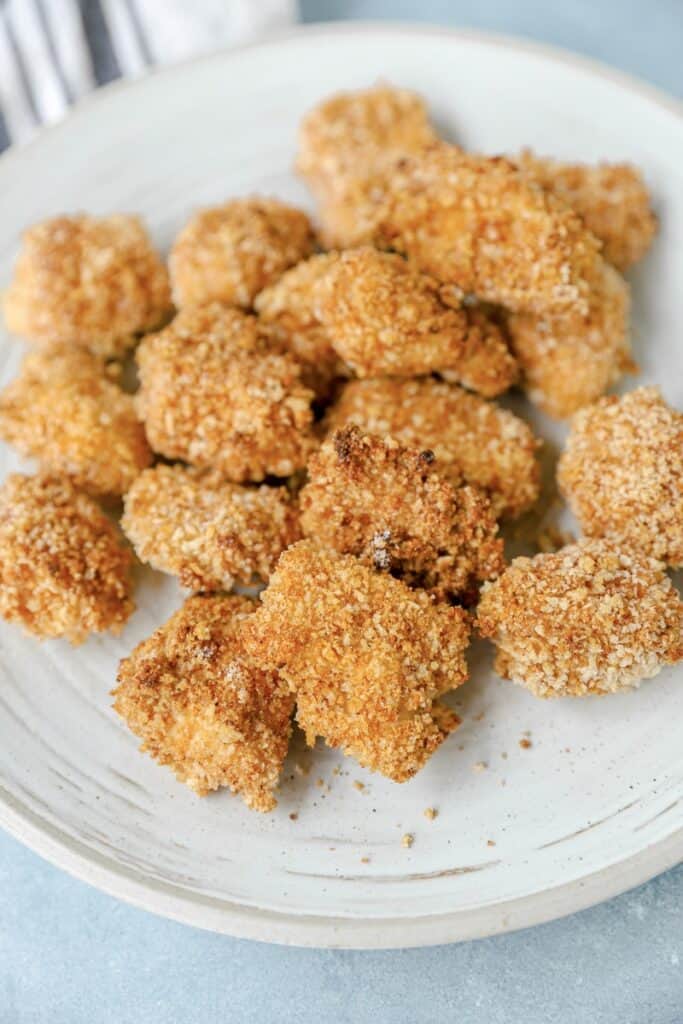 BETTER THAN FAST FOOD SPICY NUGGETS
If there's one food item that we seem to never grow too old for it's the chicken nugget. Whether you call them chicken nuggets, chicken tenders, or a silly nuggies and tendies…they have no age limit!
So why are these homemade nuggets better than drive-thru kind? Well first these are baked not fried! You're in total control of the ingredients….from real chicken breast, to homemade seasoning blend, to less oil. While there is the added time to make these, they are a good alternative to fast food!
And here's the secret that why these are the best spicy chicken nuggets EVER…the egg wash is made with some brown sugar. It gives a little hint of sweet that pairs nicely with the heat of the cayenne.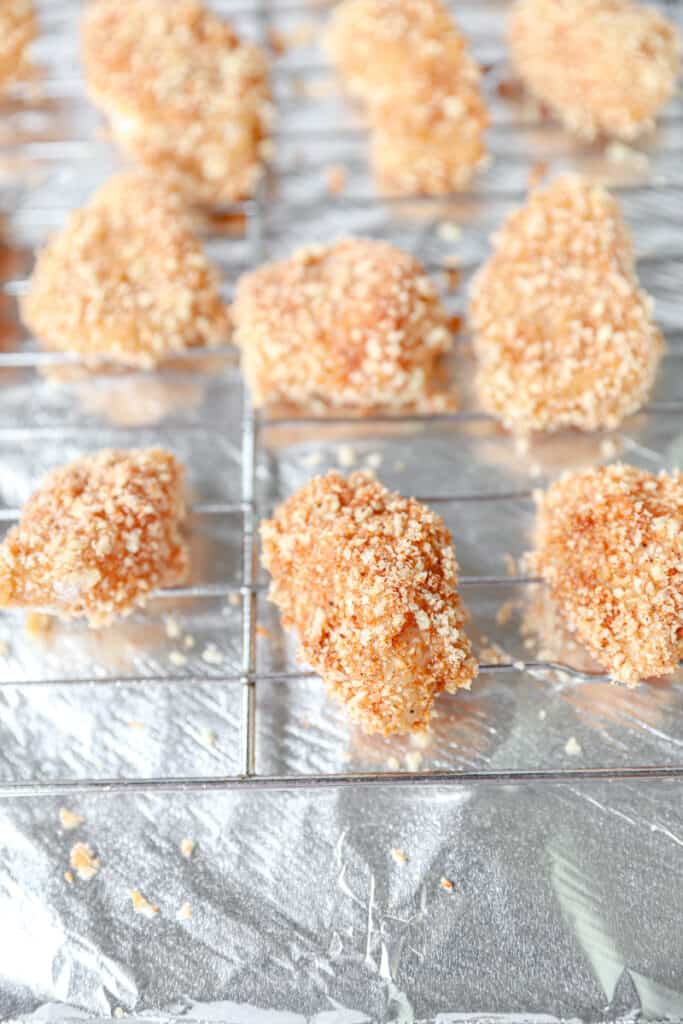 SPICY BREADING INGREDIENTS
Here's what you need to have on hand to whip of the seasoning blend!
Cayenne pepper
Garlic powder
Onion powder
Smoked paprika
Chili powder
Salt
Pepper
Brown sugar
I don't know about you, but these are staples in my pantry so I always have them on hand!
DIPPING SAUCE IDEAS
So I am all about the sauces. Sure, chicken nuggets are good…and even better when they're spicy like these. But you've gotta have the perfect dipping sauce to make the perfect bite! Here are some suggestions:
Blue cheese
Ranch
Spicy mayo or Sriracha mayo
Honey mustard
Chick-fil-A® sauce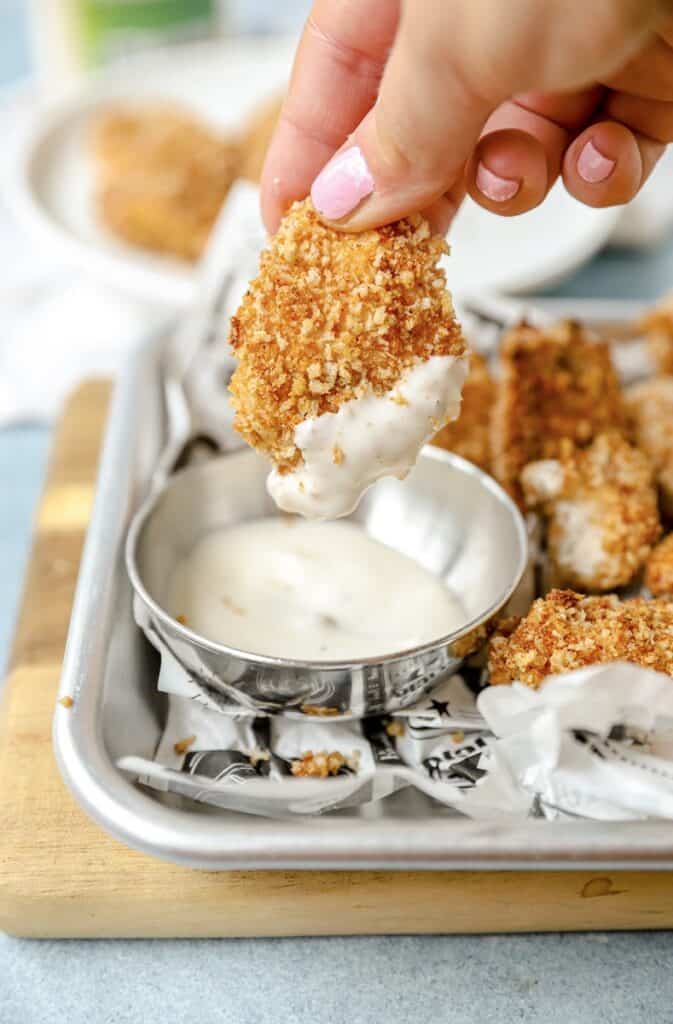 COOKING TIPS
As I mentioned above, these are spicy but not overpowering. Taste the seasoned breadcrumbs before it touches raw chicken. If you want it hotter, add more cayenne or a dash of chili powder.
15 minutes of bake time at 425 degrees worked for me to get fully cooked chicken nuggets. If your nuggets are thick, they may need more time. Internal temp of cooked chicken should be 165 degrees. I love this digital thermometer, it's a game changer!
The spice makes these not very kid-friendly. If you're have kids or toddlers, you can bread a few piece before you add the spice to the mixture, then add the spices and bread the rest for the adults.
I'll be honest here, leftover chicken is not my favorite. If you do wind up with some leftovers here, store them in an airtight container in the fridge. Reheat them in a pan or the oven, or dice them up and use them in another recipe like a chicken dip or chicken pasta.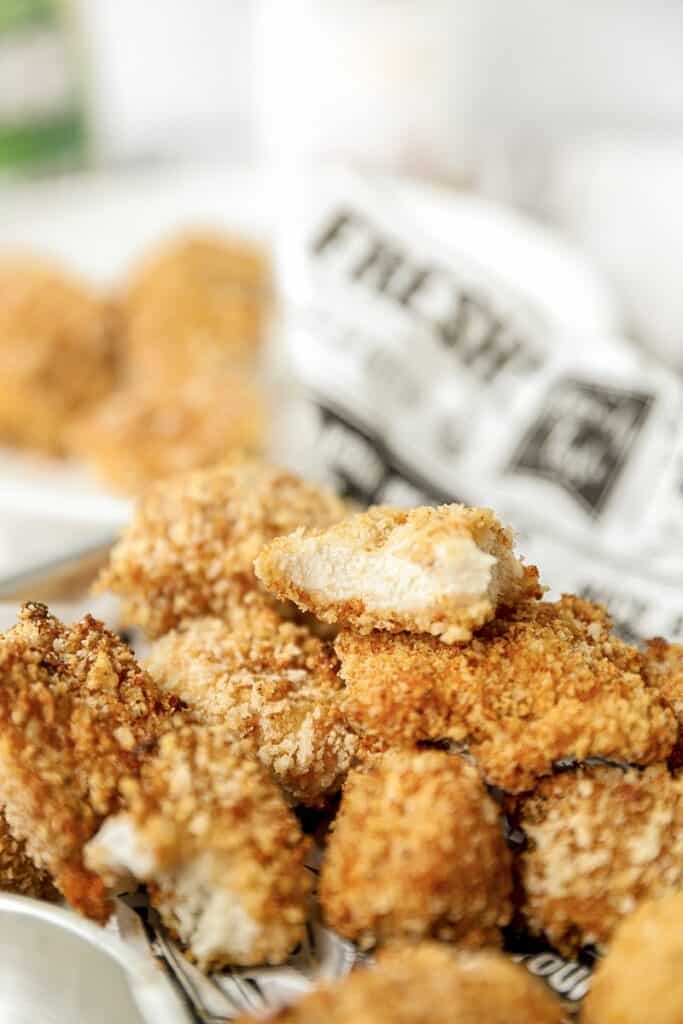 Want more spicy recipes? You're in luck! Here are some of my other favorite spice-forward recipes on the blog!
Buffalo Chicken Meatballs
Buffalo Chicken Phyllo Bites
Spicy Alfredo
Spicy Vodka Pasta
Spicy Corn Fritters
Spicy Pretzel Bites
Print
Spicy Chicken Nuggets
Spicy chicken nuggets are a cayenne pepper spiced nugget perfect for dipping in your favorite sauce! Crunchy, spicy, and a little sweet from the brown sugar in the egg wash, this is an easy snack or dinner!
Author:
Prep Time:

15 minutes

Cook Time:

15 minutes

Total Time:

30 minutes

Yield:

20 nuggets depending on the size of your chicken

Category:

Chicken

Method:

Bake

Cuisine:

American
1lb of chicken breast, diced into 1-inch pieces (about one large chicken breast or two smaller chicken breasts)
3/4 cup all purpose flour
1 cup Panko bread crumbs
1 egg + 2 tablespoons milk
1/4 cup dark brown sugar
1 and 1/2 teaspoons cayenne pepper
1/2 teaspoon garlic powder
1/2 teaspoon onion powder
1/4 teaspoon smoked paprika
1/4 teaspoon chili powder
1/4 teaspoon salt
1/4 teaspoon pepper
Cooking spray
Instructions
1. Preheat oven to 425 degrees. Line a large baking sheet with foil and top with a cooling or baking rack. Spray the rack with cooking spray so the chicken won't stick to it.
2. In a bowl combine the Panko, garlic & onion powders, cayenne pepper, chili powder, smoked paprika, and salt & pepper. Stir to combine. In another bowl pour the flour, and lastly in another bowl whisk the egg with the milk and the brown sugar to make a sweet egg wash.
3. To bread the chicken nuggets, coat each chicken piece in the flour, then the egg wash, then lastly the spicy bread crumbs. Place on top of the rack on your baking sheet and spray with the cooking spray. Bake for 15-17 minutes until internal temperature of chicken is 165 degrees. For my oven, 15 minutes was good.
4. Remove from the oven, sprinkle with salt and serve with your favorite dipping sauce.
Notes
On a scale of 1-5 with 5 being the spiciest, I'd rate this about a 3. You can definitely make this hotter if that's what you like, but I find I like enough heat to tell it's spicy without burning my mouth off!
Keywords: spicy chicken nuggets