Spicy corn fritters are made with a seasoning blend of chili powder, smoked paprika, and a generous dose of cayenne pepper for the heat factor!
And these aren't just plain old corn added to the fritter batter. First you'll pan roast the corn with butter, more chili powder, cayenne and smoked paprika to make these fritters loaded with flavor!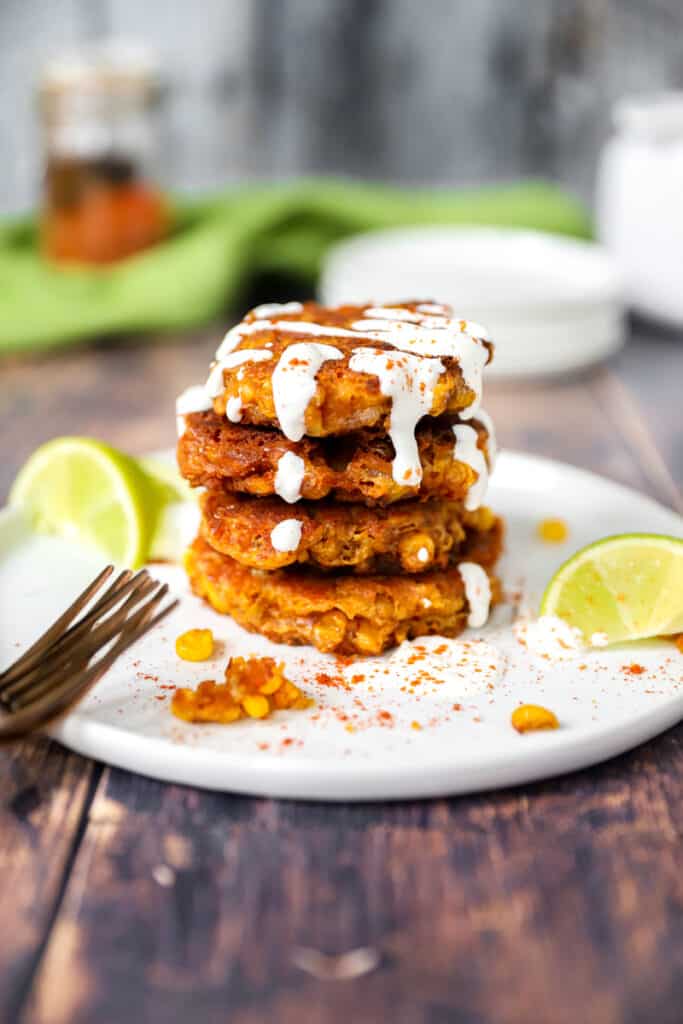 The spicy fritters pack the right amount of heat! Not spicy where you'll be left with watery eyes search for a glass of milk, but that warm kick of heat that lets you know these aren't your average corn fritter!
The spice factor comes in two ways. First, you'll season the corn as you pan roast it with some cayenne pepper! Then, the batter for the fritters also gets a nice dash of cayenne pepper. The chili powder and the smoked paprika help round out the flavors and balance the cayenne heat.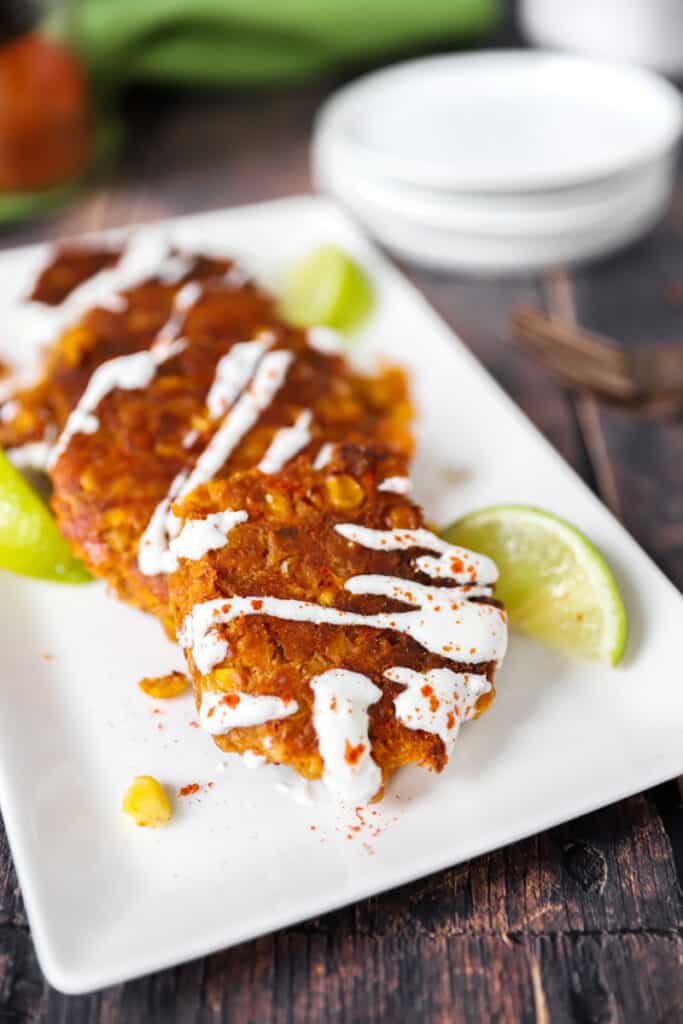 You can use whatever corn you'd like! If you're using frozen like I did just make sure you cook it in the microwave first. But, if you'd prefer to use fresh from the cob or canned corn you can use that instead!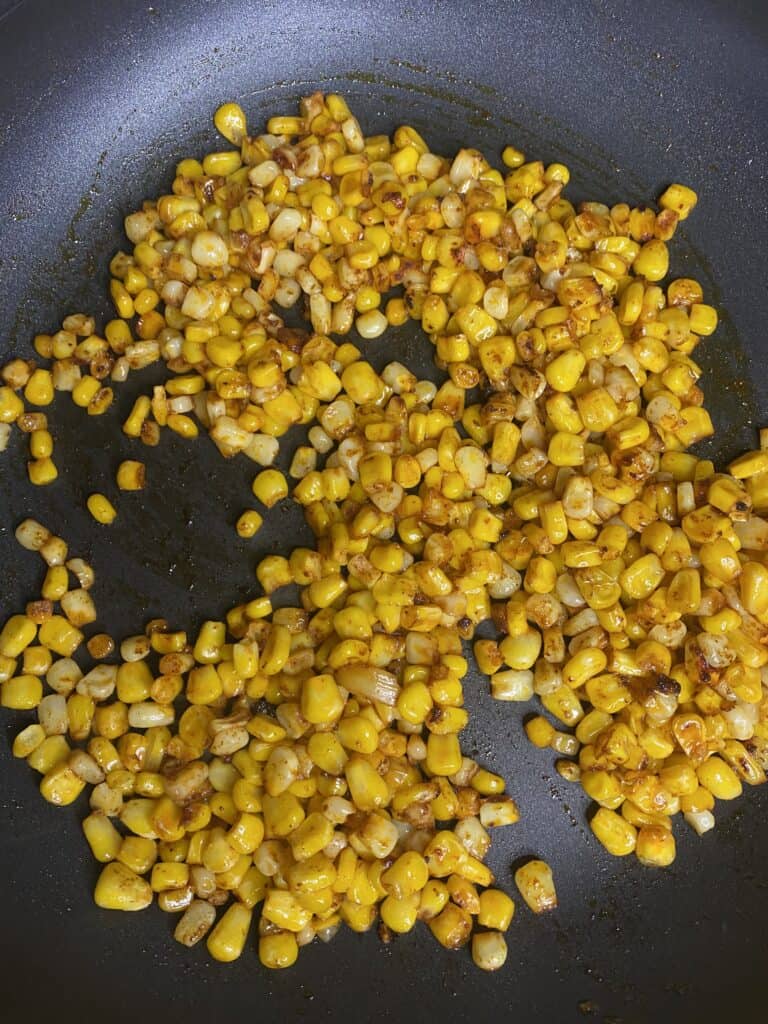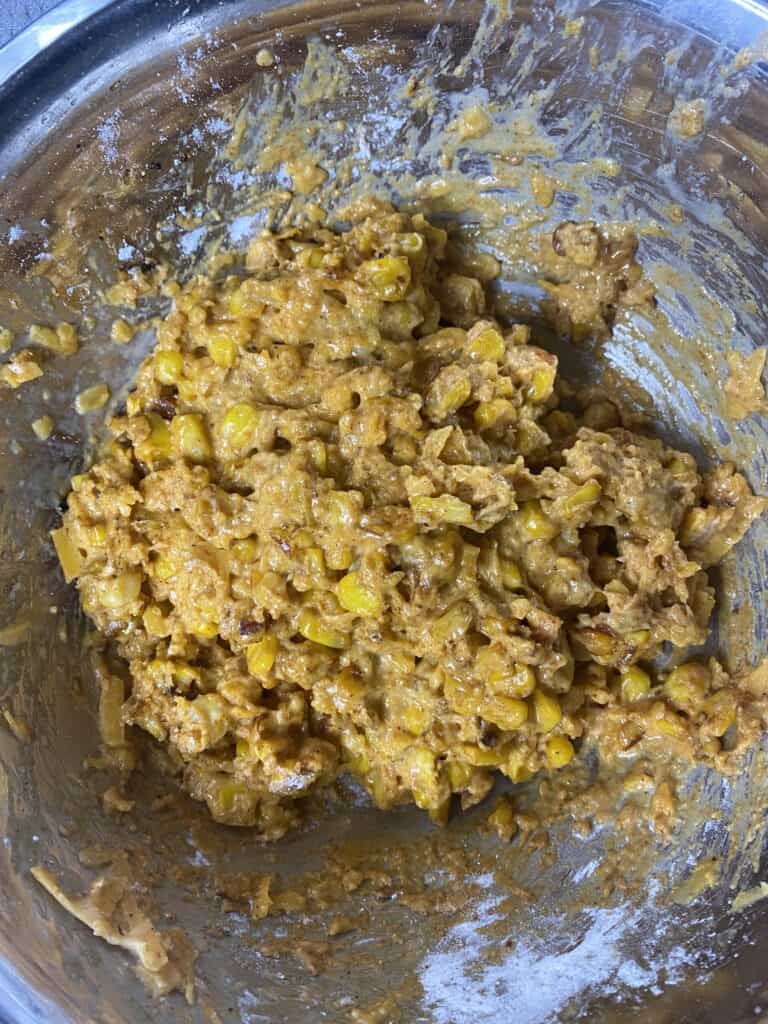 After you've pan roasted the corn and mixed up the batter for the fritters, you're ready to fry!
If you don't fry with oil often here are a few cooking tips to help you get perfect fritters!
Don't pour in too much oil. You don't need have a deep pool of oil, I like just a thin layer so that the fritters aren't swimming in oil and getting soggy!
Test the oil before adding the first batch of fritters! I like to test the oil heat by adding a dash of flour, if the flour begins to sizzle immediately then the oil is hot and ready! But, if the flour just kind of sits for a second or two before sizzling then the oil isn't quite hot enough yet.
I used an ice cream scoop to add my fritters to the pan, it helps keep each fritter close to the same size!
Gently press down on the fritters with a spatula to flatten them out to help the centers cook thoroughly.
As they're frying, use a spatula to carefully check the bottoms and make sure they aren't burning! If they look like they might burn, go ahead and flip them and adjust the heat. I've always found the second batch of fritters cooks faster than the first.
Lastly, once both sides have fried, place them on a paper towel lined plate to absorb excess oil and keep them crispy!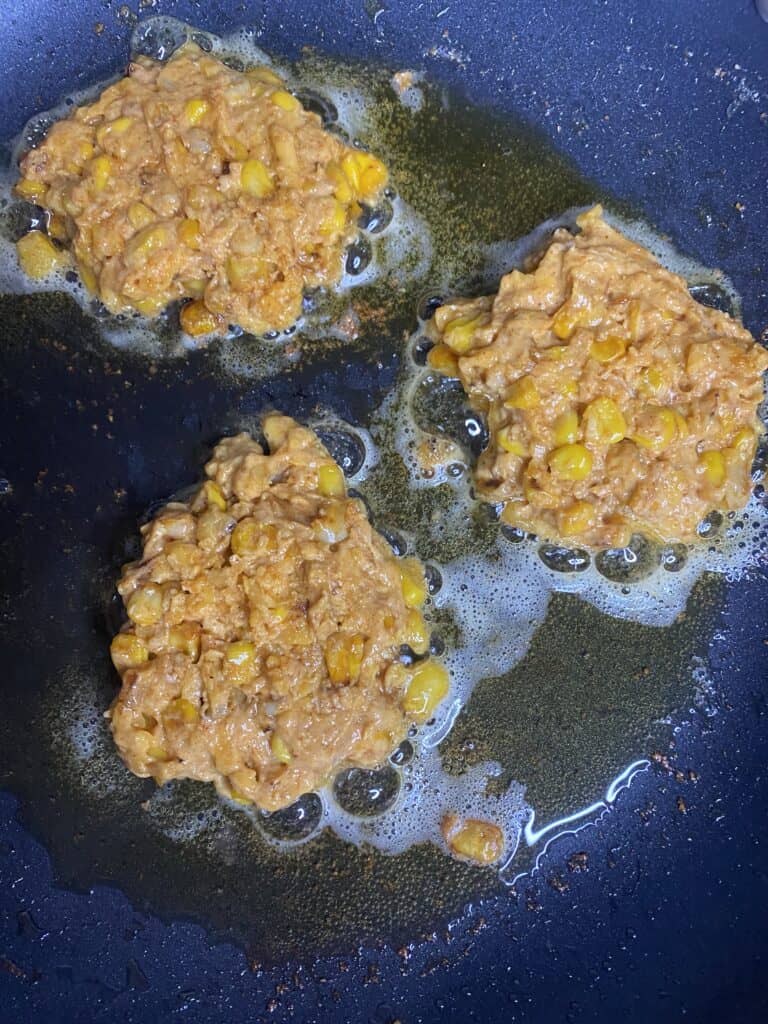 Got corn? Check out my other recipes here that use corn!
Appetizers
Mexican Corn Pasta Salad
Street Corn Fries
Main Dishes
Corn and Red Pepper Quesadillas
Creamy Corn Chowder
Want more spice? You're in luck, I love a recipe with a good kick of heat!
Appetizers
Buffalo Chicken Dip
Buffalo Chicken Pasta Salad
Harissa Mayo – as featured on BuzzFeed!

Main Dishes
Spicy Chicken Nuggets
Buffalo Chicken Burgers
Creamy Cajun Chicken Pasta
Cajun Mac and Cheese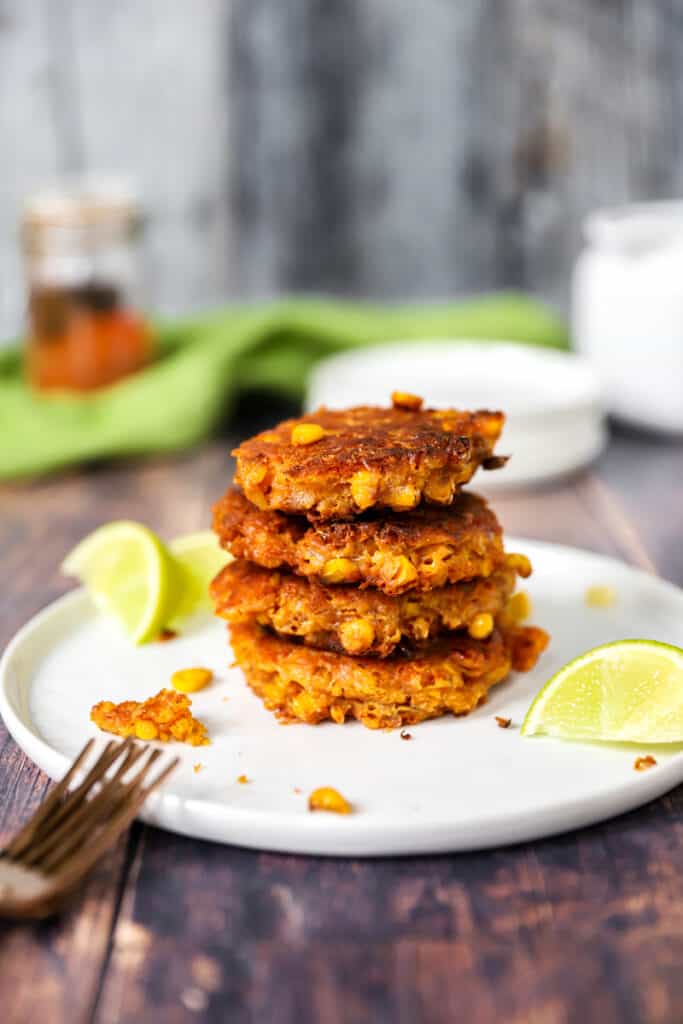 If you make this recipe let me know what you think!
Print
Spicy Corn Fritters
Spicy corn fritters are a crispy appetizer loaded with flavor! Heat from cayenne pepper, pan roasted corn, and sharp Cheddar cheese. Garnish with fresh lime juice and crema.
Author:
Prep Time:

15 minutes

Cook Time:

20 minutes

Total Time:

35 minutes

Yield:

8 – 10 fritters

Category:

Appetizer

Method:

Fry

Cuisine:

American
For the pan roasted corn
2 cups corn (cooked frozen or fresh)
4 cloves of garlic, grated or minced
1 tablespoon salted butter
1/2 teaspoon smoked paprika
1/4 teaspoon chili powder
1/4 teaspoons cayenne pepper
For the fritter batter
1 and 1/2 cups extra sharp Cheddar cheese
1/3 cup all purpose flour
1/4 cup corn starch
1/4 cup milk
1 egg
1 teaspoon garlic powder
1 teaspoon salt
1/4 teaspoon baking soda
1/2 teaspoon smoked paprika
1/2 teaspoon cayenne pepper
Vegetable oil for frying the fritters
Instructions
1. In a large pan melt the butter then add the corn, season with the smoked paprika, cayenne pepper and chili powder and a dash of salt. Stir well then cook on medium high heat for 10 minutes, stirring occasionally. You want the corn to get a bit of a char to it so allow the corn to sit for a bit between stirs.
2. Meanwhile, in another bowl mix the fritter batter ingredients: flour, corn starch, cayenne pepper, smoked paprika, chili powder, garlic powder, and salt. Once the corn is cooked, pour into this bowl, then add the cheese, milk and the egg. Stir well until the batter is well combined.
3. To fry the fritters, add a shallow layer of vegetable oil to a large pan. Make sure this pan is completely dry and has no water droplets in it. Heat the oil over medium high heat until hot enough to fry. You can test the oil by adding a dash of flour, if the flour begins to sizzle and fry immediately then the oil is ready to go! If the flour sits for a second or two before frying then the oil is not cooking temperature yet. Add a few tablespoons of the fritter batter to the oil and gently press down with a spatula to flatten them. Fry about 2:30 – 3 minutes per side (checking them to make sure they aren't burning), flip then cook 2:30 – 3 minutes on the other side. Place on a paper towel lined plate to absorb excess oil. 
Notes
The fritters should fry between 2:30 – 3 minutes per side. Occasionally check them to make sure they aren't burning or adjust the heat down slightly.
Keywords: spicy corn fritters