Dinner is getting spicy kick with this Creamy Cajun Chicken Pasta! Chicken breasts seasoned with Cajun spices, then added to an Asiago cream sauce and your favorite pasta. Spicy, creamy, and filling!
Recipe at a Glance
Prep time: 15 minutes
Cook time:25 minutes
Notes: This is a spicy pasta dinner! The Cajun spice blend adds quite a bit of kick. If you don't want it too spicy you can start light with the seasoning, and add more as you taste the sauce.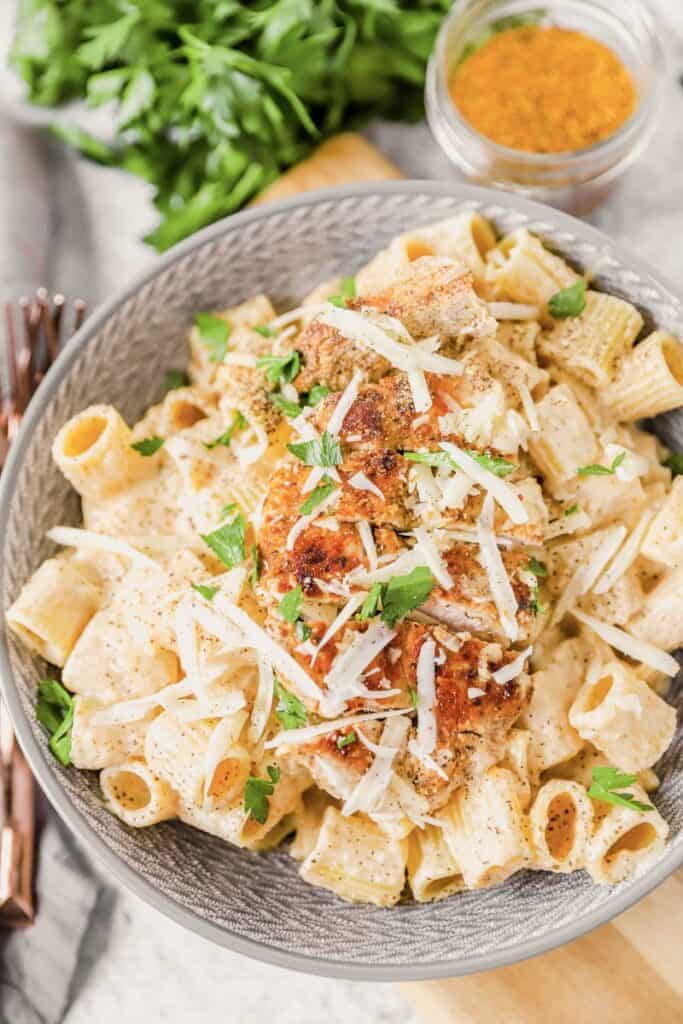 You all know, I love a good creamy pasta sauce. It's like the ultimate comfort foods in my book! If you love creamy pastas as much as I do, you'll want to check these out!
Can't choose between Alfredo sauce and tomato sauce? Have both with this Alfredo Tomato Sauce! But, if you definitely just want Alfredo sauce then here's my Easy Alfredo!
These pastas using cooking wines for some extra added flavor, Sherry Cream Sauce and Creamy Marsala Pasta.
Creamy Pesto Pasta is a delicious way to use pesto and Creamy Sun-dried Tomato Pasta uses a smooth blend of sun-dried tomatoes for the base of the sauce!
And lastly, Penne Vodka is an ultimate classic sauce that will taste like restaurant quality right from your kitchen! You can also use this sauce on pizzas and meatballs!
Ok, let's back to make the star of this post, the Creamy Cajun Chicken Pasta!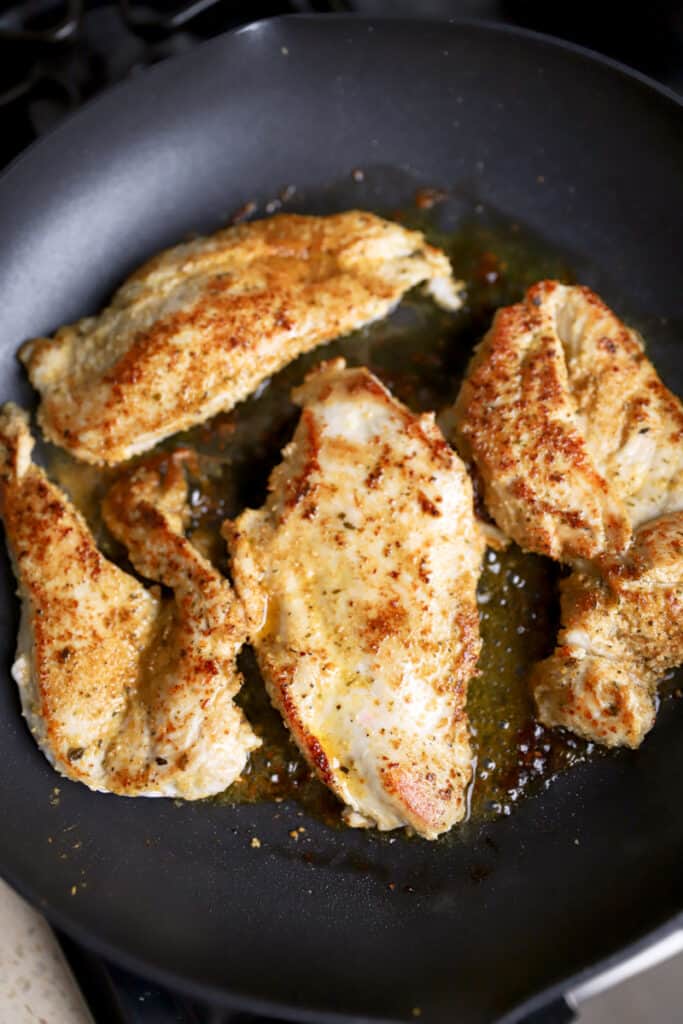 How to make the pan-seared chicken
This recipe uses pan-seared chicken, and it's so easy make! Here's what you'll need:
2 chicken breasts
2 tablespoons olive oil
1 tablespoon of butter
Up to 1 tablespoon of Cajun seasoning
Like I said above, the Cajun seasoning adds a big kick of heat so if you want this to be spicy go ahead and add the 1 tablespoon of Cajun seasoning. If you want a more mild flavor then I recommend reducing that to about 2 teaspoons of the seasoning!
First. Butterfly the two chicken breasts to create 4 thinner slices of chicken. Butterflying chicken means to slice the chicken in a way like opening the chicken like a book. Watch this video on how to butterfly chicken if you're unfamiliar with the technique! You want to make sure the chicken breasts are of even thickness throughout so that everything cooks evenly and thoroughly.
Next. Add the oil and butter to a large pan and heat over medium heat until the butter has melted. Season the chicken with as much Cajun seasoning as you'd like, then add the chicken breasts to the pan. Cook for about 5 minutes, flip and cook for an additional 5 minutes. It's important to note that cooking time depends on the thickness of your chicken! Use a meat thermometer to make sure you've cooked the chicken completely. I use this meat thermometer all the time!
Last. Allow the chicken to rest for a few minutes before slicing it and adding to the pasta!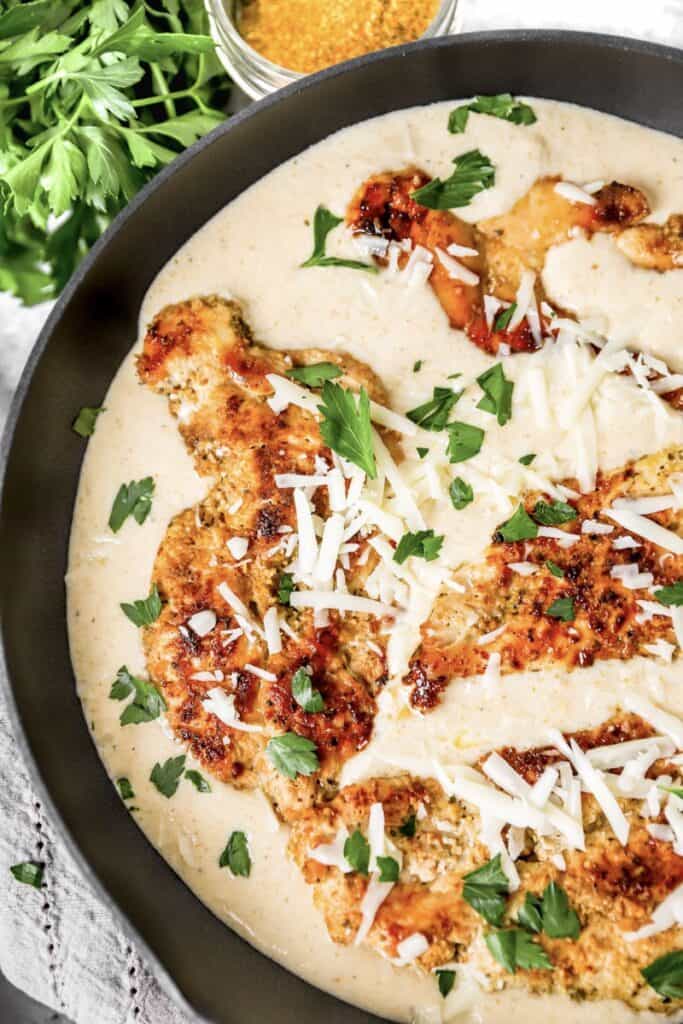 Cooking tips
I use a premade Cajun spice blend. If you like making your own or have some already made you can definitely use homemade Cajun seasoning blend!
If you don't want to butterfly chicken breasts, you could substitute thin sliced chicken breasts. Just keep an eye on the cooking time as those can be quite thin and don't need as long to cook.
The Cajun seasoning can pack quite the kick of heat! This dish is a spicy pasta dish. If you want a more mild dish you can scale back the amount of seasoning on the chicken to about 2 teaspoons, and cut back the seasoning in the sauce to 2 teaspoons as well.
You can use whatever pasta you'd like, but I really have been loving Mezzi Rigatoni lately!
If the cream sauce gets too thick while it's simmering, you can add a bit more pasta water to thin it back out.
The Asiago cream sauce is made with 1/4 cup of white wine. If you want to cook without alcohol you can substitute with chicken broth.
Questions? Let me know in the comments! I read and respond to comments and am happy to help you make this recipe!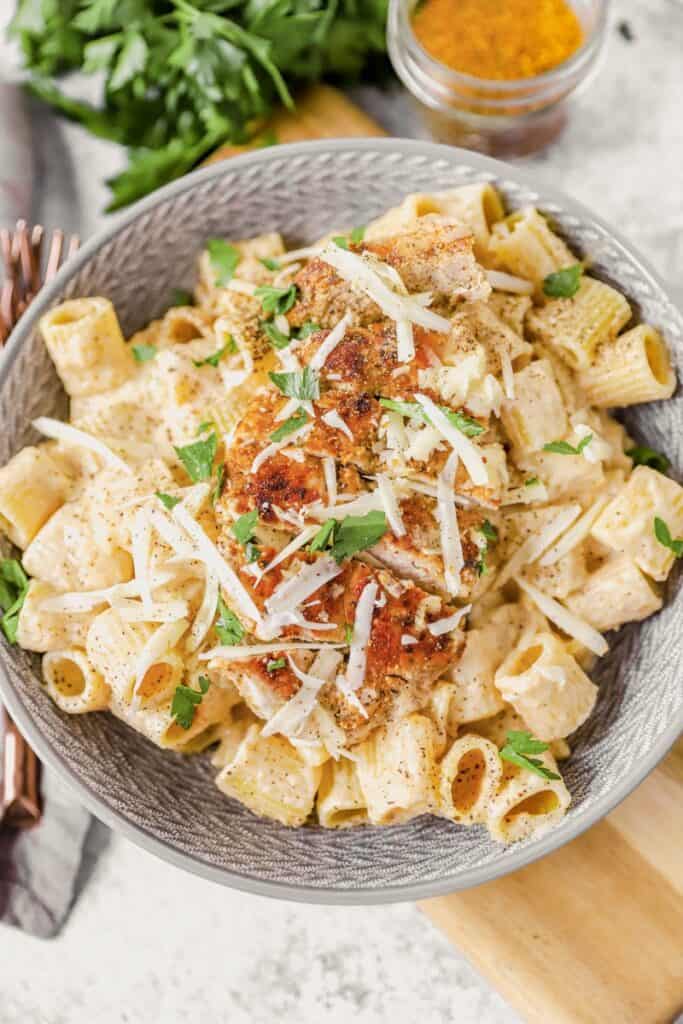 Want more recipes, cooking tips, and food photography? Follow me on Instagram!
If you make this recipe or any other recipes from the blog make sure you tag me! I love seeing all your delicious creations.
Print
Creamy Cajun Chicken Pasta
A creamy and spicy chicken pasta dinner! Season chicken with Cajun spices then serve in an Asiago cream sauce and your favorite pasta.
Author:
Prep Time:

15 minutes

Cook Time:

25

Total Time:

40 minutes

Yield:

4 servings
For the chicken
4 thin chicken breasts, you can use thin sliced or butterfly chicken breasts into the thickness you want
1 tablespoon Cajun seasoning
2 tablespoons olive oil
1 tablespoon butter
For the pasta
3 cups of your favorite pasta, I like a Mezzi Rigatoni for this
2 tablespoons butter
2 tablespoons flour
1 and 1/2 cups half & half or light cream
1/2 cup shredded Asiago cheese
1/4 cup dry white wine (you can substitute chicken broth if needed)
1/4 cup pasta water
2 and 1/2 teaspoons Cajun seasoning
1/4 teaspoons salt
1/4 teaspoon garlic powder
1/4 teaspoon pepper
Instructions
1. Bring a large pot of water to boil and prepare the chicken. Drizzle the chicken breasts with a bit of olive oil and season with the Cajun seasoning. In a large pan, over medium heat the 2 tablespoons olive oil with the 1 tablespoon butter. Add the chicken and cook for about 5 minutes, flip then cook an additional 5 minutes. Cooking time could vary depending on your chicken's thickness. Internal temperature should be 165 degrees. Once cooked, removed from the pan and keep on a plate covered with foil to keep warm. Remove any excess oil from the pan and lightly wipe with a paper towel, you'll make the sauce in this same pan!
2. Add the pasta to the boiling water and cook according to box instructions. Begin to make the creamy sauce by melting the 2 tablespoons of butter in the same pan that cooked the chicken. Whisk the butter to scrape up any drippings in the pan, flavor!! Add the 2 tablespoons of flour and whisk to combine and cook for about 30 seconds. Add the cream and the wine and bring to a simmer. Add the Asiago cheese, the Cajun seasoning, salt, pepper, and garlic powder. Whisk so that everything combines and the cheese melts into the sauce. Lastly, add 1/4 cup of the pasta water. Simmer for 8-10 minutes.
3. Add the cooked pasta to the sauce and stir to coat all of the noodles. Slice the chicken breasts into strips. To serve, add some of the pasta to a bowl and top with the sliced chicken breast. Top with more shredded Asiago and enjoy!
Notes
If the sauce gets too thick as it's simmering, you can add additional pasta water to thin it out.
This dish is spicy! The Cajun spice blend adds a big kick of heat.