Weeknights need this creamy chicken piccata. A bright lemony sauce makes this a light chicken dinner that's ready for the table in about 40 minutes from start to finish! The best bite is with the salty fried capers that add a bit of crunch!
Recipe at a Glance
Prep time: 15 minutes
Cook time: 25-30 minutes
Notes: You can use thin sliced chicken breasts, or butterfly chicken into thinner slices to the thickness you want.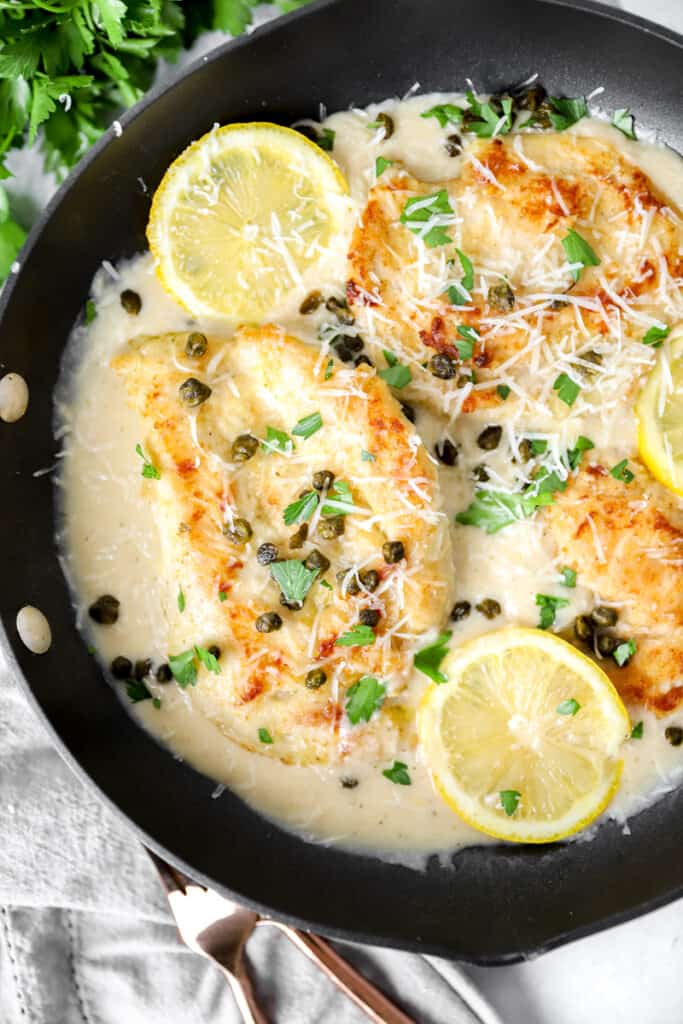 Cooking tips
I highly recommend a meat thermometer! Depending on how thick the chicken breast is that you're using, the cooking time can vary. Get a digital thermometer to quickly check when you're chicken is ready to remove from the pan! I have a thermometer like this one.
As with any cream sauce, it if happens to get too thick while it's simmer just add a little of the pasta water to thin it back out!
The fried capers add a big hit of salt, so for that reason I don't add additional salt to the sauce. If capers aren't your thing then go ahead and add a dash of salt to the piccata sauce.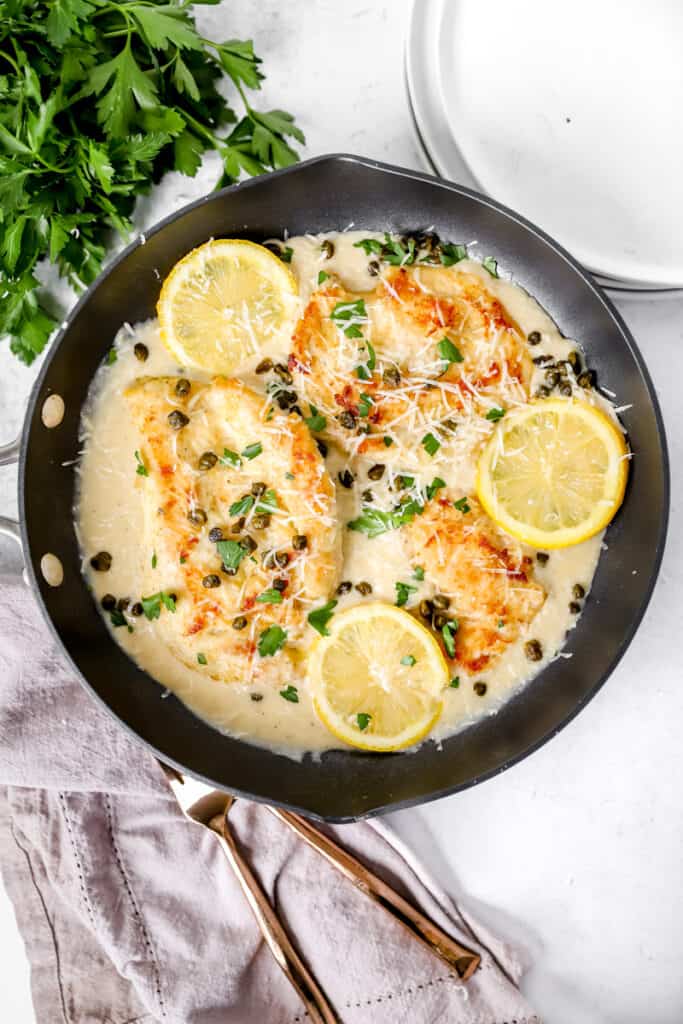 How to prepare the chicken
For this recipe you'll be dredging the chicken but not breading it. What's the difference? Dredging chicken simply means coating it in flour before adding it to the pan, but not adding an egg wash or any breadcrumbs.
Step 1 – Butterfly the chicken
Butterflying chicken is the process where you slice the meat all the way through, as if you're opening a book. If you want a super big piece of chicken you can leave the piece whole, or do what I like to do where I complete the slice all the way through to create two pieces of chicken. After that, use a meat tenderizer to pound it out to an even thickness.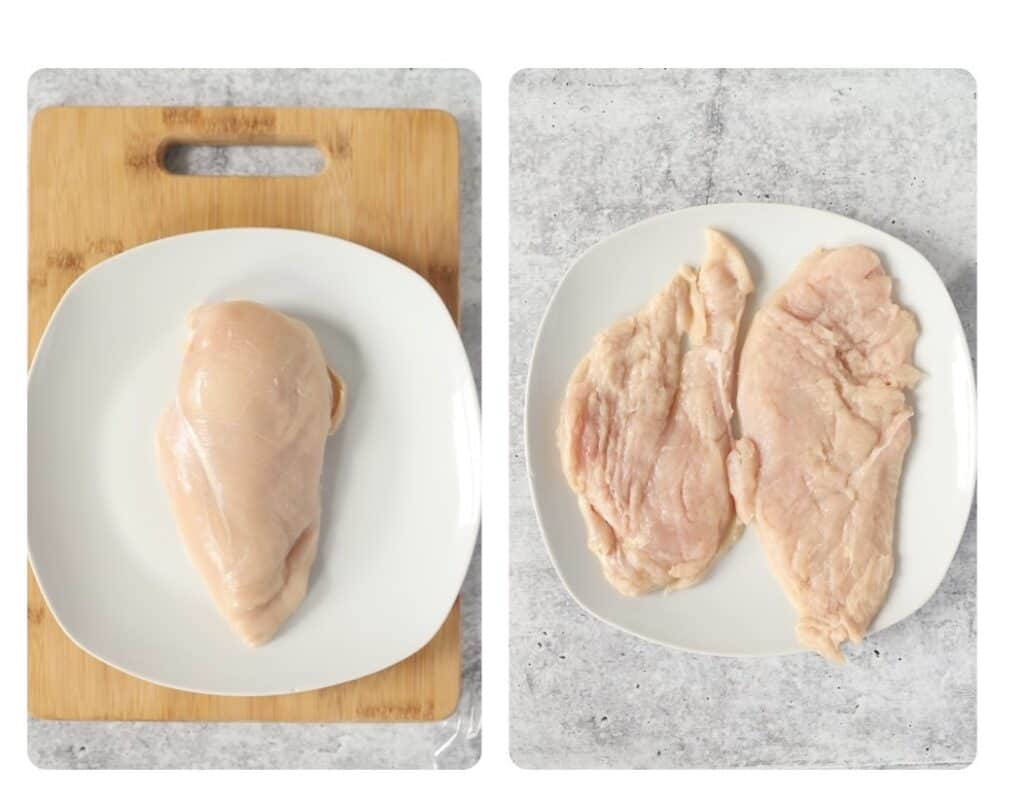 Step 2 – Dredge in flour
Add some flour to a bowl or plate and season with salt, pepper, and garlic powder. Coat both sides of the chicken.
That's it…you're ready to cook!
If you want to take it the next step and add breading, you can read more about how to dredge and bread chicken in my tutorial post!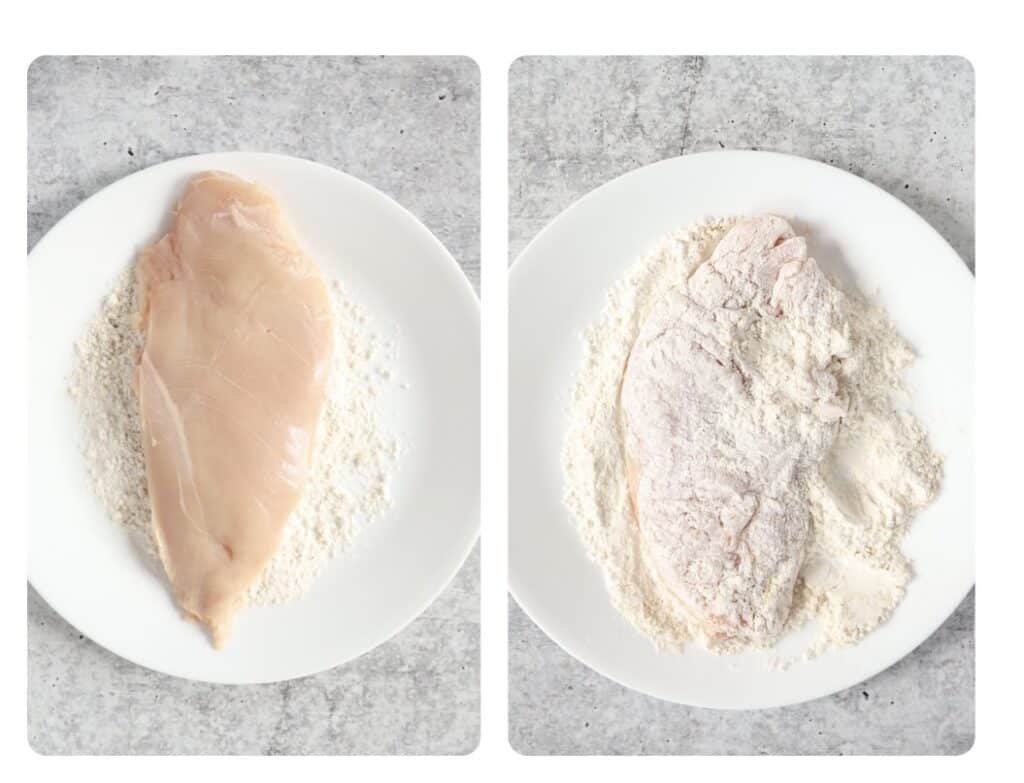 Now let's talk about the caper situation.
These fried capers are seriously my favorite part of this recipe!
If you've never had capers before, they're super salty but add nice flavor to heavy or creamy dishes. In this recipe, you're going to pan fry them until lightly crispy!
Just heat a tablespoon of olive oil over medium high heat and cook the capers for about 5 minutes. That's it!
You'll make these crispy capers that you can add to pastas, pizzas, even dips and sandwiches like this Smoked Salmon Wrap!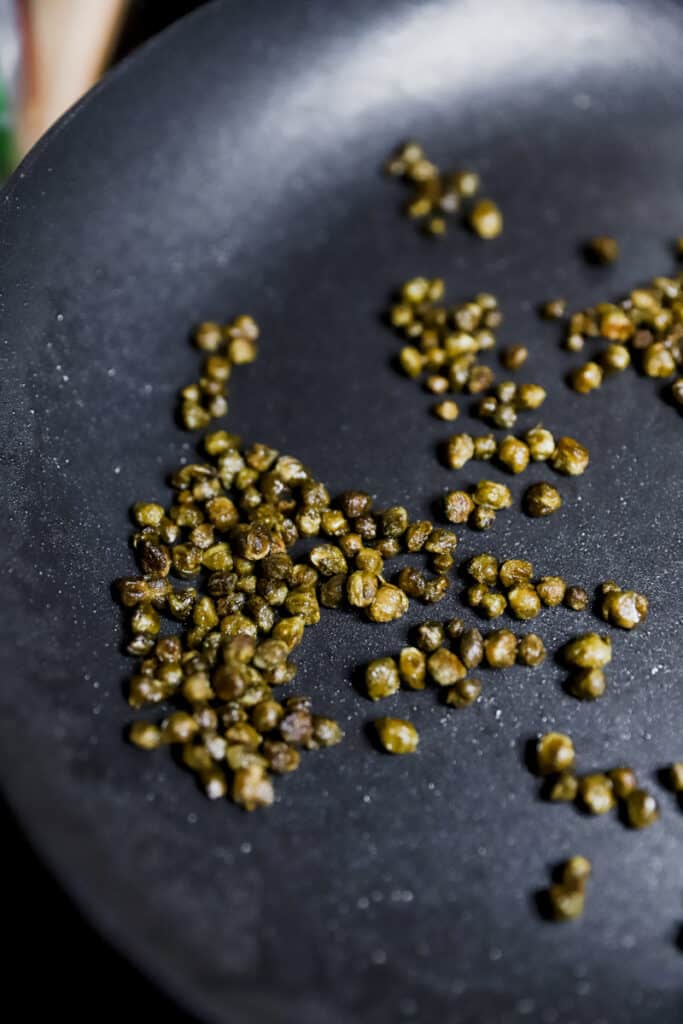 Looking for more easy dinner recipes? You're in the right place! I love creating recipes that you can easily make for dinner on a busy weeknight.
More lemon? No problem! These Chicken Piccata Meatballs are a fun spin on a chicken piccata, complete with the fried capers! Chicken Parm Meatballs are another easy recipe that's a meatball spin on chicken parm!
This Roasted Red Pepper Pizza is just as good as takeout. And for pasta, this Stovetop Mac and Cheese is ready in 20 minutes, and this Baked Penne Vodka is a fun spin on baked ziti!
More lemon forward recipes? Lemon Sugar Cookies and Lemon Blueberry Scones are easy baking recipes to use some leftover lemons!
And let's cheers with some cocktails! A Limoncello Martini or a Limoncello Vodka are perfect summer weather drinks!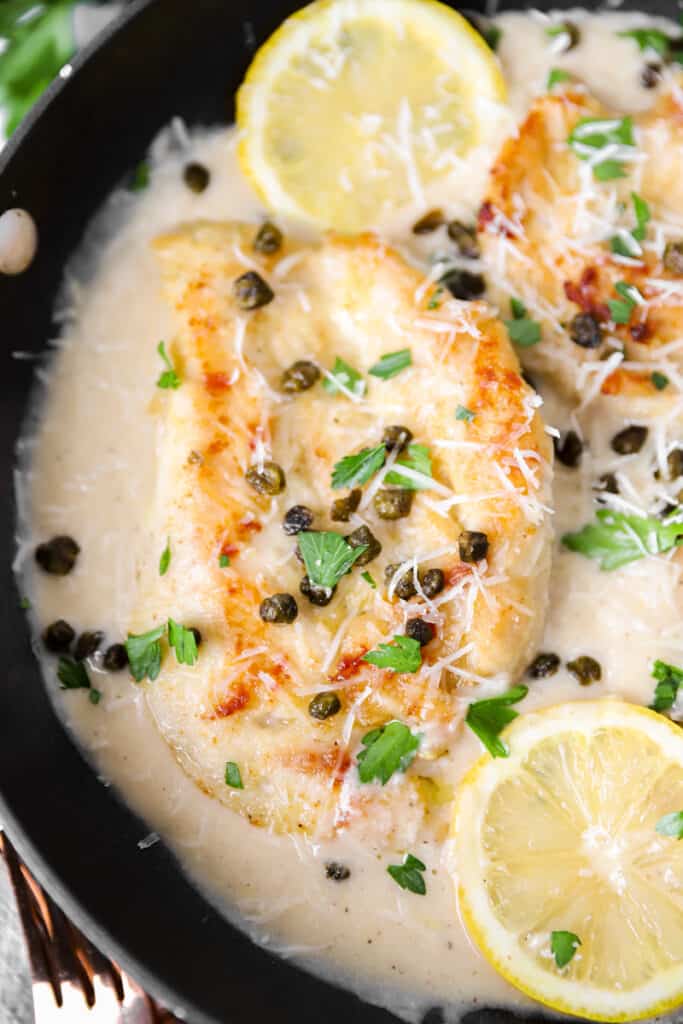 Want more recipes, cooking tips, and behind the scenes of food photography? Follow me on Instagram!
Print
Creamy Chicken Piccata
If you like lemon this is for you! A creamy lemon piccata sauce served with chicken and fried capers. The perfect blend of creamy, citrusy, and salty!
Author:
Prep Time:

15 minutes

Cook Time:

30 minutes

Total Time:

45 minutes

Yield:

4 servings

Category:

Main Dish

Method:

Saute

Cuisine:

American Italian
For the Chicken
4 thinly sliced chicken breasts (you can use thin sliced chicken or butterfly chicken breasts into thinner slices)
3 tablespoons extra virgin olive oil
1 tablespoon butter
1/2 cup all purpose flour
1/2 teaspoon garlic powder
1/2 teaspoon pepper
1/4 teaspoon salt
For the Piccata Sauce
1 cup chicken broth
1/2 cup light cream or half & half
1/4 cup grated Parmesan
3 tablespoons fresh lemon juice
1/2 teaspoon lemon zest
1/4 teaspoon pepper
1 tablespoon butter
1 tablespoon all purpose flour
3 gloves garlic, grated or use a garlic press
For the Fried Capers
3oz jar capers, drained
1 tablespoon extra virgin olive oil
Instructions
1. Make the fried capers by heating the 1 tablespoon of extra virgin olive oil in a large pan over medium high heat. Add the drained capers and fry for 4-5 minutes until lightly browned, stirring occasionally. You can cover the pain to limit the splatter. Once fried, spoon onto a paper towel lined plate to absorb excess oil as you finish the rest of the recipe.
2. To make the chicken, in a large bowl combine the flour with the garlic powder, salt and pepper. Coat both sides of the chicken breasts with this seasoned flour. In a large pan, heat the 3 tablespoons of extra virgin olive oil with the 1 tablespoon of butter over medium to medium-high heat. Add the chicken and cook about 5 minutes per side depending on the thickness. I highly recommend using a meat thermometer, chicken should register as 165 degrees. Once cooked, remove from the pan, place on a plate and cover with foil as you cook the piccata sauce.
3. Remove excess oil from the pan, and gently wipe out but leave any of the chicken drippings! Add the 1 tablespoon of butter and melt over medium heat. Add the grated garlic and cook for 1 minute. Add the 1 tablespoon of flour and whisk to combine. Add the broth, cream, lemon juice and lemon zest. Stir to combine, then add the cheese and pepper. Simmer for 8-10 minutes. If sauce gets too thicken add a bit more cream to thin it out.
To serve pour the piccata sauce over the chicken and garnish with as much as the fried capers as you'd like!
Notes
The sauce doesn't have additional salt in it. The fried capers add any salt you'd need for the sauce! If you add salt to the piccata sauce too the dish will become way too salty.
Keywords: creamy chicken piccata