A rich chocolate cheesecake with no oven needed? Yes, such a thing exists and you've found it here! This no bake chocolate cheesecake is the easy chocolate dessert recipe you need to keep in your recipe box when you want chocolate but don't want to bake.
Even the crust doesn't require any baking! The whole things chills in the fridge for several hours. Once the cheesecake has set, you've got yourself a dense velvety cheesecake, and you didn't need to break a sweat!
Recipe at a Glance
Prep time: 20 minutes
Chill time: 5 hours
Notes: The longest part of the recipe is letting the cheesecake chill and firm up in the fridge! It needs at least 5 hours, so make this a day ahead if you're taking it to a party.
This post was updated to update with better photos, but the recipe has stayed the same! Delicious and chocolatey!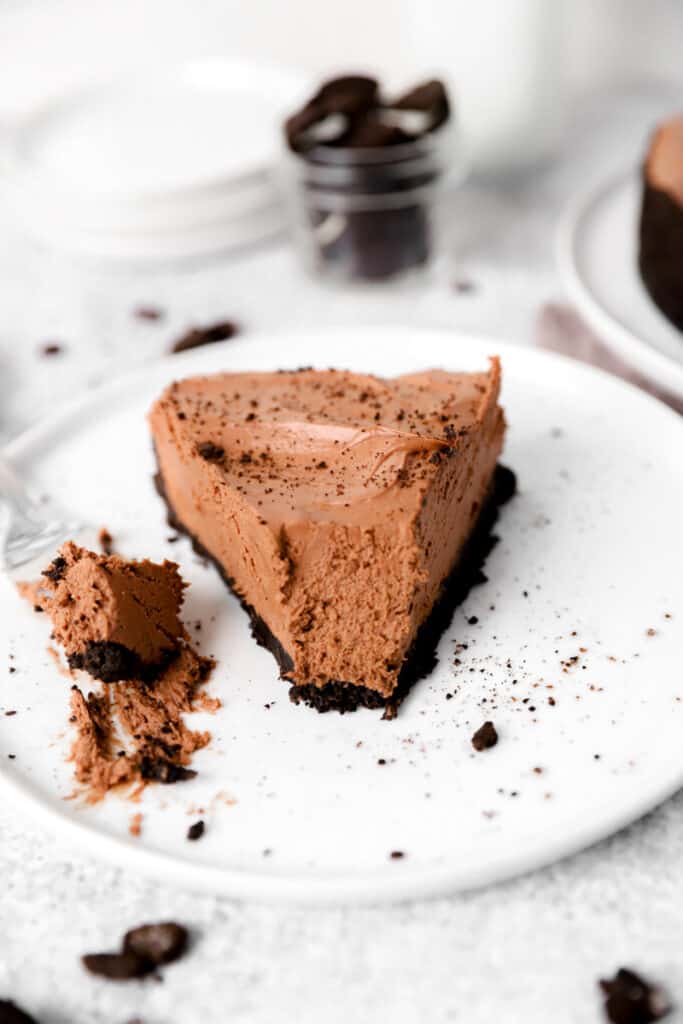 No bake desserts are seriously the heroes of the dessert world in my opinion.
Not everyone likes baking or is a skilled baker. Baking can be tricky! I've had SO many baking fails. So no bake desserts let's you make a delicious treat without the complexity of baking! That's a huge win for me!
A no bake dessert means exactly that, no need to turn on that oven! This is truly a cheesecake perfect for summer. When it's 90 or 100 degrees outside, who wants to fire up the oven and start baking? Not me.
Ok, let's make this cheesecake!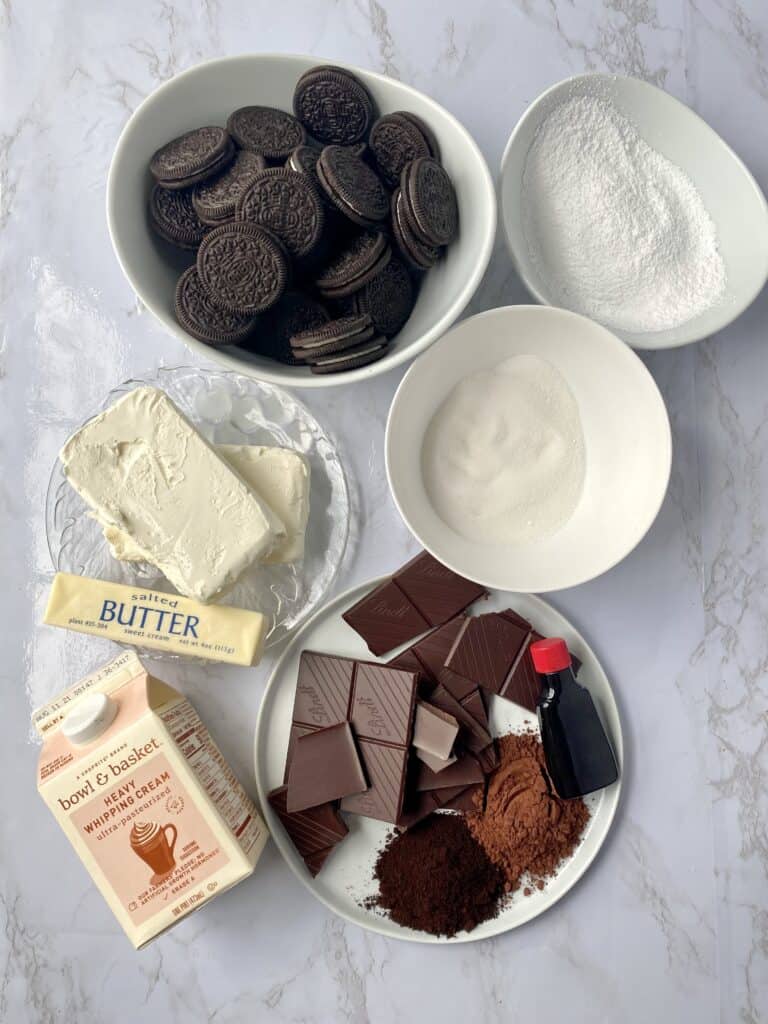 Ingredients
Here's what you'll need to make this no bake chocolate cheesecake.
Cream cheese. And this is important, it's needs to be softened! Cream that's too cold will result in a lumpy cheesecake. Allow it to come to room temperature before making this recipe, or gently soften it in the microwave.
Oreos, butter, espresso powder. These three ingredients combine to make the crust. That espresso powder really adds a nice hint of coffee flavor in the crust.
Powdered sugar, white sugar, vanilla extract, cocoa powder. Super important, make sure you sift the powdered sugar! It will help remove any lumps or clumps that become really difficult to breakup once it's blended into the batter.
Dark chocolate. You'll need two 3.5oz bards of dark chocolate, I like to use either 70% or 78% dark chocolate.
Heavy cream. You'll need 1 cup to make your own whipped cream! This helps the cheesecake not be too heavy and dense.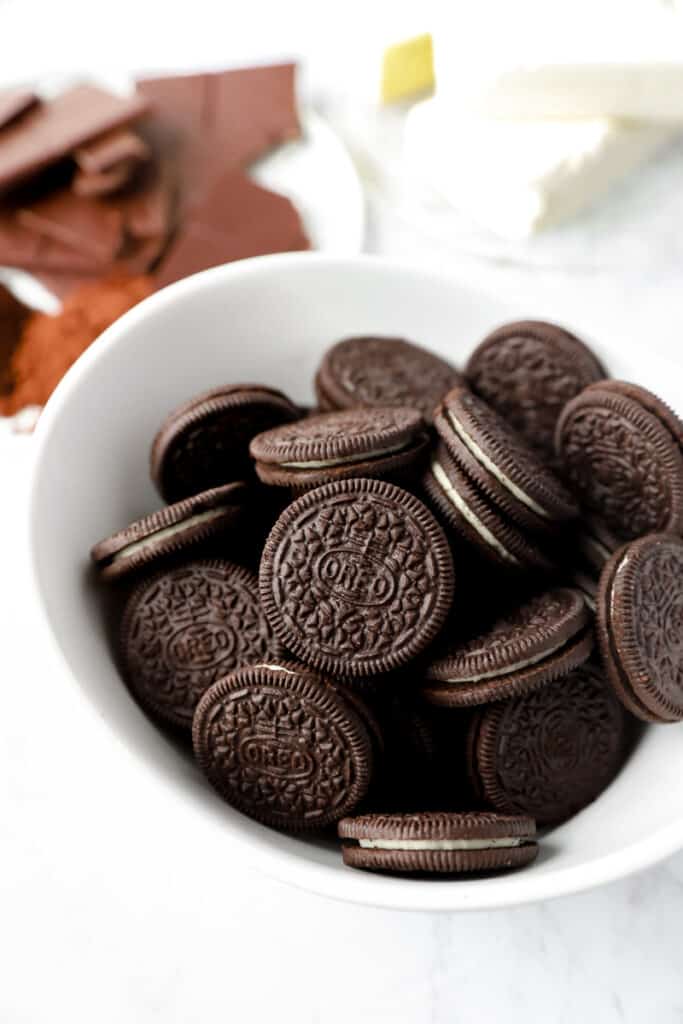 How to form the crust
Once you make the crust of crushed Oreos, butter and espresso powder you'll need to form your crust in the spring form pan. If you don't have one, you can buy one like this pan.
It's not hard to do, but here are a few helpful tips!
First. Make sure you spray your pan with cooking spray. This will help the cheesecake release from the pan and the slices to come out smooth. Do not use butter to grease the pan. Using butter to grease the pan will literally act like glue, making the crust stick to the pan. I learned that one the hard way.
Second. Start by forming the bottom of the crust. Pour in about 1/2 of the crust crumbs into the pan and press down firmly to form an even smooth base going all the way to the edge.
Last. To form the edges, take the rest of the crust crumbs and spoon them all along the edge of the crust. Using your hand, gently press up to form an edge bout 1″ high. It doesn't have to be perfect!
Here's what mine looks like: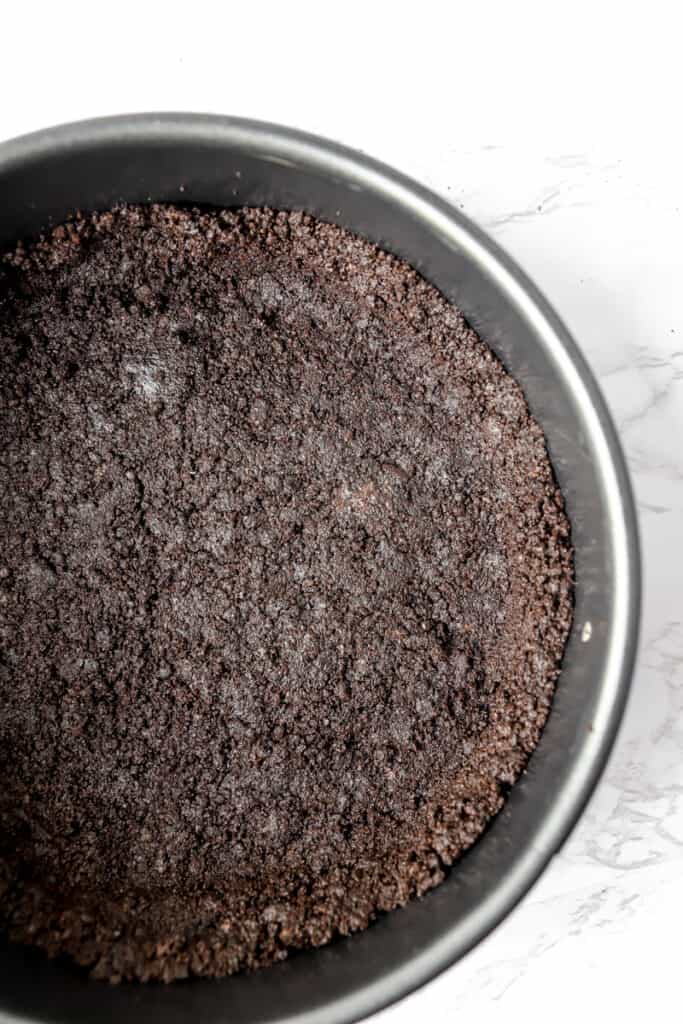 Then take the chocolate cream cheese batter and pour it into the crust.
Pop in the fridge for at least 5 hours for it to firm up. Try not to sneak any bites while it chills.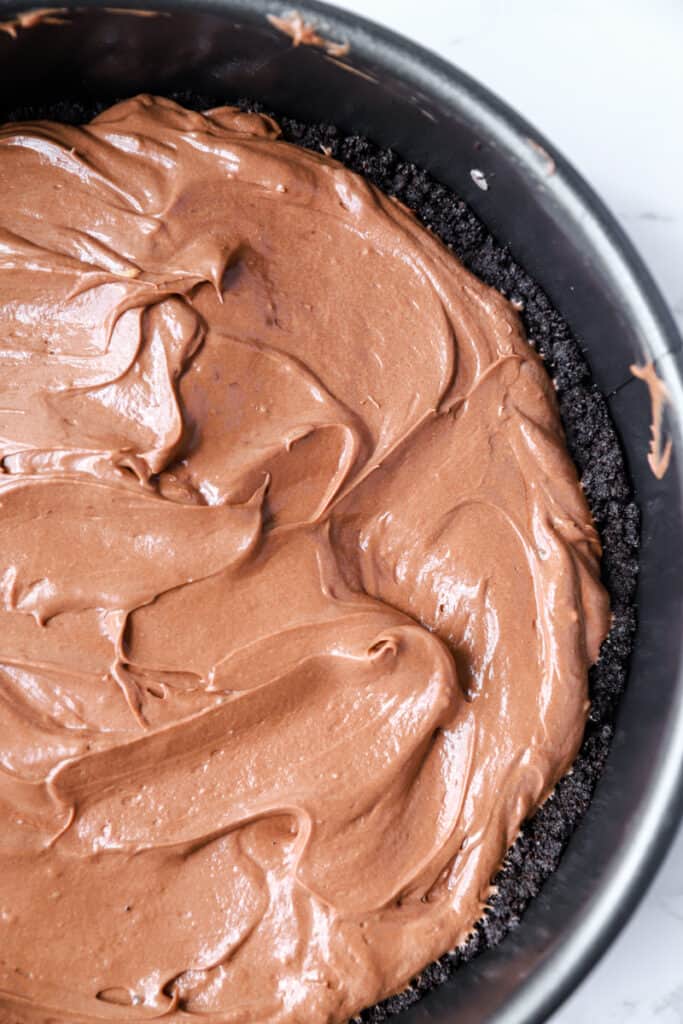 While we're on the subject of chocolate, I've got some other chocolatey desserts you might like!
These Doctored Box Brownies is perfect if you want chocolate, but don't want a complex baking recipe! Just add one extra ingredient to the box brownies to get the fudgiest brownies you'll ever have!
Can't choose between brownies and cookies? No problem! These Oreo Cookie Brownies combine the best of both worlds so you'll never have to choose again.
These Salted Chocolate Chunk Cookies have huge pools of dark chocolate chunks, perfect for chocolate lovers!
And if you're looking for more easy no bake desserts, I've got those too!
Edible Cookie Dough let's you enjoy all those irresistible cookie dough flavors, without any raw eggs!
How about some mousse? This Chocolate Mousse recipe has a dash of a Kahlua and is my favorite mousse recipes!
Last, my No Bake Coconut Cheesecake is another one of my favorite summer desserts. Cool coconut cream cheese and a graham cracker crust made with toasted coconut!
Or, I also have a dessert category where you can browse some of my other dessert recipes.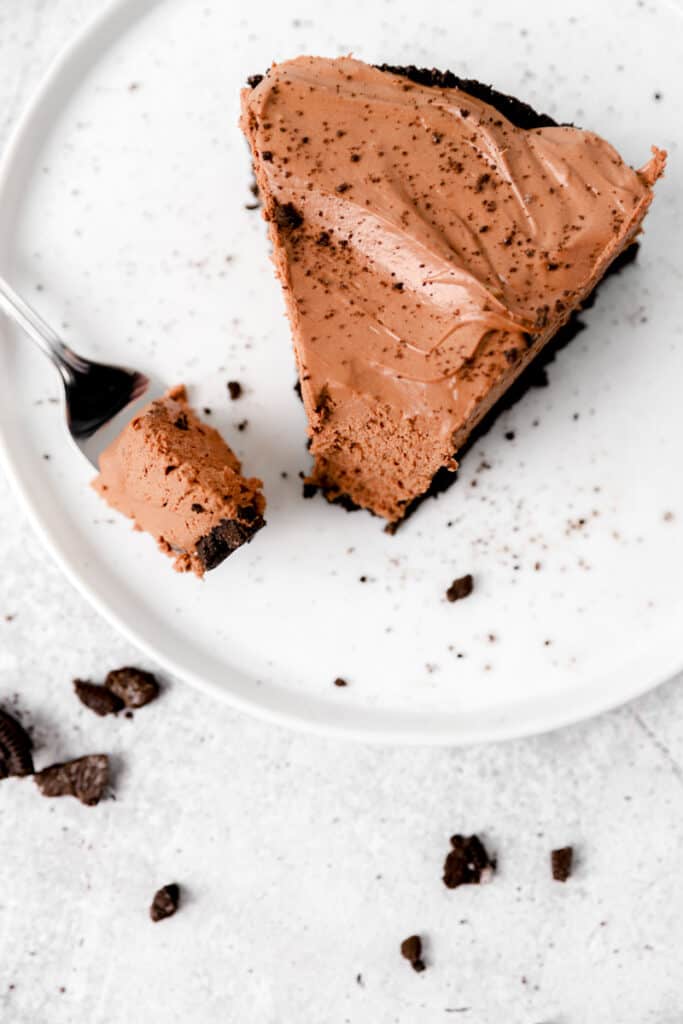 Cooking tips
As I said above, the cream cheese MUST be room temperature. If it's not you won't be able to get a smooth cheesecake texture. No one wants a lumpy bumpy cheesecake!
Sift your powdered sugar before mixing it into the batter. Again, if you don't sift you can risk having clumps of powdered sugar throughout the cheesecake. By sifting it, you create a very fine smooth powder that can easily blend into the cream cheese batter.

Don't omit the powdered sugar by just increasing the amount of white sugar. Why powdered sugar? Well, it blends into the cool batter easily in a smooth and even way. White granulated sugar can be grainy. Since we're not going to bake this cheesecake, the white sugar can't dissolve in a cold batter. So, if you use too much white sugar you run the risk of having a cheesecake that is grainy, where you feel the texture of the sugar

Use high quality dark chocolate. I really like Lindt, which is what I used in this recipe. I've also used Ghirardelli.

And last but definitely not least, let the it chill for the full 5 hours. If you cut into it too soon it might not be fully set. The result is a cheesecake that is more mousse consistency instead of what we really want, which is a dense solid chocolate cheesecake.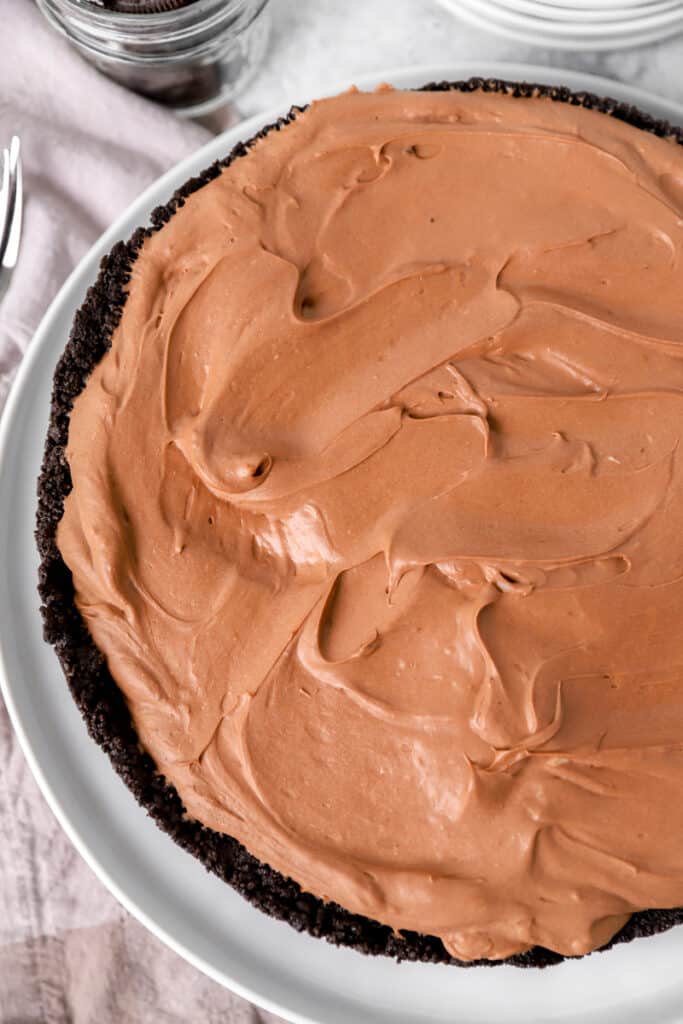 If you want more recipes, cooking tips, and behind the scenes of my food photography follow me on Instagram!
If you make any of my recipes be sure to tag me, I love seeing your delicious creations!
Print
No Bake Chocolate Cheesecake
No bake chocolate cheesecake is an easy and rich dessert recipe. The Oreo cookie crust has a bit of espresso powder for a deliciously crunchy crust. A perfect dessert when you want chocolate but don't want to bake!
Author:
Prep Time:

20 minutes

Cook Time:

5 hours

Total Time:

5 hours 20 minutes

Yield:

1 cheesecake

Category:

Dessert

Method:

Mix

Cuisine:

American
For the Cookie Crust
1 package Oreo cookies (14.3oz package)
8 ounces salted butter, melted
2 teaspoons espresso powder
For the Cheesecake
2 8oz packages of regular cream cheese
1 cup heavy cream
7 oz dark chocolate (I used two 3.5oz bars of Lindt 78% chocolate)
2 tablespoons dark cocoa powder
1/2 cup granulated white sugar
1/2 cup powdered sugar
1 teaspoon vanilla extract
Instructions
1. Start by making your crust. Melt the 8 ounces of butter, and pulse the cookies in a food processor until they are a fine powder. In a large bowl, combine the crushed cookies, the melted butter and the 2 teaspoons of espresso powder. Stir until all the cookie crumbs have been incorporated into the crust batter. Take your 9″ spring form pan and spray it with cooking spray. Start making your crust by spreading some of the cookie mixture into the bottom and pressing firm so it becomes compact and smooth. once you've form the entire bottom, add more crust crumbs around the entire edge and start pressing it up to form the high crust wall. You should use all the the cookie crust mixture. Place in the fridge while you make the rest of the cheesecake.
2. Now, make the whipped cream. Pour the 1 cup of heavy cream into your mixing bowl and either with a stand mixer or handheld, beat on high for approximately 1 minute and 15 seconds until a firm whipped cream has formed. Place aside.
3. Using a double boiler method, melt the chocolate, then pour into a bowl to slightly cool.
4. In your standing mixer, beat the cream cheese until smooth. Add the white sugar, the sifted powdered sugar, vanilla, and cocoa powder. Beat until combined. Next, pour in the melted chocolate and stir with a spoon to blend into the cream cheese batter. Lastly, fold in the whipped cream until it has completely blended in. You don't want to see any white, the batter should be completely dark chocolate.
5. Remove the crust from the fridge. Pour the cheesecake batter on top of the crust and smooth so the top of the cheesecake is as smooth as you can get it. Chill for 5 hours. Serve with more whipped cream or caramel sauce!
Notes
Use regular full fat cheesecake, this isn't something you can use reduced calorie cream cheese in. It won't produce the same consistency!
Keywords: no bake chocolate cheesecake