S'mores are getting a delicious twist with these Oreo s'mores! A little different than your typical campfire s'more, these are made with marshmallow fluff and a dark chocolate spread. A perfect no bake dessert for any season!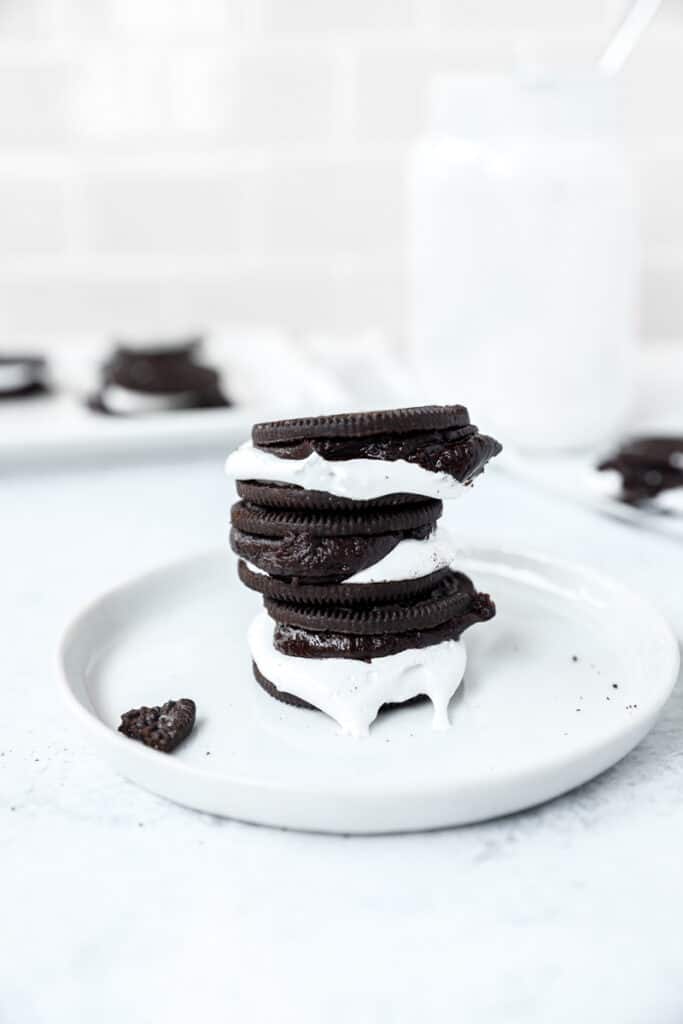 The idea of combining marshmallow fluff and a homemade chocolate spread came from a cookbook my mom had when we were kids! If you're familiar with the fitness instructor Richard Simmons, he came out with a few cookbooks back in the 1990's (ok why did it feel like I just wrote an ancient historical date there…I'm getting old lol).
But anyway, one of the cookbooks was all desserts called Sweetie Pie. In there was a recipe that used fluff and a chocolate spread to make graham cracker s'mores on the stovetop!
I've only made a few small tweaks since my absolute favorite is dark chocolate. I used dark chocolate morsels and Hershey's Special Dark cocoa. I really prefer the dark chocolate flavors as the perfect match for the sweet fluff and cream of the Oreo.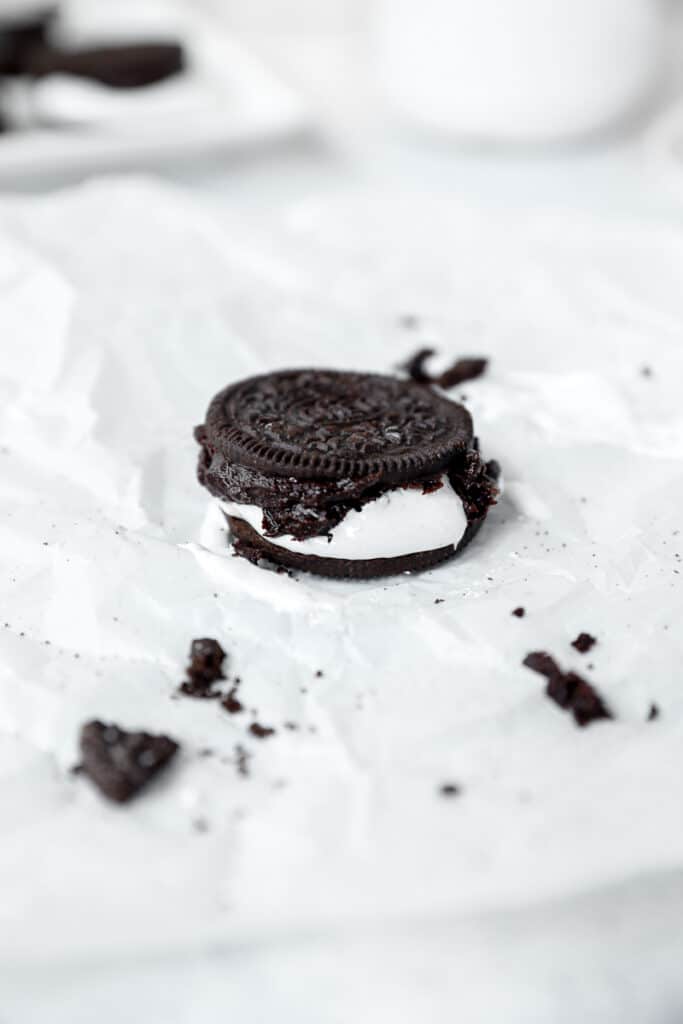 INGREDIENTS
Here's what you need to make the Oreo s'mores!
Oreos
Dark chocolate morsels
Powdered sugar
Sweetened condensed milk
Marshmallow fluff
Hershey's cocoa, Special Dark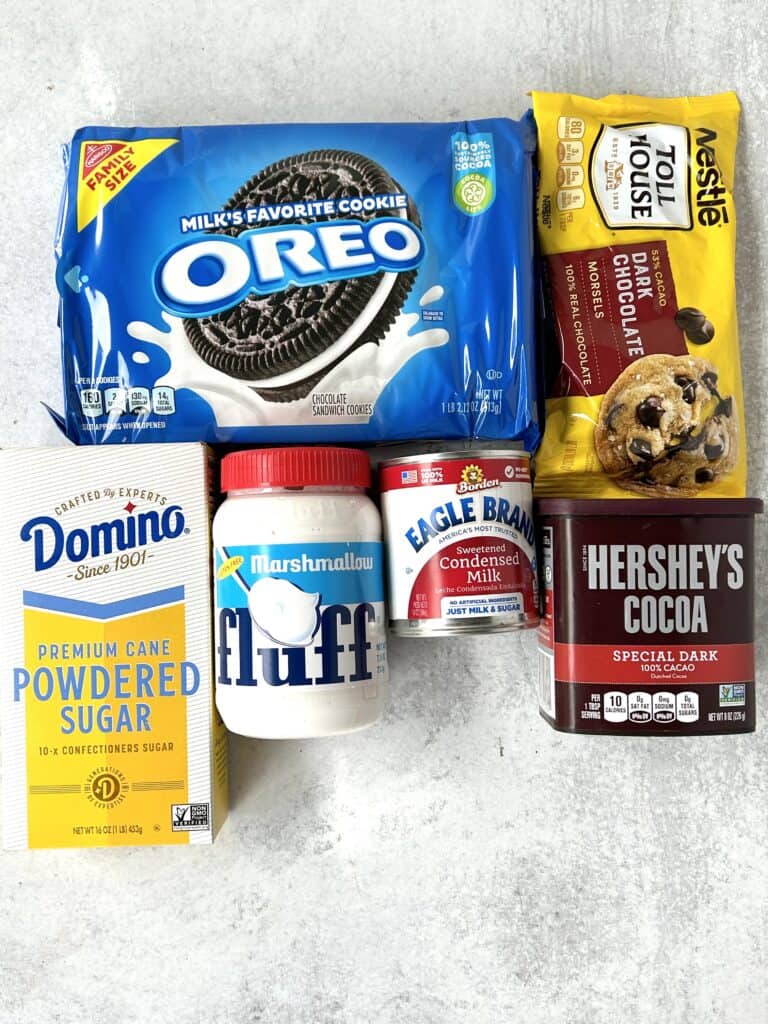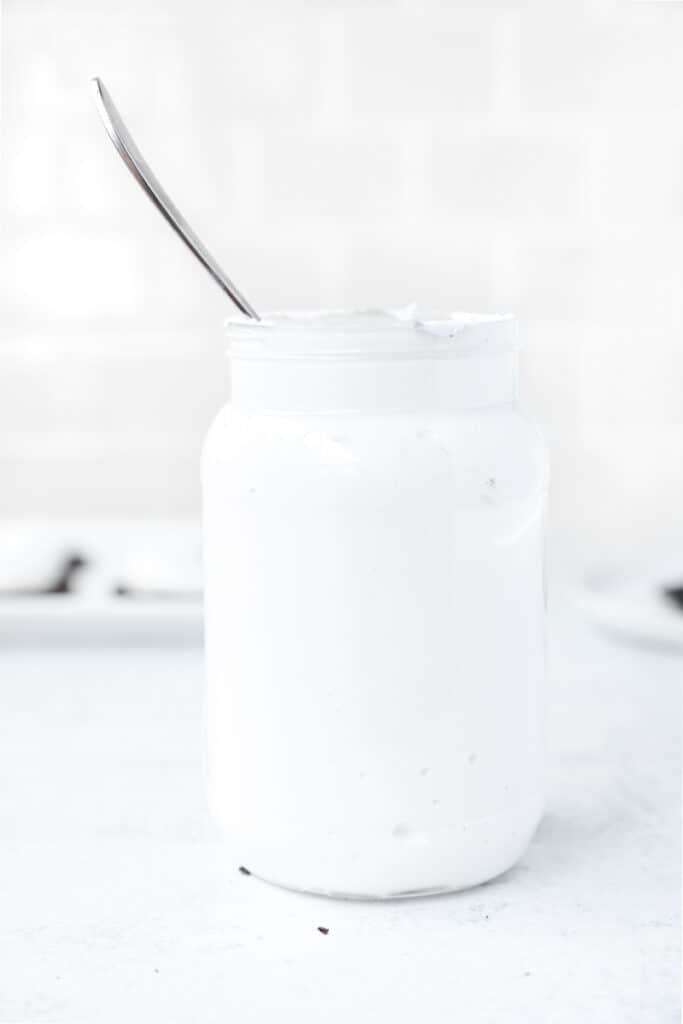 WORKING WITH MARSHMALLOW FLUFF
If you've never worked with marshmallow fluff the biggest tip I can give is that it spreads quite a bit. In the jar it's contained, but once you spoon it out it will flatten and spread. You only need a small dollop on the center of the Oreo and it will start to pool out over the edges on it's own. So don't do too much fluff or you'll wind up with a really messy sticky s'more.
HOW TO MAKE THE CHOCOLATE SPREAD
This dark chocolate spread is next level good. Rich, chocolate, and the perfect match to the sweet marshmallow. Everything mixes up easily in a small pot.
First, add the chocolate morsels and heat over medium low heat.
Next, add the sweetened condensed milk and stir to combine then reduce heat to low.
Last, stir in the cocoa and powdered sugar. Turn off the heat.
It helps to sift the powdered sugar before adding it to the spread, but if you have small clumps of the white powdered sugar speckled in the chocolate just use your rubber spatula or spoon to press them down to blend the sugar into the chocolate.
This is also best made in a pot on the stove, not in a microwave. You want to be able to control the heat throughout the process, and as you assemble the s'mores you might need to reheat the chocolate so it stays smooth and spreadable.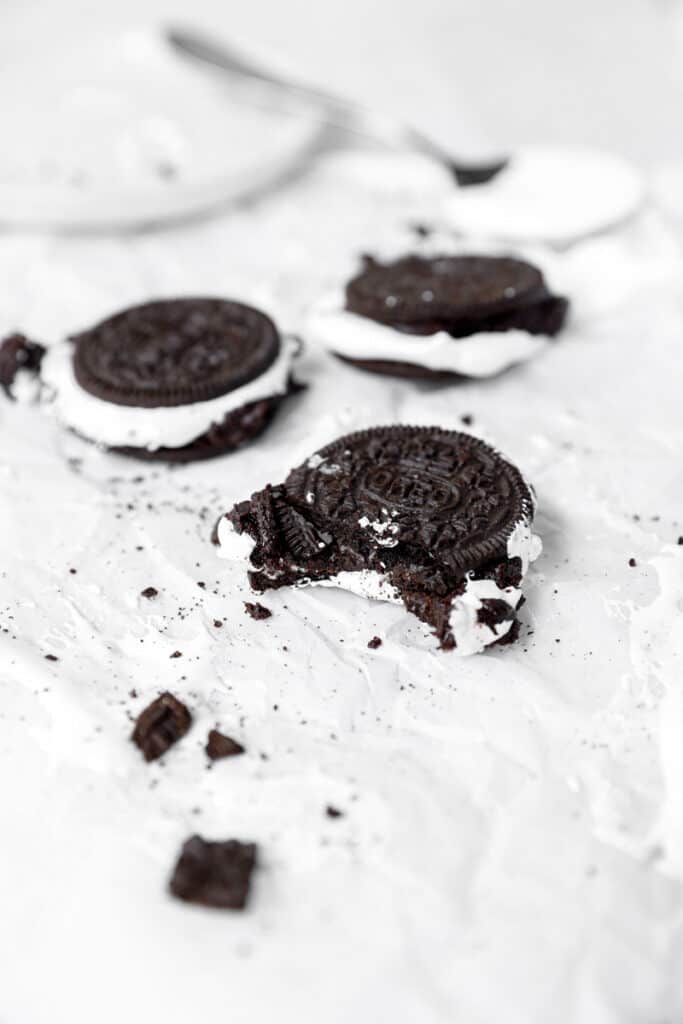 Can you make this ahead of time? No, this is not a make ahead recipe and is best served right away. As the chocolate spread cools it will harden and become difficult to work with. To save time, you could separate the Oreo cookies and have those set aside, so when you're ready to make these you just have to make the chocolate (less than 10 minutes!!) and add the fluff and combine. This really is such a quick recipe.
Can you save leftovers? This recipe is best eaten the day you make it. As mentioned above, the chocolate spread doesn't store well, and will firm up as it cools. I wouldn't recommend trying to save any leftovers, these are so good you probably won't have any leftovers anyway!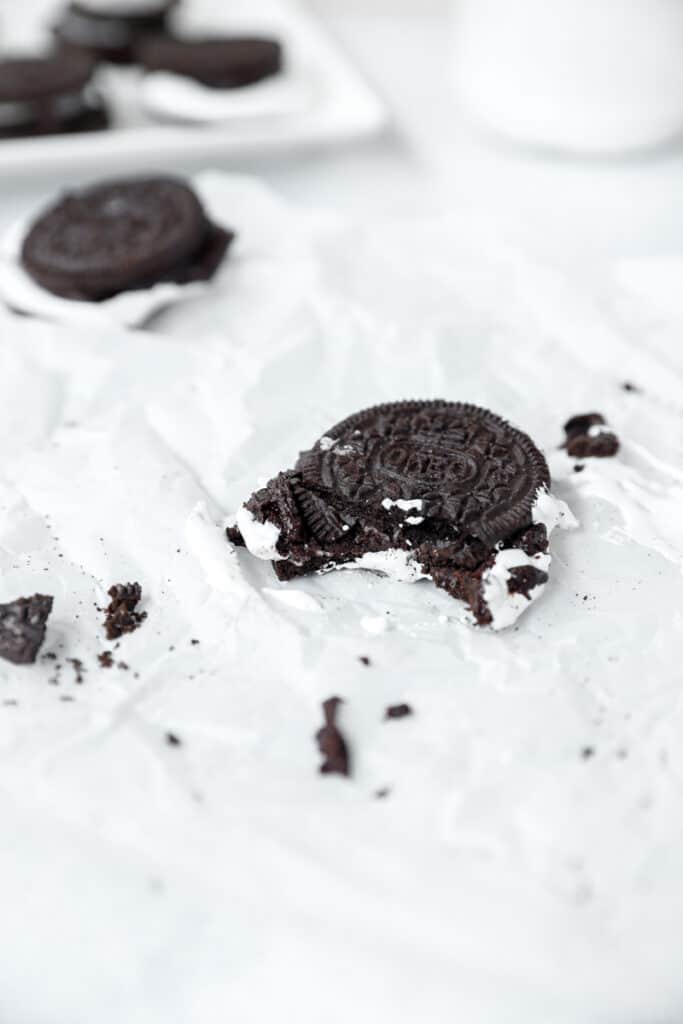 Want more s'mores inspired recipes? Here are some more to try!
And for more no bake desserts, try these!
No Bake Chocolate Cheesecake
No Bake Coconut Cheesecake
Frozen Pudding
Print
Oreo S'mores
S'mores are getting a delicious twist with these Oreo cookie s'mores! No campfire needed, use marshmallow fluff and a dark chocolate spread to make a s'mores dessert perfect for any season!
Author:
Prep Time:

5 minutes

Cook Time:

15 minutes

Total Time:

20 minutes

Yield:

20 s'mores

Category:

Dessert

Method:

Mix

Cuisine:

American
1/2 cup dark chocolate morsels
5 1/2 tablespoons sweetened condensed milk
2 tablespoon special dark cocoa powder
2 tablespoon powdered sugar, sifted
Oreos
Marshmallow Fluff
Instructions
1. Prepare the Oreos by carefully separating the two sides.
2. In a small pot over medium-low heat, melt the chocolate morsels, then pour in the sweetened condensed milk.
3. Once melted, reduce heat to low and stir in the cocoa and sifted powdered sugar. Remove from heat. If you have any small clumps of powdered sugar use a rubber spatula or spoon to press them so they dissolve into the chocolate spread.
4. To assemble, spread some fluff onto the cream side of the Oreo. Add some chocolate spread onto the other side of the Oreo cookie, then combine the two to make the s'more.
Notes
Inspire from Sweetie Pie cookbook
Go light on the marshmallow fluff and add more if you need it. Once the fluff is removed from the container it has a consistency that spreads out and settles. So what looks like a good amount on the spoon will actually be about double that size once you spread it onto the cookies. You can always add more if you want.