These s'mores cookies are made with crushed graham crackers, pools of dark chocolate chunks, and swirled marshmallow fluff! All the flavors of a campfire s'more combined into a chewy and soft cookie.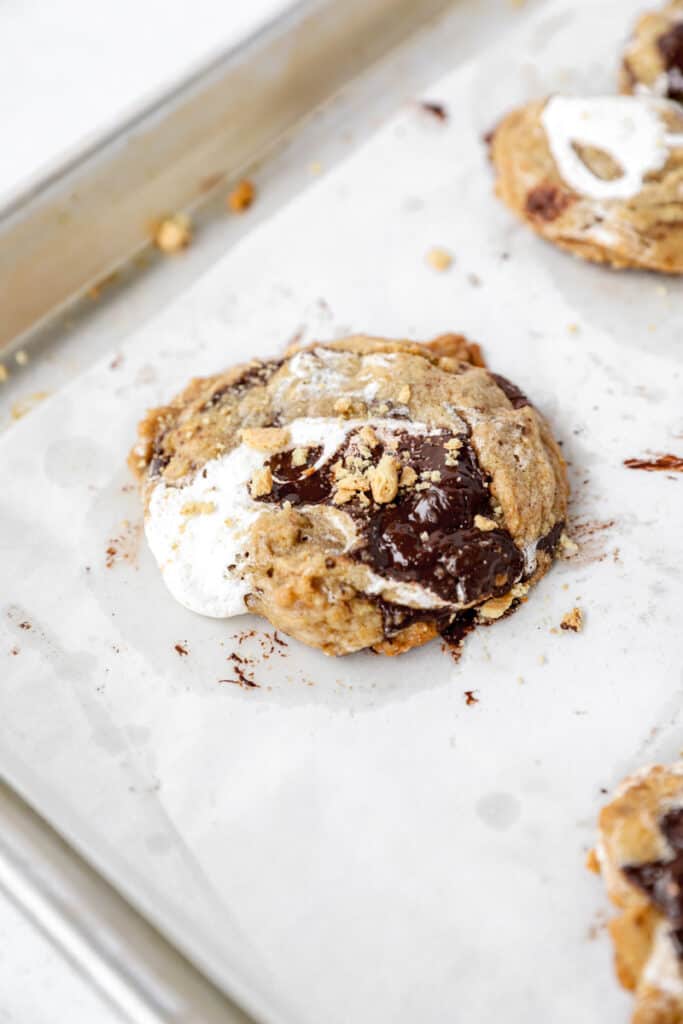 For me, cookies MUST be soft baked and chewy. Crunchy cookies have no place in my kitchen. So you know if I'm sharing a cookie recipe these are going to be ultra soft baked and delectable.
You should also know, for my cookies I love love love brown butter. Brown butter just elevates the taste and adds an extra layer of depth to the overall flavor. If you've never made brown butter before, don't worry…it's easy! I explain the technique in the recipe below, but also have this post dedicated to making brown butter!
Pro tip for making brown butter: move quick and pay attention! The butter can go from perfectly browned to burnt quickly if you're not paying attention. So don't walk away from the pot. Keep stirring and watch for the signs that let you know it's time to turn off the heat!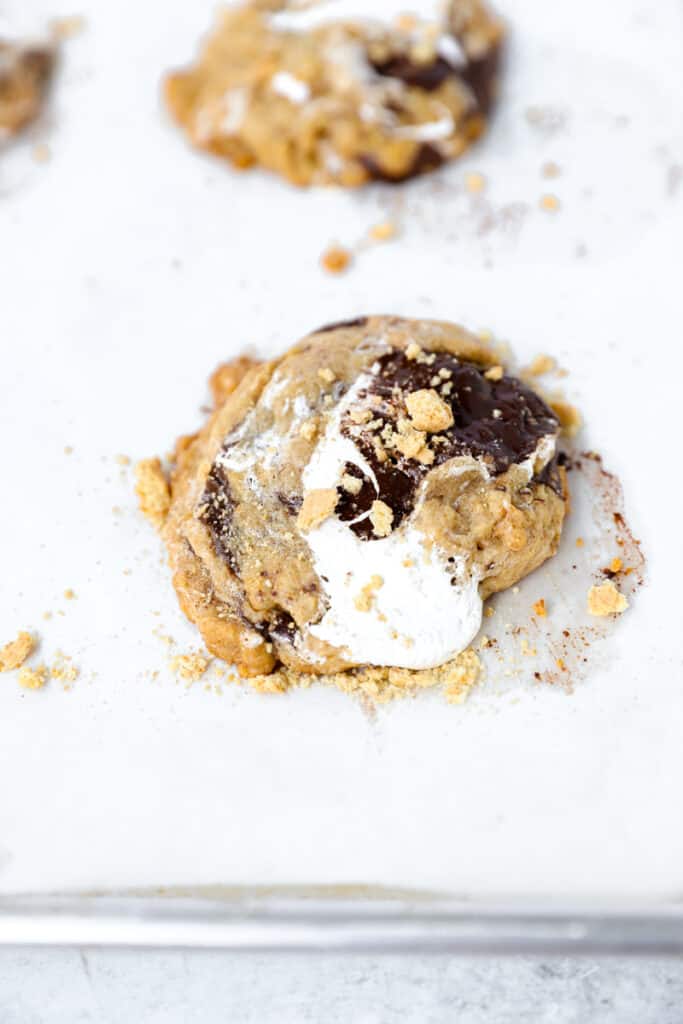 Also, when I make chocolate cookies I love to chop the chocolate myself. I like this for a few reasons. First, it allows you to control how large or small you want the chocolate pieces. Second, you can control the chocolate flavor. I prefer using a bar of chocolate that's between 70%-78% cacao, like this one that's 72% cacao.
THE BEST GRAHAM CRACKERS TO USE
You'll use crushed graham crackers both mixed into the cookie dough and also as a little dusting garnish on the baked cookies. While you can buy a box of graham cracker crumbs, I really recommend buying the graham crackers and crushing them up yourself.
I like to do this so that you have a little more control over the size of the crumbs. You can have a mix of the more finely crushed cookie power and some pieces that are a little bit bigger.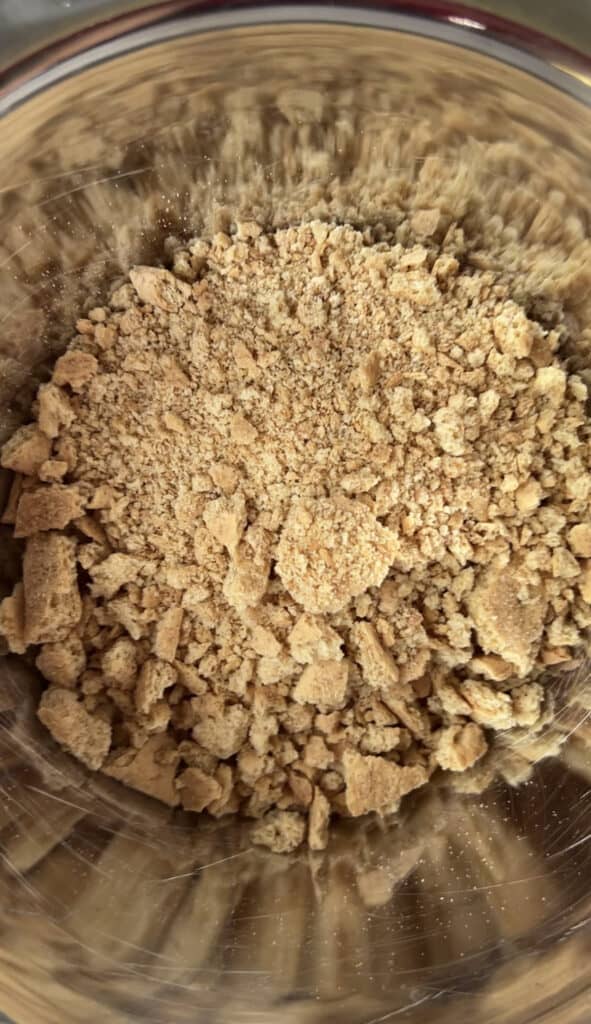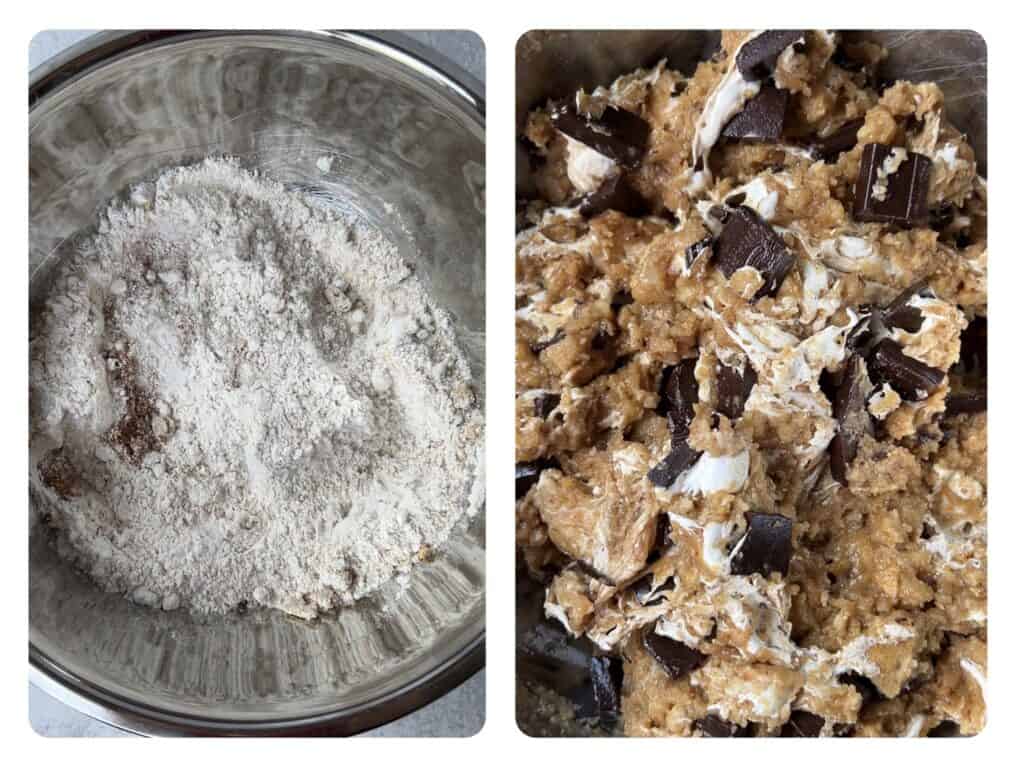 You'll see in this photo on the right that we don't want to totally mix the marshmallow fluff into the cookie dough. Dollop the fluff overtop of the dough then just gently fold it in a few times so you end up with this marbled streaky appearance.
By seeing that marshmallow swirled you'll know right away this is a s'mores cookie and not just any old chocolate cookie!
Baking tip: Line your baking sheet with parchment paper for these cookies! The fluff can get a bit sticky or tacky when it touches the hot baking sheet, making cleanup kind of difficult. The parchment paper will protect the baking sheet and make the cleanup ALOT easier.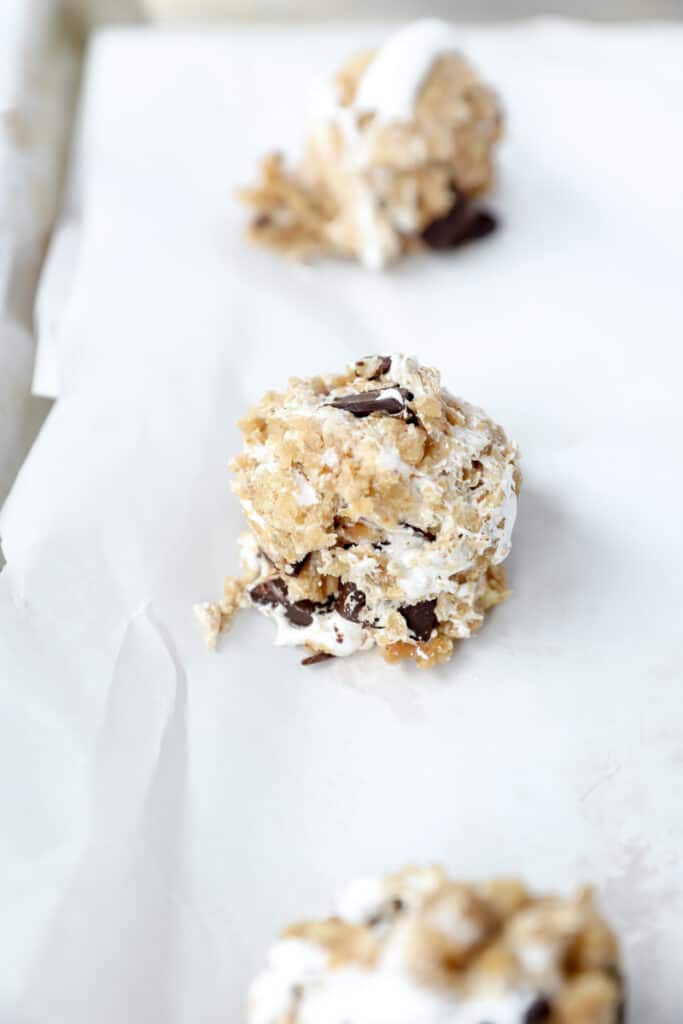 WHY DOES THE COOKIE DOUGH NEED TO CHILL
Now I know you want to get these s'mores cookies made as fast as you can, but you can't skip the chilling of the dough. Since we're using brown butter here that means we need to bring the butter back to more of a solid before baking the dough. By solidifying the fat again it means the cookies won't spread out as thin during the baking. So if you skip this step you'll end up with a really flat and thin cookie. Not what we want!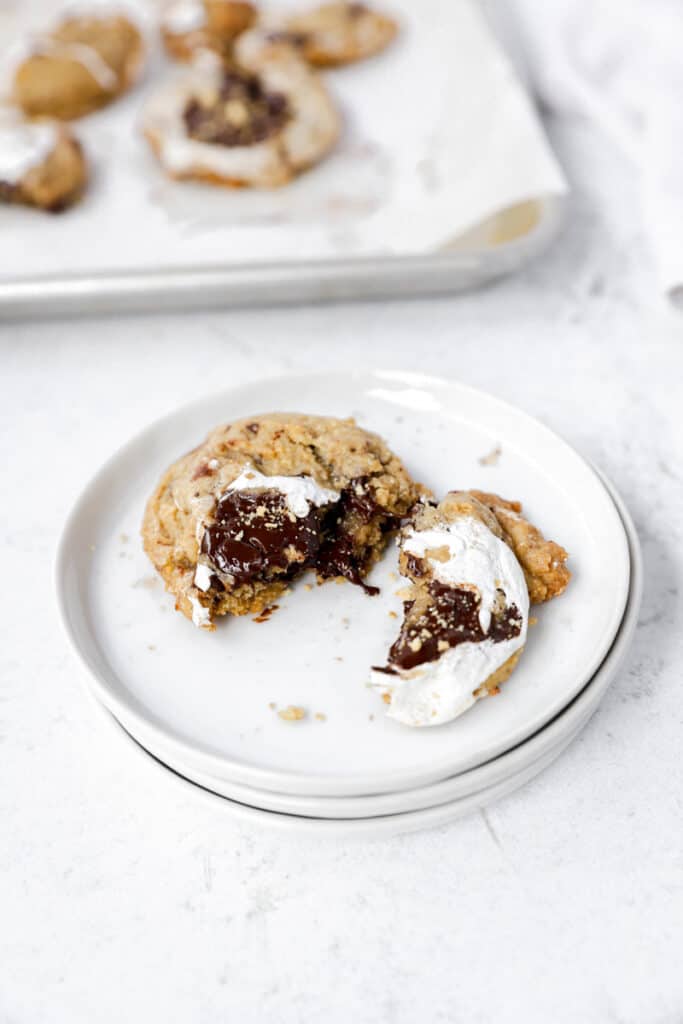 HOW TO STORE THE COOKIES
Just keep these covered on a plate or in an air tight container on the counter. These will stay pretty soft and chewy and the perfect cookie texture for a few days. For my personal preference, enjoy these within 3-4 days!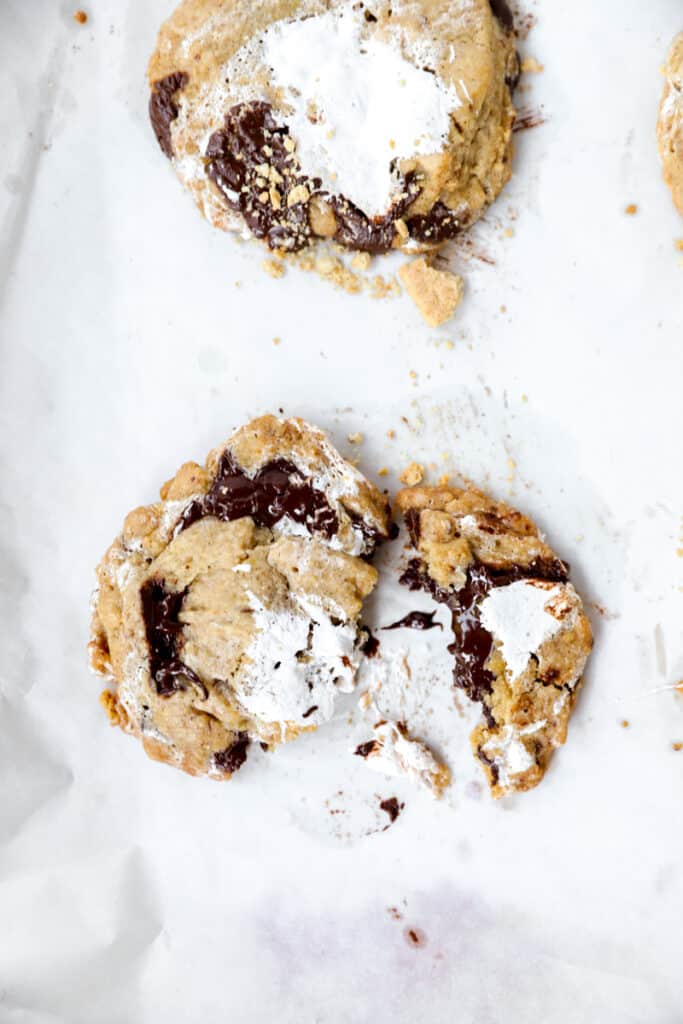 Love all thing s'mores? Make these indoor s'mores…no campfire needed!
For more cookie recipes, here are my favorites!
Chocolate Chunk Cookies
Brown Butter Oatmeal Cookies
Apple Pie Cookies
Strawberry Chocolate Cookies
Print
S'mores Cookies
These s'mores cookies are made with crushed graham crackers, dark chocolate chunks, and marshmallow fluff! All the flavors of a s'more combined into a chewy and soft cookie.
2 cups all purpose flour
1 cup butter
3/4 cup crushed graham crackers (Plus a bit more for garnishing the baked cookies. I like to crush the graham crackers yourself so you have a mix of cookie powder and slightly larger cookie pieces)
3/4 cup marshmallow fluff (plus more for drizzling over the cookies)
3/4 cup dark brown sugar
2 3.5oz bars of dark chocolate, chopped
1/3 cup white sugar
1 teaspoon vanilla extract
1 teaspoon salt
1 teaspoon baking soda
3/4 teaspoon cinnamon
2 eggs
Instructions
1. Start by making the brown butter. If using sticks of butter, slice it into a few large chunks so it will melt evenly. Place the butter into a light colored pot over medium heat. Cook the butter until evenly melted, then adjust the heat higher to medium-high. Allow the butter to come to a rapid bubbly simmer.
2. While adjusting the heat between medium and medium-high, continually stir the butter until the milk particles have browned and the liquid is a rich caramel or amber color. I've found that once the butter is melted this process takes 4-5 minutes. Once fully browned, immediately pour into a heat proof bowl and set aside to slightly cool before using in the rest of the recipe.
3. In a large bowl combine the dry ingredients: flour, baking soda, crushed graham crackers, white sugar, salt, cinnamon.
4. To the bowl of brown butter, mix in the brown sugar and vanilla. Next, stir in the eggs.
5. Pour the wet ingredients into the bowl of dry ingredients and stir to combine. Add the chopped dark chocolate and stir to blend the chocolate pieces evenly throughout the dough.
6. Dollop the 3/4 cup of marshmallow fluff overtop the dough, then gently fold the fluff into the dough a few times. You want this to have a marbled appearance with streaks of fluff, you don't want to blend the fluff into the dough completely.
7. Chill the cookie dough for 30 minutes.
8. Preheat oven to 350 degrees and line a large baking sheet with parchment paper. The fluff can get sticky when it bakes so the parchment paper will make cleanup a lot easier!
9. Remove the dough from the fridge and scoop onto the baking sheet. Swirl a little extra fluff overtop each cookie dough ball. I used two spoons to kind of swirl the fluff overtop and only did about a teaspoon or two per cookie.
10. Bake for 11 minutes. Add some extra crushed graham crackers into the pools of chocolate then allow to cool on the sheet for 5 minutes before removing from the baking sheet and carefully placing on a plate.
Savor every bite!