All the warm Fall flavors of apple pie wrapped up in a chewy cookie! Apple Pie Cookies are a super soft bake cookie loaded with cinnamon, nutmeg, and diced Granny Smith Apples. A fun way to combine cookies with apple pie!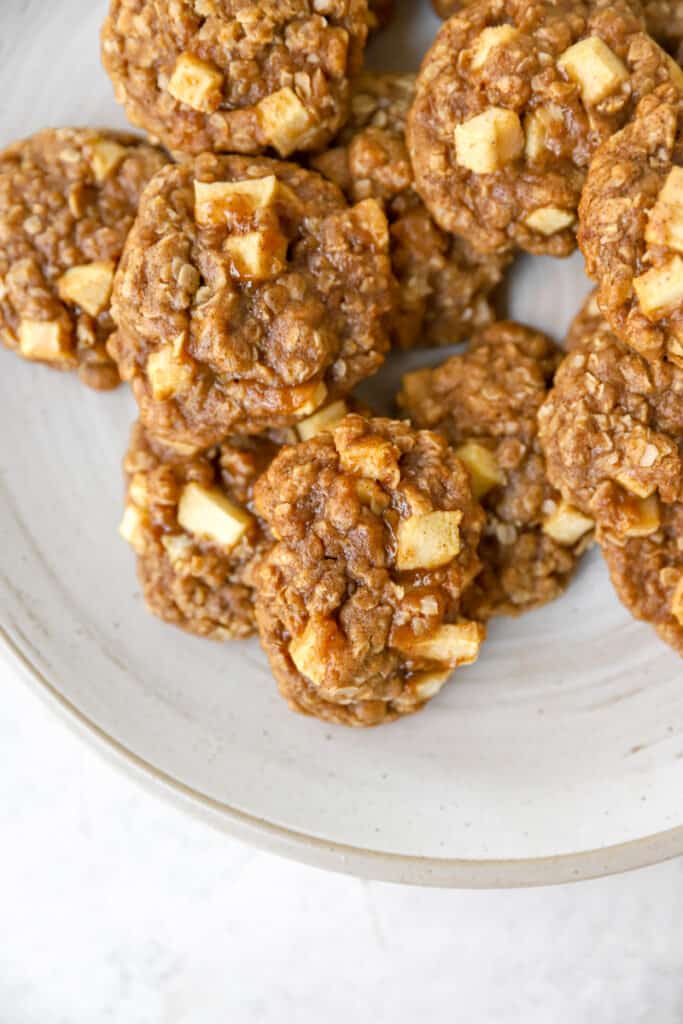 The best apples for baking
Just take a look at the apple section in the produce department and you know not all apples are alike. Fuji, Macintosh, Golden, Red Delicious…the list goes on. What's considering the "best" apple is going to depend on the recipe. Is it a cider? A sauce? A pie? Well, for these cookies the best apple to use hands down is the Granny Smith.
Granny Smith apples are those vibrantly green beauties and they are perfect for baking. It's tart, crisp, and most importantly it holds that nice crunch even after baking. So when you want to bake something like a pie, tart, or cookie, and you don't want a soft mushy apple…you need to go Granny Smith!
Learn more about the different types of apples and what recipes they work best in!
How to make brown butter
Brown butter is essential in this recipe. It helps create that deep brown color and also adds an extra level of rich flavor to the cookies.
So what is it and how do you make it? I've created a separate post all about brown butter, but essentially it's butter that's been cooked to separate the liquid from the milk particles. You start by melting the butter, then increasing the heat until it's rapidly simmering. Simmer it for about 5 minutes and everything browns and gets this really warm toasted scent and deep amber color. It's a pretty quick and easy way to level up the flavor of our dishes.
It's basically delicious, and you need it in your baking life.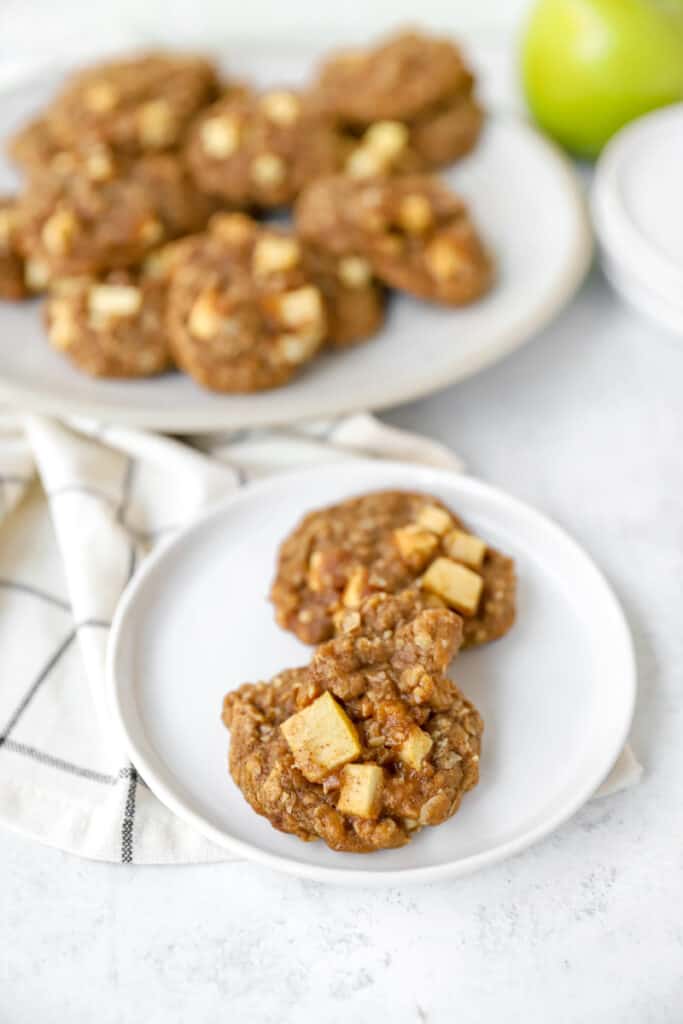 Baking Tips
A few helpful tips so these cookies come out perfectly every time!
Use Granny Smith apples so you have crisp apple pieces in the cookies even after baking.
Do not skip chilling the dough. Because this uses brown butter, the dough at first is quite loose. You need to chill it so it becomes a firmer cookie dough texture that can withstand baking.
Do not skip making the brown butter. It's a key ingredient that adds such a deep flavor that will takes these cookies to the next level!
Let the brown butter cool a bit before you add the other wet ingredients. The butter will be very hot, and if you add the egg too soon you could risk scrambling the egg.
The apples will release juices during the baking, giving these cookies an almost caramel like topping appearance. For a firmer top, bake the cookies for 12 minutes.
How to store apple pie cookies
I recommend storing these in the fridge for up to 4 days. When there's fruit involved, I always refrigerate. Want the cookie warm? Just microwave them for a few seconds to bring back the warm fresh baked texture. And if you want to be really indulgent, add some ice cream for a cookie sundae!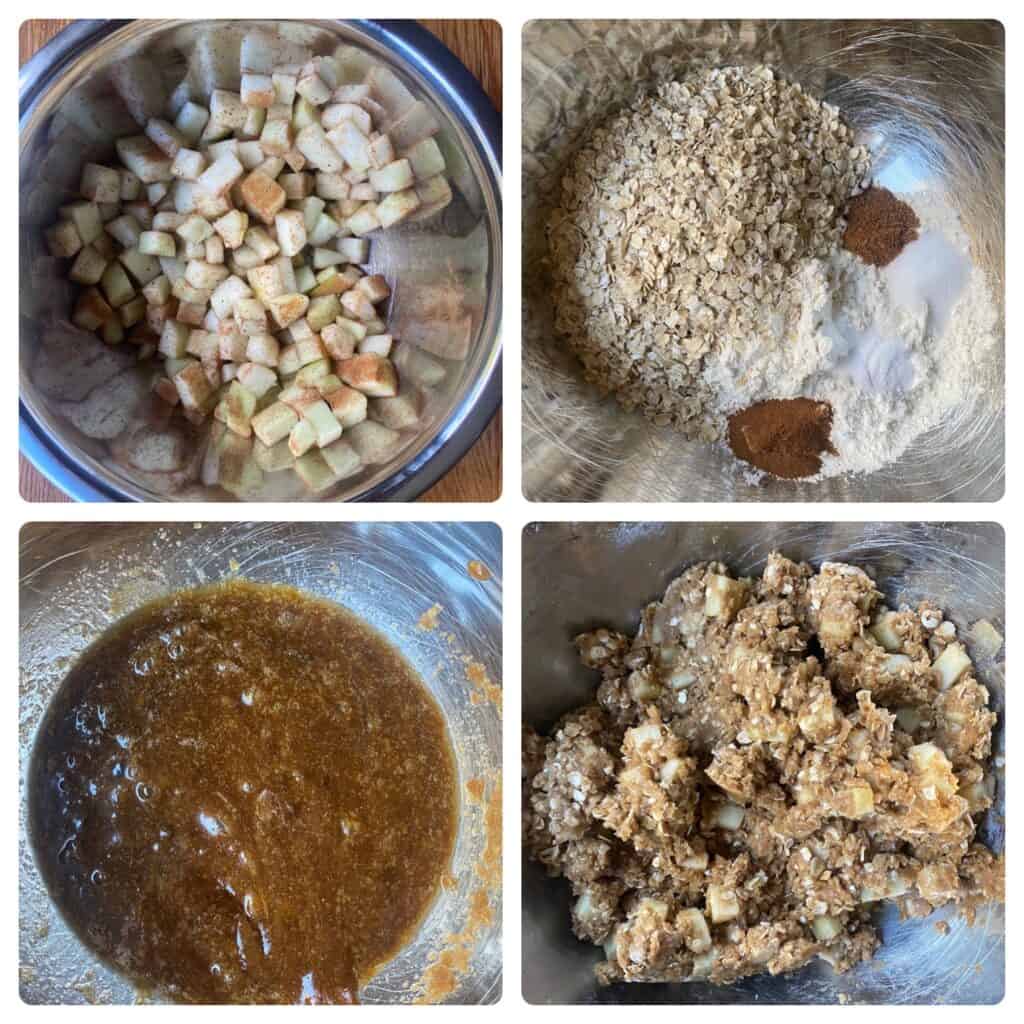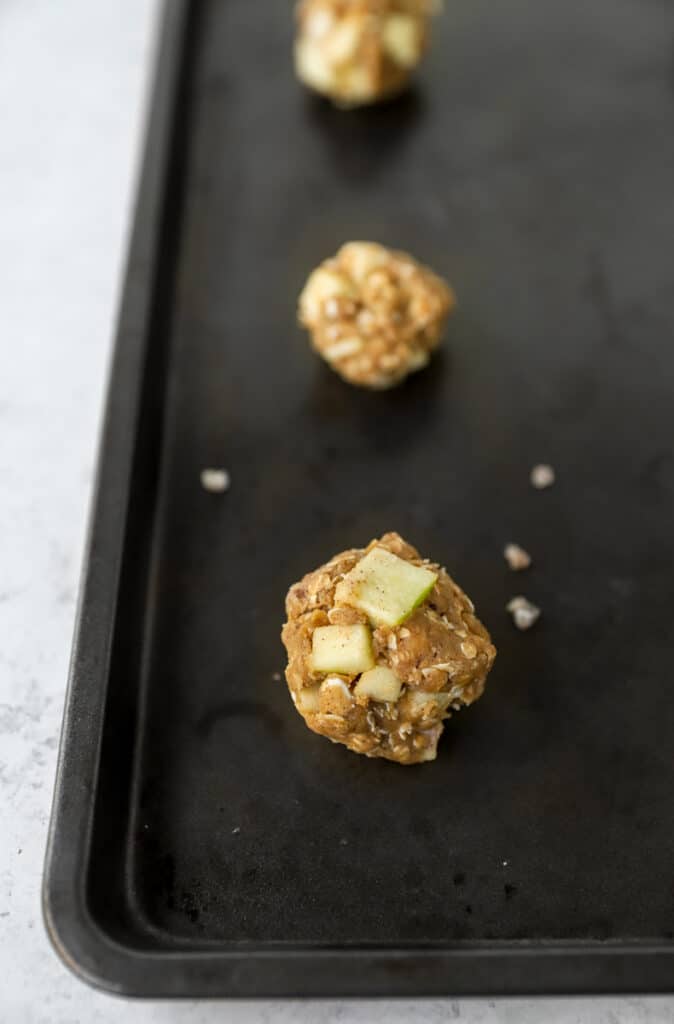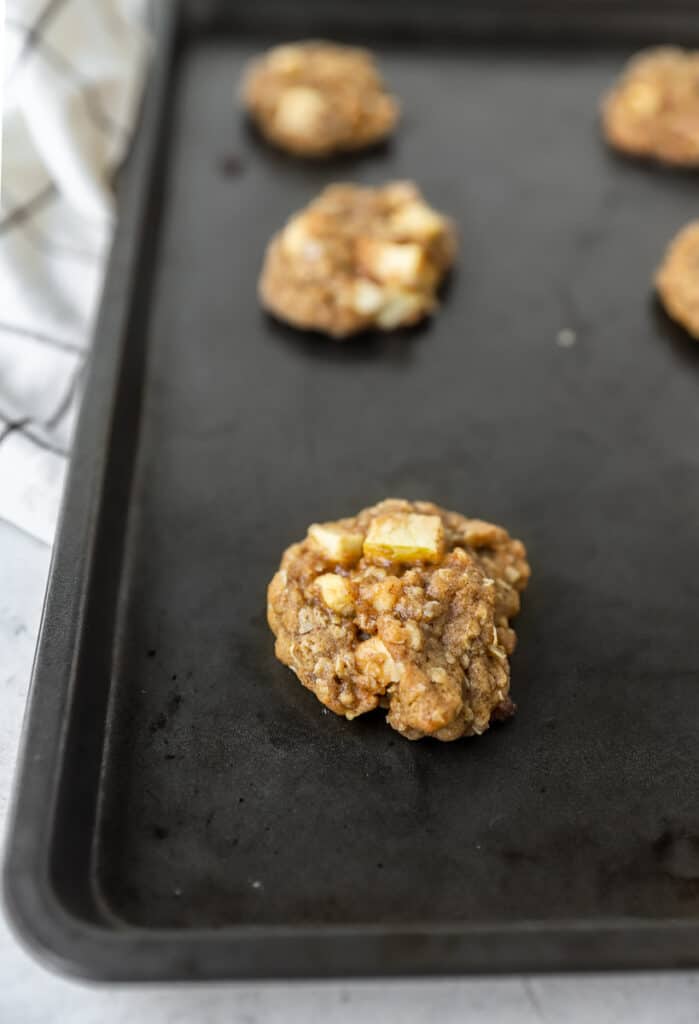 Want more recipes that use apples? Here are some of my favorite!
Apple Muffins
Thin Sliced Apple Pie
Apple Danishes

Or check out some more cookie recipes!
Brown Butter Oatmeal Cookies
Chocolate Chunk Cookies
Chewy Molasses Cookies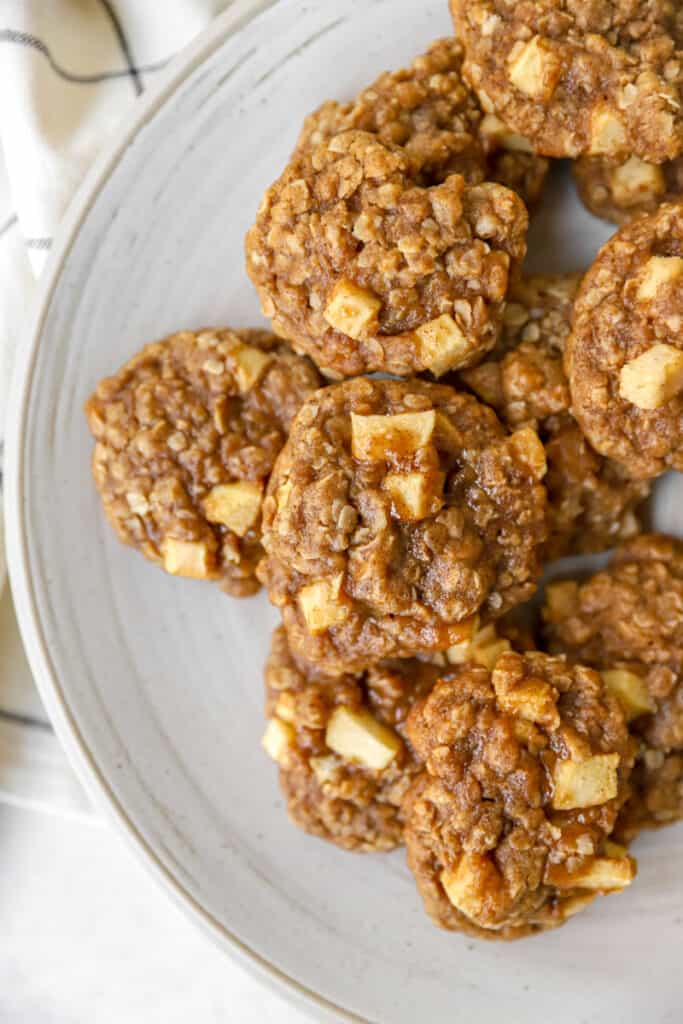 Print
Apple Pie Cookies
Apple pie cookies have all the warm spiced flavors of an apple pie in cookie form! Granny Smith apples, quick oats, and lots of apple pie spices combine into this chewy soft baked cookie.
Author:
Prep Time:

40 minutes

Cook Time:

10 minutes

Total Time:

50 minutes

Yield:

14 – 16 cookies

Category:

Baking

Method:

Bake

Cuisine:

American
1 and 1/4 cups peeled and diced Granny Smith apples seasoned with 1/2 teaspoon cinnamon and 1/4 teaspoon nutmeg
1 cup quick oats
1 cup all purpose flour
1 stick butter, browned
2 tablespoons vegetable oil
1 cup dark brown sugar, lightly packed
1 egg
1 tablespoon molasses
1 teaspoon vanilla extract
1 teaspoon salt
1 teaspoon cinnamon
1/2 teaspoon baking soda
1/2 teaspoon nutmeg
Instructions
1. Start by making the browned butter. Dice the butter and place it in a light colored pot over low heat. Once the butter is melted, turn the heat up alternating between medium and medium high until the butter rapidly simmers and cook 4-5 minutes. Whisk constantly and keep an eye on this because butter can burn fast. You don't want a roaring boil, you want a light bubbly simmer. You'll notice it will get a rich nutty smell and the color will start to turn a deep caramel brown. I've found 5 minutes has worked well for me. Once browned, pour butter into a heat safe bowl and let it cool slightly.
2. In a small bowl add the peeled and diced apples and season with the 1/2 teaspoon cinnamon and 1/4 teaspoon nutmeg.
3. In a large bowl, combine the flour, oats, salt, baking soda, cinnamon, and nutmeg.
4. In another bowl, combine the brown butter that's been cooled for a bit with the brown sugar, vanilla, molasses, egg, and vegetable oil.
5. Pour the wet mixture into the dry ingredients and stir to combine. Add the spiced apples, and stir to evenly blend them throughout the cookie dough. Place the dough in the fridge for 30 minutes. (do not skip the chilling step!!)
6. When the dough is almost done chilling, preheat the oven to 350 degrees.
7. Form your cookie dough balls and add to a baking sheet. For extra chewy cookies back for 10 minutes. For a slightly more "done" top bake for 12 minutes.
Keep these stored in the fridge, reheat in the microwave for warm just baked taste!
Keywords: apple pie cookies