If you could wrap up the flavors of Fall into a muffin it would definitely be these Apple Muffins. A perfectly spiced batter made with applesauce and Granny Smith apples, then topped with a cinnamon nutmeg streusel. These are like an apple pie in muffin form!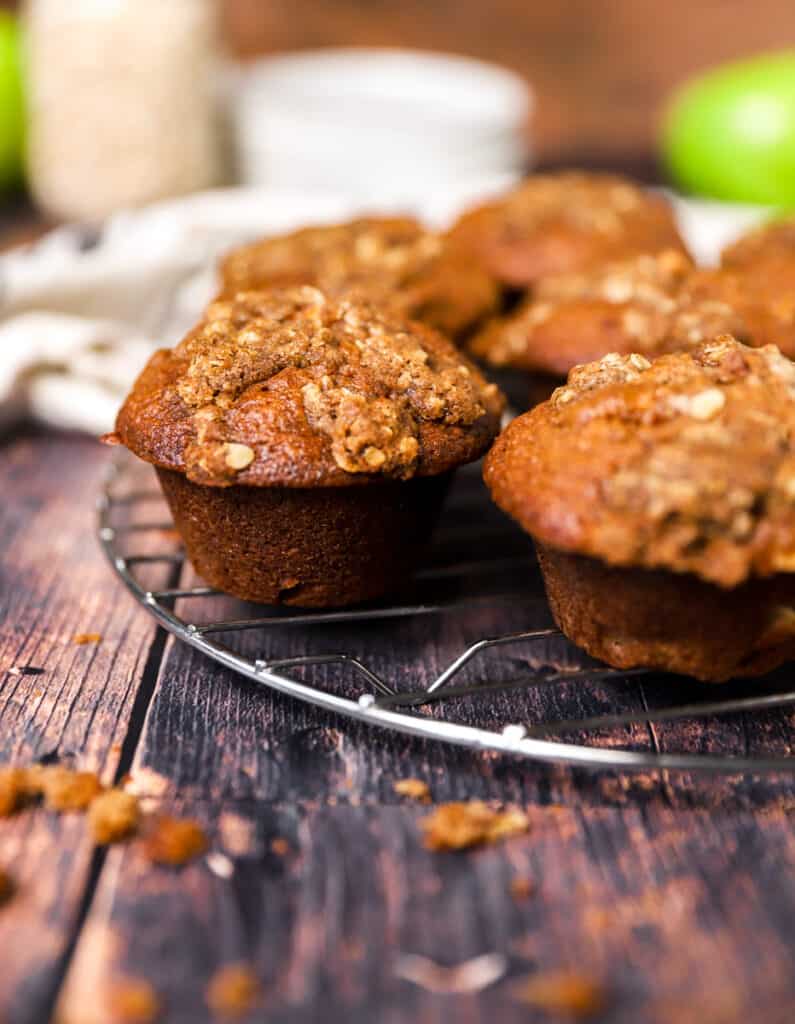 The best apples for baking
When it comes to baking with apples, I'm always reaching for the Granny Smith! For me, when I bake with apples I want them to be able to withstand the heat a retain some of the crisp apple crunch you expect.
When I tested this recipe with other types of red apples, like Macintosh, you just lose that apple essence! When I took a test bite the texture of the muffin was almost the same as the apple, soft. That's a big no for me!
When you bite into one of these apple muffins you'll get the soft pillowy muffin and then the nice change in texture with a diced Granny Smith! And that cinnamon nutmeg streusel adds for the perfect finish to each bite.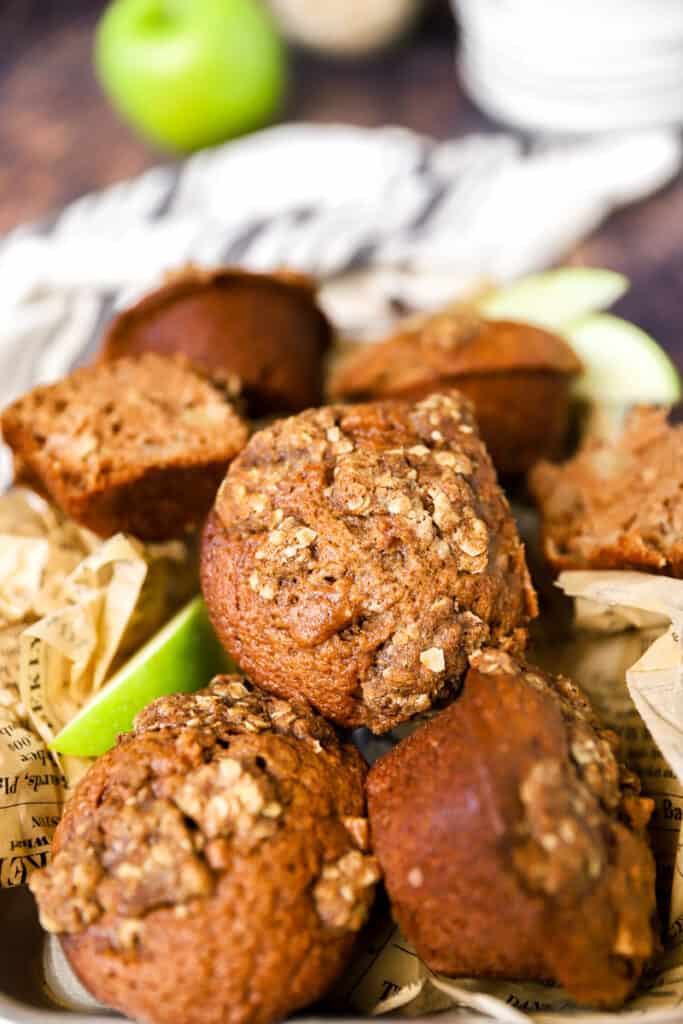 There's no lack of spices in this muffin!
First, you'll flavor the diced apples with some cinnamon and nutmeg while you prepare the rest of the batter.
Then, the muffin batter is spiced with more cinnamon, more nutmeg, and applesauce!
Finally, a streusel topping adds the last big burst of Fall flavor with quick oats, brown sugar…and more cinnamon and nutmeg.
When I said this tasted like Fall in a muffin I wasn't kidding!
If you want more apple baking recipes here's my Apple Pie and these Cream Cheese Apple Danishes!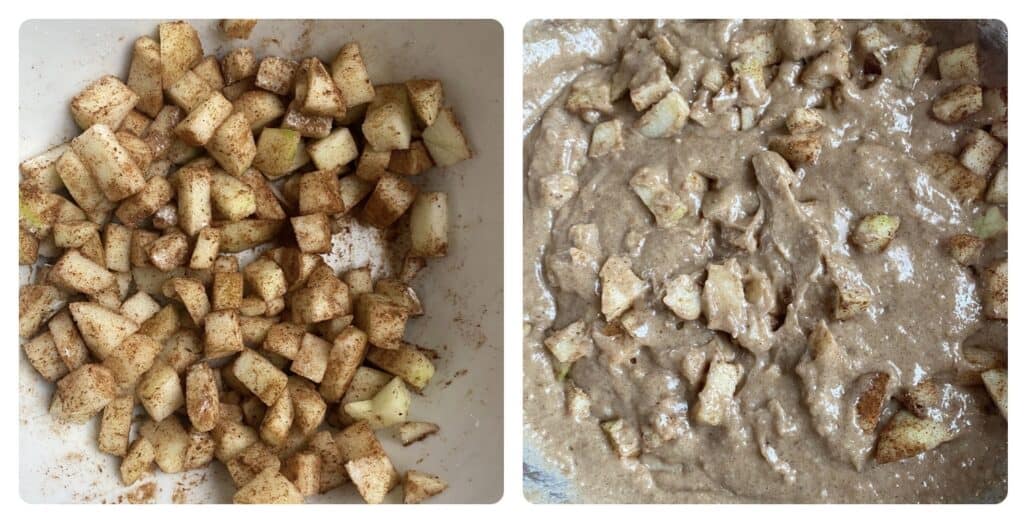 Just a note I took these two photos at different times and it looks like on the left my dark brown sugar was a bit darker than the time I made these on the right!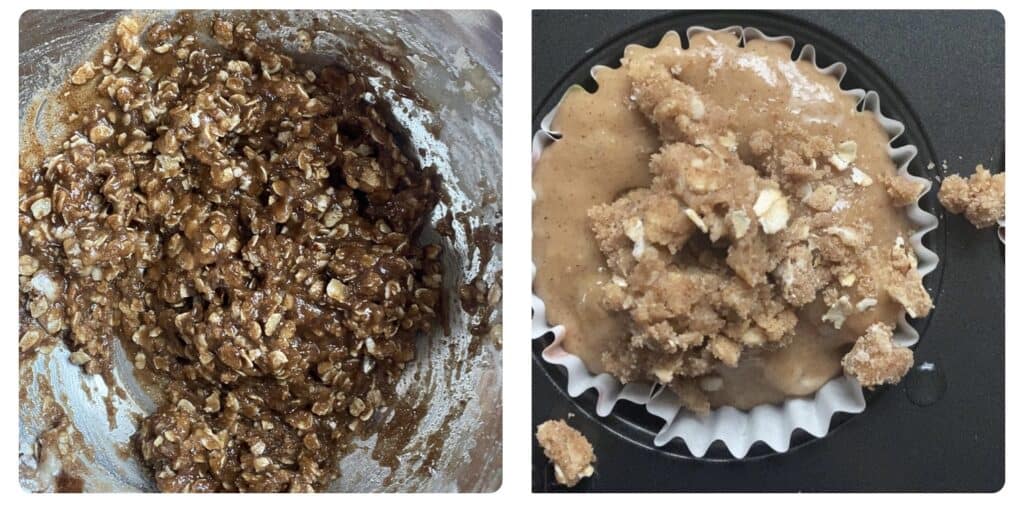 Depending on how big you want your muffins, you'll be able to bake between 12 – 14 muffins with this recipe!
I like a BIG muffin top, so I always make 12 muffins that are a bit bigger on the top. I'm all for more surface area for that spiced streusel!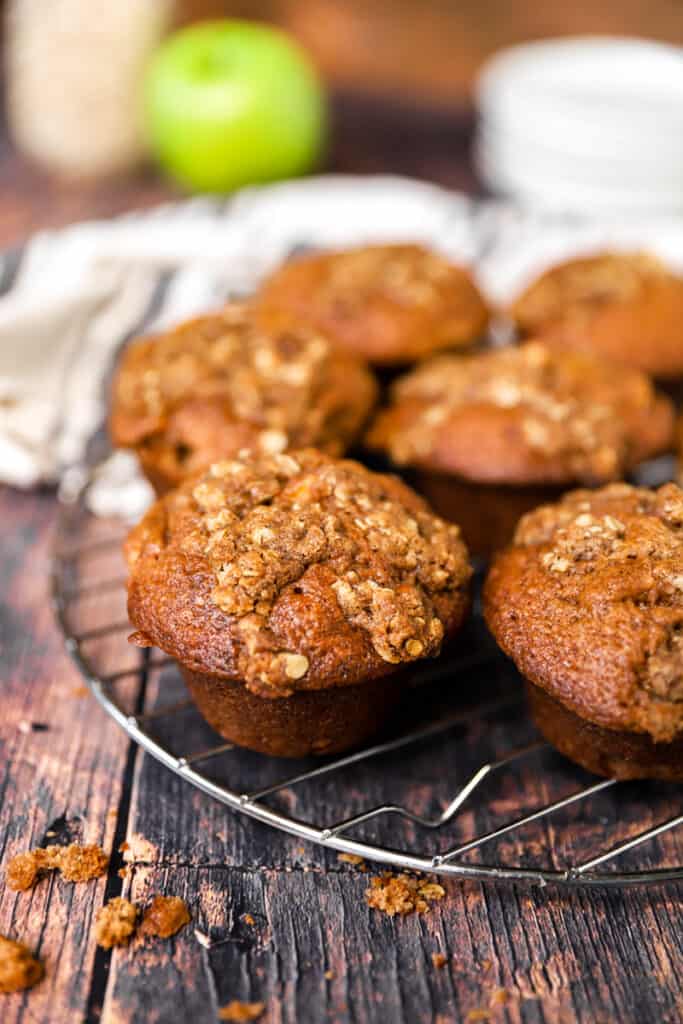 Need more Fall inspired recipes? Check out some more favorites here on the blog!
Baking
Pumpkin Molasses Muffins
Gingerbread Brownies
Soft and Chewy Molasses Cookies
Brown Butter Oatmeal Cookies
Breakfast
Pumpkin Pancakes
Dinner
Pumpkin Pasta
Which would you want to make first? And, if you made these Apple Muffins let me know what you thought in the comments!
Print
Apple Muffins
Apple Muffins made with Granny Smith apples, applesauce, and topped with a cinnamon nutmeg streusel. These taste like Fall in a muffin!
Author:
Prep Time:

15 minutes

Cook Time:

30 minutes

Total Time:

45 minutes

Yield:

12 – 14 muffins

Category:

Baking

Method:

Bake

Cuisine:

American
2 cups all purpose flour
1 cup white sugar
4 teaspoons cinnamon
1 teaspoons salt
1 teaspoon baking soda
1/2 teaspoon nutmeg
2 eggs
2/3 cup vegetable oil
1 cup unsweetened applesauce
1 cup diced Granny smith apples + 1/2 teaspoon cinnamon + 1/4 teaspoon nutmeg + 1/2 teaspoon flour
For the Streusel
5 tablespoons quick oats
4 tablespoons salted butter, softened
4 tablespoons dark brown sugar
2 tablespoons all purpose flour
1 tablespoon white sugar
1 teaspoon cinnamon
1/4 teaspoon nutmeg
Instructions
1. Preheat your oven to 350 degrees. Mix the diced apples with the 1/2 teaspoon of cinnamon, 1/4 teaspoon nutmeg and 1/2 teaspoon of flour. Make the streusel by combing the softened butter, sugars, quick oats, cinnamon, and nutmeg. Set the apples and the streusel aside while you make the muffin batter.
2. Combine the flour, white sugar, cinnamon, nutmeg, salt, and baking soda in a large bowl. In a separate bowl combine the wet ingredients: applesauce, oil, and eggs. Pour the wet ingredients into the dry and stir to combine. Last, add in the diced apples and gently stir to blend the apples throughout the batter.
3. Prepare your muffin tin by either using liners or by spraying with cooking spray. Add the batter to the muffin tin, you'll be able to get 12 large muffins or about 14 if you want a smaller muffin. Top with the streusel and bake for 30 minutes.
Enjoy!