Hello Fall! Ready for the best pumpkin muffin recipe for a cool weather morning? Good! Cause I'm about to share it with you.
Pumpkin Molasses Muffins topped with a streusel of cinnamon, sugar and quick oats. These will be your new favorite pumpkin muffin!
Ready to eat in about 40 minutes! These are easy, and a pumpkin spiced muffin the whole family will love!
Molasses in Baking
Have you ever added molasses to muffin batter before?
It's one of my favorite ingredients to add into my Fall baking. While it's made from sugar, I don't find that it's overly sweet in taste. It's rich and warm, and can be a game changer in baking.
Not only does it add an extra warm flavor, it plays an important role in adding extra moistness to the muffins. Who wants a dry crumbly muffin? Not me! And by adding 2 tablespoons of molasses to this batter these muffins are anything but dry.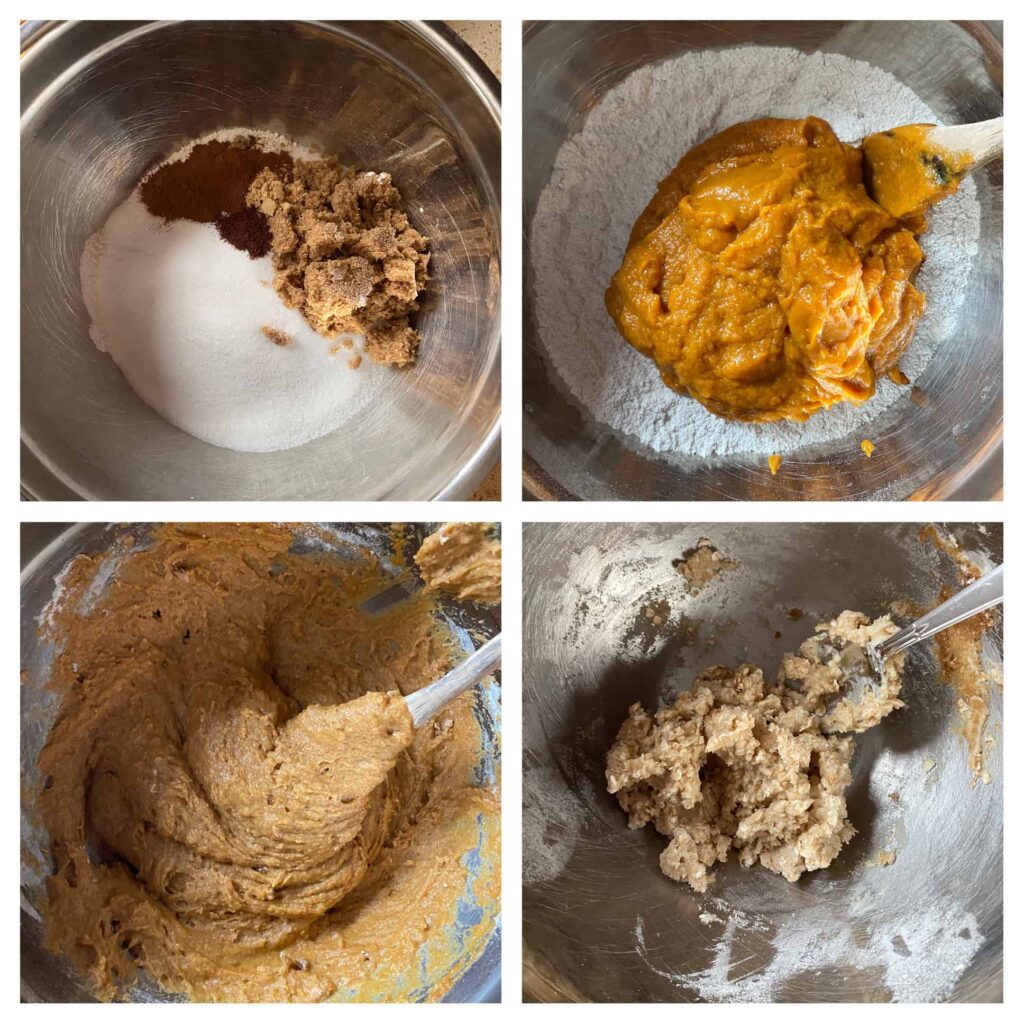 These are my favorite Fall muffin. And I'm not just saying that because I made them!
If you like that Fall flavor of pumpkin, and that perfect blend of sweet and spiced then you're going to love these too.
And what makes these better than just your average pumpkin muffin is the streusel topping. A soft and moist muffin with the finishing bite of the texture of a cinnamon streusel topping. Are you hungry yet?!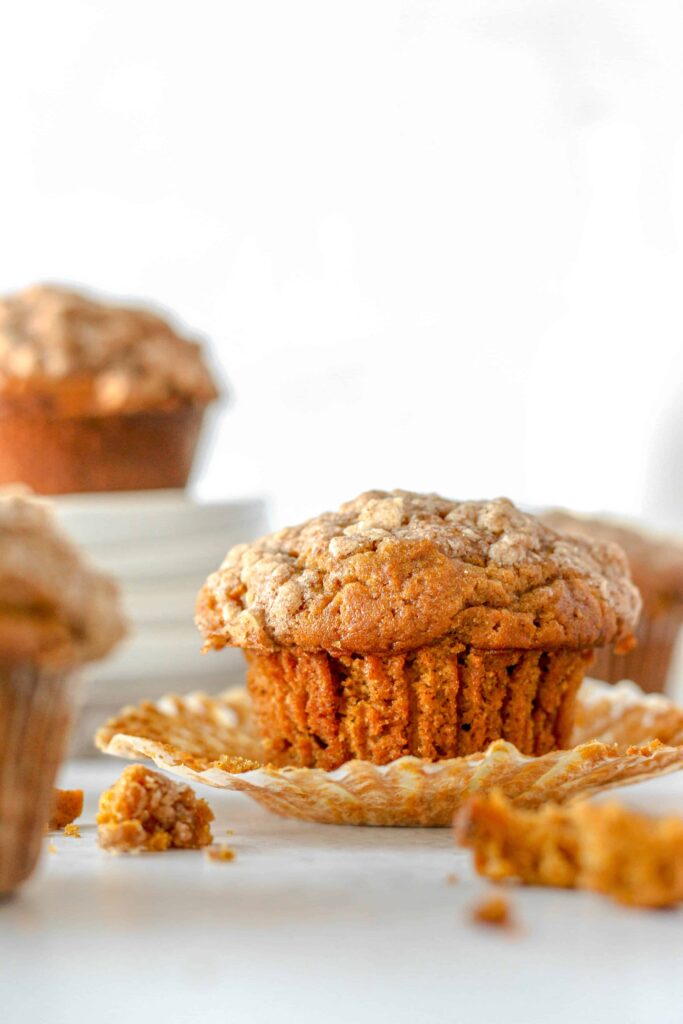 Dark brown sugar vs light brown sugar
When it comes to cooking and baking, brown sugar is widely used in many recipes, but what's the difference between dark brown sugar and light brown sugar? And how do you know which one you should be using?
Well, the difference between these two brown sugars is the amount of molasses used in their making.
Dark brown sugar has more molasses, hence the darker color. Because it has more molasses to it, the flavor of dark brown sugar is going to be more robust than light brown sugar, you might even notice a flavor that reminds you of caramel.
In most cases, they can be used interchangeably, though brown sugar has more moisture and is more acidic than light brown sugar. That means dark brown sugar will create a darker tone to your cookie or baked treat. So, long story short, it's ok to use dark brown sugar in place of light. And it's Ok to use light brown sugar in place of dark.
My preference has always been for dark brown sugar. I like the darker color and richer flavor it provides so it's the staple brown sugar in my pantry!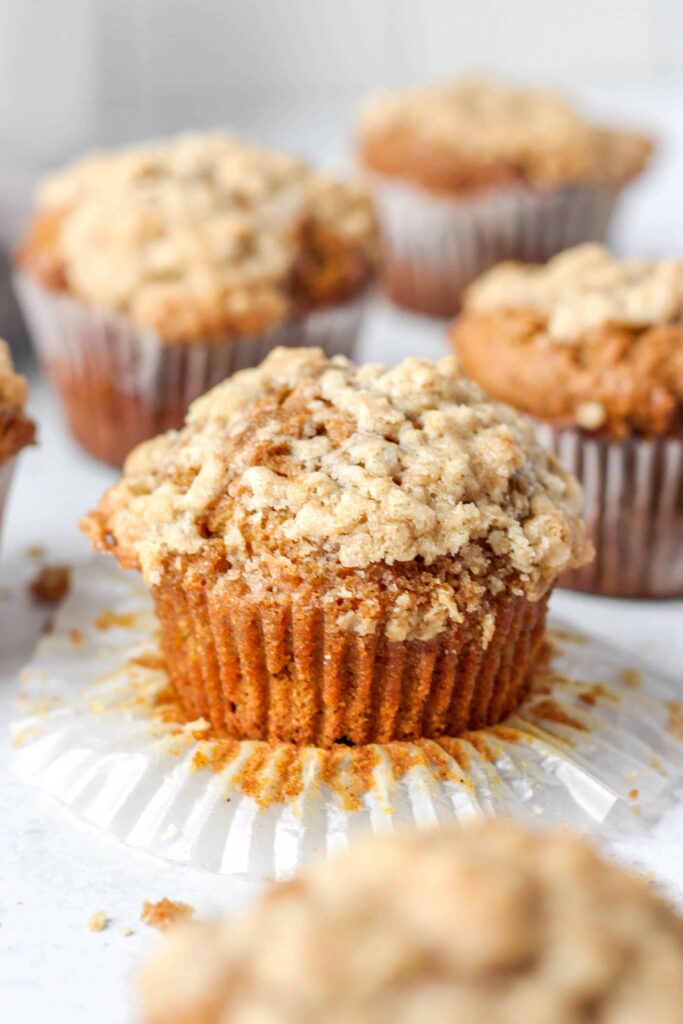 If you like pumpkin or molasses recipes you might also like:
Pumpkin Pie with Coconut Whipped Cream
Chewy Molasses Cookies
Pumpkin Pancakes
Print
Pumpkin Molasses Muffins
Pumpkin Molasses Muffins are a warm and spiced moist muffin that gets taken to the next level with an oats streusel topping. The pumpkin spices of cloves and cinnamon make this the perfect Fall muffin!
Author:
Prep Time:

10 minutes

Cook Time:

30 minutes

Total Time:

40 minutes

Yield:

13 muffins

Category:

Baking

Method:

Baking

Cuisine:

American
For Pumpkin Muffins
2 cups all-purpose flour
1 cup white sugar
1/4 cup dark brown sugar
3 teaspoons ground cinnamon
1 teaspoon baking soda
1/2 teaspoon ground ginger
3/4 teaspoon salt
1/4 teaspoon ground cloves
2 large eggs
1 15oz can pumpkin puree
1/2 cup vegetable oil
2 tablespoons molasses
For the Streusel Topping
4 tablespoons softened butter
1 tablespoon white sugar
2 tablespoons dark brown sugar
1 teaspoon ground cinnamon
5 tablespoons quick oats
2 tablespoons all-purpose flour
Instructions
Preheat your oven to 350 degrees. In a large bowl combine the 2 cups of all-purpose flour, 1 cup white sugar, 1 teaspoon of baking soda, 3/4 teaspoon of salt, 3 teaspoons cinnamon, 1/2 teaspoon of ginger, and 1/4 teaspoon of cloves. Use a whisk to make sure everything is combined.
In a separate large or medium bowl, lightly whisk 2 eggs, then stir in the 15oz can of pumpkin puree, 1/2 cup oil, 1/4 cup brown sugar, and the 2 tablespoons of molasses. Stir until everything has blended together.
Next, pour the pumpkin mixture into the flour mixture and stir until the wet batter has formed. Don't over mix, just stir it enough until no more dry flour mixture is visible.
To make the streusel topping, combine 4 tablespoons of softened butter with 2 tablespoons of white sugar, 2 tablespoons of dark brown sugar, 5 tablespoons of quick oats, and 2 tablespoons of flour. Stir until combined.
Grease your muffin tins or line with paper muffin holders, spoon the pumpkin muffin batter into each muffin holder and fill 3/4 of the way high. Top each muffin about a tablespoon of the streusel, then bake for 30 minutes.
Notes
I made these both with muffin liners and without, they come out the same way.
Keywords: pumpkin molasses muffins