I've always loved a good Alfredo sauce. It's creamy, it's comforting, and I can eat it just about any time of the year. I'm going to show you how quick it and easy it is to make this sauce at home with this Easy Alfredo Sauce recipe!
I promise, once you make this sauce you're never going to want to buy jarred Alfredo sauce again!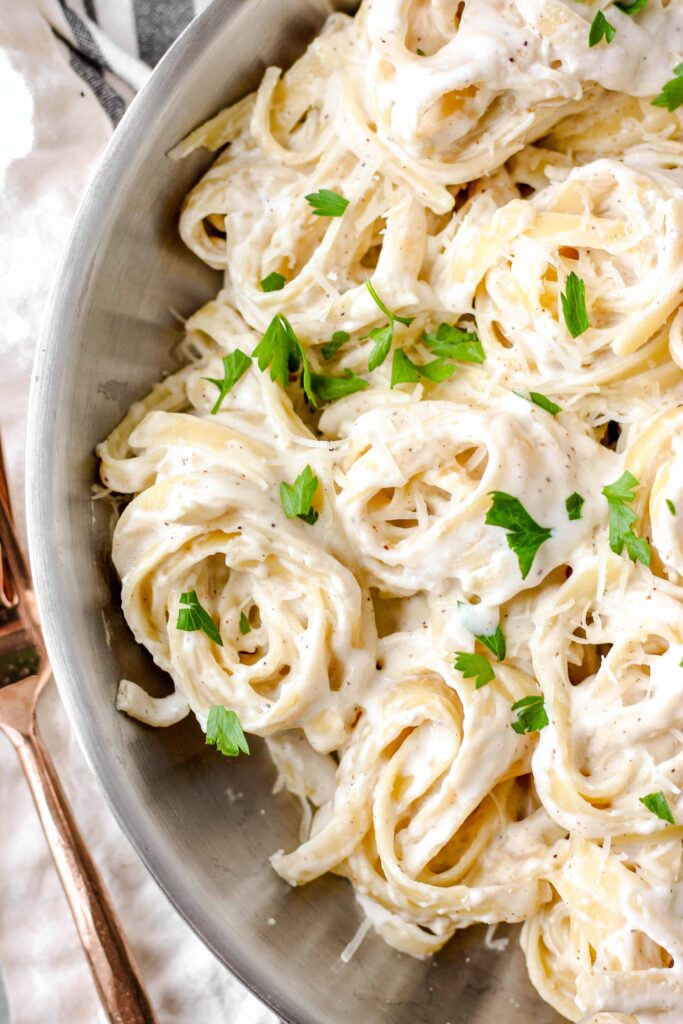 So there's a very special ingredient in here that makes this much more than a cream sauce.
Know what it is?
It's nutmeg!
If you've never added nutmeg to your easy Alfredo sauce before trust me on this, it's a game changer! It adds this nice little hint of warm spice that cuts through the heavy creaminess of the sauce. This is what's going to make this taste like it's restaurant worthy Alfredo!
Ingredients and Tools
Alright, let's run through what you need.
For kitchen tools:
Knife and cutting board (to peel the garlic)
Box grater and a zester or microplane for the garlic,

you can find a microplane here

A medium sized pan
A large pot
Whisk and a large spoon
Strainer for the pasta
For the ingredients you'll need:
Flour
Butter
Garlic
Half & half
Fettuccine
Salt & pepper
Garlic powder
Nutmeg
Parmesan cheese
Not too many ingredients! And I love this because I almost always have these on hand at all times so this is a great dinner to whip up when you're not sure what to make.
The salt, pepper, garlic powder, and nutmeg I've always got in my spice cabinet. And my fridge I've always got half & half handy for my coffee, butter, and Parmesan cheese.
How about you, how many of these do you have on hand now? Could you whip this up for dinner without having to make a trip to the grocery store?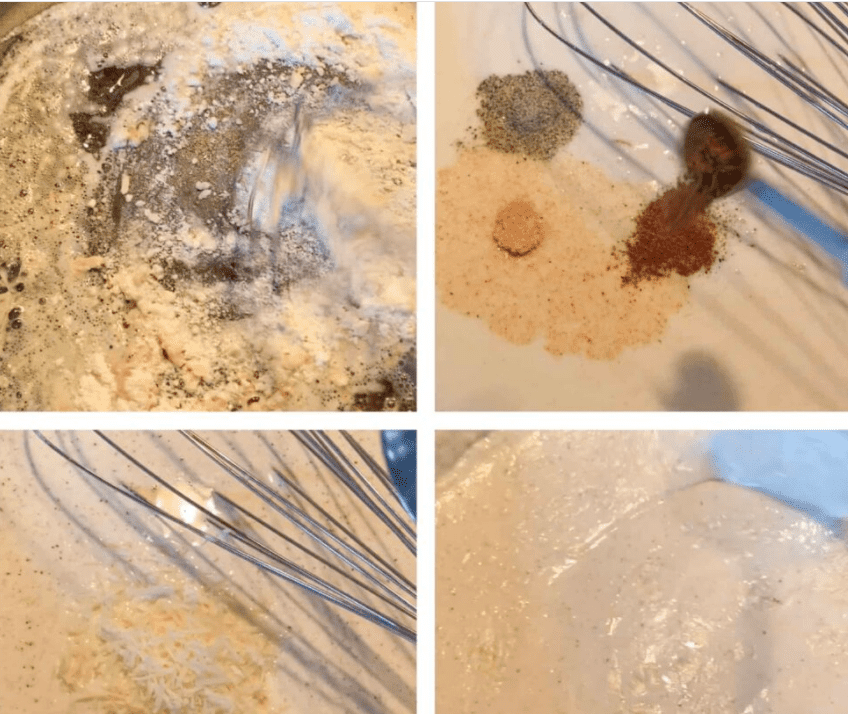 Alfredo Sauce Tips
One of the most important things to do when you're making a cream sauce like this is to reserve some of the pasta water was it's boiling.
Once you've got your fettuccine cooking or other pasta, take a ladle and remove about 1 cup of the pasta water. You'll need this to thin out the sauce and get the perfect consistency you want! Always use pasta water to thin out a sauce, not more cream.
Don't skip the nutmeg! This seriously is the best secret ingredient that takes this dish from a good cream sauce pasta to an out of this world warm and robust Alfredo sauce. Everyone will want to know what made your sauce so irresistible
For the Parmesan cheese you want to buy a block of it and grate it yourself, like this kind of cheese. I don't recommend using the kind that you'll find unrefrigerated down the pasta aisle. Go fresh! Get yourself a box grater, I use mine ALL the time, it's probably one of my most used gadgets.
Time management is key to getting this on the table in under 30 minutes! While the pasta water is coming to a boil, prep your other ingredients and get the sauce started! Finish the sauce as the noodles boil so they are done at about the same time…Homemade Alfredo sauce dinner in 30 minutes!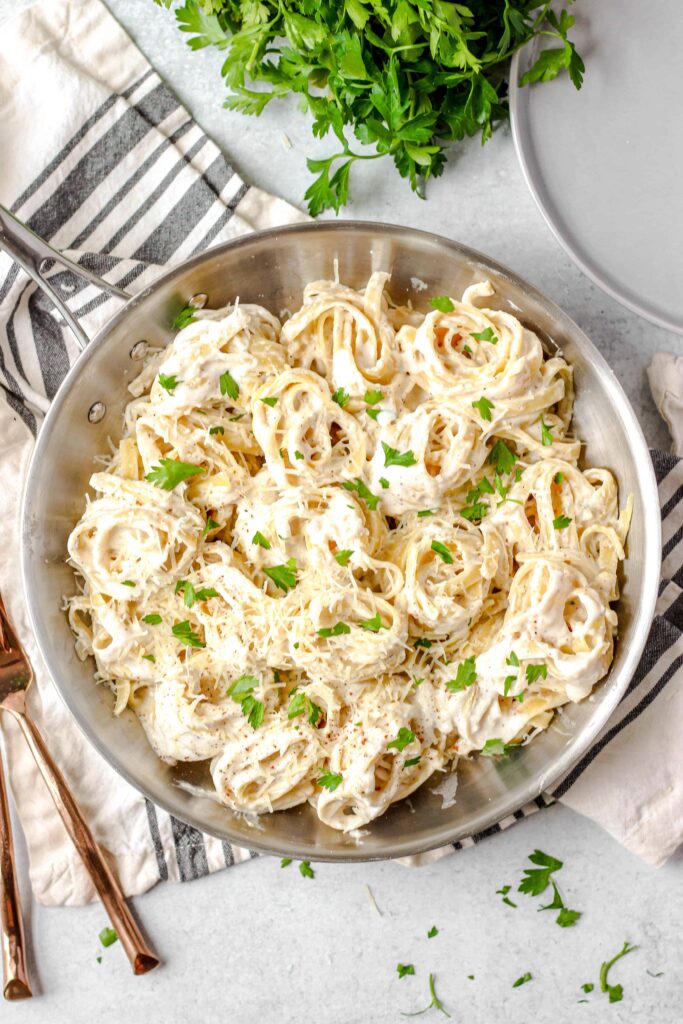 How to reheat an Alfredo sauce
Depending on how many people you're serving the first night, you might end up with some leftovers. I recommend reheating this on the stove top instead of the microwave.
Add the pasta to the pan and add a few dashes of the cream to loosen things up. Heat over low until the noodles soften and blend into the sauce, you can add more cream as needed. Add a bit more Parmesan cheese, pepper, and a little salt as the extra cream could dilute some of the flavors.
Once it's come to a light bubble remove from heat and serve.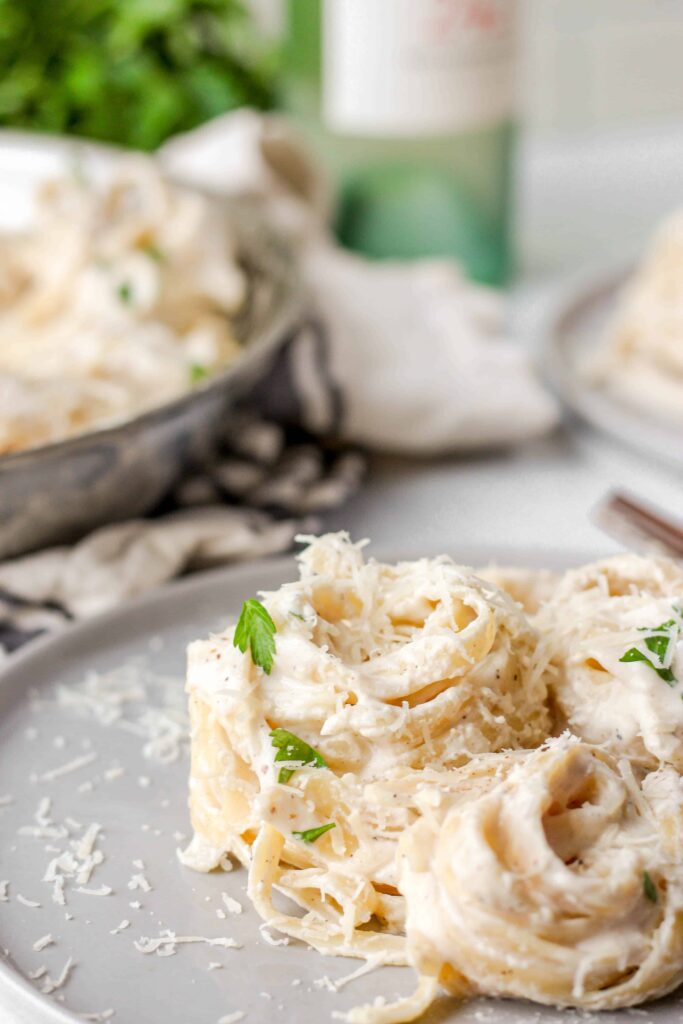 Like easy pasta dinners? Me too. I've got a whole Pasta category here.
Can't get enough Alfredo? Try some of my other variations!
Spicy Alfredo
Basil Alfredo
Alfredo Tomato Sauce
My favorites are these recipes below, click the link to go to that recipe!
Creamy Sun-dried Tomato Pasta
Sherry Cream Sauce
Penne Vodka
Print
Easy Alfredo Sauce
Alfredo sauce is an easy cream sauce you can make for delicious fettuccine Alfredo! I only takes 30 minutes to make, and the nutmeg added to the sauce makes this sauce extra warm and special!
Author:
Prep Time:

10 minutes

Cook Time:

20 minutes

Total Time:

30 minutes

Yield:

6 servings

Category:

Pasta

Method:

Saute

Cuisine:

American
3/4 of a 16oz box of fettuccine noodles (I always find the whole box is too much!)
2 garlic cloves
2 tablespoons butter
2 tablespoons all purpose flour
2 and 1/2 cups half & half
1/2 cup grated Parmesan cheese
1/4 teaspoon nutmeg
1/2 teaspoon salt
1/2 teaspoon pepper
1/2 teaspoon garlic powder
Reserve pasta water (used to thin out sauce as it simmers)
Instructions
1. Bring a large pot of salted water to boil. Once water has come to a boil add 3/4 of the box of fettuccine and cook. I know this isn't an exact measurement, but I've found the full box is just way to much pasta! Once the pasta is boiling, ladle out 1 cup of the pasta water to use in the sauce if needed.
2. In a medium pan over medium heat, melt the butter, then add the grated garlic and cook for 1 minute. Then, add the 2 tablespoons flour and stir, cook for another 30 seconds. Pour in the half & half and whisk so that the flour mixture blends into the cream. Then, add the salt, pepper, garlic powder, Parmesan cheese, and nutmeg. Stir to combine then bring to a bubbling simmer.
3. Continue to simmer the sauce as the noodles cook. If the sauce gets too thick, add small amounts of the reserved pasta water.
4. To serve, top with more Parmesan cheese and pepper.
Notes
The nutmeg is what really makes this dish special. It's what makes this so much more than just a cream sauce!
Keywords: easy Alfredo sauce