Delicious and inspired pasta sauces are a staple item in my kitchen. If you can whip up a great pasta sauce you can transform a regular pasta night into something that tastes like it's from a restaurant! And that's exactly what you'll get with this Basil Alfredo Sauce. Alfredo sauce with tons of finely chopped basil is an interesting spin on the traditional white Alfredo sauce we're used to. The herby basil added to the Alfredo helps cut through the heaviness and lighten the sauce up a bit.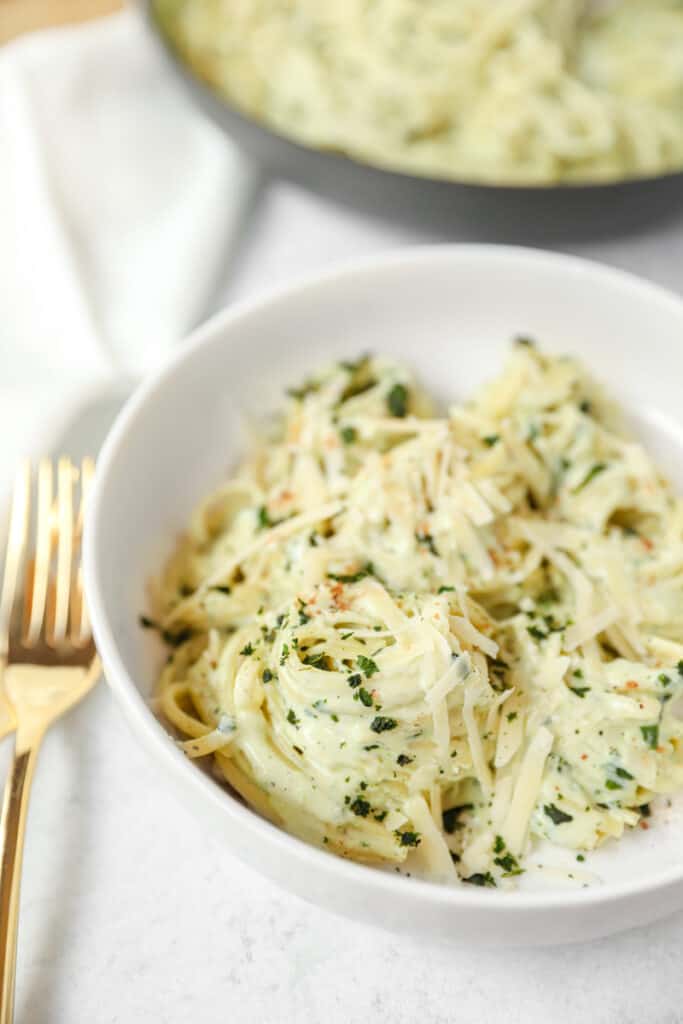 So there's a special secret ingredient that makes for an epic Alfredo sauce. Know what it is?
Nutmeg.
Yupp! Good old warm spiced nutmeg. I promise you, this is what makes the difference between a basic creamy Alfredo, and an irresistible there's something extra special about this Alfredo. That's how I make my Easy Alfredo and Alfredo Tomato Sauce…and I use it in this sauce too!
If you're on the fence about it, spoon out some of the sauce into a small bowl and add a dash or two of nutmeg and give it a taste! You'll see the extra depth of flavor it ads and you'll never want an Alfredo sauce without it!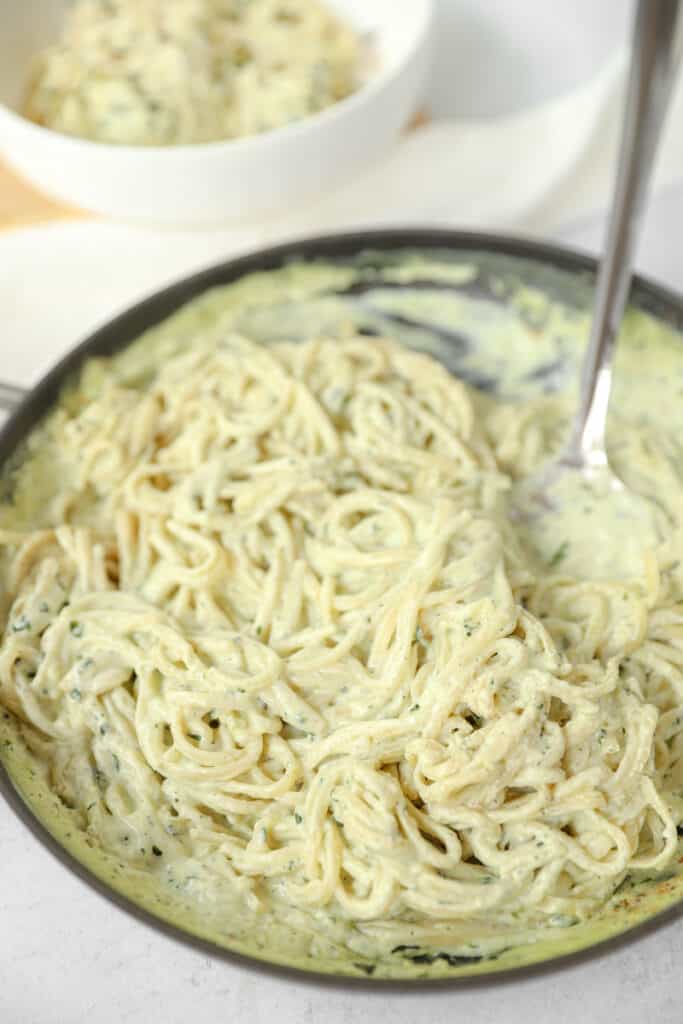 For this recipe I chose thin linguini pasta noodles for this instead of a fettuccine. I actually don't really like the thickness and width of fettuccine noodles and I prefer a thinner long noodle. So, linguini noodles it is! Thin linguini is just a bit thinner than your typical linguini, and I really like it in recipes that call for long noodles. Not too thick, not too thin!
Also, make this recipe extra easy by buying the basil already chopped! I also keep this lightly dried basil in my fridge to cut down on prep time.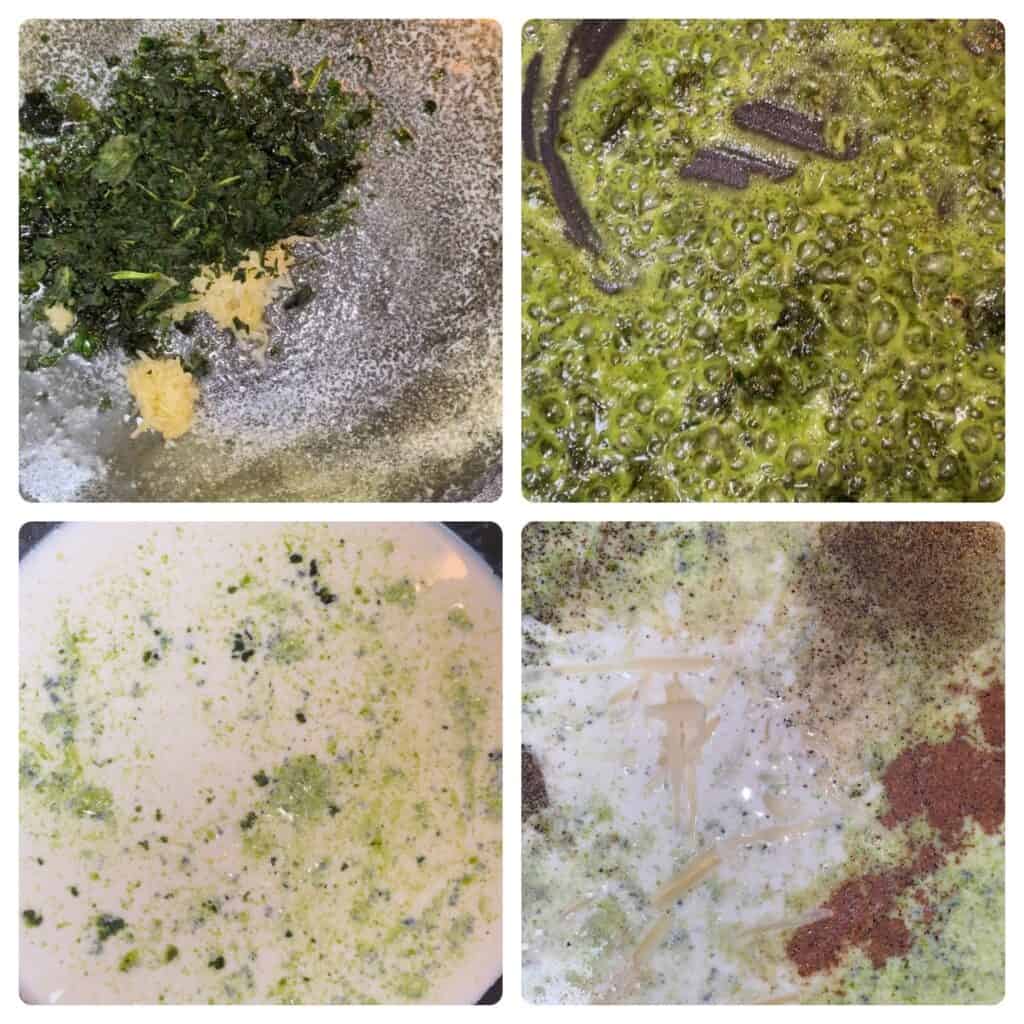 Want more delicious pasta dinners? Check out more of my favorite recipes!
Creamy Pesto Pasta
Creamy Sun-dried Tomato Pasta
Marsala Sauce
Lemon Basil Tortellini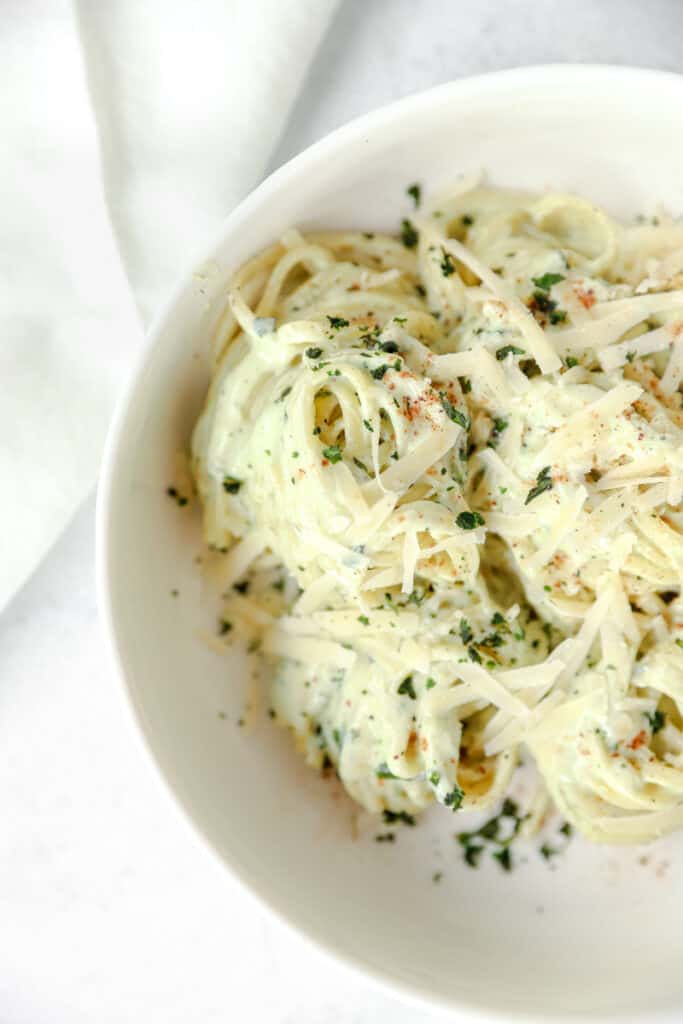 Print
Basil Alfredo Sauce
Basil Alfredo is a delicious spin on an Alfredo sauce! Lots of finely chopped basil adds an herby flavor to help balance this cheesy cream sauce.
Author:
Prep Time:

15 minutes

Cook Time:

15 minutes

Total Time:

30 minutes

Yield:

6 servings

Category:

Main Dish

Method:

Saute

Cuisine:

American
Thin linguini, about 3/4 of the box
2 tablespoons butter
2 tablespoons finely chopped basil, I use this pre-chopped basil
2 tablespoons flour
3 cloves garlic, grated
2 and 1/4 cups half and half
1/3 cup grated Parmesan cheese
1/4 teaspoon nutmeg
3/4 teaspoon salt
1/2 teaspoon pepper
1/2 teaspoon garlic powder
Reserved pasta water (for thinning the sauce)
Instructions
1. Bring a large pot of salted water to boil. Once water has come to a boil add the pasta and cook. I always like to do about 3/4 of the box, I've found the full box is just way to much pasta! Once the pasta is boiling, ladle out 1/2 cup of the pasta water to use in the sauce if needed.
2. In a medium pan over medium heat, melt the butter, then add the grated garlic and diced basil and cook for 1 minute. Then, add the 2 tablespoons flour and stir, cook for another 30 seconds. Pour in the half & half and whisk so that the flour mixture blends into the cream. Then, add the salt, pepper, garlic powder, Parmesan cheese, and nutmeg. Stir to combine then bring to a bubbling simmer and simmer 5-7 minutes to thicken.
3. If the sauce gets too thick, add small amounts of the reserved pasta water to thin it out. I usually need to add some of the pasta water to get the right consistency I'm looking for. Not too thick, but not too runny either!
4. To serve, add as much of the noodles as you'd like to the sauce and stir to coat. Garnish with more Parmesan, pepper, and a dash of nutmeg.
Enjoy!
Keywords: basil Alfredo sauce